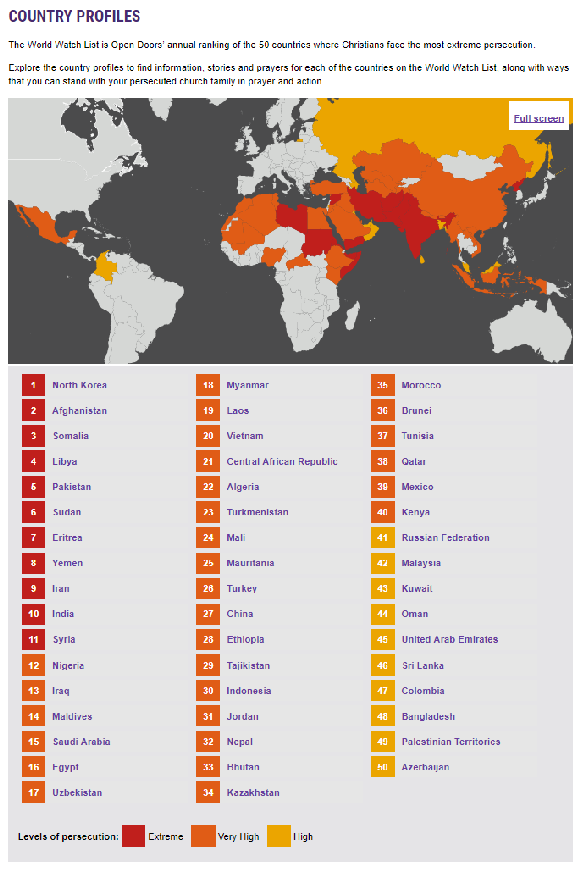 'THE SONG OF ROLAND' AND IMAM AL-TAYEB
Gatestone Institute, Giulio Meotti, December 1, 2019
"I have a family of Christians who do not want to convert, what do we do with them?", a jihadist in Iraq asked his superior.

According a new report by Aid to the Church in Need, "over 245 million Christians [are] living in places where they experience high levels of persecution," 4,305 Christians were killed for their faith from 2017 to 2019, and 1,847 churches and other Christian buildings were attacked in the same period. The report states that "within a generation, Iraq's Christian population has shrunk by more than 90 percent."

Christians in Burkina Faso are now being forced to "flee, convert or die".... British Baroness Cox recently discovered, on a fact-finding mission to Nigeria, mass murders of Christians by Muslim extremists (more than 1,000 Christians killed since January and more than 6,000 since 2015).

"The astonishing ignorance of these basic teachings on the part of Pope Francis and his advisors doesn't make for a more harmonious world: it makes for a more dangerous one. Those who buy into their fantasy view... are in for a rude surprise when they encounter the real thing". — William Kilpatrick, Crisis, September 25, 2019.

In Cyprus, Turks have converted 78 churches into mosques. Turkey's President Tayyip Erdogan himself has called to convert -- again -- Hagia Sophia into a mosque.

The West and its religious leaders need to stop repenting and face reality. For the Pope, the head of more than a billion Catholics, it means using his dialogue with Islam to challenge it and ask its leaders, such as Al-Tayeb, to stop threatening Christians. Now, please, in 2019, not in 1209, at the time of the "Song of Roland".
The Pope and Al-Tayeb in Abu Dhabi,
United Arab Emirates on February 4, 2019.
(Photo by Francois Nel/Getty Images)
Two recent incidents in the same week highlighted Pope Francis's upside-down vision about a religion.
Recalling a scene from the famous 11th-century poem "The Song of Roland", in which Christians in Spain threatened Muslims "to choose between baptism or death", Pope Francis recently said, "We must beware of fundamentalist groups; each (religion) has their own. Fundamentalism is a plague and all religions have some fundamentalist first cousin". A few days before that, Pope Francis received the Grand Imam of Al-Azhar, Ahmed Al-Tayeb. Continue Reading Article
PERSECUTION OF CHRISTIANS
'COMING CLOSE TO GENOCIDE' IN MIDDLE EAST
Millions uprooted from homes, says UK-commissioned report,
with many jailed and killed
Guardian May 02, 2019
Pervasive persecution of Christians, sometimes amounting to genocide, is ongoing in parts of the Middle East, and has prompted an exodus in the past two decades, according to a report commissioned by the British foreign secretary, Jeremy Hunt.
Millions of Christians in the region have been uprooted from their homes, and many have been killed, kidnapped, imprisoned and discriminated against, the report finds. It also highlights discrimination across south-east Asia, sub-Saharan Africa and in east Asia – often driven by state authoritarianism.
The inconvenient truth," the report finds, is "that the overwhelming majority (80%) of persecuted religious believers are Christians".
Some of the report's findings will make difficult reading for leaders across the Middle East who are accused of either tolerating or instigating persecution. The Justice and Development (AK) party of the Turkish president, Recep Tayyip Erdoğan, for instance, is highlighted for denigrating Christians.
As the Sri Lanka attacks show, Christians worldwide face serious persecution
Hunt described the interim report – published on Thursday, based on a review led by the bishop of Truro, the Rt Rev Philip Mounstephen – as "truly sobering", especially since it came as "the world was seeing religious hatred laid bare in the appalling attacks at Easter on churches across Sri Lanka, and the devastating attack on two mosques in Christchurch".
Hunt, an Anglican, has made the issue of Christian persecution one of the major themes of his foreign secretaryship. "I think we have shied away from talking about Christian persecution because we are a Christian country and we have a colonial past, so sometimes there's a nervousness there," he said. "But we have to recognise – and that's what the bishop's report points out very starkly – that Christians are the most persecuted religious group."
He added: "What we have forgotten in this atmosphere of political correctness is actually the Christians that are being persecuted are some of the poorest people on the planet. In the Middle East the population of Christians used to be about 20%; now it's 5%."
"We've all been asleep on the watch when it comes to the persecution of Christians. I think not just the bishop of Truro's report but obviously what happened in Sri Lanka on Easter Sunday has woken everyone up with an enormous shock."
The interim report is designed to set out the scale of the persecution and a final report in the summer will set out how the British Foreign Office can do more to raise awareness of the issue.
The report shows that a century ago Christians comprised 20% of the population in the Middle East and north Africa, but since then the proportion has fallen to less than 4%, or roughly 15 million people.
In the Middle East and north Africa, the report says, "forms of persecution ranging from routine discrimination in education, employment and social life up to genocidal attacks against Christian communities have led to a significant exodus of Christian believers from this region since the turn of the century.
"In countries such as Algeria, Egypt, Iran, Iraq, Syria and Saudi Arabia the situation of Christians and other minorities has reached an alarming stage. In Saudi Arabia there are strict limitations on all forms of expression of Christianity including public acts of worship. There have been regular crackdowns on private Christian services. The Arab-Israeli conflict has caused the majority of Palestinian Christians to leave their homeland. The population of Palestinian Christians has dropped from 15% to 2%."
The report identifies three drivers of persecution: political failure creating a fertile ground for religious extremism; a turn to religious conservatism in countries such as Algeria and Turkey; and institutional weaknesses around justice, the rule of law and policing, leaving the system open to exploitation by extremists.
The report says: "The rise of hate speech against Christians in state media and by religious leaders, especially in countries like Iran and Saudi Arabia, has compromised the safety of Christians and created social intolerance."
In findings that may pose difficulties for the UK as it seeks to build relations across the Middle East, the report states: "In some cases the state, extremist groups, families and communities articipate collectively in persecution and discriminatory behaviour. In countries such as Iran, Algeria and Qatar, the state is the main actor, where as in Syria, Yemen, Saudi Arabia, Libya and Egypt both state and non-state actors, especially religious extremist groups, are implicated."
"In 2017 a total of 99 Egyptian Christians were killed by extremist groups, with 47 killed on Palm Sunday in Tanta and Alexandria. Egyptian Christians were continuously targeted by extremist groups during 2017 and 2018.
Arrest, detention and imprisonment are common in Iran, Egypt and Saudi Arabia. For example in the course of six days before Christmas 2018, 114 Christians were arrested in Iran with court cases left pending as a form of intimidation. Though most cases in Iran involve converts, indigenous Christians such as Pastor Victor, an Assyrian Christian, with his wife, Shamiram Issavi, have also been targeted and imprisoned."
It also highlights how states, and state-sponsored social media, sometimes incite hatred and publish propaganda against Christians, especially in Iran, Iraq and Turkey. "The governing AK party in Turkey depicts Christians as a 'threat to the stability of the nation'. Turkish Christian citizens have often been stereotyped as not real Turks but as western collaborators."
Saudi Arabia, the report says, school textbooks "teach pupils religious hatred and intolerance towards non-Muslims, including Christians and Jews".
The report says freedom of religious belief can also act as a means of helping those suffering gender discrimination, since there is clear evidence that female Christians suffer disproportionately.
Defending the claim of genocide, the report says: "The level and nature of persecution is arguably coming close to meeting the international definition of genocide, according to that adopted by the UN."
The eradication of Christians and other minorities on pain of "the sword" or other violent means was revealed to be the specific and stated objective of extremist groups in Syria, Iraq, Egypt, north-east Nigeria and the Philippines. An intent to erase all evidence of the Christian presence was made plain by the removal of crosses, the destruction of church buildings and other church symbols.
"The killing and abduction of clergy represented a direct attack on the church's structure and leadership. Where these and other incidents meet the tests of genocide, governments will be required to bring perpetrators to justice, aid victims and take preventative measures for the future. The main impact of such genocidal acts against Christians is exodus."
Referring to the universal declaration of human rights, the report concludes: "The challenge that faces us at the beginning of the 21st century is not that we need to fight for a just legal system, it is rather that to our shame, we have abjectly failed to implement the best system that women and men have yet devised to protect universal freedoms."
WAR, TERRORISM, AND THE CHRISTIAN EXODUS
FROM THE MIDDLE EAST
New Yorker, Robin Wright April 14, 2017
St George Church, Tanta, Egypt after a suicide bombing on April 9th
Photograph, Nariman El-Mofty, AP
A decade ago, I spent Easter in Damascus. Big chocolate bunnies and baskets of pastel eggs decorated shop windows in the Old City. Both the Catholic and Orthodox Easters were celebrated, and all Syrians were given time off for both three-day holidays on sequential weekends. I stopped in the Umayyad Mosque, which was built in the eighth century and named after the first dynasty to lead the Islamic world. The head of John the Baptist is reputedly buried in a large domed sanctuary—although claims vary—on the mosque's grounds. Muslims revere John as the Prophet Yahya, the name in Arabic. Because of his birth to a long-barren mother and an aged father, Muslim women who are having trouble getting pregnant come to pray at his tomb. I watched as Christian tourists visiting the shrine mingled with Muslim women.
At least half of Syria's Christians have fled since then. The flight is so pronounced that, in 2013, Gregory III, the Melkite Patriarch of Antioch, Alexandria, and Jerusalem, wrote an open letter to his flock: "Despite all your suffering, stay here! Don't emigrate!"
"We exhort our faithful and call them to patience in these tribulations, especially in this tsunami of stifling, destructive, bloody and tragic crises of our Arab world, particularly in Syria, but also to different degrees in Egypt, Iraq, Palestine and Lebanon," he wrote. Jesus tells us, 'Fear not!'
Syria's Christians are part of a mass exodus taking place throughout the Middle East, the cradle of the faith. Today, Christians are only about four per cent of the region's more than four hundred million people—and probably less. They "have been subject to vicious murders at the hands of terrorist groups, forced out of their ancestral lands by civil wars, suffered societal intolerance fomented by Islamist groups, and subjected to institutional discrimination found in the legal codes and official practices of many Middle Eastern countries," as several fellows at the Center for American Progress put it.
Last weekend, suicide bombings in two Egyptian Coptic churches in Alexandria and Tanta, sixty miles north of Cairo, killed almost four dozen Egyptians and injured another hundred. The Palm Sunday attacks, coming just weeks before Pope Francis is due to visit the country, led the Coptic Church to curtail Easter celebrations in a country that has the largest Christian population—some nine million people—in the Middle East. A pillar of the early faith, the Copts trace their origins to the voyage of the Apostle Mark to Alexandria.
"We can consider ourselves in a wave of persecution," Bishop Anba Macarius, of the Minya diocese, who survived an assassination attempt in 2013, said on Thursday.
The ISIS affiliate in the Sinai Peninsula claimed credit for the attacks. In the past two years, it has carried out a series of gruesome killings of Christians, including the forced march of twenty-one Egyptian workers in Libya, all Coptic Christians, each clad in an orange prison jumpsuit, to a Mediterranean beach, where they were forced to kneel and then beheaded. ISIS threats against Christians have escalated since a suicide bombing on December 11th at St. Mark's Cathedral, in Cairo, killed more than two dozen Egyptians. After a February attack that killed seven Christians on Egypt's Sinai Peninsula, the majority of Copts have fled the Sinai, according to Human Rights Watch.
The largest exodus of Christians is in Iraq, where the group has been trapped in escalating sectarian clashes between Sunni and Shiite Muslims, targeted by an Al Qaeda franchise, and forced to flee by the Islamic State. "There were 1.3 million Christians in Iraq in 2003. We're down by a million since then," with hundreds more leaving each month, Bashar Warda, a Chaldean bishop in the northern city of Erbil, the Kurdish capital, told me last month. He was wearing a pink zucchetto skullcap and an amaranth sash tied around his black cassock. A large silver cross hung around his neck.
"It's very hard to maintain a Christian presence now," Warda said. "Families have ten reasons to leave and not one reason to stay. This is a critical time in our history in this land. We are desperate."
Last month, I drove to Mosul, Iraq's second-largest city and home for two millennia to one of the world's oldest Christian communities. Within days of its conquest of Mosul, isis issued an ultimatum to Christians to either convert to Islam, pay an exorbitant and open-ended tax, or face death "by the sword." Homes of Christians were marked by a large "N" for "Nassarah," a term in the Koran for Christians.
Some thirty-five thousand Christians fled. Many of their homes were ransacked and then set alight. En route to Mosul, I passed other Christian villages, like Bartella, that had also emptied. Even gravestones at the local cemetery were bullet-ridden. In all, a hundred thousand Christians from across the Biblical Nineveh Plains are estimated to have abandoned their farmlands, villages, and towns for refuge in northern Kurdistan—or beyond Iraq's borders.
"For the first time in the history of Iraq, Mosul is now empty of Christians," the Chaldean Patriarch Louis Sako told Agence France-Presse.
The Christian flight has broader implications for the Middle East. "If one of the most important religious groups in the world continues to be forced out of the Middle East, this bodes negatively for pluralism, tolerance, and the ability of the region's people to live interlinked with the rest of the world," the Center for American Progress reported. The status of Christians "is a barometer of whether those of other faiths or no faith at all will be able to live and thrive in the future Middle East."
In Erbil, fifteen hundred Christian families displaced by isis now live in shipping containers converted into temporary homes in Ashti-2, a teeming camp with narrow dirt roads. Outside the camp, I met Salam Ablaha, a thirty-six-year-old grocer. An Assyrian Christian, he fled Hamdaniya, near Mosul, in August, 2014. He now runs an open-air stall that sells green apples, tomatoes, mushrooms, lemons, and carrots stacked high on crates. He had a light beard and was wearing a black fleece jacket to ward off the spring chill. His extended family of twenty-six—his wife, three children, parents, and the families of seven brothers—live off the charity from the Iraqi Assyrian Church and his modest earnings.
Like many Christians I interviewed, Ablaha has no intention of returning to Hamdaniya. Since the city was liberated, last October, he's been back once to check on his home. The furniture was gone; so were the windows and doors.
"None of us want to go back," he told me. "We're still scared of what will happen after isis." There's a widespread fear among Christians about the emergence of a third iteration of Islamic extremism—after the rise of an Al Qaeda affiliate, a decade ago, and isis, during the past three years. Ablaha's brother was kidnapped by Al Qaeda in 2007; he was freed only after the family paid a hefty ransom.
"Before 2003, we had a perfect life. I never thought about leaving," Ablaha told me. "But we're a minority. We don't have support or someone to protect us. Christians are now waiting to go to Jordan and from there to Australia. Seventy per cent of the people from Hamdaniya have already left Iraq."
I asked if he thought Christians had a future in the Middle East. "No! No!" he said. "By 2020, most Christians will have left Iraq."
Bishop Warda was only slightly more optimistic. "We have to stay," he told me. "But how many will stay? I doubt fifty, a hundred, or a thousand families will stay in the end." After two thousand years, the Christian presence would have to adapt to a different role, he said. "We will have to become missionaries."

MASS EXODUS OF CHRISTIANS FROM THE MUSLIM WORLD
FoxNews.com, Raymond Ibrahim, May 07, 2013

A mass exodus of Christians is currently underway. Millions of Christians are being displaced from one end of the Islamic world to the other.
We are reliving the true history of how the Islamic world, much of which prior to the Islamic conquests was almost entirely Christian, came into being.
The U.S. Commission on International Religious Freedom recently said: "The flight of Christians out of the region is unprecedented and it's increasing year by year." In our lifetime alone "Christians might disappear altogether from Iraq, Afghanistan, and Egypt."
Ongoing reports from the Islamic world certainly support this conclusion: Iraq was the earliest indicator of the fate awaiting Christians once Islamic forces are liberated from the grip of dictators.
The 2010 Baghdad church attack, which saw nearly 60 Christian worshippers slaughtered, is the tip of a decade-long iceberg.
In 2003, Iraq's Christian population was at least one million. Today fewer than 400,000 remain—the result of an anti-Christian campaign that began with the U.S. occupation of Iraq, when countless Christian churches were bombed and countless Christians killed, including by crucifixion and beheading.
The 2010 Baghdad church attack, which saw nearly 60 Christian worshippers slaughtered, is the tip of a decade-long iceberg.
Now, as the U.S. supports the jihad on Syria's secular president Assad, the same pattern has come to Syria: entire regions and towns where Christians lived for centuries before Islam came into being have now been emptied, as the opposition targets Christians for kidnapping, plundering, and beheadings, all in compliance with mosque calls telling the populace that it's a "sacred duty" to drive Christians away.
In October 2012 the last Christian in the city of Homs—which had a Christian population of some 80,000 before jihadis came—was murdered. One teenage Syrian girl said: "We left because they were trying to kill us… because we were Christians…. Those who were our neighbors turned against us. At the end, when we ran away, we went through balconies. We did not even dare go out on the street in front of our house."
In Egypt, some 100,000 Christian Copts have fled their homeland soon after the "Arab Spring." In September 2012, the Sinai's small Christian community was attacked and evicted by Al Qaeda linked Muslims, Reuters reported. But even before that, the Coptic Orthodox Church lamented the "repeated incidents of displacement of Copts from their homes, whether by force or threat.
Displacements began in Ameriya [62 Christian families evicted], then they stretched to Dahshur [120 Christian families evicted], and today terror and threats have reached the hearts and souls of our Coptic children in Sinai."
Iraq, Syria, and Egypt are part of the Arab world. But even in "black" African and "white" European nations with Muslim majorities, Christians are fleeing.
In Mali, after a 2012 Islamic coup, as many as 200,000 Christians fled. According to reports, "the church in Mali faces being eradicated," especially in the north "where rebels want to establish an independent Islamist state and drive Christians out… there have been house to house searches for Christians who might be in hiding, churches and other Christian property have been looted or destroyed, and people tortured into revealing any Christian relatives." At least one pastor was beheaded.
Even in European Bosnia, Christians are leaving en mass "amid mounting discrimination and Islamization." Only 440,000 Catholics remain in the Balkan nation, half the prewar figure.
Problems cited are typical: "while dozens of mosques were built in the Bosnian capital Sarajevo, no building permissions [permits] were given for Christian churches." "Time is running out as there is a worrisome rise in radicalism," said one authority, who further added that the people of Bosnia-Herzegovina were "persecuted for centuries" after European powers "failed to support them in their struggle against the Ottoman Empire."
And so history repeats itself.
One can go on and on:
In Ethiopia, after a Christian was accused of desecrating a Koran, thousands of Christians were forced to flee their homes when "Muslim extremists set fire to roughly 50 churches and dozens of Christian homes."
In the Ivory Coast—where Christians have literally been crucified—Islamic rebels "massacred hundreds and displaced tens of thousands" of Christians.
In Libya, Islamic rebels forced several Christian religious orders, serving the sick and needy in the country since 1921, to flee.
To anyone following the plight of Christians under Islamic persecution, none of this is surprising. As I document in my new book, "Crucified Again: Exposing Islam's New War on Christians," all around the Islamic world—in nations that do not share the same race, language, culture, or economics, in nations that share only Islam—Christians are being persecuted into extinction. Such is the true face of extremist Islamic resurgence.

CHRISTIANS IN THE MIDDLE EAST ….
AND THEN THERE WERE NONE
FED UP AND FEARFUL,
CHRISTIANS ARE LEAVING THE MIDDLE EAST
Economist, 2016 | BEIRUT, BETHLEHEM AND CAIRO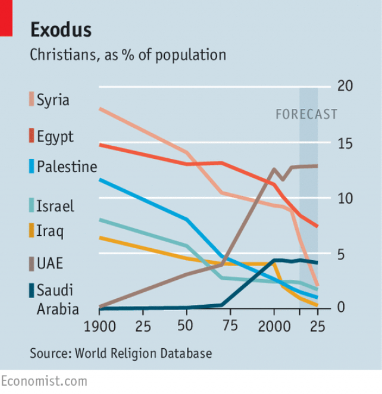 Update (April 10th 2017): The chart in this article has been updated to reflect more recent data.
FAR from spreading cheer this holiday season, Pope Francis has been in a Grinch-like mood. "There will be lights, parties, Christmas trees and Nativity scenes," he said in late November. "It's all a charade." As the Vatican unveiled its own giant spruce, he sounded downright depressed: "We should ask for the grace to weep for this world, which does not recognise the path to peace."
It is easy to see why the pope is so downhearted. Look no further than Bethlehem, where young Palestinians throw stones at Israeli soldiers manning the wall separating the West Bank from Israel. From afar, the Israeli tear gas looks like the smoke from frankincense, of the sort that pilgrims burn when visiting the Church of the Nativity. But there were few pilgrims this Christmas—they were too scared.
Most victims of war and terrorism in the Middle East are Muslims, since they are by far the majority of the population. But the tiny Christian minority often feels singled out. Their numbers are declining where the fighting is worst (see chart). Overall, the proportion of Middle Easterners who are Christian has dropped from 14% in 1910 to 4% today. Church leaders and pundits have begun to ask whether Christianity will vanish from the Middle East, its cradle, after 2,000 years.
An exodus is under way. Many Christians feel more at home in the West and have the means to get there. Some are leaving because of the general atmosphere of violence and economic malaise. Others worry about persecution. A recent video of three Assyrian Christians in orange jumpsuits being made to kneel before being shot in the head by Islamic State (IS) jihadists fuelled this fear—though IS treats many other groups equally badly.
Fewer births, virgin or otherwise
The Christians who remain tend to have fewer babies than their Muslim neighbours, according to the Pew Research Centre. Regional data are unreliable, but in Egypt the fertility rate for Muslims is 2.7; for Christians it is 1.9.
Mosul, in northern Iraq, was once home to tens of thousands of Christians. Perceived as supporting the Americans, they were targeted by insurgents after the invasion. A wave of killings in 2008, including that of the local Chaldean archbishop, seemed to mark the low point for the community. Then came IS. When the jihadists entered the city in 2014, they reportedly tagged Christian houses with an "N" for "Nazarene", and gave their occupants a choice: convert, pay the jizya, a tax on non-Muslims, or face possible death. Most fled. In July 2014 IS announced that the city was free of Christians.
Many who left Mosul went to Erbil, the Kurdish capital of northern Iraq, where they have trouble finding work or obtaining public services. Even there, some refugees chafe at the enforcement of Muslim customs. "You wouldn't want to live there," says Samir, a Christian refugee now in Lebanon. In general, Christians complain that their Muslim neighbours are growing increasingly intolerant.
Some retort that Westerners exaggerate tales of Christian persecution to justify interventionist policies. "There is talk as if the West is genuinely interested in Christians, but most of the time they only use them for their own political ends," says Mitri Raheb, pastor of a church in Bethlehem. He says that the Israeli occupation hurts Palestinian Christians far more than persecution by Muslims, but provokes less outrage in the West.
Christian leaders are in a tough spot. "I cannot preach to people: 'Do not leave,'" says Father Raheb. But other priests have. In an open letter published in September one of Syria's most senior Catholic leaders, Melkite Patriarch Gregory III, wrote: "Despite all your suffering, stay! Be patient! Don't emigrate! Stay for the church, your homeland, for Syria and its future!" Rankling many, he then urged Europe not to "encourage Syrian Christians to emigrate". A refugee from Mosul says the pleas go "in one ear, out the other".
n the decades before the Arab spring, many Christian leaders lent their support to authoritarian rulers in return for the protection of Christians—and their own lofty status. But the deals broke down when the dictators fell or wobbled, leaving Christians in a predicament. "In Iraq, when Saddam Hussein was removed, we lost a million Christians," said Bechara Boutros al-Rahi, Lebanon's Maronite Christian Patriarch, to AFP in 2012. "Why? Not because the regime fell, but because there was no more authority, there was a vacuum. In Syria, it's the same thing, Christians do not back the regime [of Bashar al-Assad], but they are afraid of what may come next."
Christian leaders have often supported whichever strongman is in power. The late Pope Shenouda III, head of the Coptic church, the largest in the Middle East, backed Hosni Mubarak, Egypt's former dictator, and discouraged Copts from joining the protests that would eventually topple him. In 2012 Shenouda was succeeded by Tawadros II, who supports the current strongman, Abdel-Fattah al-Sisi. He has described the Arab spring as being more like a "winter, plotted by malicious hands" in order to break up the region into smaller states.
Yet the Copts have gained little from their leaders' loyalty. Mr Mubarak stood by as relations between Christians and Muslims deteriorated and sectarian violence increased. Mr Sisi is seen as better than the Islamist government that he toppled. A draft law would make it easier to build churches. But Copts are still expelled from villages for such crimes as falling in love with a Muslim.
Even in Lebanon, where Christians were once a majority and still hold considerable power, their political leaders have disappointed. Under the country's unique system, government posts are shared out based on sect. The presidency goes to a Maronite, the largest group of Christians. But in recent decades many Christians have left. Muslims are now a majority, and want power to match their numbers. Christian political leaders complain of persecution, but many seem more concerned with enhancing their own power. Bickering between politicians has left the presidency vacant for 18 months.
Oddly enough it is the Gulf, home to the most conservative brand of Islam, which has welcomed the largest number of Christians recently, though not from Iraq or Syria. A wave of migrant labourers from the Asia-Pacific has dramatically increased the share of Christians in countries such as Saudi Arabia and the United Arab Emirates (UAE), which had few before. Tolerance varies between countries. Saudi Arabia, for example, bans the practice of Christianity (though many Christians worship in private). The UAE restricts proselytisation, but has otherwise supported its Christians. The number of churches in the country has grown from 24 in 2005 to 40 today. The emirate's rulers often provide churches with free land, water and electricity. But these new Christian enclaves may not last. Migrant workers in the Gulf cannot easily become citizens or put down roots.
In any case it is the loss of ancient communities that most concerns church leaders. "Christians are not guests in the Middle East," says Father Paul Karam, the president of Caritas, a Catholic charity, in Lebanon. "We are the original owners of the land." But none of the Christian refugees who spoke with your correspondent plans to return home. "We don't belong there," says Samir, who expects Iraq soon to be empty of Christians altogether.
"WE WILL DISPLACE YOU ...":
PERSECUTION OF CHRISTIANS, DECEMBER 2018
Gatestone Institute, Raymond Ibrahim • February 17, 2019

Saudi Arabia, America's close friend and ally, failed to live up to its promise to eliminate extremist content -- that promotes hostility for, and violence against, religious minorities -- from its 2018-19 school year curriculum.
"Examples of this content include demeaning non-Muslims and encouraging jihad against them. The execution of apostates is prescribed and children are encouraged not to associate with non-Muslims. Saudi Arabia not only continues to use these textbooks domestically, but exports them to other parts of the Middle East." —
Report from International Christian Concern, December 1, 2018.
British authorities decided to deport a Christian man back to Pakistan, where he was previously beaten and threatened with death, "despite UK playing host to [Muslim] hijackers, extremists and rapists," to quote from one headline. Asher Samson, 41, "first arrived in the UK in 2004 to carry out his theology training in order to become a pastor, but later applied for asylum after receiving threats from Islamic extremists during visits home..." According to Samson, "If they do send me back my life will be really in danger... I'm so scared... People know who I am, they know I am a Christian..." —
The Independent, December 24, 2018.
THE SLAUGHTER OF CHRISTIANS
Egypt: A Muslim policeman charged with guarding a Coptic Christian church shot and killed two Christians — a father, 49, and his son, 21 — on the night of December 12 in Minya. Eyewitnesses say a quarrel had ensued before the officer pulled out his gun and opened fire on the two men. Video footage of the incident shows the killer-cop brandishing his gun as he stalks around the bloodied but still moving Christians on the ground. He loudly curses them — or all Copts in general? — as "mother-f*****s." Thousands of angry Christians attended the funeral, chanting kyrie eleison ("Lord have mercy!"), and, "Where are the rights of the martyrs!" Coptic Solidarity said in a statement:
WORSENS;
THE PALESTINIAN AUTHORITY TURNS A BLIND EYE
Mosaic, Edy Cohen, May 29 2019

Just this month, two churches in Palestinian-controlled areas of the West Bank were vandalized, one of them for the sixth time in the past few years. On April 25, armed men attacked the Christian village of Jifan, which is also governed by the Palestinian Authority (PA).
The violence [in Jifan] erupted after a woman from the village submitted a complaint to the police that the son of a prominent leader affiliated with the PA's ruling Fatah party had attacked her family. In response, dozens of Fatah gunmen came to the village, fired hundreds of bullets in the air, threw petrol bombs while shouting curses, and caused severe damage to public property. It was a miracle that there were no dead or wounded.
Despite the residents' cries for help, the PA police did not intervene during the hours of mayhem. They have not arrested any suspects. Interestingly, the rioters called on the residents to pay jizya—a head tax that was levied throughout history on non-Muslim minorities under Islamic rule. The most recent [instances of the reintroduction of the] jizya involved Christian communities of Iraq and Syria under Islamic State rule. . . .
It is unlikely that the latest wave of attacks will lead to the arrest, let alone prosecution, of any suspects. The only thing that interests the PA is that events of this kind not be leaked to the media. Fatah regularly exerts heavy pressure on Christians not to report the acts of violence and vandalism from which they frequently suffer, as such publicity could damage the PA's image as an actor capable of protecting the lives and property of the Christian minority under its rule. Even less does the PA want to be depicted as a radical entity that persecutes religious minorities. That image could have negative repercussions for the massive international, and particularly European, aid the PA receives.
Though the Christians in the PA avoid saying so publicly, many of them fear—with good reason—that Muslim aggression against them will only escalate. . . . The ongoing international neglect of the plight of the Christians under PA rule can lead only to the vanishing of Christianity from the place where it emerged.
LINKS
The end of Christianity in the Middle East could mean the demise of Arab secularism
William Dalrymple, The Guardian 23 July 2014
Arab Christians as Symbol: Disappearing Christians of the Middle East,
The Vanishing: The plight of Christians in an age of intolerance, Harper's, December 2018 Janine di Giovanni
Annihilation of Christian Life and People: Where is the Outrage in the West? Meeting Catastrophe with Indifference by Giulio Meotti, April 28, 2019. Gatestoneinstitute.org
The Impossible Future of Christians in the Middle East. An ancient faith is disappearing from the lands in which it first took root. At stake is not just a religious community, but the fate of pluralism in the region. The Atlantic, Emma Green May 23 2019
How did the Christian Middle East become predominantly Muslim? University of Oxford
17 September 2018