Editors Note: The story of the Palestinian Refugees is a catastrophe. In 1948 the Jewish population of the British mandate of Palestine agreed to accept the boundary allocated to them in the UN Partition Map. The day after they declared the State of Israel they were attacked by the armies of the surrounding countries . The result was the (unexpected) defeat of these armies and the creation of 700,000 Palestinian refugees. At the same time Jews who had lived in Arab countries for over 2,000 years fled and settled elsewhere. They were given citizenship and built new lives. The Arab League decided that the Palestinian refugees should be used as a weapon against Israel and citizenship in Arab countries should not be offered to them. They persuaded the UN to establish a refugee organisation (UNRWA) to look after them. Today most of them still live in one of the 58 camps operated by UNRWA.
Had the Arab countries offered them the same help received by the Jewish exiles there would now be no 'problem'.
Gaza is now controlled by a terrorist organisation called Hamas. Corruption is rampant
The hope is that what has been an area of internal Arab warfare such as that between Iran and Iraq, Saudi Arabia and Yemen a civil war in Syria, an unsuccessful 'Arab Spring' and the growth of organisations such as Al Queda, ISIS and Black September will, together with Israel, become an area of peace and tranquility.
POPULATION
fanack, Chronicle of the Middle East and North Africa October 2010, December 2016
INTRODUCTION
According to the Palestinian Central Bureau of Statistics (PCBS), there were 10.97 million Palestinians worldwide in 2010. 4.11 million Palestinians were living in Palestine (37.5 percent); 1.36 million (12.4 percent) in Israel; 3.24 million (29.8 percent) in Jordan; 1.78 (16.3 percent) in the other Arab countries, especially in neighbouring Lebanon and Syria; and 626,800 (5.7 percent) in the rest of the world.
Today, there are about four million Palestinians living in Palestine, representing 40 percent of the total Palestinian population. Culturally, they are Arabs, speaking the Arab language. The vast majority are Muslim. In addition, there is a small Christian minority.
REFUGEES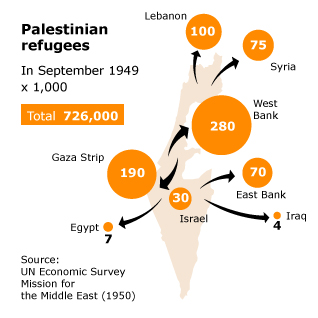 About half of all Palestinians are political refugees. The largest group of refugees was created in 1948-1949 as a result of the proclamation of the State of Israel and the ensuing war. The estimated 750,000 Palestinian refugees originated from Palestinian territories which became part of the State of Israel after 1948. The huge stream of refugees was generated both by the hostilities and by a campaign to ethnically cleanse the region of the Palestinians, devised first by the Jewish armed forces and then the Israeli army (see for the views of Israeli historian Ilan Pappé and others al-Nakba under Israel).
350,000 of the 750,000 Palestinian refugees ended up in the West Bank, the number of inhabitants thus almost doubling from 450,000 to 800,000, with refugees making up 44 percent of the population. Another 200,000 Palestinians fled to the Gaza Strip, thus more than tripling the population there from 80,000 to 280,000. Refugees currently make up about 70 percent of the population (in 2006, this was 31 percent in the West Bank and 78 percent in the Gaza Strip).
Palestinians fled to safety in neighbouring regions. Refugees from Beisan (Beit Shean), Tabariya (Tiberias), Yafa (Jaffa), al-Lidd/Lydda (Lod), Ramla and Bir al-Sab (Beersheba) thus mostly ended up in the West Bank, which had fallen into the hands of Transjordan in the course of the war of 1948-1949. The refugees in the Gaza Strip, which came under Egyptian control, originated from the neighbouring region in the north, from Isdud (Ashdod) and al-Majdal Asqalan (Ashkelon), cities which had been tied to the Gaza Strip since ancient times.
Driving out the Palestinian population, the Jewish armed forces, and later the Israeli army, made no distinction between Muslims and Christians. An exception was the small Druze community in the north of Palestine, which was left in peace.
Another explanation for the massive upheaval, apart from fear of violence, is that the Palestinian society was still very traditional in those days, and that the maintaining of family honour was viewed as vital. Fear of violation of the honour of the women – and thus of the family's honour – in a war situation also incited the Palestinians to flee elsewhere in family units.
POPULATION DENSITY
With almost 4,505 inhabitants per square kilometre (Palestinian Central Bureau of Statistics, 2012), the Gaza Strip is one of the most densely populated regions in the world. The situation worsened after Israel annexed about a third of the territory in the Gaza Strip after 1967 on behalf of the Jewish settlers (eventually, in the summer of 2005, Israel removed the Jewish settlers from Gaza, and their settlements were dismantled). Moreover, the population density is not equally distributed. Although barely conceivable, today in the Shati refugee camp in the north of the Gaza Strip, 76,000 Palestinians are packed together in less than one square kilometre. The West Bank is nine times less densely populated than the Gaza Strip, with 468 persons per square kilometre (Palestinian CBS).
The overpopulation in the Gaza Strip is predominantly a result of the huge influx of Palestinian refugees, and the strong population growth. In this regard there are again differences between the West Bank and the Gaza Strip. In 2012, the population growth in the West Bank was 2.6 percent, whereas in the Gaza Strip it was 3.5 percent. For Gaza, this is a remarkable drop in comparison to 1992, when the population growth was 7.8 percent – a world record. In 2007, an average family in the West Bank numbered 5.6 persons, in the Gaza Strip it was 6.3 persons.
The degree of urbanization in the Gaza Strip is much higher than in the West Bank. Including the inhabitants of the refugee camps, 58 percent of the inhabitants in the West Bank were living in an urban environment in 2002, compared to 95 percent in the Gaza Strip.
MARRIAGE CUSTOMS
People get married at a very young age in the Gaza Strip. Socio-economic factors – which in turn are irrevocably tied to the occupation – play an important role in that regard. As the economy is unable to offer sufficient employment opportunities, higher education has often offered more favourable work perspectives elsewhere – for example, in the emerging oil producing countries in the Persian Gulf. As a result, the average age of marriage has risen significantly. On the other hand, the large demand for unschooled Palestinian labourers in the Israeli economy after 1967 brought about a drop in the average age of marriage. Although the legal age for marriage is eighteen for men, and seventeen for women (it is possible to diverge from this rule with the permission of the qadi, the judge), in 2012, 44 percent of brides were between 15 and 19 years old (Palestinian CBS).
Hardly any marriages take place between refugees and the indigenous inhabitants of the Gaza Strip (in 1997 less than 2 percent). The gulf between both groups remains substantial. As women traditionally move in with their husband's family after getting married, for women living outside the refugee camps marriage to a refugee is hardly an appealing prospect. Male emancipation can generally only be achieved through a successful career in society or politics.
Over the years, a substantial group of refugees has managed to take up residence outside the refugee camps in the West Bank as a result of the more favourable economic and geographic potential. In the West Bank, this has stimulated the integration with the indigenous inhabitants.
POPULATION COMPOSITION
Because of the high birth rate, the population in Palestine is very young. In 2013, 40.7 percent of the inhabitants were between 0 and 14 years old, 56.4 percent were between 15 and 64 years old, whereas three percent were 65 years old or older (with an average life expectancy of 72.5 years), according to the World Bank. In 2011, moreover, 43.8 percent of the inhabitants in the Gaza Strip and 38.6 percent of inhabitants in the West Bank were younger than 15 years old (Palestinian CBS).
Op-ed: The so-called 'Palestinian refugee problem' would have been resolved if only standard refugees procedures had been implemented instead of UNRWA allowing their number to balloon to 5.3 million by counting descendents too; Obama Admin. buried State Dept. report of actual refugees number, perhaps 30,000.
Y Net News, Ben-Dror Yemini, 09.02.18
Already in Resolution 302 of the UN General Assembly of December 1949, by which UNRWA was established, it was stated: "A plan must be presented for a time when the welfare program will no longer be needed."
Later resolutions dealt with the transfer of treatment of refugees to the countries they settled in order to integrate them. But all the proposals were rejected, in theory and in practice, by the Arab states.
The result has been an ongoing distortion that has been going on for nearly 70 years. The US Department of State's announcement, it should be noted, is actually implementing UN resolutions from those years. Not the perpetuation of refugee status, but rather rehabilitation.
The change in policy began in 2012 when Senator Mark Kirk (R-IL) passed an amendment to the US Foreign Assistance Act requiring the State Department to prepare a report on the actual number of Palestinian refugees, while distinguishing the original refugees, only some of whom can be considered refugees, from their descendants, who according to any international definition are no longer considered refugees.
The initiative to amend the law was that of Dr. Einat Wilf, then a member of the Labor Party. Even then, as now, there was a dispute over the initiative, which had nothing to do with the constant and tiring dispute between "left" and "right."
Suggested Topics
Wilf then made it clear that she was also against continued construction in the settlements and against the continued granting of refugee status to the descendants of the refugees, because both of these things harmed the prospects for peace.
Even then, the top echelon of the defense establishment took a hesitant stance. Amos Gilad, the head of the Defense Ministry's diplomatic bureau, wrote at the time: "Minimizing the refugee problem is a clear Israeli interest. At the same time, UNRWA plays an important role in providing assistance to the Palestinian population... let's avoid a situation that will endanger the continuation of that aid which is in Israel's interest." The Israeli position has not changed since then.
The State Department prepared the report as required by the amendment, but during the administration of John Kerry as secretary of state and Barack Obama as president, the report became classified.
It can be assumed that the top echelon of the American administration did not want to cause a commotion when the actual number of refugees became known.
The official number of refugees according to UNRWA is 5.3 million. The actual number, without descendents, is between 20 and 30,000 people at most, because some of them have already been granted citizenship, for example in Jordan, and others have become financially established, so according to the UN definition they are not refugees.
Therefore the actual number of refugees, according to the conventional definition, stands at a few thousand. In any case, UN General Assembly Resolution 194 deals with them, and only them, and not with second- and third-generation descendants.
The so-called "Palestinian refugee problem" would have been resolved if only standard refugees procedures been implemented with the Palestinians as well.
The fear by security officials of a vacuum, that would be filled by Hamas, if UNRWA leaves the Gaza Strip, is a little strange, because in any case, in the recent elections for UNRWA institutions, in which nearly 11,500 of the organization's employees voted, the Hamas associated "Professional List" won a crushing victory. Despite all the denials, education at UNRWA institutions primarily produces Hamas activists.
The United States could have made the change in a slightly more coordinated fashion, but the direction is right. After almost 70 years of the big refugee scam, the time has come for a change.
The cessation of US aid will not cause the refugee problem to disappear. The transition from the fostering of refugees to their rehabilitation must be a gradual, coordinated international effort. But it is absolutely clear that as long as the organization is the main instrument for perpetuating the refugee problem and nurturing the return fantasy — UNRWA is the problem. Not the solution.
UNRWA HAS CHANGED THE DEFINITION OF REFUGEE
The U.N.'s agency for Palestinians should stop playing word games and do its job.
FP (Foreign Policy) Jay Sekulow August 17, 2018
Jay Sekulow is chief counsel of the American Center for Law & Justice and serves as counsel to U.S. President Donald Trump.
Last week, Foreign Policy published a story about Palestinian refugees that claimed I am among the "activists trying to strip Palestinians of their status." The article obscured basic facts about the matters at hand—both my own role as a policy advocate and the questions that lawmakers in Congress are presently considering that pertain to the United Nations Relief and Works Agency for Palestine Refugees in the Near East (UNRWA). I feel compelled to correct the record on both points.
This requires first understanding the legal facts. UNRWA was founded in 1949 through U.N. General Assembly Resolution 302 at the conclusion of the Arab-Israeli conflict of 1948, aiming for "the alleviation of the conditions of starvation and distress among the Palestine refugees" from that conflict. The agency defines Palestinian refugees as "persons whose normal place of residence was Palestine during the period 1 June 1946 to 15 May 1948, and who lost both home and means of livelihood as a result of the 1948 conflict."
In 1965, UNRWA changed the eligibility requirements to be a Palestinian refugee to include third-generation descendants, and in 1982, it extended it again, to include all descendants of Palestine refugee males, including legally adopted children, regardless of whether they had been granted citizenship elsewhere. This classification process is inconsistent with how all other refugees in the world are classified, including the definition used by the United Nations High Commissioner for Refugees (UNHCR) and the laws concerning refugees in the United States.
Under Article I(c)(3) of the 1951 U.N. Convention and Protocol Relating to the Status of Refugees, a person is no longer a refugee if, for example, he or she has "acquired a new nationality, and enjoys the protection of the country of his new nationality." UNRWA's definition of a Palestinian refugee, which is not anchored in treaty, includes no such provision.
Last month, members of Congress introduced a bill asking that with respect to refugees under UNRWA the policy of the United States should be consistent with the definition of a refugee in the Immigration and Nationality Act, such that "derivative refugee status may only be extended to the spouse or minor child of such a refugee" and "an alien who was firmly resettled in any country is not eligible to retain refugee status."
Foreign Policy's article includes a claim that deserves closer scrutiny and reflects the sleight of hand often performed by UNRWA. The author writes:
"Palestinians, [Sekulow and his organization] claim, are the only refugees in the world who pass on their refugee status through the generations. The view is not shared by the U.N. High Commissioner for Refugees (UNHCR), and the State Department, which maintain that multiple generations of Afghan, Bhutanese, Burmese, Nepalese, Thai, Tibetan, and Somali people have been recognized as refugees."
The clear implication of that paragraph, and the similar claims made by UNRWA, is that the laws I have cited above are wrong, that UNRWA's definition of a refugee is consistent with the standard definition, and that in all of these cases the descendants of refugees are considered to be refugees as well. In actuality, what the article has done is to conflate two different issues.
The 1951 refugee convention has a lengthy definition of refugee that is personal: A refugee is a person who "owing to well-founded fear of being persecuted for reasons of race, religion, nationality, membership of a particular social group or political opinion, is outside the country of his nationality and is unable or, owing to such fear, is unwilling to avail himself of the protection of that country." In registering refugees on this basis, the UNHCR interprets the convention as requiring "family unity," and it implements the principle by extending benefits to a refugee's accompanying family, calling such people "derivative refugees." Derivative refugees do not have refugee status on their own; it depends on the principal refugee. UNRWA's definition is also personal: Palestinian refugees are "persons whose normal place of residence was Palestine during the period 1 June 1946 to 15 May 1948, and who lost both home and means of livelihood as a result of the 1948 conflict," but it also registers "descendants of Palestine refugee males, including adopted children." The status for descendants is not dependent upon accompanying the principal refugee.
Here is where the sleight of hand comes in: Of course it is possible for there to be multiple generations of refugees, if the multiple generations all fit the primary 1951 definition of a refugee. For example, if the granddaughter of a refugee is also outside the country of her nationality due to a well-founded fear of being persecuted, she too is a primary refugee. But she is not a refugee due to descent, because there is no provision for refugee status based on descent in the 1951 refugee convention or in internationally accepted practices for refugees who are not Palestinian refugees.
Those are the laws. Now, consider the broader political facts. Since the end of World War II, millions of refugees have left refugee camps and have been resettled elsewhere, including hundreds of thousands of Jewish people who were forced out of Arab countries. Many hardworking agencies have played a role in making sure that the descendants of these refugees were never refugees themselves. These agencies include the UNHCR, whose mandate is to protect refugees, forcibly displaced communities, and stateless people, and assist in their voluntary repatriation, local integration, or resettlement to a third country.
The only refugees who do not fall under the UNHCR and instead have their own agency are the Palestinians. While the UNHCR has resettled millions of refugees, since the time it was created, UNRWA has not managed to solve or even diminish the problem at all. Instead, using its own metrics, the number of refugees has grown exponentially, while UNRWA has become one of the larger U.N. agencies, with 30,000 personnel and a $1.2 billion budget. This is despite the fact that many of the UNRWA "refugees" are not actually refugees at all under the standard international definition of that term. For example, of the 2 million Palestinian refugees in Jordan, most have been granted Jordanian citizenship.
UNRWA, moreover, is the only refugee agency in the world whose purpose is not to resettle refugees and help them go on with their lives. UNRWA spends more to do less, while perpetuating a problem it was created to help solve. This situation, which does little to advance the interests of actual refugees and much to expand a bloated UNRWA bureaucracy, needs to be addressed.
The United States has been UNRWA's biggest donor since its inception and contributes a disproportionate amount toward Palestinian refugees in comparison to other refugees around the world. What I, and concerned citizens including members of Congress and members of the American Center for Law & Justice (ACLJ), are asking is that the United States support UNRWA solely to the extent necessary to accomplish its original and intended purpose to resettle refugees from the Arab-Israeli conflict of 1948 under the internationally recognized definition of refugees that applies in every other instance.
In the words of Lt. Gen. Alexander Galloway, then the director of UNRWA in Jordan, in 1952:
It is perfectly clear that Arab nations do not want to solve the Arab refugee problem. They want to keep it as an open sore, as an affront against the United Nations and as a weapon against Israel. Arab leaders don't give a damn whether the refugees live or die.
We at the ACLJ, on the other hand, do believe that U.N. agencies should exist to solve problems and help people. We are calling on the United States to do this for the sake of everyone involved, including the legitimate refugees who deserve better treatment than a failed agency like UNRWA can apparently provide.
THE REAL PALESTINIAN REFUGEE CRISIS
The Tower Asaf Romirowsky
Who are these refugees? How many actual refugees from 1948 are alive today? How is it possible that while other refugee populations shrink, the Palestinian refugees only grow? Why do they have their own UN agency separate from the other refugees around the world? A sobering look at the hijacking of humanitarian concepts for political ends.
Perhaps the most insurmountable and explosive issue in the Israeli-Palestinian conflict is the so-called "right of return"—the demand that millions of Palestinians must be allowed to "return" to the State of Israel under any peace agreement. While Israel has made clear that it cannot agree to this, since it would effectively destroy Israel as a Jewish state, the Palestinians have steadfastly refused to compromise on the issue. This has made the "right of return" the primary obstacle to any peace agreement.
Despite the latest round of peace talks, there is little sign that the Palestinians are willing to change their stance. Indeed, Palestinian Authority President Mahmoud Abbas has unequivocally stated,
"Let me put it simply: the right of return is a personal decision. What does this mean? That neither the PA, nor the state, nor the PLO, nor Abu Mazen [Abbas' nom de guerre], nor any Palestinian or Arab leader has the right to deprive someone from his right to return."
Abbas is by no means alone in this. In fact, whenever it appears that Abbas might waver, the reaction tends to be swift and ferocious.
At one point, for example, Ali Huwaidi, director of the Palestinian Organization for the Right of Return ("Thabit") in Beirut, lashed out at Abbas, saying,
Regardless of Abbas' statements, the right of return is guaranteed, individually and collectively, through UN resolutions. The refugees will not give up their right no matter where they are living today. Abbas is worried about flooding Israel with five million refugees while Israel has brought one million people from the former Soviet Union and no one complained about this. Our refugees will not accept any alternative to their right to return to their homeland and we do not care what Abbas' position is.
But how many actual refugees are there? Surely over the years, many of those displaced have passed away, and such status does not normally transfer from generation to generation.
The issue is so emotive because, in many ways, Palestinian identity itself is embodied in the collective belief in a "right of return" to "Palestine." Along with the belief that resistance to Israel is permanent and holy, Palestinian identity is largely based on the idea that the Palestinians are, individually and communally, refugees; that they have been made so by Israel; and that the United Nations should support these refugees until they can return to what is now Israel.
This belief is passionately safeguarded by the United Nations Relief and Works Agency for Palestine Refugees in the Near East (UNRWA). The organization was established in 1949 following the failure of the Arab war against Israel's independence, and its original mandate was to provide services to the approximately 650,000 Arabs displaced by the conflict. Today, it is essentially a massive social welfare system serving millions of Palestinians, primarily in the West Bank, Lebanon, Syria, and Jordan. At the same time, its activities go well beyond simple humanitarianism. It plays a distinctly political role in Palestinian society, working to further the cause of Palestinian nationalism through politicized education, activism, anti-Israel propaganda, and other activities.
In effect, UNRWA has come to depend on the refugee problem itself. While the refugees benefit from its services, the organization benefits even more from the refugees. They are, of course, the organization's raison d'être. UNRWA has no incentive whatsoever to resolve the Palestinian refugee problem, since doing so would render it obsolete. As a result, the agency not only perpetuates the refugee problem, but has, in many ways, exacerbated it. In doing so, it has made Israeli-Palestinian peace all but impossible.
UNRWA's role in perpetuating and even expanding the refugee problem is a complex one; but, more than anything else, it is the result of the agency's own definition of a Palestinian refugee—which is unique in world history. The standard definition of a refugee, which applies in every case except that of the Palestinians, includes only those actually displaced in any given conflict. UNRWA has defined a Palestinian refugee as anyone whose
"normal place of residence was Palestine during the period 1 June 1946 to 15 May 1948 and who lost both home and means of livelihood as a result of the 1948 conflict."
But it has also continually expanded this definition, now stating
"the children or grandchildren of such refugees are eligible for agency assistance if they are (a) registered with UNRWA, (b) living in the area of UNRWA's operations, and (c) in need."
As a result, the number of official Palestinian refugees—according to UNRWA— has expanded almost to the point of absurdity. The best estimates are that perhaps 650,000 Palestinians became refugees in 1948-1949; but UNRWA now defines virtually every Palestinian born since that time as a refugee. That number now reaches well into the millions. This is quite simply unprecedented. In no other case has refugee status been expanded to include subsequent generations over a period of decades.
UNRWA's involvement in Palestinian society is equally unique. Its role there has expanded from simple refugee relief to one of the most important and influential Palestinian institutions. In particular, the agency now employs nearly 30,000 people, most of whom are Palestinian. This makes UNRWA the single largest employer in the West Bank and the Gaza Strip, and indispensable to the Palestinian economy. As such, there is a strong economic incentive to keep the prosperous organization afloat.
It cannot be said that the agency is ungenerous to its subjects. When the world hears words like "refugees" and "refugee camps," it instinctively pictures desperate people living in tents or shantytowns. This generates automatic sympathy and financial support for organizations like UNRWA, which regularly receives monetary contributions amounting to millions of dollars. All this is due to the belief that these funds provide humanitarian aid and help with the assimilation of Palestinian refugees. In many cases, the reality is entirely different. UNRWA-administered refugee camps are often fully-functioning suburbs of Palestinian cities, with water, electricity, and even satellite television.
UNRWA's role as a jobs machine and a pillar of the Palestinian economy has led to institutional bloat on a huge scale. Its 30,000 employees, for example, dwarf the approximately 5,000 who work for the UN High Commissioner for Refugees (UNHCR), whose remit is the rest of the entire world. The UNHCR mandate, moreover, is clearly focused on the resettlement and rehabilitation of refugees, not on providing services that maintain the status quo. The role played by economic incentives in these organizations is very telling. While UNHCR—forbidden by its mandate to work with Palestinians—has worked to decrease the number of refugees in the world, UNRWA has worked to increase the number of Palestinian refugees, prolonging and exacerbating the problem rather than solving it.
The result of this over-60-year-long process is that incentives for the refugees to resettle in Arab countries or elsewhere are minimal, and practically none exist for UNRWA to end its operations. UNRWA states that the Palestinians are an occupied people, and will remain so until the General Assembly declares an end to the conflict; so as long as the Palestinians are refugees, UNRWA is in business. The minute they are not, it disappears.
UNRWA's flaws have not gone unnoticed, even by members of the organization itself. Indeed, the most important critique to appear in recent years was that of James Lindsay, a former legal advisor and general counsel to the organization. Lindsay worked for UNRWA from 2000-2007 and, after leaving, produced a 2009 monograph for the Washington Institute for Near East Policy that caused a firestorm.
Lindsay concluded to much controversy that "the vast majority of UNRWA's registered refugees have already been 'resettled' (or, to use the UN euphemism, 'reintegrated')," and that the "only thing preventing citizens from ceasing to be 'refugees' is UNRWA's singular definition of what constitutes a refugee." Accordingly, Lindsay recommended that UNRWA responsibilities be handed over to Jordan. He acknowledged that legal restrictions on Palestinians being resettled in Syria and Lebanon were difficult, but not impossible to overcome given time and effort.
He also recommended that UNRWA move to a need-based model:
Some might question whether scarce international aid should be used to fund relatively sophisticated programs for Palestinians—not just education and health care, but also microfinance, urban planning, and so forth—rather than, say, food for starving Africans in places like Darfur. Even putting that question aside, why should such services be provided for free to those who can afford to contribute at least a portion of the cost?
Finally, Lindsay suggested that the United States
"urge UNRWA to limit its public pronouncements to humanitarian issues and leave political speeches to the political echelons of the United Nations."
Lindsay's fairly modest suggestions for reform were not well-received by the organization and its supporters. A press release issued by Andrew Whitley, director of the UNRWA representative office at United Nations headquarters in New York, said,
"The agency is disappointed by the findings of the study, found it to be tendentious and partial, and regrets in particular the narrow range of sources used."
It added,
"The study ignores the context in which UNRWA operates and the tight line the agency walks due to various pressures…. Someone reading this paper with no background would assume that the Israeli government was a benign actor. No mention is made of the occupation of the West Bank and the Gaza Strip."
Responses from other UNRWA officials were equally harsh. Chris Gunness, UNRWA's spokesman in Jerusalem, said that Lindsay
"makes selective use of source material and fails to paint a truthful portrait of UNRWA and its operations today."
John Ging, head of UNRWA operations in Gaza, attempted to deflect Lindsay's criticism of negative depictions of Israel and Jews in UNRWA textbooks. In effect, he blamed the Palestinian Authority for the problem, saying Lindsay had
"no basis to say that it is UNRWA's decision because our mandate is given to us. I agree that it is a political failure, but we don't set up the mandate, we are only the implementers."
This echoed previous UNRWA responses to similar evidence as far back as the late 1960s.
Critiques like Lindsay's have had some political effect, but attempts at forcing institutional reform have tended to be undertaken piecemeal, rather than tackling the overall problem. Since the 1960s, for example, American lawmakers have tended to focus specifically on one of UNRWA's darkest legacies: Its relationship with terrorism. As far back as Section 301(c) of the 1961 Foreign Assistance Act (P.L. 87-195), as amended, Congress decreed,
No contributions by the United States shall be made to [UNRWA] except on the condition that [UNRWA] take[s] all possible measures to assure that no part of the United States contribution shall be used to furnish assistance to any refugee who is receiving military training as a member of the so-called Palestine Liberation Army or any other guerrilla type organization or who has engaged in any act of terrorism.
This was certainly an important issue. Unfortunately, UNRWA's relationship with Palestinian terrorism has been a long one, particularly after the Palestine Liberation Organization (PLO) achieved both international political status and practical authority over the UNRWA refugee camps. Through agreements with the government of Lebanon in 1969 and its eventual UN status as a formal observer, the PLO gained a quasi-governmental role in local and international Palestinian affairs. In his article, "UNRWA and the Palestinian Nation-Building Process," Jalal al-Husseini wrote that the PLO soon began using UNRWA facilities as terrorist bases.
This continues to be a problem today. Lindsay himself noted,
UNRWA has taken very few steps to detect and eliminate terrorists from the ranks of its staff or its beneficiaries, and no steps at all to prevent members of terrorist organizations, such as Hamas, from joining its staff. These failings have occurred not because UNRWA consciously supports terrorism, but rather because it is not particularly concerned about the issue, its main focus being the provision of services and protection of Palestinian refugees.
The American government has not ignored this issue. Since the 1970s, a number of Congressional resolutions have sought to limit or cut off funding to UNRWA; and Congress regularly introduces language into appropriations bills requiring UNRWA to promote transparency, self-policing, and accountability with regard to vetting employees for terrorist connections, as well as eliminating the promotion of terrorism in educational materials. Similar provisions are regularly written into United States Agency for International Development budgets—administered by the State Department—in regard to the Palestinian Authority.
High-ranking members of Congress have also taken the problem up directly with the UN. In 2002, for example, a letter from U.S. Representative Tom Lantos—then the ranking Democrat on the House International Relations Committee—to then-UN Secretary-General Kofi Annan, complained, "UNRWA officials have not only failed to prevent their camps from becoming centers of terrorist activity, but have also failed to report these developments to you." Annan simply replied, "The United Nations has no responsibility for security matters in refugee camps, or indeed anywhere else in the occupied territory."
Perversely, UNRWA now claims to have solved the problem by checking its employees against watch lists of al-Qaeda and Taliban suspects; yet it remains unwilling to use lists of Hamas, Hezbollah, or other Palestinian terrorist groups provided by Israel. There seems to be a good reason for this. Rashid Khalidi, the Edward Said Professor of Arab Studies at Columbia University—and a ferocious advocate of the Palestinian cause—has written,
Humanitarian and charitable institutions throughout Palestine employ personnel regardless of sectarian or political affiliation and offer services on a similar basis. Thus, UNRWA, NGO-run and public hospitals and clinics, for example, employ members of different political groups such as Fatah, the PFLP [Popular Front for the Liberation of Palestine], Hamas, and Islamic Jihad, without reference to their belonging to a specific group.
A serious obstacle to effective action on the issue is that Congressional stipulations are regularly circumvented by presidential waiver, in which the president decrees that continuing aid to UNRWA and other Palestinian entities is in the national security interest of the United States, regardless of terrorist connections or structural concerns.
But this may no longer be enough. As pointed out in Congressional Research Service Report RS40101, concerns about UNRWA-connected terrorism have increased dramatically since the Hamas takeover of the Gaza Strip in 2007. It seems likely that, with the recent unity agreement between Hamas and Fatah, these concerns will only increase. Indeed, as U.S. funding of Palestinian institutions has escalated in recent decades, American lawmakers have repeatedly questioned members of the executive branch about possible diversion of U.S. funds to terrorism and the presence of terrorists in U.S.-funded entities.
As a result, Congress has taken several initiatives to hold UNRWA accountable. In 2009, Congressmen Mark Kirk and Steve Rothman introduced provisions for UNRWA accountability into relevant appropriations bills. They called for transparency and responsibility, and sought to ensure that the monies UNRWA receives do not fund terrorism in any way. This would finally have brought UNRWA funding into compliance with the 1961 Foreign Assistance Act. The bill also underscored the need to evaluate textbooks used in UNRWA schools in order to ascertain that they do not contain "inflammatory and inaccurate information about the United States and the State of Israel, anti-Semitic teaching, as well as the glorification of terrorists." The amendment died in committee. In the five years since, direct U.S. funding of UNRWA has only increased.
A new proposal from now-Senator Kirk, however, might go a long way toward bringing about real reform; in particular, because it goes well beyond the specific issue of terrorism. It proposes a more precise definition of refugee status, to be specified in a Memorandum of Understanding with UNRWA. Under the proposal, if UNRWA wishes to continue receiving American aid, it would have to agree that "a Palestinian refugee is defined as a person whose place of residence was Palestine between June 1946 and May 1948, who was personally displaced as a result of the 1948 or 1967 Arab-Israeli conflicts, who currently does not reside in the West Bank or Gaza, and who is not a citizen of any other state."
This would mean that only those displaced by war could be considered refugees, and the status would no longer be heritable, bringing UNRWA into compliance with the international definition of refugee status. The amendment would also require the Secretary of State to report to Congress about the notoriously slippery number of refugees and the measures being taken to enforce the new definition (this wouldn't necessarily mean that those accurately classified as refugees would be the only ones eligible for UNRWA services). There is no doubt that, while it would not solve all of UNRWA's problems, it would be an excellent start.
For over six decades, the United Nations Relief and Works Agency for Palestine Refugees in the Near East has been a unique and uniquely troubled institution. It has unilaterally redefined the international definition of a refugee, expanded its mandate to include the construction of a massive social welfare and employment system, made itself the basis of at least one economy and an essential part of another, and allowed itself to become part of several terrorist movements, some dedicated to the destruction of a UN member state. Rather than being part of any conceivable solution, in other words, UNRWA sustains the problem it was supposed to help solve.
But more than anything else, UNRWA is the institutional foundation of one of the most persistent obstacles to peace in the Middle East. In its relentless defense of its own unique definition of a Palestinian refugee and its complete refusal to reconsider its demand for the "right of return," it buttresses and perpetuates the Palestinians' eternal sense of victimhood and the refugees' narrative. This narrative accepts no responsibility whatsoever for the refugee problem, blaming it entirely on Israel, regardless of the decisions and actions of Palestinians and their leaders. Due to its economic and institutional interests in doing so, UNRWA must continue to maintain and even expand the refugee problem until the refugees' complete and total repatriation and compensation. This demand for the "right of return" is clear and absolute and has not changed to this day. Over and over again, it has torpedoed any possibility of an agreement between Israel and the Palestinians.
It seems clear that the UN erred when it created a UN institution devoted exclusively to one population, with a policy and structure in contradiction to those of all similar institutions. This mistake, however, can be rectified.
The simplest solution would be to eliminate UNRWA and immediately subordinate all its agencies to the UN High Council on Refugees. This would be equitable and efficient–but since the prospects of such a decision being effected by the UN are slim to none, it is probably more sensible to look for solutions that can be implemented directly by the United States.
Enacting Congressional demands for greater accountability and, especially, bringing UNRWA's refugee policies into line with those of the rest of the world, would be essential steps toward meaningful reform. At the same time, we must strive to decrease UNRWA's hold on Palestinian society. The services UNRWA currently provides should be slowly handed over to parallel agencies within the UN, which already provide these services to others, but which have no financial or political interests in perpetuating the problem. In particular, the ultimate goal should be to wean the Palestinians off UNRWA's largesse completely, and shift the responsibility for providing services and employment to the Palestinian Authority. Doing so would not only be good for the Palestinians, but also for the peace process. It appears that peace cannot be achieved without compromise on the "right of return," and there can be no such compromise until UNRWA is either substantially reformed or entirely dismantled.
DID ISRAEL CREATE THE ARAB REFUGEE PROBLEM?
Israel Advocacy
The refugee problem was caused by attacks by Jewish forces on Arab villages and towns and by the inhabitants' fear of such attacks, compounded by expulsions, atrocities, and rumors of atrocities — and by the crucial Israeli Cabinet decision in June 1948 to bar a refugee return.
– "Revisiting the Palestinian Exodus of 1948", Benny Morris in E. L. Rogan and A. Schlaim "The War for Palestine: Rewriting the History of 1948", pp. 37- 59.
OVERVIEW OF WHAT HAPPENED
Had the Arabs accepted the 1947 UN proposal for a Palestinian state, not a single Palestinian would have become a refugee and an independent Arab state would now exist beside Israel. Instead the Arab rulers chose war causing a mass exodus of Arabs from Israel.
WHAT HAPPENED TO THE ARABS THAT WERE LIVING WITHIN ISRAEL'S BORDERS?
In the 1948 war many Arab civilians were forced to leave by the Arab nations and the Arab Higher Committee.
In 48 and 67 Arab propaganda told of fictional Zionist massacres, this propaganda coupled with proclamations of a swift Arab victory caused thousands of Arabs to flee (with the belief they could return once the Jews had been cleansed).
In 1948 there were a tiny number of Arab towns that were evicted for military activity against Israel.
Arabs that remained neutral and did not leave were granted full Israeli citizenship. This group now represents 20% of the Israeli population.
As many of the Arabs were recent migrants or the children/grandchildren of recent migrants, they simply returned to the neighbouring countries they'd originally came from when they fled.

PALESTINIANS THAT WERE FORCED TO LEAVE ISRAEL AT THE HANDS OF ARABS
Many Arab villages were systematically depopulated by the Arab Liberation Army (an army of volunteer soldiers from Arab countries sponsored by the Arab League) and local gangs loyal to the Arab Higher Committee (the de facto Palestinian government headed by the Grand Mufti). The empty villages were then transformed into military positions for anti-Jewish attacks.
The fellaheen (peasants) who lived in the villages were of little consequence to the ALA and AHC. In one round of peace negotiations the General Secretary of the Arab League (the creators of the ALA), Abdul Rahman Hassan Azzam, declared "I am fighting for a country and villages do not matter" 1.
This dismissiveness coupled with striking Zionist military successes led many villages to either opt out of the conflict or align themselves with Israel. In 1948 the following Arab localities had agreed to both formal and informal peace treaties: Abu Kishk, Abu Gosh, Aqir, Arab Jalad, Arab Quz, Ard Saris, Bashshit, Battir, Baqa Gharbiya, Beit Hanina, Beit Iksa, Beit Inan, Beit Naqquba, Beit Safafa, Beit Surik, Daliyat al-karmil, Deir Yasin, Ein Karim, Ghuweir Abu Shusha, Faja, Habla, Hadatha, Jalil, Jammassin, Kababir, Kafr Qara, Kafr Sabt, Khirbat Lauz, Litfa, Ma'dhar, Maliha, Mansuriya, Miska, Qalandiya, Qaluniya, Qastel, Qatanna, Sabbarin, Sataf, Sejera, Sharafat, Shafa Amr, Sheik Muwannis, Shumali, Silwan, Summeil, Sur Bahir, Taiyiba, Tarshiha, Tel Safi, Tira, Ulam, Usfieh, Wadi Hawarith, Walaja, Yajur, Yasur, Zib and Zir'in. 2
But it was not just peace treaties that were being signed, many of the villages physically repelled ALA/AHC troops and informed the Zionists of ALA/AHC activity. When an armed gang tried to launch an attack against a Zionist kibbutz from the Arab village of Zeita, the villagers not only drove the gang away, but offered to send 100 fighters to protect the kibbutz. Similar scenes were witnessed in Arab villages throughout Israel. One such instance occurred when Abd al-Qadir al-Husayni, the founder of the Holy War Army, was chased from the village of Beit Safafa by an angry mob appalled by the transformation of their village into a centre for anti-Jewish attacks. As time passed and violence escalated some villages folded under pressure and reneged on their peace agreements. While others, like Abu Gosh, remained close allies of Israel throughout the conflict.
But what of the cities? If Abdul Rahman Azzam cared not for the villages then one would assume there'd be no evacuation of the cities. In Haifa this was not the case. In 1947 Haifa was a city of two people (71,000 Jews and 70,000 Arabs 3), but by April 1948 the AHC had forced almost all of the Arab population to flee.
Flight from Haifa 4
December 1947 Fearing an oncoming conflict around a third of the city's Arab residents had fled by December.
12 December 1947 Shabtai Levy, the Jewish mayor of Haifa suggested both the Jewish and Arab leadership offer a joint proclamation urging the city not to slip into violence. The Arabs responded by saying "There is no way we can negotiate with the Jews. Let them take care of their interests and we'll ensure our security".
March 1948 The AHC ordered the evacuation of the women and children from Haifa as violence escalated between Arabs and Jews.
April 1948 The city's Arab population had dwindled to 35-40,000 – almost half of what it was the previous year.
21-22/4/1948 The Battle for Haifa erupted and though the Jews were outnumbered, they struck a quick and decisive victory.5
24/4/1948 After winning the battle Haifa's Jews offered their Arab neighbours peace if they handed in their weapons. After consulting with the Arab states, the Haifa residents were forced to reject the proposal and request "as an alternative, that the Arab population wished to evacuate Haifa". On hearing this the elderly Jewish mayor, Shabtai Levy, pleaded (with tears in his eyes) for the Arabs to reconsider, saying that they were committing "a cruel crime against their own people". Yaacov Salomon, a Haganah liaison officer, assured the Arab that "if they stayed on they would enjoy equality and peace, and that we, the Jews, were interested in their staying on and the maintenance of harmonious relations". Major General Hugh Stockwell of the British armed forces went on to tell the Arabs "You have made a foolish decision… think it over, as you'll regret it afterward. You must accept the conditions of the Jews. They are fair enough. Don't permit life to be destroyed senselessly. After all, it was you who began the fighting, and the Jews have won."
Despite an order for the Arab states to leave Haifa, not every Arab wanted to flee. To ensure their evacuation order was carried out the AHC declared that anyone remaining would be considered a traitor (a crime likely to attract the death sentence if, as was expected, the Arabs recaptured the city).
After the Jews had gained control of the town, and in spite of a subsequent food shortage, many would not have responded to the call for a complete evacuation but for the rumours and propaganda spread by the National Committee members remaining in the town. Most widespread was a rumour that Arabs remaining in Haifa would be taken as hostages by [the] Jews in the event of future attacks on other Jewish areas: and an effective piece of propaganda with its implied threat of retribution when the Arabs recapture the town, is that [those] people remaining in Haifa acknowledged tacitly that they believe in the principle of a Jewish State.
– British Intelligence Report (Weekly Report No. 3 for Week Ending 28 April 1948, WO 275/79).
Haifa was not an isolated incident and thousands and thousands of Arabs were forced to flee their homes. The Arab residents of Tiberias, Jaffa, Jerusalem (several neighbourhoods) and Beisan were just some of the major population centres commanded to leave.

PALESTINIANS THAT LEFT ISRAEL FOLLOWING ARAB PROPAGANDA
In 1948 the world expected a swift victory for the Arab armies. Prior to the War of Independence the Jewish arsenal consisted of rifles, machine-guns and mortars… in contrast the Arab armies possessed planes, tanks, APC's and IFV's. The Jewish forces were made up of militiamen (many still physically recovering from the holocaust), while the Arab nations had thousands of soldiers many of whom were highly trained and hardened fighting in military campaigns (like those that sided with Hitler to fight the British and French).
Everyone anticipated an Arab victory, none more so than the Arab rulers. On the 13 May 1948 the General Secretary of the Arab League, Abdul Azzam declared "It does not matter how many [Jews] there are …. we will sweep them into the sea!". Two days later at a press conference in Cairo he expanded on this by saying "This will be a war of extermination and momentous massacre which will be spoken of like the Mongolian massacre and the Crusades". 6
But this prophetic bravado was quickly converted into propaganda to encourage Arab civilians to flee and only return once the Jews had been crushed. One refugee recalled why he left in 48:
The radio stations of the Arab regimes kept repeating to us: 'Get away from the battle lines. It's a matter of ten days or two weeks at the most, and we'll bring you back to Ein-Kerem [near Jerusalem].' And we said to ourselves, 'That's a very long time. What is this? Two weeks? That's a lot!' That's what we thought [then]. And now 50 years have gone by.
– Palestinian Authority TV, (July 7, 2009)
There were many such testimonies, one of the more striking accounts came from the King of Jordan, whose troops were fighting against the Jews.
The tragedy of the Palestinians was that most of their leaders had paralyzed them with false and unsubstantiated promises that they were not alone; that 80 million Arabs and 400 million Muslims would instantly and miraculously come to their rescue.
– King Abdullah of Jordan
Even the Palestinian leadership recorded the same account.
The Arab armies entered Palestine to protect the Palestinians from the Zionist tyranny but, instead, they abandoned them, forced them to emigrate and to leave their homeland, and threw them into prisons similar to the ghettos in which the Jews used to live.
– — Palestinian Authority Prime Minister Mahmoud Abbas, Falastin a-Thaura, (March 1976).
As did many of the Arab world's leaders:
Since 1948 we have been demanding the return of the refugees to their homes. But we ourselves are the ones who encouraged them to leave. Only a few months separated our call to them to leave and our appeal to the United Nations to resolve on their return.
– Haled al Azm, the Syrian Prime Minister in 1948–49 7
We will smash the country with our guns and obliterate every place the Jews seek shelter in. The Arabs should conduct their wives and children to safe areas until the fighting has died down.
– Nuri Said, Iraqi Prime Minister, 1958
This wholesale exodus was due partly to the belief of the Arabs, encouraged by the boastings of an unrealistic Arabic press and the irresponsible utterances of some of the Arab leaders that it could be only a matter of weeks before the Jews were defeated by the armies of the Arab States and the Palestinian Arabs enabled to re-enter and retake possession of their country.
– Edward Atiyah, Secretary of the Arab League Office in London
However, it would be an injustice to history to claim that it was the Arabs alone that were responsible. There were also cases of Zionists spreading propaganda to scare Arabs. Yigal Allon, the commander of the Palmach, said he'd instructed Jews tell Arab villagers that a large Jewish force was in Galilee with the intention of burning all the Arab villages in the Lake Hula region. The Arabs were told to leave while they still had time.8 Arab propagandists weren't just telling the Arabs to leave they were also spreading rumours of fictitious massacres and rape (not one case was recorded) – in one instance Abu Mahmud, a resident of Deir Yassin during the 1948 massacre told Palestinian leader, Hussein Khalidi that "there was no rape," but Khalidi replied, "We have to say this, so the Arab armies will come to liberate Palestine from the Jews." Sari Nusseibeh told the BBC 50 years later, "This was our biggest mistake. We did not realize how our people would react. As soon as they heard that women had been raped at Deir Yassin, Palestinians fled in terror."9

PALESTINIANS THAT WERE FORCED TO LEAVE ISRAEL BY ZIONISTS
While almost every Palestinian expulsion came at the hands of Arabs, there was one isolated instance when a substantial urban population was driven out by Jewish forces. Israeli troops seeking to protect their flanks and relieve the pressure on besieged Jerusalem, forced a portion of the Arab population of the Lydda-Ramle area to a Jordanian occupied position a few miles away.
On the 9th of July Lydda was the site of this fierce battle, Yigal Allon described the reason for the battle, "The two towns had served as bases for Arab irregular units, which had frequently attacked Jewish convoys and nearby settlements, effectively barring the main road to Jerusalem to Jewish traffic".10 After a crushing defeat the town's mayor Muhammad Ali Kajala negotiated a peace treaty – but was then promptly executed by an Arab militia. Shortly after the residents of the town staged an uprising resulting in a second much bloodier conflict where around 250 Arabs lost their lives.11 In the heat of this conflict Moshe Dayan made the decision to relocate the 50,000-70,000 residents of the Lydda-Ramle region to a Jordanian position a few miles away.
Unlike the Arabs who had an official policy of depopulating Arab neighbourhoods, this was not an official Israeli policy and the decision to depopulate Lydda-Ramle was a one off military decision made in the heat battle.
PALESTINIANS THAT BECAME ISRAELIS
After the war of independence the 160,000 12 Arabs remaining in Israel were granted full citizenship. The same was not true for Jews in the Jordanian occupied West Bank who were expelled and their holy places destroyed, nor for Jews in Arab lands who were expelled en masse during the years that followed.
The Arabs of Israel flourished in a political system that granted them more freedoms than any Arab state:
Israel's Declaration of Independence established equality of social and political rights, irrespective of religion, race, or sex

Hebrew and Arabic are the official languages of Israel and all road signs, food labels, messages published or posted by the government must also be translated into Literary Arabic.

Education is free to all citizens

Healthcare is free to all citizens

The rights to vote or run for office
While many of the Palestinians that fled Israel were subject to cruel afflictions and continuous oppression at the hands of the Arab states.
Today 20% of Israel's population are Arab, just as it was in 1948. 13
Sources
1. Palestine Betrayed, Efraim Karsh, p174
2. Palestine Betrayed, Efraim Karsh, p177-9
3. Palestine Betrayed, Efraim Karsh, p125
4. Palestine Betrayed, Efraim Karsh, Ch. Fleeing Haifa
5. Benny Morris, Benny Morris, Birth of the Palestinian Refugee Problem Revisited, p192.
6. Palestine Betrayed, Efraim Karsh, p209
7. The Memoirs of Haled al Azm, Part 1, p386–7.
8. Sefer ha-Palmach, Yigal Allon, quoted in Larry Collins and Dominique Lapierre, O Jerusalem!, (NY: Simon and Schuster, 1972), p. 337; Yigal Allon, My Fathers House, (NY: W.W. Norton and Company, Inc, 1976), p. 192.
9. Israel and the Arabs: The 50 Year Conflict, BBC Television Series, (1998).
10. Benny Morris, The Birth of the Palestinian Refugee Problem Revisited, (MA: Cambridge University Press, 2004), pp. 423–5.
11 Operation Dani and the Palestinian Exodus from Lydda and Ramle in 1948, Benny Morris, Middle East Journal, Vol. 40, No. 1 (Winter, 1986), pp. 87
12. Terence Prittie, "Middle East Refugees," cited in Michael Curtis, et al, The Palestinians, (NJ: Transaction Books, 1975), p. 52.
13. Israeli Central Bureau of Statistics
________________________________________
ARABS LIVING IN ISRAEL
Wikipedia
Arab citizens of Israel or Arab population of Israel are Israeli citizens, whose cultural and linguistic heritage or ethnic identity is Arab. The majority of the Arabs in Israel are Muslim but some are Christian or Druze. Many identify as Palestinian and commonly self-designate themselves as Palestinian citizens of Israel. The traditional vernacular of most Arab citizens, irrespective of religion, is the Palestinian dialect of Arabic. Most Arab citizens of Israel are functionally bilingual, their second language being Modern Hebrew. By religious affiliation, most are Muslim, particularly of the Sunni branch of Islam. There is a significant Arab Christian minority from various denominations as well as Druze, among other religious communities.
According to Israel's Central Bureau of Statistics, the Arab population in 2013 was estimated at 1,658,000, representing 20.7% of the country's population. The majority of these identify themselves as Arab or Palestinian by nationality and Israeli by citizenship. Many have family ties to Palestinians in the West Bank and Gaza Strip, as well as to Palestinian refugees in Jordan, Syria, and Lebanon. Negev Bedouins and Druze tend to identify more as Israelis than other Arab citizens of Israel.
Most of the Arabs living in East Jerusalem and the Golan Heights, occupied by Israel in the Six-Day War of 1967 and later annexed, were offered Israeli citizenship, but most have refused, not wanting to recognize Israel's claim to sovereignty. They became permanent residents instead. They have the right to apply for citizenship, are entitled to municipal services, and have municipal voting rights.
CO-EXISTENCE OF JEWS AND ARABS
Facts About the Arab-Iisraeli Conflict
Though Israel was envisioned by the founders of Zionism as a home for the Jewish people after two thousand years of statelessness and persecution, that vision also included coexistence with the local non-Jewish populations. Theodor Herzl, the founder of modern Zionism, specifically called for integration and warned against racism in his vision of the Jewish state. Ze'ev Jabotinsky, leader of the more nationalistic stream of Zionism, also advocated integrating the local Arab population as equals. In the years leading up to the creation of Israel, both Jews and Arabs who lived in the area benefitted greatly from the improving economy, social services and overall quality of life. In fact, many Arabs immigrated from surrounding areas in pursuit of these benefits.
When Israel was founded in 1948, its Declaration of Independence specifically called on its Arab inhabitants to "participate in the upbuilding of the State on the basis of full and equal citizenship", and on the neighboring Arab countries to "establish bonds of cooperation and mutual help… for the advancement of the entire Middle East".
Today, non-Jewish citizens of Israel constitute about 25% of the population, with 20% being Arabs. Arab Israelis have equal voting rights and their own political parties, serve on the Israeli Knesset, Cabinet, and Supreme Court; hold diplomatic positions; actively participate in the Israeli music and arts scene; and represent Israel on the national soccer team, including winning the Israeli national championship. They are granted all fundamental civil liberties, including freedoms of religion, speech, and assembly, and in fact enjoy more civil rights than Arabs living in any other Middle Eastern country. Israel is also the only country in the Middle East where Arab homosexuals can live without fear of prosecution, which is why many Palestinian gays have fled for Israel. Many Arab Israelis have spoken out in favor of Israel, and against allegations of an Israeli apartheid. Such claims have also been refuted by many others, including by Richard Goldstone, former Justice of the Constitutional Court of South Africa, who presided over the UN report concerning the 2009 Gaza war.
Arab Israelis are generally not required to serve in the military, though some do volunteer. Members of the Druze and Circassian communities are drafted like Jewish citizens, at the request of their own community leaders.
Discrimination against Arab citizens of Israel does exist, though on a level comparable to that found in many other Western countries, and certainly far less than the discriminations to which Palestinians living in most Arab countries are subjected. In certain respects, Arab Israelis have more rights than some who live in Europe, such as the rights to wear hijabs.
As a general indicator, a recent Harvard study found that 77% of Arab Israelis would rather live in Israel than in any other country. Many Arabs have also stated that they would much rather live in Israel than under Palestinian rule.
PALESTINIAN AND JEWISH REFUGEES/EXILES
WIKIPEDIA
The Palestinian refugee problem originated as a result of the 1948 Arab-Israeli war, when five Arab armies invaded the State of Israel just hours after it was established. During the ensuing war, as many as 700,000 Palestinian Arabs fled their homes in the newly created state. Many of the Palestinian Arabs who fled did so voluntarily to avoid the ongoing war or at the urging of Arab leaders who promised that all who left would return after a quick Arab victory over the new Jewish state. Other Palestinians were forced to flee by individuals or groups fighting for Israel.
Of the Palestinians who left, one-third went to the West Bank (which was under Jordan's control), one-third went to the Gaza Strip (under Egypt's control), and the remainder to Jordan, Lebanon and Syria. The Arab nations refused to absorb these Palestinians into their population and they were instead settled into refugee camps. Only Jordan's King Abdullah agreed to confer citizenship on the 200,000 Palestinian living in Jordan and the Jordan-controlled West Bank and East Jerusalem. In 1949, the United Nations Relief and Works Agency for Palestinian Refugees in the Near East (UNRWA) was created to oversee the economic integration of the refugees into these Arab countries. The Arab governments refused to consider integration, insisting that it would undermine the refugees' "right" to return to their homes in Palestine. UNRWA continues to operate, providing relief, health care, education and vocational training to the refugee populations in Jordan, Syria, Lebanon, the West Bank and Gaza Strip.
During the 1967 Six Day War, another estimated 250,000 Palestinians fled the West Bank and Gaza Strip with the arrival of Israeli forces. Some of these were people who had left their homes in Israel in 1948. These individuals are considered by the international community to be displaced persons, not refugees.
A Jewish refugee problem was also created with the establishment of the State of Israel. From 1948-1951 as many as 800,000 Jews were expelled from their native Arab nations or forced to flee as a result of state-sponsored anti-Zionist violence. They left behind their property and the lives they had built in these lands over hundreds of years. As many as 500,000 of these refugees fled from Iraq, Tunisia, Syria, Egypt, Yemen, Algeria, Libya and Morocco and were absorbed into the new State of Israel. Others fled to Europe and North and South America.
Tallying the number of individuals considered Palestinian refugees today is a complex matter of intense debate. UNRWA, which registers Palestinian refugees, claims that refugees and their descendants number five million, including: those who left Israel in 1948; those who left the West Bank and Gaza Strip in 1967; those who were abroad but were subsequently not allowed to return to Israel; and all of their descendants. UNRWA's statistics include those residing in Jordan, Lebanon, Syria, the West Bank and Gaza Strip. It should be noted that UNRWA's policy of including the children, grandchildren and great-grandchildren of those who left in 1948 and 1967 into the refugee population for demographic and aid purposes is not done for any other refugee group. Israel believes the UNRWA statistics are grossly exaggerated. Israel also strictly distinguishes "refugees" from "displaced persons" and from "expired permit Palestinians" who were abroad at the time the conflicts ensued and were not allowed to return.
Palestinian insistence that refugees must have a "right of return" to their former homes inside Israel, and that this "right" is founded in international law, is rejected by Israel. Israel denies that there is any foundation in international law for a Palestinian "right of return," and that the non-binding international resolutions on the issue call not for a "return" to Israel, but for a just resolution of the refugee problem. Since the start of the Oslo process, refugees is considered one of the "final status" issues, along with borders, security, settlements and Jerusalem, that are to be negotiated as part of a final Israeli-Palestinian agreement.
Israel also argues that a "return" is not viable for such a small state, given that the influx of millions of Palestinians into Israel would pose a threat to its national security and upset the country's demographic makeup. In the decades that the Palestine Liberation Organization (PLO) did not recognize Israel's right to exist and actively sought to bring about Israel's downfall and replace it with a Palestinian state, the "right of return" of Palestinian refugees was a rallying cry. In 1993, the PLO recognized Israel's right to exist and committed to a negotiating process to establish an independent Palestinian state alongside the State of Israel. Given this situation, world leaders, including President Bill Clinton, President George W. Bush and President Barack Obama have publicly stated that Palestinian refugees should rightly be resettled in a future Palestinian state.
Israel maintains that it is not responsible for the Palestinian refugee problem since it is the result of a war forced on Israel by invading Arab armies. However, Israel has stated that on humanitarian grounds it would participate in an international effort to resolve the situation. Such an effort would likely involve Palestinian refugees settling in a newly established state of Palestine, an international compensation fund, and individual cases of family reunification.
Any international effort would also need to consider the situation of the 800,000 Jews who were expelled from their native Arab nations or forced to flee as a result of state-sponsored anti-Jewish violence following the founding of the State of Israel.
NO WAY HOME: THE TRAGEDY OF THE PALESTINIAN DIASPORA
You might think Palestinian refugees would be welcomed by their Arab neighbours, yet they are denied basic rights and citizenship
The Independent, a special report by Judith Miller and David Samuels Wednesday 21 October 2009
It is a cynical but time-honoured practice in Middle Eastern politics: the statesmen who decry the political and humanitarian crisis of the approximately 3.9 million Palestinians in the Israeli-occupied West Bank and in Gaza ignore the plight of an estimated 4.6 million Palestinians who live in Arab countries. For decades, Arab governments have justified their decision to maintain millions of stateless Palestinians as refugees in squalid camps as a means of applying pressure to Israel. The refugee problem will be solved, they say, when Israel agrees to let the Palestinians have their own state.
Yet in the two decades since the end of the Cold War, after two Gulf wars, and the rise and fall of the Oslo peace process, not a single Palestinian refugee has returned to Israel – and only a handful of ageing political functionaries have returned from neighbouring Arab countries to the West Bank and Gaza. Instead, failed peace plans and shifting political priorities have resulted in a second Palestinian "Nakba", or catastrophe – this one at hands of the Arab governments. "Marginalised, deprived of basic political and economic rights, trapped in the camps, bereft of realistic prospects, heavily armed and standing atop multiple fault lines," a report by the International Crisis Group (ICG) in Lebanon recently observed, "the refugee population constitutes a time bomb."
The fact that the divided Palestinian political leadership is silent about the mistreatment of the refugees by Arab states does not make such behaviour any less reprehensible – or less dangerous. Some 250,000 Palestinians were chased out of Kuwait and other Gulf States to punish the Palestinian political leadership for supporting Saddam Hussein. Tens of thousands of Palestinian residents of Iraq were similarly dispossessed after the second Gulf war.
In 2001, Palestinians in Lebanon were stripped of the right to own property, or to pass on the property that they already owned to their children – and banned from working as doctors, lawyers, pharmacists or in 20 other professions. Even the Palestinian refugee community in Jordan, historically the most welcoming Arab state, has reason to feel insecure in the face of official threats to revoke their citizenship. The systematic refusal of Arab governments to grant basic human rights to Palestinians who are born and die in their countries – combined with periodic mass expulsions of entire Palestinian communities – recalls the treatment of Jews in medieval Europe. Along with dispossession and marginalisation has come a new and frightening turn away from the traditional forms of nationalism that once dominated the refugee camps towards the radical pan-Islamic ideology of al-Qa'ida.
Daniel C Kurtzer, who has served as US ambassador to both Israel and Egypt and now advises the Obama administration, says that all American governments have resisted dealing with what he calls the most sensitive issue in the conflict – the normalisation of the status of the Palestinians – through a right of return to Palestine, or citizenship in other countries. "The refugees hold the key to this conflict's settlement," he says, "and nobody knows what to do with them."
In the unlikely event that President Obama's vision of a swift and final settlement of the Israeli-Palestinian conflict materialises, millions of Palestinians would still live in decaying refugee camps whose inhabitants are forbidden from owning land or participating in normal economic life. The only governing authority that Palestinians living in the camps have ever known is UNRWA – the United Nations Relief and Works Agency. Established by the UN on 8 December 1949 to assist 650,000 impoverished Palestinian refugees from the 1948 war, UNRWA has been battling budget cuts and strikes among its employees as it struggles to provide subsidies and services to Palestinian refugees, who are defined as "persons whose normal place of residence was Palestine between June 1946 and May 1948".
The inclusion of the descendants of Palestinian refugees as refugees in UNRWA's mandate has no parallel in international humanitarian law and is responsible for the growth of the official numbers of Palestinian refugees in foreign countries from 711,000 to 4.6 million during decades when the number of ageing refugees from the 1948 Israeli war of independence in was in fact declining. UNRWA's grant of refugee status to the children, grandchildren and great-grandchildren of the original Palestinian refugees according to the principle of patrilineal descent, with no limit on the generations that can obtain refugee status, has made it easy for host countries to flout their obligations under international law. According to Article 34 of the UN Convention Relating to the Status of Refugees, "The Contracting States shall as far as possible facilitate the assimilation and naturalisation of refugees," and must "make every effort to expedite naturalisation proceedings" – the opposite of what happened to the Palestinians in every Arab country in which they settled, save Jordan. For all the easy criticism that can be levelled at UNRWA, it is hard to see how many Palestinian refugees would have survived without the agency's help.
The responsibility for the legal dimensions of their fate lies elsewhere, as UNRWA Commissioner-General Karen AbuZayd made clear at UNRWA's anniversary ceremony in New York on 24 September, before an audience that included Palestinian President Mahmoud Abbas and Queen Rania of Jordan – herself a Palestinian. "The protracted exile of Palestine refugees and the dire conditions they endure, particularly in the occupied Palestinian territory, cannot be reconciled with state obligations under the UN Charter," AbuZayd said. The result for the refugees, AbuZayd said at a forum the previous afternoon at the Princeton Club, is a "suspended state of existence" for which no one seems willing to accept political responsibility. The rest of the discussion, moderated by Ambassador Kurtner, made clear that anticipated solutions to the Palestinian refugee problem had failed to emerge – leaving a community in crisis.
"You can't ignore an entire people because it's awkward or inconvenient," says Dr Karma Nabulsi, a lecturer at Oxford and a former Palestinian representative at the UN. In the period immediately after Oslo, she added, Palestinian refugees in Arab countries hoped to be repatriated to areas governed by the Palestinian Authority. Today, despair has replaced that initial optimism. "What young Palestinian would want to resettle in Gaza or in the West Bank?" she asks.
Sharing a panel with Dr Nabulsi, the doveish former Israeli foreign minister Shlomo Ben Ami, who negotiated directly with Yasser Arafat at the failed Camp David meetings in 2000, asserted that Israel has suppressed narratives that would make clear its responsibility for the Palestinian refugee crisis of 1948. Indifference to the refugees' plight, he added, was shared by Israel's negotiating partner in the Oslo years – Yasser Arafat. "He was not a refugee man," Ben Ami said flatly. "He was much more centred on the question of Jerusalem. I heard him say to [Mahmood Abbas] in my presence, 'leave me alone with your refugees'."
It is no secret that certain Arab regimes saw the Palestinians under Arafat's leadership as an unwelcome occupation that stripped Jordan bare and destroyed Lebanon. Similarly, Arafat often used the threat of destabilisation and assassination to get Arab regimes to fund the Palestinian cause. Still, the record of Arafat's Palestinian Authority in its territories during the 1990s attests to the truth of Ben Ami's observation, which applies both to Arafat's Fatah and to Hamas. Despite $10bn in foreign aid, not one refugee camp in the West Bank or Gaza has been replaced by modern housing. On the West Bank, chances for normal Palestinian communal life have been shattered by Israeli settlements, arrests, checkpoints and roadblocks, and by 15 years of abuses by Fatah. Even under the best of circumstances, an influx of refugees would further destabilise a Palestinian economy that is kept afloat by the world's highest per capita receipts of foreign aid.
Daniel Kurtzer agrees no one is likely to make a deal that includes a substantial return of the Palestinian diaspora. "Most Palestinian refugees know it, as do the settlers," he says. So rather than wait for American mediators or Arab states to impose solutions on them, the Palestinians themselves should begin to tackle the diabolically difficult issues inherent in the resolution of their political and economic future. "What we need is a refugee summit," he says. "I'm looking for a real conversation that must start internally and soon."
After 60 years of failed wars, and failed peace, it is time to put politics aside and to insist that the basic rights of the Palestinian refugees in Arab countries be respected – whether or not their children's children return to Haifa anytime soon. While Saudi Arabia may not wish to host Israeli tourists, it can easily afford to integrate the estimated 240,000 Palestinian refugees who already live in the kingdom – just as Egypt, which has received close to $60bn in US aid, and has a population of 81 million, can grant legal rights to an estimated 70,000 Palestinian refugees and their descendants. One can only imagine the outrage that the world community would rightly visit upon Israel if Israeli Arabs were subject to the vile discriminatory laws applied to Palestinians living in Arab countries. Surely, Palestinian Arabs can keep their own national dream alive in the countries where they were born, while also enjoying the freedom to work, vote and own property?
A practical solution to the crisis of the Palestinian refugees in Arab countries will focus on Lebanon, Syria and Jordan, which together play host to approximately 3 million of the estimated 4.6 million Palestinian refugees living outside the West Bank and Gaza. While each of these countries has chosen different legal and political approaches to the 1948 refugees and their descendants, they share a political desire to sublimate the rights of Palestinian residents, treating them as unwanted guests or as tools to be used in pursuing wider political interests – but rarely as fully-fledged members of society. Lebanon, where Palestinians led by Yasser Arafat are widely blamed for having sparked the 1975 civil war, is the worst offender against international norms. Yet even in Jordan, which is in many ways a model for the humane treatment of a large refugee population, Palestinians today feel markedly less secure than they did two decades ago, or even five years ago.
Outside of Iraq, whose Palestinian population fled en masse after the fall of Saddam, nowhere has the situation of the Palestinian refugees worsened so dramatically as in Lebanon. Since the early Sixties, Palestinians there have been barred from working in medicine, dentistry and the law. In 2001, the Lebanese parliament adopted an amendment to the country's property laws that prohibited the acquisition of real estate by "any person not a citizen of a recognised state" – meaning the estimated 250,000 to 400,000 Palestinians living in Lebanon. Palestinians who had acquired real estate prior to 2001 were barred from bequeathing property to their children.
Right-wing Christians and Shi'ite radicals alike support discriminatory legislation that further impoverishes Palestinian refugees in Lebanon, with the stated goal of preventing them from beginning the process of naturalisation, known as tawtin. In his inaugural speech in May, 2008, Lebanese President Michel Suleiman, a Christian and former head of the country's armed forces, reaffirmed "Lebanon's categorical refusal of naturalisation", a statement echoed by the former Lebanese ambassador to the US, Nassib Lahoud, who told us recently in Beirut: "The confessional balance does not allow these things to happen ... at the moment the Palestinians are citizens of a state that does not exist." His sentiments were echoed by Hizbollah's spokesman on the Palestinian question, Hassan Hodroj. "The threat of tawtin is genuine," Hodroj explained. "It is one of the ways in which Israel, backed by the US, is endangering the region."
The fact that the living standard of Palestinian refugees in Lebanon has been deemed "catastrophic" by both UNRWA and by the Lebanese government can therefore be understood as a deliberate result of official state policy that is supported by all parties across Lebanon's divided confessional spectrum. As a member of the Lebanese parliament, Ghassan Moukheiber, explained in an interview with the ICG, "our official policy is to maintain Palestinians in a vulnerable, precarious situation to diminish prospects for their naturalisation or permanent settlement".
Yet the results of this horrifying policy may not be confined to Palestinian refugee camps in Lebanon. In his book Everyday Jihad, about the experience of refugees in the Ain al-Hilweh camp, home to an estimated 70,000 Palestinians, the French scholar Bernard Rougier describes the results of decades of exclusion and marginalisation which have severed the refugees from any connection to a lost homeland – or the country in which they were born. As a result, he says, many Palestinians have abandoned a failed nationalism for the radical millenarian ideas associated with al-Qa'ida. "Palestinian salafist militants have devoted themselves to defending the imaginary borders of identity," Rougier writes, "declaring themselves the protectors and guardians of the cause of Sunni Islam worldwide."
Visitors to the Ain al-Hilweh camp are immediately made aware that they have entered another world. While Lebanese army checkpoints ring the camp, the Lebanese state has no presence inside. Food, water and other basic services are provided by UNRWA, while armed factions openly display weapons in muddy alleyways and recruit generations to serve under their banners. It is easy to see why the secular promise of Palestinian nationalism has faded and why the promise of a Muslim paradise without borders might take its place. One of the 9/11 hijackers dedicated a poem to Ain al-Hilweh's most prominent jihadist in his videotaped will, and dozens of Palestinian fighters from the camp joined al-Qa'ida in Iraq.
"The situation is the camp is deteriorating," Rougier told us, when we asked about whether things were getting better or worse for the Palestinians of Lebanon. Bound by their absolute opposition to tawtin, he says, Lebanese leaders are creating a radicalised Palestinian population that will eventually have to be absorbed into Lebanon, despite having little or no allegiance to the state.
Sahar Atrache, lead author of the ICG report on the Palestinian refugees in Lebanon, agrees. "Palestinians refugees in Lebanon lack means of socio-economic advancement and are bereft of hope," he says. "They are vulnerable on all counts – politically, legally and above all physically. The status quo is good neither for the refugees nor for Lebanon itself."
While Palestinian refugees and their descendants inside Syria are not allowed to vote or hold Syrian passports, they are free from the overt discrimination that has turned Lebanon into a recruiting ground for al-Qa'ida. The legal status of Palestinians inside Syria is defined by a 1956 law that states that grants them "the right to employment, commerce, and national service, while preserving their original nationality". More than 100,000 of the estimated 450,000 Palestinians in Syria live in or around the Yarmouk refugee camp, which long ago became a neighbourhood of Damascus.
While Palestinians are reasonably well integrated into the Syrian socio-economic structure, according to the scholar Laurie Brand they do not have the right to vote, nor can they stand for parliament or other political offices. Palestinians are barred from buying farmland and prohibited from owning more than one house. The female descendant of a Palestinian refugee can become a Syrian citizen by marrying a Syrian man. The male descendants of Palestinian men and their children are barred from acquiring Syrian citizenship, even if they marry Syrian women.
The major focus of Syrian interest in the Palestinian refugees has long been as an extension of the Assad regime's policy towards its neighbours – Israel and Lebanon. Damascus has long hosted a variety of Palestinian terror groups that rejected the Oslo process, including Ahmad Jibril's Palestinian Front for the Liberation of Palestine-General Command (PFLP-GC). More significantly, Damascus is also the political and logistical centre for Hamas. "Syria's support for armed Palestinian groups is key to pressuring Damascus' neighbours, most notably Israel and Lebanon," says Andrew Tabler, author of the Syria-watching blog Eighth Gate.
Syria increases its leverage inside Israel by weakening Fatah and strengthening Hamas. In Lebanon, Syrian military and political interference has turned the refugee camps into "security-free islands" (juzur amniya) where bombers can be recruited, bombs manufactured, and plots can be directed beyond the reach of the Lebanese army and police. "Life for the Palestinians was deliberately frozen for political manipulation," concludes Lebanese analyst Tony Badran. "Syria has no interest in normalising that situation."
While Syria imposes a measure of security on its Palestinian neighbourhoods, it foments insecurity and violence in Lebanon and Gaza, splitting the Palestinian polity and fuelling the misery of Palestinians throughout the region.
Jordan is the only Arab nation that has integrated large numbers of Palestinians as full-fledged citizens. This is due not only to the unification of the East Bank and West Bank of the Jordan River valley under Hashemite rule between the creation of the State of Israel in 1948 until Israel's occupation of West Bank in 1967, but also to the luck of having had an enlightened monarch committed to the compassionate treatment of the estimated 100,000 refugees who crossed the Jordan River during the nakba in 1948. Israel's occupation of the West Bank following the 1967 war triggered a second exodus of 140,000 refugees into Jordan.
Today, almost 2 million of Jordan's 6 million people are registered Palestinian refugees, the largest concentration of current and former refugees in the Palestinian diaspora – and increasingly, tensions have deepened between the Palestinians and the "East Bank" establishment. This summer in Amman, ambiguous declarations by the recently appointed minister of the interior, Nayef al-Kadi, who is widely perceived to be anti-Palestinian, led many Jordanians of Palestinian origin to fear they would be stripped of Jordanian identity numbers. Speaking to the London-based Arabic-language newspaper Al Hayat, al-Kadi confirmed that some Palestinians would be stripped of citizenship, ostensibly to counter Israeli plans to turn Jordan into Palestine. "We should be thanked for taking this measure," he said. "We are fulfilling our national duty because Israel wants to expel the Palestinians from their homeland." Panic about their status spread quickly among the Palestinian community.
In interviews this month, senior Jordanian officials sought to quell such fears, while also suggesting there was at least some substance to al-Kadi's explosive suggestion. Faisal Bakr Qadi, the director of the Interior Ministry's office of Inspections, said Palestinians in Jordan were not being systematically stripped of citizenship. Rather, he explained that the government's current review of Palestinian national status dated back to 1988, when King Hussein, in response to demands by Palestinian and Arab leaders, disengaged administratively from the West Bank. Palestinian refugees, he said, meaning those who came to Jordan in the 1948 exodus, were to remain "full Jordanian citizens". "Displaced" Palestinians, or those who had come in 1967 and afterwards, would be able to maintain their yellow identity cards and numbers and de facto citizenship, provided they returned to the West Bank to renew the Israeli passes that permit them to go back and forth between Jordan and the West Bank.
Since 1983, he said, Jordan had given the coveted yellow cards – which enable Palestinians to work without special permits, pay local tuition rates in school, and enjoy full government services – to 280,000 Palestinians, whereas it had "frozen" the cards – or downgraded their status – of only 15,856 people. So far this year, he said, 9,956 cards were upgraded, 291 downgraded.
While many diplomats doubt these numbers, Jordanians insist there is no plot or plan to expel or deny citizenship to Palestinians who have lived virtually their entire lives in Jordan. "We want to ensure that when and if the peace process succeeds in establishing an independent Palestinian state, Palestinians living in Jordan will be in a position to choose their citizenship by having their status in order in both Jordan and Palestine," said an official close to King Abdullah.
Yet the distinctions that seem meaningful in Amman are not clear to some of the almost 94,000 Palestinian residents of Baqa'a, the largest of the 10 official refugee camps run by the UN. Some Palestinians in Baqa'a complain about the "new regulations" and the lack of identity cards that enable them to work without special permits and educate their children in public schools. Anxiety about the future pervades this ramshackle suburb at the northern edge of Amman, which began as an emergency relief centre after the 1967 war and is now a sprawling mini-city with its own basic shops, shawarma (sandwich) stands, and services. Many of the people we spoke to claimed that they knew someone, or had a relative, neighbour and friend whose identity card had been revoked, or whose status had inexplicably been changed.
For many of these refugees at the bottom of Jordan's social and economic pecking order, life without papers means hiding from the police who constantly patrol their camp's streets, being too poor to send any of your eight to 10 children to college, a lifetime of menial labour, and only a threadbare dream of returning to a homeland that most of them have never seen. There is strong suspicion of the state, but also of their neighbours, who are divided into "'48 people" and "'67 people". "Some of the newcomers would give away Al Aqsa for a Jordanian identity card," says Heba, a mother of eight, mentioning Islam's celebrated mosque in Jerusalem, one of its holiest shrines
"We're Jordanians," says her son, Mustapha, a slender, 20-year-old in a bright orange T-shirt emblazoned with meaningless words in unknown languages. "This is the best place in the world," he says, pointing around the bare living room whose worn rugs and threadbare pillows cover the floor on which he and all his siblings sleep. "We would never leave here. But I'm loyal to my country, and I would like to visit it one day.
He seems perplexed when asked which is his country – Jordan or Palestine. "We have no security here, but we are Jordanians," replies Mustapha, who lounges on a mattress in a two-storey cement house down the road while one of his five daughters offers tiny glasses of steaming herbal tea and cardamom-scented coffee. "Everything I have is here. This house. My car. My job. What would I have in Nablus or Be'ersheba?" he declares. "My children know nothing but Jordan. And we will stay here."
That determination, echoed repeatedly through the dilapidated cement homes that line Baqa'a's gravelly streets and dust-filled shops, is precisely what terrifies Jordan's East Bank establishment. Jordanians have reason to fear their Palestinian guests. Many Jordanians have not forgotten "Black September", the civil war launched by Arafat's Fatah organisation in 1970 which nearly toppled King Hussein's kingdom.
Moreover, having grown accustomed to their near monopoly on jobs provided by the government, Jordan's largest employer, Jordanians fear demands for political equality from Palestinians, most of whom would probably choose to remain in Jordan, relinquishing their "right of return' in favour of compensation. An end to the Palestinian-Israeli conflict would surely threaten Jordan's informal division of power: East Bankers dominate the army, the security services and most civil-service posts, while Palestinians are disproportionately represented in business. Palestinians may advise the king in the royal court, but there has been only one Palestinian prime minister, who served for eight months. Palestinians now comprise only 23 of Jordan's 110 MPs.
"The closer we get to a solution," says Adnan Abu Odeh, a Palestinian who was one of King Hussein's royal court chiefs and also held other important government posts, "the more anxious society becomes. We are approaching a moment of truth."
(Editors Note: This example illustrates Palestinian refugees problems)
MISSION IMPOSSIBLE: FINDING A JOB IN GAZA
With job-seekers caught between destitution and militancy, employment prospects in the Strip have become so bleak, the Hamas-led government is stepping in with a major job-creation project,
The New Arab, Rami AlMeghari. 14 April 2016
Mohammad al-Derdasawi from Gaza City spends most of his time either hanging out with friends or scouring the Strip for a decent job.
It's been five years, and the 26-year-old university graduate has still not found long-term work.
"Actually, I've run into very hard times since I graduated from a local university. Believe me, finding a decent job in Gaza has nothing to do with decency." Derdasawi told The New Arab. He lives in the Shuja'iyya neighborhood, in east Gaza, with his parents and other family members.
Over the past five years, Derdasawi has been applying for jobs across the Gaza Strip, but all his efforts have proved fruitless.
"In Gaza, a young man could either remain jobless for years or take the easiest way; affiliating with a resistance-based [armed] faction," said Derdasawi.
"If he decided to join such a faction, he could possibly get killed or harmed by the Israeli army, unfortunately. So, it is the worse of two evils for us, the graduate youth of Gaza," he sighed.
The young Gazan has been forced to forget about the idea of a stable married life.
"Unfortunately, I can never afford it, unless I have a decent job," said Derdasawi. He had to break off a relationship with a girl he loved because social customs would not allow for them to "remain connected without marriage".
Women hard-hit in employment crisis
Earlier this month, female university graduates rushed to a governmental employment office in an attempt to register for a recently announced job creation programme.
"I've have been seeking a job for four years, instead of staying idle at home. I want badly to reach my goals in life," said Najwa Omar, a 24-year-old Islamic Studies graduate, while she applied for the new project.
She believes spending time looking for a job, even though very hard to find, is better than doing nothing and falling victim to despair.
"You might have heard about recent cases of suicide attempts, by desperate Gaza youth," Omar added.
This programme can be considered a glimpse of hope for tens of thousands of jobless graduates
Job creation attempts
In trying to tackle the unemployment problem in Gaza, where generations of university graduates are rendered jobless, the Hamas-led government in the territory launched a new employment programme, in cooperation with a number of ministries.
"This programme can be considered a glimpse of hope for tens of thousands of jobless graduates, even if it is only for a period of three months to one year," said Fedwan Abu Sharee'a, director general of the recruitment department of the government-run chamber of employees.
"So far, 35 graduates have registered to fill in only 2,500 various jobs, while the actual number of graduates, seeking jobs, stands at nearly 40,000".
The project has been coordinated between the chamber of employees, the ministry of labour, the ministry of finance and the secretariat general of the cabinet. Staffing criteria have been jointy agreed.
"The programme is based on employment needs, provided by the various ministries. These needs include archiving, computerising, laboratory work, water desalination plants, pharmacology and the Islamic legal system."
Those who are married and have not previously had a job offer will be given top priority, with 500 designated posts for a period of one year and 2,000 others for three-month positions. Successful candidates will receive a monthly salary of around $280, significantly higher than Gaza's average $174 monthly salary.
A previous job-creation project was named Jadara, or "potency". How will this be different from past efforts?
"For this programme, we have made sure that the registration process will be based on a computerised system that would in turn select candidates on basis of set-forth criteria," said government jobs chief Abu Sharee'a.
"This situation cannot change unless the siege is lifted "
Integrated causes
According to the Palestinian Central Bureau of Statistics, Gaza-based universities produce 16,000 graduates every year. This comes while Gaza has been suffering under a crippling Israeli siege for eight years, and political division from the West Bank.
"The construction sector does occasionally function in Gaza," economic analyst Mohsen Abu Ramadan told The New Arab. "Only 27 percent of the reconstruction process of the war-torn Gaza has so far taken place - since the end of the last Israeli war on Gaza in 2014.
"This situation cannot change unless the siege is lifted. Also, there needs to be integration of both ends of the Palestinian Authority; Gaza and the West Bank."
The outlook for employment prospects, without some form of major intervention, looks bleak for the remainder of the year at least.
"There should be some political horizons, such as ending the division between Hamas and Fatah and seeing an end to the Israeli siege," said Abu Ramadan. "These two factors, if secured, then the GNP will notably increase. In addition, there must be deliberate educational planning that would fill in gaps in the market."
Relieving tension
The Hamas-led authority is hoping to tackle the crisis head-on. "In order to relieve tension among the youth sector, the government is deliberately launching such a programme," said Abu Ramadan.
"Yet such a project cannot solve the problem on its own. What is needed is creating a unity Palestinian government."
In June 2014, the rival Hamas and Fatah parties agreed on a consensus government and the Hamas-led government in Gaza stepped down.
But since then, the consensus government has not taken its seat in the Gaza Strip, while Hamas-appointed public service personnel remained in the various ministries to run routine work. No Hamas-linked ministers remained in charge.
Economic conditions in Gaza have worsened, with 43 percent now unemployed.
As representatives of both rival Hamas and Fatah, are reported to have met recently in Doha, the people here in Gaza are not optimistic towards reconciliation.
THOUSANDS APPLY FOR SHORT-TERM JOBS PROGRAM IN GAZA
In a move to address the unemployment crisis, the Gaza governmen has created temporary unemployment projects that aim to provide temporary relief and stimulate the economy
Al-Monitor العربية Iyad Qatrawi July 26, 2016
REUTERS/Mohammed SalemUnemployed Palestinians crowd in front of the Palestine Islamic Bank in Gaza to receive government aid, Sept. 30, 2007.
GAZA CITY, Gaza Strip — In a press conference in Gaza on July 12, Palestinian Labor Minister Mamoun Abu Shahla announced the start of the registration process for the first phase of a short-term employment project: hiring 4,000 university graduates and laborers for positions to last six months.
Abu Shahla told Al-Monitor, "The project's first phase provides 4,000 jobs for graduates, blue-collar workers and technicians equally, each 2,000, in the health and education sectors and municipalities, as well as economic facilities affected by the 2014 Israeli aggression on the Gaza Strip."
He added, "This number of people will be actually hired in early August 2016, after their names are selected and the ministry's employment priorities and needs are determined."
Abu Shahla had announced in May that the ministry's employment program would be funded by the government with 60 million shekels ($23 million) every six months. The government will be looking for additional foreign funds provided by foreign or Arab countries in order to be able to continue with the project in case it ran out of money.
The Labor Ministry's public relations director Nabil al-Mabhouh told Al-Monitor, "The employment projects are designed to reduce unemployment rates in Gaza, empower the recent university graduates and other young job seekers, and provide them with the necessary knowledge, skills and expertise to join the Palestinian labor market."
On the selection criteria, Mabhouh said, "It depends on the academic credentials and graduation year. Priority is given to those who have never had a government job."
The Palestinian Central Bureau of Statistics reported in July 2015 that more than 150,000 university graduates are unemployed in Palestine, where 9,454 men and 9,371 women graduated from college in 2015. Some 2,500 students graduated that year from 29 higher education institutes in Gaza, where job opportunities are sparse.
Asma Baroud, who studied Arabic at the Islamic University in Gaza, told Al-Monitor, "I have been looking for a job since I graduated in 2010 to help my husband, who is underemployed, given the lack of jobs in Gaza. Unfortunately, I have failed to find myself one, because there are no appropriations for Gaza in the PA budget, there are no job opportunities in Gaza and because the Gaza government failed to create jobs for the large number of graduates. This is why I hope to get a job as part of this project."
Mohammed Disht, who holds a degree in sociology from Al-Azhar University in Gaza and provides for a family of four, told Al-Monitor that he has been working as a volunteer at the Social Affairs Ministry for two years, in return for food aid packages each month. He said, "It is a treasure to find a job in Gaza, in light of the increasing number of graduates, high unemployment rates and lack of jobs. I hope to be selected to get a temporary job to meet my and my family's needs."
Tareq Mahmoud, a construction worker from Gaza, hopes to get a temporary job as part of this project. He told Al-Monitor, "I hope to get the chance to find a job in line with my skills and capabilities as construction worker in this employment project, and not to work as garbage collector, as was the case in previous employment projects."
For his part, Aziz al-Madhoun, director general of welfare services at the Social Affairs Ministry, told Al-Monitor that many Gazans provide for their families "benefit from the ministry's programs and receive aid from the ministry." He said, "Every three months, 14,401 families benefit from the cash assistance program, and 4,749 out of the 70,000 families in Gaza benefit from the UN World Food Programme's food items such as flour, rice, sugar and other goods." Coordination between the Social Affairs Ministry and the Labor Ministry will prevent Gazans from benefiting from both programs at once.
Maher Tabbah, the public relations and media manager at the Gaza Chamber of Commerce and Industry, told Al-Monitor, "The employment projects announced by the government are temporary. They do not achieve sustainable development, nor do they contribute effectively to resolving the unemployment problem. Yet, in light of the economic conditions and high unemployment rates, they temporarily contribute to finding jobs, which may give the graduates and unemployed a glimpse of hope to provide for themselves, if just for a limited time."
He noted, "There is a need to continue work on such projects by integrating the workers into the ministries and make sure that the workers' experience and skills are appropriate to their jobs." He stressed the need for the jobless "to be employed in creative construction projects such as the maintenance of public places, facilities, government buildings and civil institutions, rather than including them in street-cleaning projects, as in previous projects."
Read more: http://www.al-monitor.com/pulse/originals/2016/07/gaza-government-unemployment-project-to-hire-unemployed.html#ixzz55sBAItge
TOWARDS POLITICAL EXTINCTION
MEMRI Yigal Carmon
Yigal Carmon is Founder and President of MEMRI.
.
The Palestinian ship of state sinks beneath the sea
(Source: Alghad.com, May 2, 2018)
These days, the Palestinian national movement is descending, before our very eyes, into an internecine struggle over the right to represent the Palestinians – a struggle that is bereft of any political meaning in terms of resolving the conflict with Israel. The octogenarian leader of this movement is completely losing his touch, spewing gutter anti-Semitism blaming the Jews for the Holocaust (see MEMRI Special Dispatch No. 7452, Palestinian Authority President Mahmoud Abbas: Holocaust, Massacres Of European Jews Due To Their Function In Society As Usurers; Hitler Struck A Deal With The Jews, May 2, 2018) and bringing international condemnation upon himself.
HOW DID WE GET TO THIS POINT?
In 1993 in Oslo, after nearly a century of armed struggle, the PLO, then the representative of the Palestinian national movement, endorsed the political process. But the change was only tactical, for it was unaccompanied by an ideological transformation, without which the political process is a framework void of content. What ideological change would have made the political process a genuine road towards peaceful solution? The answer is simple: the renunciation of the "right of return."
IT TOOK 25 YEARS FOR THE TRUTH TO EMERGE, CRYSTAL CLEAR: THE PALESTINIANS ARE NOT READY TO GIVE UP THE "RIGHT OF RETURN."
MEMRI's research showed, from the day of its establishment on February 7, 1998, that the Palestinians are unwilling to forgo the "right of return."[1] In fact, it showed much more: the Palestinian duplicity and doublespeak (inciting jihad in Arabic while negotiating with Israel), the PLO's involvement in terror attacks, and Arafat's unwillingness to move from the role of revolutionary to the role of a peace maker and statesman. But the one most important revelation, more important than anything else, was the PLO's insistence on the right of return, which doomed the whole process.
In all these years, only one figure in the Palestinian elite agreed to the trade-off: foregoing the right of return in exchange for full Israeli withdrawal to the 1967 borders. That figure was Professor Sari Nusseibeh, who formed a joint movement together with an Israeli counterpart. The movement numbered a few thousand Israelis and a handful of Palestinians. Nusseibeh was ostracized in his own camp and eventually left politics.
The Saudi Peace Plan of 2002 could have furnished a basis for a partition-based solution, because in its original version, it did not include the "right of return." However, after the Arab League amended it and grafted the "right of return" onto it, it became a non-starter (see MEMRI TV Clip No. 6031, Former Lebanese President Émile Lahoud Reveals How The Right Of Return Was Forced Into The Saudi Peace Plan In The 2002 Arab Summit (Archival), December 11, 2014 to May 22, 2017; see also Professor Itamar Rabinovich's analysis of that summit, The Warped Saudi Initiative, Haaretz.com, April 7, 2002).
During the 25 years since Oslo, the conflict deteriorated further as Israelis of goodwill bought into the Palestinian political process tactic – void of the concrete political requisites for peace. Israel even deluded itself that postponing discussion of the "right of return" would cause the problem to fade away. But the very opposite occurred: the Palestinians interpreted this as tacit acceptance that the "right of return" would eventually be granted, an idea that no Israeli leadership ever entertained.
In recent years, by rejecting the proposals by Israeli prime ministers Barak and Olmert for an Israeli withdrawal from nearly all the occupied territories, and by failing, in the past year and a half, to even return to the negotiating table, the Palestinians have brought themselves back to square one: to their situation in 1947.
For the Zionist leadership, the test has always been the readiness to accept partition – and it has repeatedly passed this test. For the Palestinian leadership, the test was foregoing the "right of return" – and it has repeatedly failed the test.
True, a large portion of the Israeli public was antagonistic to partition, but those representing the majority of Israel's population were prepared to accept it. By clinging to the "right of return," the Palestinians spared Israel the need to go through with this choice, with all its potentially destructive internal repercussions.
The Palestinian insistence on the "right of return," and Israel's rejection of it – a rejection shared by nearly all parts of the Israeli political spectrum, from right to left – constitutes the real tragedy of the conflict. The overwhelming majority of Western countries do not expect Israel to agree to the "right of return." The problem of the settlements, which many place in the spotlight, is a problem that could be resolved in a variety of ways, but the insistence on the "right of return" dooms the two-state solution from the outset.
The Zionist path to statehood was characterized by readiness for compromise and pragmatism. This was not always the case in Jewish history. In the years 67-135 AD, the Jews believed they could make mincemeat of the Roman legionnaires and send them back to Rome – like Hamas today believes it can send the Jews back from whence they came. But instead, it was the Jews who were packed off to face two millennia of exile and annihilation. This catastrophic outcome was etched deeply into the psyche of most Jews, and induced most of the Zionist leadership to accept nearly any partition out of a "refusal to refuse" mentality. At the time when the British Royal Navy was turning away Jewish refugees and sending them back to die in Europe, Ben Gurion exhorted the Hebrew youth to enlist in the British army that was perpetrating this atrocity.
WHERE IS THE PALESTINIAN NATIONAL MOVEMENT HEADED TODAY?
Lacking the components vital for a political solution, and unable to persevere even in a sham political process, this movement may revert to armed struggle. For the moment, it has not done so. Even Hamas is endorsing – for now – a strategy of "popular struggle" rather than launching missile attacks on Israel.
An alternate scenario is for the Palestinian national movement to seek its future in Jordan. Admittedly, such a solution is not on the horizon. But given Jordan's Palestinian majority, for the long run this demographic imperative cannot be totally dismissed.
A third scenario would see the Palestinian public integrate, albeit reluctantly and out of lack of choice, into Israel (the so-called one-state solution) while constantly fighting for all the rights it can get, both civil and national. This scenario is not materializing either.
Therefore, the only current development is further descent into decay and political extinction.
Given the Palestinian inability to renounce the "right of return," some would ask: Were there ever potential exit points from the conflict?
TWO HYPOTHETICAL SCENARIOS COME TO MIND:
Had King Hussein accepted a peace treaty in return for an Israeli withdrawal immediately after the 1967 war, the "right of return" issue might have faded, gradually but significantly.
Had Israel persisted in its principled refusal to recognize the PLO, the standard-bearer of the "right of return," and attempted to reach a gradual solution with a local Palestinian leadership, a more realistic, albeit bloody, process, could have commenced. This could have received significant political backing from Egypt, had Sadat survived.
But all this is both hypothetical and moot.
As long as the Palestinians fail to make an historical ideological change and forego the "right of return" component of their national identity and struggle, they have no prospect of actualizing any real national goal.
One hopes, for the Palestinians' sake, that it will not take them two millennia – as it took the Jews – to accept the need for moderation and pragmatism. 'Abbas's and the PLO's conviction that Israel is a colonialist project that is inexorably doomed will only prolong their suffering.

LINKS
UNRWA MEDIUM TERM STRATEGY 2016-2021
Palestinian refugees Wikipedia
Black September Wikipedia
The 1970 Jordanian - Palestinian Conflict (known as "Black September?") ProCon