The small, magnificent Belmonte Synagogue
was built through the generosity of Salomon Azoulay in 1997

PHOENIX
by Jocelyn Cooper


For 500 years
They hid
In the mountains of Belmonte
Along narrow streets
Among pretty flowers,
olive trees, and apple orchards
For 500 years
They hid -
Their religion
Forbidden by law
For 500 years
They prayed to their God
With tears in their eyes
Prayed to be allowed to pray
For 500 years
They lit the Sabbath candles
And drank the sacramental wine
In the cellars of their homes
Mothers passed on rituals
to daughters and grand-daughters
For 500 years they hid their belief
For 500 years they kept their faith
A knock on the door brought fear
A stranger could not be trusted
Forbidden by law
Yet
For 500 years
The flame was not extinguished
Today they walk with heads held high
To their house of worship
Magen David firmly planted in the garden
Menorah standing proudly in the garden
Outside Sinagoga Bet Eliyahu
Their voices sing the liturgy
Their voices sing
Sephardi melodies
That
For 500 years they hid
Behind closed doors
Noah Gordon in 'The Last Jew' pp407 on tells the story of a Jewish group travelling to Toulouse to escape the Inquisition who discover a 'secret' valley where they hope they can 'hide' from the Inquisition. This is probably how Jews came to settle in Belmonte.
Belmonte, a town of about 7,500, is less than 30 miles from the Spanish frontier. A foundation stone dated 1297 was discovered of a synagogue showing there has been a Jewish community with a long history.
They were 'discovered' in 1917 by Samuel Schwartz a Galician mining engineer. Thinking they were the only remaining Jews they only believed Schwarz was a Jew when he recited the Shema Yisrael and they recognized the name "Adonay".
They had maintained their Jewish identity for over four hundred years by marrying mainly among themselves and adhering to the belief in a single personal Deity who would redeem his people at the end of days. They practiced some Jewish observances, the Sabbath and some holidays. They often lit candles on Friday night where they could not be seen from the outside and observed Passover and Yom Kippur a day or two before or after the Jewish calendar date to confuse agents of the Inquisition.
They had preserved some mourning customs, like the Tahara, the washing of the corpse and the burning of a light during the first seven days of mourning, the Shivah. They performed their own marriage ceremony, by making a declaration in Portuguese which said:
"Em nome de Deus de Abrahao, Isaac e Jacob, eu vos uno.
Cumpri vos a Sua bencao
(In the name of the God of Abraham, Isaac and Jacob
I commend you to His benediction)
Keeping their existence secret also affected their diet and names. For example they made Alheira, popular heavily seasoned sausages from rabbit and chicken, but gave the impression that they ate pork and adopted Christian names to blend into the local population.
Even after the Inquisition officially ended in 1821, local Jews kept their rites secret.
"It was a matter of tradition," said University of California, Los Angeles's professor emeritus Eduardo Mayone Dias who has written about Belmonte. "That had been their only method of survival. The fear of Inquisition and of outside influence was very real."
This finally changed in 1994 when a rabbi from Israel was invited to officially convert a Belmonte group. They emerged from secrecy partly because of increased openness across Portugal after the 1974 bloodless transition to democracy from António Salazar's dictatorship, and partly because they desired contact with other Jewish communities. A French documentary called "The Last Marranos," released in 1990, heralded the first wave of tourists.
Distinctive Belmonte has attracted international funds, including that of a French donor (Saloman Azoulay) to build their small magnificent synagogue in 1997.
There is a large Jewish Museum which has seen more than 14,000 visitors since its opening in 2005. The museum guestbook shows that while Portuguese, Israeli and American tourists are the most common there have also been visitors from many other countries including Mozambique, Montenegro and Japan.
The Jewish museum is part of an initiative to transform the town into a major historical center for the region. It is located in an eighteenth-century Catholic school, purchased by the municipality and totally restored to transform it into a modern Jewish museum, with a dramatic and original design. It is situated at the heart of the oldest neighborhood, where many Jewish families still live in carefully preserved stone houses. It lies just down the hill from the town's medieval castle and the modern synagogue.
Opened in 2005 it consists of three sections.
The first is a collection of personal objects once owned by crypto-Jewish families, some of them very old, loaned by Prof. Adriano Vasco Rodrigues and his wife's family, the Carquejas. These objects provide an exceptional record of daily life during and after the Inquisition.

The second illustrates the Jewish presence in the Belmonte region from the Roman era through the Middle Ages.

The third is an enormous black plaque with the full names and ages of victims of the Inquisition from the Belmonte region.
The benefit the tourists have brought is evident. Where other towns in rural Portugal are plagued with empty lots, Belmonte is ringed with new houses and construction is still under way. The streets are clean, and the town park, lined with miniature orange trees, is well groomed.
"People want to come because this is the only really Jewish part of Portugal," said Cristina Brito, director of Lisbon-based Mourisca Tours. Brito's company is one of a number that have sprung up to meet the demand for organized trips to visit Belmonte. One brochure urges visitors to try "Inquisition-defeating sausage," a local recipe in which chicken is substituted for pork.
This is a stark change from 500 years of secrecy, and not all local Jews enjoy being the object of scrutiny. Visitors trying to enter the synagogue during services are often redirected to the museum. Indeed, a number of Jewish families steer clear of both the synagogue and the tourist industry, practicing the way their ancestors did, with women leading ceremonies at home. Belmonte has seen a cycle of rabbis from Israel and Brazil, none of whom stays for more than a few years. Some attribute this to the difficulty of reconciling modern Jewish practices with those of Belmonte, developed in isolation for centuries.
"I am one of the only Jews who invites strangers into my home," said Marão, whose family was among the first to convert. "They are still afraid. I don't know what of."
From 'Secrecy and Deceit: The Religion of the Crypto-Jews' By David Martin Gitlitz p53
In 1917 Samuel Schwarz, a Polish-Jewish mining engineer, discovered a rem­nant crypto-Jewish community in Belmonte, the Tras-os-Montes region of the Beira Alta, in central Portugal along the border with Spain.50 Eventually two crypto-Jewish communities with somewhat different practices came to light. The judeus around Belmonte and Covilha abstained from pork only on Saturday, al­though they avoided at all times rabbit, fish without scales, and anything made with blood. They lit Sabbath candles inside clay pitchers. Preceding mass they would mumble a prayer expressing their disbelief in bread (the host) and stone (Church images). Jewish holidays were celebrated late to avert scrutiny. Their reli­gious services were generally led by women. In the Braganza region and Carcao the judeus did not distinguish between clean and unclean animals. Their men and women prayed separately, generally in services held in the open air away from town. They set their festival calendars by the new moon and celebrated the major life-cycle events both at church and at home. Both groups gave more atten­tion to fasting than to feasting, and both groups preserved a large number of prayers, including scraps of Hebrew (Caro Baroja 1961, 3:230-3). The discovery attracted wide attention in the Portuguese and Jewish press, and in the following years many members of the Belmonte community were re-introduced to norma­tive Jewish practices, sometimes with Ashkenazi rather than Iberian Sephardi models.5
THE BELMONTE SYNAGOGUE
by mlopesazevedo
The synagogue in Belmonte, Bet Eliahu was inaugurated on the 4th of December, 1996, 500 years after the edict of expulsion proclaimed on or about December 5, 1496, but never carried out; instead all Jews in Portugal were forcibly baptized in 1497. The noted author, Elias Lipiner estimates that about 40 persons were given permission to leave, including the king's physician and astrologer, Abraham Zacuto.
The Jews of Belmonte, who withstood nearly 300 years of the iron monster, the Inquisition (1536-1821), survived. Marrying amongst each other, outwardly Catholic, they secretly maintained the essentials of Judaism, the women transmitting prayers from mother to daughter while the men kept track of the Jewish calender and the high holidays. With the opening up of Portuguese society after the Carnation revolution of April 1974, and an article in the New York times in 1977 , world interest in the Marranos of Belmonte increased .
The first written reference to Jews in Belmonte is in the town's royal charter granted in 1199. Although the reference is not clear evidence of Jewish presence in Belmonte, there were Jewish communities in the nearby towns of Covilhã, Guarda, Gouveia and Trancoso.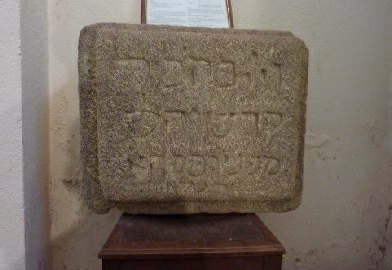 A stone found in 1910 by the "discoverer" of Marranos, a Polish mining engineer named Samuel Schwartz, probably belonged to the first synagogue of Belmonte.
The Hebrew inscription dated 5057 (1297) from Habacuque 2.20 reads as follows:
"And Adonai is in his temple; Sacred, silence; Before him all the earth."

The stone (photo from emmanuel lopes) is presently in the municipal museum of Castelo Branco, a copy of the stone is on display in the Abraham Zacuto museum in the Tomar synagogue.
The inauguration of the new temple on December 4, 1996 represented a victory over the Inquisition, a victory of tolerance over evil, a symbol of the heroism and tenacity of the Marranos of Belmonte who clung to their Jewish identity against all odds. Following the approval of the municipal government, the first stone of the synagogue was laid in January 1993, witnessed by Dan Tichon, president of the Israeli parliament and other Jews from around the world. The guest of honour was Salomon Azoulay, whose financial generosity made the project possible.
Four families went underground in 1492. For 500 years, their descendants married one another while keeping Judaism secretly. They rebuilt the synagogue; and now at least 120 attend prayers there every Friday night and Sabbath day
The entrance has this
"Here in this place, the chain of our tradition has not been severed… As a result of government decrees, the Jewish residents of this village, like other Jews throughout Spain and Portugal, were forced to publicly deny their Jewish religion. But they maintained their Judaism in their homes. Here the candle of Jewish light was never extinguished. For a period of 500 years, from 1492 [when the one synagogue in Belmonte was destroyed] until 2002 [when it was reopened], in the homes of this village the Jewish commandments were secretly performed, the tradition was transmitted from parent to child in hushed tones, the Sabbath was sanctified in hiding while Sunday was celebrated before the eyes of the neighbors. They made blessings over the halla and the wine and mumbled words of Hebrew prayers in the darkness. Here the Jewish soul was never lost. Here the Jewish soul remains forever… From the midst of the past will rise the future. From the bleak darkness of the Middle Ages shall emerge the light of this synagogue."
Bibliography
Canelo, Augusto David, Os Últimos CriptoJudeus em Portugal, Camara Municipal de Belmonte,, 2d, 2001,
Garcia, Maria Antonieta, Judaísmo no Feminino, Tradição popular e ortodoxis em Belmonte,
Instituto de Sociologia e Etnogia das Religiões, Universidade Nova de Lisboa, Lisboa, 1999
This was opened on April 17, 2005 in an 18th century Catholic schoolhouse purchased by the city and transformed into a Jewish museum with a rich collection of objects owned by local families, Roman era coins from Jerusalem and a tombstone from the same period bearing an engraved menorah.
It is located at the center of the oldest neighborhood, where many Jewish families live in carefully preserved stone houses.
Rua da Portela, nº 4
Phone: (+351) 275 088 698 Email: belmonte.em@netvisao.pt
Open Tuesday to Sunday
(September 15 to 31 March) 9.30 to 13.00 and 14.00 to 17.30
(April 1 to September 14) 9.00 to 12.30 and 14.00 to 18.00
Closed: Mondays, May 1, 25 December and 1 January and Easter Sunday
RABBI ELISHA SALAS TO BE EMISSARY TO PORTUGAL'S CRYPTO-JEWS
as Shavei Israel's delegate,
Rabbi Elisha Salas will teach Torah, Jewish culture and Jewish tradition to Bnei Anousim
(Arutz Sheva 7 14-8-2010)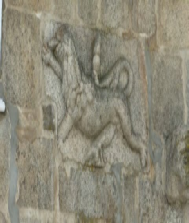 Rabbi Elisha Salas will begin his work as Shavei Israel organization's new emissary to the Bnei Anousim, or crypto-Jews of North Portugal.
Rabbi Salas, 53, was born in Chile and made aliyah to Israel in 1999. Salas now lives in Jerusalem and is married with four children. After graduating from Santiago University in Chile with two degrees in accounting and religious studies, Salas spent five years at the Beit Midrash Sepharadi in the Old City of Jerusalem. In addition to being an ordained rabbi, Salas is certified to practice as A shochet (kosher slaughterer).

As Shavei Israel's emissary in Portugal, Rabbi Salas will teach Torah, Jewish culture and Jewish tradition to Bnei Anousim (whom historians refer to by the derogatory term "Marranos"), conducting a wide range of social and educational activities in the process. The rabbi's work will focus mainly in the Belmonte community, where a number of Bnei Anousim returned to Judaism in recent decades and now live as a traditional, thriving Jewish community. Salas will also work with Bnei Anousim in other areas and towns throughout Portugal, primarily in the north.
"We are delighted to be sending Rabbi Elisha Salas to reach out to the Bnei Anousim of Portugal," said Michael Freund, founder and chairman of Shavei Israel. "There are tens of thousands of Bnei Anousim throughout Portugal who are conscious of their special historical connection to the Jewish people. We owe it to them and to their ancestors to reach out to them, embrace them and welcome them back home."
Shavei Israel is a non-profit organization founded by Michael Freund, who immigrated to Israel from the United States, with the aim of strengthening ties between the State of Israel and descendants of Jews around the world. The organization is currently active in nine countries and provides assistance to a variety of different communities such as the Bnei Menashe of India, the Bnei Anousim in Spain,Portugal and South America, the Subbotnik Jews of Russia, the Jewish community of Kaifeng in China, the "Hidden Jews" of Poland from the Holocaust era and others. It is the only organization that works with Bnei Anousim communities throughout Europe with the work of emissaries.
BIDDING FAREWELL IN 2006 TO RABBI SALAS
The Secret to Understanding the Marranos of Portugal
By Manuel Lopes Azevedo
It is six in the morning and I am at the Porto airport, bleary-eyed, waiting for Rabbi Elisha Salas, who is on his way back to Israel. He has been in Portugal on business overseeing kosher olive oil production which he developed while he was the rabbi of the Marranos (his words) for more than three years. He wants to build a Portuguese kashrut organization to promote Portuguese products in the Jewish world.
A former accountant from Chile, Salas developed an extraordinary relationship with Portuguese small businesspeople during his stay in Portugal. He says they are all Marranos and acknowledge their heritage. They want to work in the Jewish world. However, they and other Marranos are fearful of assuming their identity. It's in the genes, he says.
During his stay in Portugal he ministered to the historic Anous community in Belmonte and became the first rabbi of the Kadoorie Mekor Haim synagogue in Porto, built by captain Barros Basto in the 1930s as hundreds of synagogues were being destroyed in Europe. In Portugal, Salas did not once encounter a single act of anti-Semitism even though he constantly wore his kippa. He says the Portuguese people have respect and carinhofor Jews; that is why a small group of Sephardic Jews could return from North Africa in the beginning of the 19th century and establish an enduring community in Lisbon, protected by the government even during the darkest period of Jewish history.
Salas has no problem with the term Marrano. He says it no longer carries the pejorative connotation of the past. He uses the term to identify a group of persons with a common past. A Marrano, according to Salas, is a Jew in his soul who is still afraid to assume his Jewish identity in public. It is the same problem faced by Captain Barros Basto in the 1920s and 1930s, but instead of dealing with people from the hinterland of the northern provinces such as Beiras, Tras Montes and Minho, the Marranos of today are to be found in cities such as Porto. They are professionals and small businesspeople, writers, artists, doctors, lawyers, and teachers. It is because their parents continued the Jewish precept of education, he says.
Salas made many good friends during his stint in Portugal, all Anousim. He says it is much easier to establish communication on an individual level. Marranos are not suddenly going to flock to yeshivas, he says. What is necessary is the cultivation of individual relationships to establish confidence and trust so that the genetic fear is once and forever eradicated. Then, it will be possible to create a Jewish civil society in Portugal as existed 500 years ago.
Shavei Israel has opened its first Internet radio station. If you're a Portuguese-speaker, then "tune in" to www.radioshabel.com, the home of Shavei Israel emissary Rabbi Elisha Salas's latest project, a website that streams Jewish music and classes 24 hours a day (but not Shabbat) to anyone with a data connection, be that computer, phone or tablet.
Rabbi Salas has two aims for the station: first, to reach out to Bnei Anousim in Portugal and Brazil in an innovative way. And second, to help tourists who are planning a visit to Belmonte, where Rabbi Salas is based, to find lodgings and plan their itinerary.
To that end, there is information on the site about Beit Anousim, a Jewish house in the town where visitors can stay for a night or get a hot kosher meal. Rabbi Salas also holds his in-person classes at Beit Anousim, and the Belmonte Bnei Anousim community gathers there for Shabbat. The Radioshabel website offers information about Beit Anousim activities, its synagogue, the Belmonte Jewish community, Shabbat times, and which local products are certified kosher (Rabbi Salas provides the supervision).
A quick look at the Radioshabel program guide will show a mix of rotating shows: specific music shows featuring Jewish, Portuguese, Brazilian and Chilean tunes; the weekly "Coffee with the Rabbi" program where Rabbi Salas answers questions; another weekly Torah study class with the rabbi; and a show to prepare listeners for Shabbat with music and teachings.
The Radioshabel website also features an online chat section; links to videos and pictures from Portugal as well as other communities where Shavei Israel is active; the latest news of interest to Portuguese-speaking Bnei Anousim; and a link to a nearby hotel that offers kosher meals.
And this is just the beginning. There will be more classes, news and videos (including from Shavei Israel's Machon Miriam Spanish and Portuguese-language Conversion and Return Institute in Israel) coming soon.
If you're planning a visit to Portugal, or you just want to hear what the local community is listening to these days, click on over to www.radioshabel.com,
My Belmonte, Sara Molho (in Hebrew)
My Belmonte, Sara Molho (in English)
The Presence of the Jews in Belmonte
After 500 Years in Hiding, Jews Bring Prosperity to Iberian Town, Rachel Nolan, 2008