The Chief Rabbi's ShabbatUK is a truly ground breaking initiative that seeks to promote active engagement
with Shabbat throughout the UK.
At its core, ShabbatUK is about harnessing all the goodness and uniqueness of a traditional, authentic Shabbat and inviting Jews around the country to celebrate it in a way they never have before. Shabbat is a central part of what it is to be Jewish. Its uplifting and transformative qualities play a crucial role in producing a stronger sense of Jewish identity and belonging.
Inspired by the South African 'Shabbos Project', the Chief Rabbi has succeeded in mobilising thousands of Jews across the UK – regardless of their level of religious observance – to celebrate Shabbatot unlike any other. The ShabbatUK weekends, have met with enormous success, piquing the interest of both the national press and the Prime Minister, who could appreciate the universal appeal of family-bonding and 'digital detox.' The weekend's festivities usually commence on the Thursday with mass 'Challah Makes' in various locations , entail creative programming, uplifting services and communal meals and culminate in a huge Havdallah concert to welcome in the new week. Synagogues, Jewish schools and other Jewish organisations across the UK organise individual series of events to mark the weekend.
Through these events, the Chief Rabbi's quest for unity and shared purpose has found full expression, aligning British Jewry with common values. Everybody can participate in ShabbatUK, from the most observant Jews to those who may have never experienced the beauty of a Shabbat. It has the power to transform the lives of many thousands of people through connecting them with Shabbat, and through Shabbat, with their communities. It is about reaching out to people and inspiring communities. Some will keep Shabbat, perhaps for the first time, others will participate in the numerous communal events taking place. Many will find ways to bring Shabbat into their homes, whether by lighting Friday night candles, blessing their children or by inviting others into their home to share the Shabbat experience. The possibilities are endless.
ShabbatUK is an incredible opportunity to join with Jews around the world to celebrate the Jewish day of rest, disconnecting from the daily grind to experience it in a profound and meaningful way.
Click here to find out more about ShabbatUK
________________________________________________________________
DEMOGRAPHY
According to the 2011 census, the Jewish community in the United Kingdom numbered 269,568 people out of 56,075,912 overall. More specifically, the details for the countries that make up the United Kingdom are as follows: England and Wales – 163,346, Scotland – 5,887, and Northern Ireland – 335. This is in comparison to Christians constituting 59.3% of the population and Muslims, the second largest religious group in the UK, making up 4.8% of it. Jews constitute 0.48% of the population respectively.
The majority of Jews are concentrated in some of the UK's major cities, namely London, Manchester, Leeds, and Glasgow. Smaller communities also exist throughout the country.
COMMUNITY LIFE
The community is represented by the Board of Deputies of British Jews, a democratically elected, cross-communal Jewish representative body, with close to 300 synagogues and Jewish organizations represented. Its presidency is the highest elected office of lay leadership in the Jewish community and the organization's work – which includes representing the community's positions and concerns to government and parliament, the media, other groups in society, and London's diplomatic community, is carried out by a professional team of staff based in London. Consequently, it is regarded by the government as the legitimate voice of the Jewish people in the UK.
JW3 - the Jewish Community Centre London
On a local level, there are numerous other Jewish communal representative organizations in the UK, such as, the Scottish Council of Jewish Communities (SCoJeC), the main representative body of the Jewish communities of Scotland. Student interests are represented by the Union of Jewish Students of the United Kingdom and Ireland (UJS), a cross-communal organization. In addition, the Community Security Trust (CST), works to protect British Jews and UK Jewish institutions from anti-Semitism and related threats.
The community's vibrancy and diversity is reflected in other ways as well, including the Limmud conference, a UK-based yearly gathering of international Jewish thinkers, speakers, musicians, artists, and theologians that has become a model for worldwide applications. JW3 – London's impressive Jewish community center – stands as a fixture for Jewish life and culture in both London and the UK in general. World Jewish Relief (WJR), an agency focused on humanitarian aid for impoverished Jews – and whose patron is Prince Charles – is a notable contribution to aid efforts by the community.
RELIGIOUS AND CULTURAL LIFE
In the religious field, twenty six percent of UK Jews define themselves as "traditional," twenty four percent as "cultural or secular," eighteen percent as "progressive," 12 percent as "Orthodox" and four percent as "ultra-Orthodox," or "Haredi." Just over half of Jews in the UK are affiliated to synagogues which belong to one of the main streams of Judaism. The United Synagogue (Modern Orthodox), the Movement for Reform Judaism, Liberal Judaism, Sephardi S&P, Masorti Judaism, and the Federation of Synagogues are the main synagogue movements.
There are several rabbinical institutions serving the various streams. The Chief Rabbi of the United Kingdom effectively represents most Orthodox Jewish communities and is named by the United Synagogue. The current Chief Rabbi is Ephraim Mirvis, while the Senior Rabbi to Reform Judaism is Laura Janner-Klausner.
Kosher food is available in London, and other large cities, through a myriad of stores, restaurants, butcheries, etc. Smaller communities may have less options than the more major cities, but kosher food can be found in most parts of the country and there are several online delivery options.
JEWISH EDUCATION
According to research conducted by the International Journal of Jewish Education Research in 2010, around 60% of Jewish pupils in the UK attend Jewish day schools, with the majority doing so in London. As a result, the number of Jewish day schools has greatly expanded over the past couple decades, with more being planned. Moreover, this increase has resulted in a decline in Jewish pupils' participation in supplementary education, as more Jewish students are opting for a completely-Jewish framed education, as opposed to the weekly sessions that secondary schools – mainly synagogue-run – can offer. Funding for these institutions – Jewish day schools in particular – occurs on both a state and community level, with state-aid accounting for a good portion of these schools' budget, and community efforts – namely the Jewish Educational Development Trust – also playing a large role in the monetary elements of these institutions.
In terms of Jewish religious tertiary education, Jews' College is the traditional Orthodox community's rabbinical studies center while Leo Baeck College trains progressive rabbis. A number of yeshivot are operated by the Orthodox communities. There are also a number of adult learning centers, including the London School of Jewish Studies (LSJS) and the Lyons Learning Project.
YOUTH
Youth organizations are prevalent throughout UK Jewish communities in promoting Jewish values and contributing to the wider community. Ezra London, founded in 1919, is the oldest Jewish youth movement in the UK and offers recreational and educational activities within a Jewish structure. The Federation of Zionist Youth (FZY), founded in 1935, focuses on developing a strong Jewish and Zionist identity through a framework of camps, seminars, and various events. The United Jewish Israel Appeal (UJIA) works to support projects in Israel and foster a connection to Israel within the Jewish youth in the UK. BBYO UK & Ireland is part of the wider BBYO organization that spans multiple continents and aims to emphasize Jewish values and empower Jewish youths through leadership initiatives, camps, trips, and other activities. Bnei Akiva UK focuses on instilling the importance of the Torah and Israel, especially in relation to Aliyahs, through various Jewish-structured events and activities. The Union of Jewish Students is a cross-communal, peer-led organization that defends the interests of Jewish students studying in the UK and Ireland. Betar UK, part of the worldwide Betar movement, offers a recreational atmosphere that emphasizes Jewish values and the importance of Zionism. Hashomer Hatzair UK focuses on promoting coexistence among different cultures and religion through youth and community engagements.
JEWISH MEDIA
The Jewish media in the UK reflects the diversity of the community, with The Jewish Chronicle, the oldest Jewish periodical in the world (founded 1841), The Jewish News, and The Jewish Telegraph dominating the center-ground, while Hamodia and The Jewish Tribune cater to more Orthodox audiences. Jewish Renaissance and the Jewish Quarterly offer up cultural fare, while a number of local radio stations broadcast weekly programs of Jewish interest.
INFORMATION FOR VISITORS
There are numerous notable Jewish sites throughout the United Kingdom, including JW3 (the Jewish Community Centre London), the Jewish Museum of London, the Manchester Jewish Museum, and synagogues of all streams. Additionally, the British Library and British Museum in London contain major collections of Jewish artifacts and manuscript
ISRAEL
Britain maintains full diplomatic relations with Israel. These strong diplomatic ties are manifest in the rapidly increasing volume of trade between the two countries during the last couple of years.
Israeli Embassy, 2 Palace Green, London, W8 4QB, Tel: 020 7957 9500, Fax: 0207 957 9555
CORBYN HAS NO REMORSE FOR ACTIONS IN LABOUR ANTI-SEMITISM SCANDAL
As his party conference opens, UK opposition leader defends past conduct, says he's always fought against racism; Labour now 'safe and welcoming place for all communities'
Times of Israel, TOI STAFF, 23 September 2018
Britain's opposition Labour Party leader Jeremy Corbyn gestures as he arrives with Labour Party's Executive Director of Strategy and Communications Seamas Milne (R) to give an interview to the BBC at the Museum of Liverpool on September 23, 2018, the official opening day of the annual Labour Party Conference.
( AFP PHOTO / Paul ELLIS)
Jeremy Corbyn, the leader of Britain's Labour party, insisted to the BBC on Sunday that he was not an anti-Semite, but refused to apologize for a series of incidents involving him and other party members that have drawn accusations of rampant anti-Semitism and anti-Israel sentiment.
In an interview with BBC host Andrew Marr ahead of the party's annual conference in Liverpool, which opened Sunday, Corbyn defended his own conduct and his handling of some of the scandals that have rocked the opposition party in recent months.
When asked by Marr if he wanted to "express personal remorse" over the ongoing crisis, Corbyn responded: "I'll simply say this, I am an anti-racist and I'll die an anti-racist. Anti-Semitism is a scourge in any society. I have opposed it all my life and I will continue to oppose it all my life."
He said that under his leadership, Labour had "set up much better processes for dealing with incidents," and that the party was a "safe and welcoming place for all communities."
Corbyn insisted to Marr that he was "absolutely" not anti-Semitic, while defending his remark about British Zionists not understanding irony, his attendance at a memorial for Palestinian terrorists, and Labour's reluctance to fully adopt the International Holocaust Remembrance Alliance's (IHRA) definition of anti-Semitism — a move which, when finally adopted earlier this month, he unsuccessfully attempted to undermine by seeking a caveat asserting that branding Israel a racist endeavor is not anti-Semitic.
Corbyn defended his opposition to removing a mural in London several years ago that depicted anti-Semitic caricatures of Jewish bankers and businessmen counting their money, saying he was concerned over the wider issue of removing public art.
The Labour leader conceded that he had "perhaps been too hasty" in his judgment, and said the mural "should have never have been put up."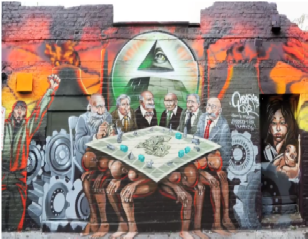 Kalen Ockerman's mural 'The Enemy of Humanity' (photo credit: YouTube screen shot)
Corbyn defended his opposition to removing a mural in London several years ago that depicted anti-Semitic caricatures of Jewish bankers and businessmen counting their money, saying he was concerned over the wider issue of removing public art.
The Labour leader conceded that he had "perhaps been too hasty" in his judgment, and said the mural "should have never have been put up." (Editor's Note BBC You Tube video about the video)
When Marr asked him to to explain his comments from 2013, when he said that British "Zionists" were unable to understand British Irony, Corbyn said he was defending Palestinian Authority ambassador Manuel Hassassian from two people who had berated him during a meeting.
He said the hecklers "were both British-born people who'd clearly been here all their lives."
"I was upset on his behalf… about the way he had been treated. I felt I should say something in his support," Corbyn said.
The Labour leader said the remark "was not intended to be anti-Semitic in any way," underscoring that he opposed anti-Semitism in all forms "because I can see where it leads to now in Poland, Hungary and in central Europe, I can see where it led in the past."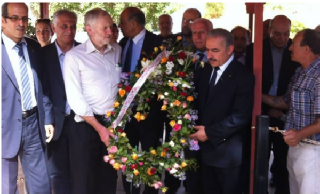 Jeremy Corbyn (second from left) holding a wreath during a visit to the Martyrs of Palestine, in Tunisia, in October 2014. (Facebook page of the Palestinian embassy in Tunisia)
He also stood by his decision to attend a 2014 memorial service in Tunisia, saying he was "not sure" if Palestinian terrorists linked to the Munich massacre were buried at the cemetery where it was held.
"I thought it was right to take part in what was a very solemn ceremony… I'm not even sure who was buried there at the time," he said. "I'm not a supporter of Black September, of course, but I always think we should commemorate those who have been killed in bombing raids. And that's what I was doing."
BRITISH POLITICS HAS WORST RECORD FOR ANTISEMITISM IN EUROPE, POLL SAYS
Nearly a third of Jews in UK say they are thinking of emigrating out of fears for their safety
The Guardian, Daniel Boffey in Brussels, Mon 10 Dec 2018. Last modified on Sat 23 Feb 2019 22.07 GMT. This article is over 2 months old
Labour antisemitism protest, London, UK. Jews in Europe found almost a third avoid attending events or visiting Jewish sites because they do not feel safe.
An antisemitism protest in London, UK. Jews in Europe found almost a third avoid attending events or visiting Jewish sites because they do not feel safe. Photograph: Matthew Chattle/REX/Shutterstock
Four out of five Jews in the UK believe antisemitism is a major problem in British politics, the worst record within the EU, and nearly a third are considering leaving Britain out of fears for their safety, according to the world's largest survey of Jewish people.
The report from the EU's agency on fundamental rights has found antisemitic hatred and discrimination on the rise across Europe, with attitudes in France, Germany, Belgium and Poland said to be the most disturbing.
The survey of 16,300 Jewish people in Europe found that almost a third avoid attending events or visiting Jewish sites because they do not feel safe.
In France, 95% of Jews believe antisemitism is a very or fairly big problem, up from 85% when the poll was last run six years ago. Nine out of 10 Jews in France say they had faced expressions of hostility on the street.
The survey of communities in the 12 member states, accounting for 96% of the Jewish population in the EU, further found that on average 41% had considered emigrating to escape because they no longer feel safe.
The results for the UK were peculiar, however, in the high level of concern expressed about the political sphere.
The survey found that 75% of Jewish people in the UK perceived antisemitism to be generally a very big or fairly big problem, up from 48% in 2012, with 29% having considered emigrating.
The poll, though, reported that 84% of Jews surveyed found antisemitism specifically in political life to be a very or fairly big problem, compared with the 12-country average of 70%.
It also found that 89% of British Jews say antisemitism has increased in the six years since the last survey.
The European commissioner for justice, Věra Jourová, told the Guardian the results were a dismal setback for the EU that should be taken up as a challenge by the heads of states and government.
She urged Jeremy Corbyn, whose Labour party has battled accusations that it has allowed antisemitism to take hold within its ranks, to take heed of the results.
The Labour leader himself has come under repeated criticism over the issue, not least when a recording emerged this summer of Corbyn addressing an event in 2013, where he angrily accused a group of British Zionists of having no understanding of "English irony".
Corbyn later issued a clarification, saying he was using the term Zionist in "the accurate political sense and not as a euphemism for Jewish people".
Asked about Corbyn's track record, Jourová said: "I always use the phrase 'Let's not play with fire', let's be aware of what happened in the past. And let's not make the same mistake of tolerating it. It is not enough just to be silent …
"Every politician must realise that it is also our rhetoric that is influencing and pardoning the bad behaviour of the people who have these tendencies to attack others. We must be more and more careful not to give a blessing."
Jourová added of the Labour leader: "I read quite a lot of his quotes and a lot of articles and he is trying to get out of this label but, OK, I hope he will pay attention to this survey.
"This is a serious message we have received from the Jewish community," she said. "We must do everything to let the Jewish communities know that they are not alone in Europe."
Among the other results, the survey found that nearly half (44%) of Jews in Germany and France have considered emigrating because they do not feel safe.
Nine out of 10 Jews in Poland had been targeted with anti-semitism on the internet and 84% in Belgium reported having experienced antisemitism in their national media.
Across the 12 countries as a whole, 89% said antisemitism is at its worst and most problematic on the internet and social media platforms. Nearly three in four (73%) think hostile behaviour toward Jews in public is a big or very big problem, and 71% believe there is evidence of antisemitism in the media.
In Hungary, where the re-election campaign of the prime minister, Viktor Orbán, was heavily criticised for encouraging anti-semitism through the demonisation of the philanthropist George Soros, the proportion of Jews who felt that anti-semitic attitudes is a major problem has fallen from 89% in 2012 to 77%.
The European commission's vice president, Frans Timmermans, nevertheless warned Orbán about the dangers of his rhetoric which he claimed "has led to an anti semitic response in Hungarian society". Orbán has accused Soros of masterminding an international plot to open Europe's borders.
"Since prime minister Orbán is so vocal saying he wants to combat anti semitism", Timmermans said, "I would call upon him to avoid dog whistle words".
ANALYSIS: UK LABOUR PARTY AND THE RESURGENCE OF EUROPEAN ANTI-SEMITISM
Jerusalem Online, Hope Not Hate -February 25, 2019
Over the last few years, the Labour party, and, since his election as leader, Jeremy Corbyn himself, have become embroiled in numerous allegations of antisemitism and failing to deal adequately with those members and supporters who are perpetuating it.
In 2012, while still a backbencher, Jeremy Corbyn offered his backing to an artist whose clearly antisemitic mural was to be removed. It depicted profiteers with exaggeratedly large noses gathered around a board game, held up by the subjugated masses. A video has recently surfaced, filmed not long after this, in which Corbyn responding to a question by saying that Zionists "clearly have two problems. One is that they don't want to study history, and secondly, having lived in this country for a very long time, probably all their lives, they don't understand English irony either", mobilising old antisemitic tropes of Jews as outsiders, lacking loyalty and not belonging in the UK.
This was just one of several instances involving Jeremy Corbyn. While Corbyn has now spoken out about antisemitism on the left, many people have questioned his understanding of contemporary antisemitism, and how seriously he takes the issue. The problem of antisemitism within the Labour party goes well beyond Corbyn however, and the lack of action by the party has caused great worry amongst large sections of the Jewish community.
In 2018 seven elected Labour representatives were suspended or resigned after making antisemitic comments. These suspensions we held up as a potential signal that finally, after an extremely slow start, concrete action against antisemitism is being taken. However, the quiet readmission of members formerly suspended for investigation, without full transparency on the disciplinary process they underwent has led to concerns that the Party approach has been to try to make the problem of antisemitism go away, rather than to tackle the root causes. So much more is required to root out antisemites and to create a zero-tolerance approach of deeds as well as words.
There are cases which have resulted in no tangible repercussions. MP Chris Williamson recently signed a petition in support of Gilad Atzmon, an individual who is infamous for having promoted Holocaust deniers and spread antisemitic conspiracy theories.
Williamson's belated but barely credible apology was taken at face value by the party and no action – not even an investigation – resulted.
Likewise, there was real reluctance from the party leadership to deal with Pete Willsman, a long-time colleague of Corbyn's, after he accused Jewish "Trump fanatics" of making up allegations of antisemitism in the party.
Although dropped by Momentum, he was nevertheless re-elected to the NEC in 2018 as an independent candidate.
Even pro-Corbyn Jewish leftwingers like Jon Lansman and Rhea Wolfson have been on the receiving end of antisemitic abuse.
Disgracefully, some of those who have faced the worst antisemitic abuse from within the Labour Party are Jewish Labour members of parliament.
In a House of Commons speech in April, MP for Stoke-on-Trent North (and former Deputy Director of HOPE not hate) Ruth Smeeth explained in no uncertain terms the deluge of antisemitism she had experienced from the left such as: "Hang yourself you vile treacherous Zionist Tory filth. You are a cancer of humanity". The chair of the Jewish Labour Movement's parliamentary group, Luciana Berger, has faced abhorrent abuse online simply for highlighting instances of antisemitism within the Labour movement.
Encouragingly, there have been signs from within the left, most notably from the Jeremy Corbyn supporting group Momentum, of an awareness that this is a serious problem requiring serious action. They have produced a series of videos opposing antisemitism, and have run social media campaigns to expose left-leaning antisemites, warning supporters to steer clear of groups masquerading as Corbyn supporters which also post racist content. But much more needs to be done to reassure people that the Labour party is taking the issue of antisemitism seriously.
Some have sought to play down the threat posed by antisemitism in the Labour party by pointing to antisemitism emanating from the far-right or Islamophobia in the Conservative Party. However, what worries so many within the Jewish community is the prospect of a mainstream political party, possibly a party of government, having a problem with antisemitism which is not only not taken seriously by its leadership but emanates from it.
Within this concern is a feeling that Jewish people are not considered 'victims' of racism and prejudice in the same way that other minority groups are, and that the Jewish community is powerful enough to look after itself, which of course is an age-old trope.
The family history of so many members of the British Jewish community includes first-hand experience of persecution. Many people in the Jewish community therefore identify with a sense of the precariousness of their safety, where material security and educational attainment are not seen as guarantors of security and safety. The inability of the Labour Party leadership to understand and acknowledge this experience is particularly chilling when the Labour Party and the left in general hold values of equality and antiracism as core to their identity.
Source: www.HopeNotHate.org
The Synagogue BBC
Synagogues Wikipedia
Jewish Congregations in Greater London, Listed according to London Borough and Locality
JCR-uk
List of Jewish communities in the United Kingdom Wikipedia