THE CHIEF RABBI'S SHABBAT UK
ShabbatUK is the largest mass participation event organised for the Jewish Community in the UK.
Inspired by the International Shabbat Project, ShabbatUK is tailored specifically for the UK Jewish community. Extraordinary transformative events are coordinated and supporting centrally and delivering locally. Our aim is to encourage Shabbat observance through empowering local communities to unify British Jewry on ShabbatUK  which will, in turn, provide a springboard for consolidation
of these objectives throughout the year.
Office of the Chief Rabbi
________________________________________________________________
EDITORS NOTE

In 2018 Dame Margaret Hodge the Jewish Labour MP for Barking accused Jeremy Corbyn, the Leader of the Labour Party of being antisemitic and Head of a Party riddled with antisemitism (see Videos). Subsequent internal and external disputes have led to major internal changes leading to Party expulsions, eventual acceptance of the international definition of antisemitism and the resignation of two Jewish Labour MP's in protest against the Party (see Videos).
There is to be a General Election on December 14 2019. In an article in the Times, Ephraim Mirvis, Britain's most senior Jewish leader, accused Corbyn of allowing a "poison sanctioned from the top" to take root in the party, saying the way the Labour leadership had dealt with anti-Jewish racism was "incompatible with the British values of which we are so proud – of dignity and respect for all people" (see Videos)'.
This is approximately two years since Dame Margaret Hodge raised the issue.
JUSTIN WELBY BACKS CHIEF RABBI
AFTER LABOUR ANTISEMITISM REMARKS
Archbishop Justin Welby says Ephraim Mirvis's comments highlight fear felt by many British Jews
The Guardian, Harriet Sherwood@harrietsherwood, Tue 26 Nov 2019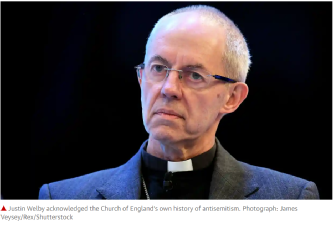 Justin Welby, the archbishop of Canterbury has in effect backed the chief rabbi's comments on the Labour leadership's record on antisemitism with a tweet highlighting the "deep sense of insecurity and fear felt by many British Jews".
Justin Welby does not explicitly refer to the Labour party, but his intervention a few hours after the chief rabbi's excoriating public criticism of Jeremy Corbyn is significant.
In an article in the Times, Ephraim Mirvis, Britain's most senior Jewish leader, accused Corbyn of allowing a "poison sanctioned from the top" to take root in the party, saying the way the Labour leadership had dealt with anti-Jewish racism was "incompatible with the British values of which we are so proud – of dignity and respect for all people".
Welby posted on Twitter: "That the chief rabbi should be compelled to make such an unprecedented statement at this time ought to alert us to the deep sense of insecurity and fear felt by many British Jews. They should be able to live in accordance with their beliefs and freely express their culture and faith."
Acknowledging the Church of England's own history of antisemitism – the subject of a major report last week – Welby continued: "None of us can afford to be complacent. Voicing words that commit to a stand against antisemitism requires a corresponding effort in visible action."
The chief rabbi's comments were also supported by the rabbi Julia Neuberger, a crossbench peer, who said the Jewish community had been gripped by anxiety.
Speaking on BBC Radio 4's Today programme, Lady Neuberger said that under Corbyn's leadership "there has been this insidious antisemitic tone to quite a lot of what's happened and an unwillingness to really face it".
She added: "If they're not willing to tackle that, if they're not willing to apologise for it, if they're not willing to sympathise, then something is going very wrong.
"A political party where some of its members leave because of antisemitic taunting, which still cannot deal with it, makes people feel very uncomfortable."
Britain was still "a very good place to live as a Jew", she added. "But, and it's an important but, I think what people are feeling is that that is shifting." If a Corbyn government was elected, "then I think this comfortable place to live may feel less comfortable".
Alf Dubs, a Labour peer who came to the UK as a child and refugee in 1939, said Labour was "moving forward" on antisemitism. "Labour has been much too slow in getting to grips with this … but we're getting there," he told the Today programme.
There had been "quite a big push" to deal with cases of alleged antisemitism within the party, he added, while acknowledging that Labour's record in recent years had been "murky".
Corbyn was not antisemitic, "even though under his leadership things should have been dealt with faster". British Jews "do not have to fear" a Corbyn-led government, he said.
Last month, Jonathan Romain, a senior rabbi in Maidenhead, wrote to all 823 families in his congregation suggesting that "a Corbyn-led government would pose a danger to Jewish life as we know it".
Romain, the author of The Jews of England and a former chair of the Movement for Reform Judaism, added: "I am therefore suggesting we should each put aside all other considerations and vote for whichever party is most likely to defeat Labour in whatever constituency we are in – even if we would never normally vote for that party."
In response to the chief rabbi's comments, a spokesman for the Muslim Council of Britain said: "Today's statement by the chief rabbi highlights the real fear many British Jews have, regarding the unacceptable presence of antisemitism in Britain and in politics today.
"Racism, wherever it comes from – whether from the left or the right – is unacceptable and not enough is being done. We agree with the chief rabbi's observation that 'some politicians have shown courage but too many have sat silent'.
However, he also said: "As a faith community, we commonly are threatened by Islamophobia. This is an issue that is particularly acute in the Conservative party, who have approached Islamophobia with denial, dismissal and deceit.
"It is abundantly clear to many Muslims that the Conservative party tolerate Islamophobia, allow it to fester in society and fail to put in place the measures necessary to root out this type of racism. It is as if the Conservative party has a blind spot for this type of racism."

DEMOGRAPHY
According to the 2011 census, the Jewish community in the United Kingdom numbered 269,568 people out of 56,075,912 overall. More specifically, the details for the countries that make up the United Kingdom are as follows: England and Wales – 163,346, Scotland – 5,887, and Northern Ireland – 335. This is in comparison to Christians constituting 59.3% of the population and Muslims, the second largest religious group in the UK, making up 4.8% of it. Jews constitute 0.48% of the population respectively.
The majority of Jews are concentrated in some of the UK's major cities, namely London, Manchester, Leeds, and Glasgow. Smaller communities also exist throughout the country.
COMMUNITY LIFE
The community is represented by the Board of Deputies of British Jews, a democratically elected, cross-communal Jewish representative body, with close to 300 synagogues and Jewish organizations represented. Its presidency is the highest elected office of lay leadership in the Jewish community and the organization's work – which includes representing the community's positions and concerns to government and parliament, the media, other groups in society, and London's diplomatic community, is carried out by a professional team of staff based in London. Consequently, it is regarded by the government as the legitimate voice of the Jewish people in the UK.
JW3 - THE JEWISH COMMUNITY CENTRE LONDON
On a local level, there are numerous other Jewish communal representative organizations in the UK, such as, the Scottish Council of Jewish Communities (SCoJeC), the main representative body of the Jewish communities of Scotland. Student interests are represented by the Union of Jewish Students of the United Kingdom and Ireland (UJS), a cross-communal organization. In addition, the Community Security Trust (CST), works to protect British Jews and UK Jewish institutions from anti-Semitism and related threats.
The community's vibrancy and diversity is reflected in other ways as well, including the Limmud conference, a UK-based yearly gathering of international Jewish thinkers, speakers, musicians, artists, and theologians that has become a model for worldwide applications. JW3 – London's impressive Jewish community center – stands as a fixture for Jewish life and culture in both London and the UK in general. World Jewish Relief (WJR), an agency focused on humanitarian aid for impoverished Jews – and whose patron is Prince Charles – is a notable contribution to aid efforts by the community.
RELIGIOUS AND CULTURAL LIFE
In the religious field, twenty six percent of UK Jews define themselves as "traditional," twenty four percent as "cultural or secular," eighteen percent as "progressive," 12 percent as "Orthodox" and four percent as "ultra-Orthodox," or "Haredi." Just over half of Jews in the UK are affiliated to synagogues which belong to one of the main streams of Judaism. The United Synagogue (Modern Orthodox), the Movement for Reform Judaism, Liberal Judaism, Sephardi S&P, Masorti Judaism, and the Federation of Synagogues are the main synagogue movements.
There are several rabbinical institutions serving the various streams. The Chief Rabbi of the United Kingdom effectively represents most Orthodox Jewish communities and is named by the United Synagogue. The current Chief Rabbi is Ephraim Mirvis, while the Senior Rabbi to Reform Judaism is Laura Janner-Klausner.
Kosher food is available in London, and other large cities, through a myriad of stores, restaurants, butcheries, etc. Smaller communities may have less options than the more major cities, but kosher food can be found in most parts of the country and there are several online delivery options.
JEWISH EDUCATION
According to research conducted by the International Journal of Jewish Education Research in 2010, around 60% of Jewish pupils in the UK attend Jewish day schools, with the majority doing so in London. As a result, the number of Jewish day schools has greatly expanded over the past couple decades, with more being planned. Moreover, this increase has resulted in a decline in Jewish pupils' participation in supplementary education, as more Jewish students are opting for a completely-Jewish framed education, as opposed to the weekly sessions that secondary schools – mainly synagogue-run – can offer. Funding for these institutions – Jewish day schools in particular – occurs on both a state and community level, with state-aid accounting for a good portion of these schools' budget, and community efforts – namely the Jewish Educational Development Trust – also playing a large role in the monetary elements of these institutions.
In terms of Jewish religious tertiary education, Jews' College is the traditional Orthodox community's rabbinical studies center while Leo Baeck College trains progressive rabbis. A number of yeshivot are operated by the Orthodox communities. There are also a number of adult learning centers, including the London School of Jewish Studies (LSJS) and the Lyons Learning Project.
YOUTH
Youth organizations are prevalent throughout UK Jewish communities in promoting Jewish values and contributing to the wider community. Ezra London, founded in 1919, is the oldest Jewish youth movement in the UK and offers recreational and educational activities within a Jewish structure. The Federation of Zionist Youth (FZY), founded in 1935, focuses on developing a strong Jewish and Zionist identity through a framework of camps, seminars, and various events. The United Jewish Israel Appeal (UJIA) works to support projects in Israel and foster a connection to Israel within the Jewish youth in the UK. BBYO UK & Ireland is part of the wider BBYO organization that spans multiple continents and aims to emphasize Jewish values and empower Jewish youths through leadership initiatives, camps, trips, and other activities. Bnei Akiva UK focuses on instilling the importance of the Torah and Israel, especially in relation to Aliyahs, through various Jewish-structured events and activities. The Union of Jewish Students is a cross-communal, peer-led organization that defends the interests of Jewish students studying in the UK and Ireland. Betar UK, part of the worldwide Betar movement, offers a recreational atmosphere that emphasizes Jewish values and the importance of Zionism. Hashomer Hatzair UK focuses on promoting coexistence among different cultures and religion through youth and community engagements.
JEWISH MEDIA
The Jewish media in the UK reflects the diversity of the community, with The Jewish Chronicle, the oldest Jewish periodical in the world (founded 1841), The Jewish News, and The Jewish Telegraph dominating the center-ground, while Hamodia and The Jewish Tribune cater to more Orthodox audiences. Jewish Renaissance and the Jewish Quarterly offer up cultural fare, while a number of local radio stations broadcast weekly programs of Jewish interest.
INFORMATION FOR VISITORS
There are numerous notable Jewish sites throughout the United Kingdom, including JW3 (the Jewish Community Centre London), the Jewish Museum of London, the Manchester Jewish Museum, and synagogues of all streams. Additionally, the British Library and British Museum in London contain major collections of Jewish artifacts and manuscript
ISRAEL
Britain maintains full diplomatic relations with Israel. These strong diplomatic ties are manifest in the rapidly increasing volume of trade between the two countries during the last couple of years.
Israeli Embassy, 2 Palace Green, London, W8 4QB, Tel: 020 7957 9500, Fax: 0207 957 9555
BRANCHES OF JUDAISM
Dr Keith Kahn-Harris sociologist, senior lecturer at Leo Baeck College, the UK's progressive Jewish rabbinic seminary; and associate lecturer at Birkbeck College, fellow of the Institute for Jewish Policy Research.
Religion Media Centre, April 18 2018


There are at least 269,000 Jews in the UK. This is the fifth largest Jewish population in the world, out of an estimated 15-17 million worldwide. More than two-thirds of British Jews live in London (particularly the borough of Barnet and North West London) and South Hertfordshire. While many provincial Jewish populations have declined in recent decades, there are still significant Jewish populations in Manchester, Leeds, Gateshead, Glasgow and a number of other cities.
The Jewish people are highly diverse religiously, culturally, politically and ethnically, both in the UK and globally. Jews are also enthusiastic institution-builders and the complex network of Jewish organisations in the UK reflects this diversity. There are about 2,500 Jewish charities in the UK.
RELIGIOUS ORGANISATIONS AND SYNAGOGUES
Not all British Jews identify as religious. In addition, membership of a synagogue is not always an indicator of how a Jew identifies and practises religiously. The most recent figures from the Institute for Jewish Policy Research estimate that more than 79,000 households in the UK include at least one member who belongs to a synagogue. 71% of households where all members are Jewish, include at least one synagogue member and 56% where at least one household member is Jewish, include at least one synagogue member.
There are an estimated 454 synagogues in the UK, most of them affiliated to a number of denominational umbrella bodies. The following are the principal Jewish denominations in the UK:
Haredi
Haredi, or strictly orthodox, Jews are committed to living lives of religious stringency and usually aim to limit their interactions with the rest of society. They dress modestly and distinctly, with men usually bearded and wearing black attire. They usually eschew universities and secular education, with a life of full-time study of Jewish texts being the ideal for men.
Haredi Judaism was decimated in the Holocaust. But from a few thousand in 1945, there are now more than one million Haredi Jews worldwide, due to their high birth rate. In the UK, estimates of the size of this community range from 30,000 to 44,000 and they are growing at a rate of over 4% per year. An estimated one in two Jewish births in London are to Haredi families. Most Haredim live in tight-knit communities in Stamford Hill, Golders Green and Hendon, Gateshead and Salford.
The Haredi community is highly diverse. There are two principal streams: The 'Lithuanian' stream, which has historically emphasised study as the pre-eminent value; and the 'Hassidic' stream which emphasises joyful spirituality alongside study. The latter is itself divided into multiple sects, usually led by a revered 'rebbe' or master, and often named by place of origin. Important Hassidic sects with a presence in the UK include Belzer, Lubavitch, Satmar and Vishnitzer.
Haredi synagogues are often small (known sometimes as a shtiebel) and there are many of them. Haredi synagogue members constitute 18% of synagogue members in the UK, but 37% of synagogues. The principal umbrella body for Haredi synagogues is the Union of Orthodox Hebrew Congregations although by no means all synagogues are members.
Modern or 'Central' Orthodox
Modern or 'central' orthodoxy shares with Haredi Judaism a commitment to living lives according to the traditional strictures of Jewish law. However, unlike Haredi Judaism, modern orthodoxy believes it is possible to live an observant Jewish life and still take part in modern society to the fullest.
52% of UK synagogue members belong to central orthodox synagogues. Its share of the synagogue member population has dropped over time – in 1990 the proportion was 66%.
The UK's largest Jewish denominational body is the United Synagogue which broadly adheres to modern orthodox practice (although some of its religious authorities lean towards the Haredi world) and has 62 constituent and affiliated synagogues. The Chief Rabbi, Ephraim Mirvis, is the spiritual head of the United Synagogue but religious rulings are usually made by the London Beth Din, or religious court. Membership of a United Synagogue congregation is not necessarily a sign of modern orthodox practice.
There is also a smaller orthodox body, known as the Federation of Synagogues, which has 24 constituent and affiliated synagogues and tends to be more religiously conservative in outlook than the United Synagogue, and some member synagogues cross over into the Haredi stream. There are also a number of independent synagogues that straddle the boundary between Haredi and modern orthodox.
Masorti (Conservative)
Masorti Judaism (known as Conservative Judaism in the USA and some other countries) also sees itself as bound by what it sees as authentic Jewish law (although there are a variety of views as to what this means within the movement). However, it also has a much more robust view than orthodoxy as to the possibilities for developing Jewish law in response to changing social conditions. One example of how this works is that while the liturgy and style of prayer in UK Masorti synagogues are similar to those of the United Synagogue, most UK Masorti synagogues allow greater female participation in worship and some are fully egalitarian.
The Masorti Judaism movement in the UK is home to 3% of UK synagogue members. With 11 synagogues and groups, it is the fastest growing UK Jewish denomination outside the Haredi stream, having doubled in membership since 1990.
Progressive (Reform/Liberal)
Progressive Judaism is the umbrella term for those Judaisms that emerged in the modern period that rejected a literal approach to understanding Jewish law and instead applied modern thinking and understanding to traditional practice and theology. This has included non-literal approaches to the divine, an emphasis on personal choice with regard to observance, and editing traditional liturgy, including a use of the vernacular in worship. Progressive Judaism is egalitarian in terms of gender, with women and men worshipping together and many women serving as Rabbis in both movements, together with a similarly egalitarian approach to sexuality (gay marriage is now accepted).
In the US, the largest Jewish community in the world, progressive Jewish movements account for the majority of synagogue affiliations. The UK has two progressive movements, the Movement for Reform Judaism which has 19% of UK synagogue members in 41 synagogues and Liberal Judaism which has 8% of UK synagogue members and 40 synagogues. The latter has historically taken a more radical approach to theology, liturgy and observance than the former, although these differences have eroded over time.
Sephardi/Mizrachi
The majority of British Jews are Ashkenazi, meaning they have ancestry in Germany, Eastern Europe and Russia. However, the first Jews to return to the UK after they were re-admitted in the seventeenth century were Sephardi, meaning that their ancestors came from Spain and Portugal. There are significant differences between the customs and liturgical style of Ashkenazi and Sephardi Jews.
3% of UK Jews are members of a Sephardi synagogue. The S&P Sephardi Community is the umbrella body for Sephardi synagogues with four synagogues and eight affiliated congregations. The movement is religiously orthodox although it has a reputation for some leniency in its strictures compared with other British orthodox movements. There are also a number of synagogues that follow the rites of Mizrachi (from the Middle East) Jews and other non-Ashkenazi or Sephardi traditions. Some of these are affiliated to the S&P Sephardi Community.
Other
There are a number of independent synagogues and less formal groups that meet for worship, sometimes known as minyanim. These include the emerging phenomena of 'partnership' minyanim that follow modern orthodox practice but allow for greater women's participation in This is part of the global development of 'open' orthodoxy.
There are also a number of groups, such as Grassroots Jews, that deliberately eschew denominational affiliation (they are sometimes known as post-denominational).
SCHOOLS AND EDUCATION
Figures are taken from this report from the Institute for Jewish Policy Research.
There has been a 500% growth in the number of Jewish children attending Jewish day schools since the 1950s and a 400% growth in the number of Jewish day schools during the same period. Today two-thirds of Jewish children attend Jewish day schools (100% of Haredi children, 43% of the rest of the community).
There are 139 Jewish day schools in the UK, 97 of which are in the Haredi sector (which also includes a number of unofficial, unregistered schools). These include both state-aided and private schools. Historically, most non-Haredi schools, such as the Jewish Free School, are under the auspices of the Office of the Chief Rabbi in terms of religious outlook, although pupils do not necessarily follow orthodox practice. In recent years, Jewishly pluralist schools such as the Jewish Community Secondary School have
While no one overarching body represents the interests of all Jewish schools in the UK, the Partnership for Jewish Schools and the related Jewish Schools Network, support and co-ordinate many non-Haredi schools. The National Association of Orthodox Jewish Schools works with Haredi and the more conservative orthodox schools.
There are many other forms of Jewish educational institution in the UK, including:
'Supplementary' schools, usually taking place on a Sunday morning, run by synagogues to provide Jewish education for their young people.
Orthodox and Haredi Yeshivot that focus on intensive study of Jewish texts (as well as kollels which are yeshivot for married men). The Gateshead Kollel is one of the most
Rabbinic ordination programmes such as those run by the Montefiori College (Sephardi/Modern Orthodox) and the Leo Baeck College (Reform/Liberal).
Adult learning institutions such as the London School of Jewish Studies.
The influential cross-communal educational conference Limmud.
'Informal education' is conducted within a number of Jewish youth movements, as well as within Jewish schools and synagogues.
Lead, a division of the Jewish Leadership Council offers leadership training programmes across the community.
REPRESENTATIVE, CAMPAIGNING AND POLITICAL BODIES
Dating its origins to 1760, the Board of Deputies of British Jews is the UK's oldest Jewish representative body. Its deputies are elected from within synagogues and other Jewish organisations and they, in turn elect a President and Vice-Presidents. The Board represents Jewish interests to government and within the wider public sphere. Secular Jews who do not engage in Jewish organisations are imperfectly represented by this body and most Haredi synagogues and organisations are not members (although they do co-operate on selected issues).
The Jewish Leadership Council was founded in the 2000s and brings together representatives from a number of major Jewish organisations. It also conducts representative work (often in collaboration with the Board) as well as co-ordinating activities and research within the community.
Other Jewish representative organisations include the London Jewish Forum and Scottish Council of Jewish Communities.
Representative activities on behalf of the Haredi community are conducted on an ad hoc basis, sometimes working with the Board and other representative organisations, sometimes conducted by prominent Haredi rabbis and sometimes by umbrella bodies within the Haredi community.
The Community Security Trust provides security and training for the Jewish community, as well as conducting research and making representations to government, police and other bodies regarding anti-Semitism. The Campaign Against Antisemitism is a newer body that takes a more publicly combative stance on anti-Semitism. The Shomrim are an organisation that conducts security patrols in Haredi neighbourhoods, although they also assist other local residents. They work closely with police and are involved in monitoring anti-Semitic incidents in the Haredi community.
Most UK political parties contain significant Jewish involvement and, in some cases, Jewish affiliated bodies. The Labour Party, for example, includes as an affiliated society the Jewish Labour Movement, which is the heir to the Labour Zionist tradition and has more than 2,000 The newer (and much smaller) Jewish Voice for Labour, emerged in recent months as an alternative body (although it is not yet an affiliated society), Israel-critical and (often) anti-Zionist it takes a sceptical stance on the anti-Semitism controversy within the party. The Jewish Socialist Group is another long-established group for secular non-Zionist socialist Jews.
Established in the mid-2000s, Jewdas is a collective of generally young Jews who hold a variety of socialist, anarchist, non-Zionist, anti-Zionist and Israel-critical views. Initially focused on satirical activities and poking fun at establishment Jewry, its approach has become more seriously political over time. They offer a Diaspora-centric view of Jewishness and engage in political manifestations, campaigning, education and often controversial and playful happenings and parties.
On the political right, the Conservative Party does not have an affiliated Jewish society. However, there are, and have been for decades, prominent Jewish MPs, members of the House of Lords and supporters and funders. There are also close ties between the Jewish community and Conservative Friends of Israel (as there are with Labour Friends of Israel and Liberal Democrat Friends of Israel) although these are not specifically Jewish groups.
The All Party Parliamentary Group on British Jews, formed in the last two years, seeks to 'broaden and deepen connections between Parliament and the UK Jewish community' and its secretariat is provided by the Board of Deputies. The All Party Parliamentary Group Against Antisemitism also works closely with Jewish communal bodies and has produced some serious research reports and policy papers.
ISRAEL AND ZIONISM
Israel is often the focus of Jewish political organising, as well as educational and cultural programming in the Jewish community. More than 90% of British Jews support the principle of a Jewish state and more than 70% consider themselves Zionist. Beyond that, there are considerable differences (and sometimes tension and conflict) within the community in how Jews relate to Israel. Israel and Zionism-related organisations include:
The Zionist Federation, a coalition of 30 constituent organisations, conducts pro-Israel advocacy and organises events celebrating Israel
Charities that raise money for organisations or projects in Israel, some of which conduct educational work as well. These include the United Jewish Israel Appeal, the Jewish National Fund, the New Israel Fund and 'Friends' of various Israel charities and organisations such as the Friends of the Hebrew University. Many have affiliated bodies in Israel and elsewhere in the Diaspora.
Zionist youth movements, including everything from secular socialist Habonim to the (orthodox) religious Zionist Bnei Akiva
A plurality of campaigning and advocacy organisations that include supporters of the Israel religious right such as Mizrachi, the liberal pro-two states organisation Yachad, 'grassroots' groups that defend Israel in the public sphere such as Sussex Friends of Israel and non-Zionist or anti-Zionist campaign groups such as Jews for Justice for Palestinians.
In addition, many other Jewish organisations discussed in previous sections also conduct Israel and Zionism-related activity, including campaigning, education and advocacy.
WELFARE
The UK Jewish community contains a highly developed welfare infrastructure, including:
Organisations offering a broad range of social services, such as Jewish Care, Manchester Jewish Federation and Leeds Jewish Welfare Board.
Organisations offering services to sections of the Jewish community, such as Norwood (which works with children with special needs) and Nightingale Hammerson (residential care for old people).
Specialist Haredi organisations such as the umbrella body Interlink and a multiplicity of other charities plus less formal gemachs which lend out items within the community.
The Jewish Volunteering Network promotes and co-ordinates volunteering across the Jewish community.
CULTURAL
The UK Jewish community also includes a diverse cultural and heritage sector, including the Jewish cultural centre in London JW3, the Jewish Museum, Jewish Book Week, the Jewish Film Festival and many others.
OTHERS
Amongst the multiplicity of other Jewish organisations and projects, the following are worthy of note:
Organisations that are not 'Jewish' per se but work to remember and educate about the Holocaust with input from the Jewish community such as the Holocaust Educational Trust and the Holocaust Memorial Day Trust.
Jewish development charities such as Tzedek and World Jewish Relief.
Jewish social action organisations such as ReneCassin and the JCORE.
Organisations that deal with sensitive issues within the community such as Jewish Women's Aid which supports Jewish women affected by domestic violence and abuse and Mavar which supports people considering leaving the Haredi community.
Authorities that regulate kosher food such as the Kashrut Division of the London Beth Din.
Jewish restaurants and shops
Jewish sports clubs and teams, including the Jewish football leagues run by Maccabi GB.
Interfaith dialogue organisations with a strong Jewish involvement such as the Council of Christians and Jews and the Three Faiths Forum.
Finally, it is worth mentioning that activities within synagogues are not confined to worship. They also offer welfare and support, cultural and educational programming, youth groups and social activities.
WHAT IT REALLY MEANS TO BE A JEW IN BRITAIN TODAY
New BBC Two series sheds light on what brings together and divides the Jewish community
Jewish Chronicle, Rosa Doherty, August 30 2018
Everybody thinks they are right — that's because they are all Jewish," says Sylvia.
And she should know. She is one of eight people taking part in a TV documentary which explores what it means to be Jewish in Britain today.
The two-part series, which begins next Tuesday on BBC Two, aims to bring together those with a range of opinions, beliefs and practices.
Producer Lucie Kon, who is herself Jewish, wanted to make a series to "demonstrate the diversity and division," within the community at a time when many fear rising antisemitism.
"To many on the outside, it may seem that Britain's Jews speak with one voice, but on the inside, the community is not just diverse but also, on some of the key issues, divided," she says.
The "cast" of We are British Jews includes Joseph Cohen, a campaigner behind the Israel Advocacy Movement, and Lily, a 22–year-old Cambridge graduate who spent time as a volunteer in Palestinian refugee camps.
Others include Sylvia, a strictly Orthodox grandmother, from north west London, and Alan, 77, from West Yorkshire, who took part wanting "an adventure".
Viewers will see their journey begin in Manchester's strictly Orthodox community where they meet for the first time, before travelling to Israel.
In the first episode, the differences are established almost immediately.
"I'm just an ordinary Jew" Alan tells viewers. "I'm non-religious, not devoted, I don't pray and I am partial to a bacon sandwich."
For Sylvia, however, her faith is everything. She explains: "England is my home, I am English but my neshama [soul] is there… in Israel."
For 20-year-old Leeds University journalism student Emma Jacobs, "there is more to being a British Jew than Israel".
She says: "I was the first Jew many of my friends at university had met. Hopefully, this programme will show that British Jews aren't 'other' or different."
Joseph felt that it was only through interactions with people who had different narratives "that I could try to overcome some of the biases I have".
In Manchester, the group visit a kosher restaurant, Taam, which, the owner explains, has been attacked a number of times in what she believes are antisemitic crimes.
Later, they meet the Labour MP, Dame Louise Ellman, who has been the focus of abuse online and has spoken out since Jeremy Corbyn became leader of her party.
Damon, who calls himself a "Jewish atheist" and proud Zionist, expresses frustration at MPs and members like her for staying in the party.
"It is time, as it gets pulled further to the left, that you as MPs say enough… get out of that antisemitic party," he tells her. But Lily disagrees: "We need to be on the inside and we need to be part of the conversation. Engagement is the most important thing."
On being Jewish and her views on Israel, she tells Emma that "people bring the two together more than I'd like. When I open my mouth about what I've experienced in the West Bank people tell me I am a self-hating Jew".
Lucie says one of the biggest challenges in casting for the show was finding "a group of people who helped to reflect the plurality of voices.
"Perhaps the hardest to cast were the most religious and the most politically active.
"A lot of those we spoke to were worried they might be taken out of context. At the other end, people who had spoken out against the government of Israel were equally sceptical.
"We wanted to take the group to see places and people that would help them to go on an emotional as well as a physical journey."
In the second part, shown on Wednesday, they travel to Israel. And while many call it their homeland, it is clear it is not that simple for some.
Ella, 25, a proud Zionist — who since filming has made Aliyah — tells viewers that she "cannot wait to get to Israel. Get me with my people as soon as possible."
But Emma is more interested in seeing how Damon will feel having never visited the country, despite being a "massive" Israel advocate.
Producers enlisted Rabbi Nicky Liss of Highgate Synagogue and Laura Marks, founder of Mitzvah Day, as consultants, alongside Raymond Simonson, the chief executive of JW3.
In Israel, the group visits flashpoints for violence, including Hebron and the West Bank, where they hear from people from across the religious and political divide. Some are challenged after meeting Tsipi, a prominent Jewish activist whose father was murdered by a Palestinian.
And a visit to Efrat, considered by the international community an illegal settlement, further highlights the group's differing views.
A meeting with Fadi, a Palestinian who tells them what his life is like living behind the West Bank's separation barrier, causes further divides.
Emma says: "Seeing how some of the group reacted to some Palestinians we met I was surprised by how quickly dialogue can be derailed. Positive and productive conversations are the way forward, however hard they may be."
And a visit to the Western Wall provides an opportunity for the group to grapple with the issues surrounding prayer.
Emma is verbally attacked by a religious woman for wearing a tallit and kippah.
She says: "I was not surprised but disappointed, by the reaction. Other women praying in this way have had rocks thrown at their heads and protestors have set prayer books on fire.
"It's 2018. Women should not stop other women from praying how they want to if it's done respectfully, and doesn't harm anyone else."
The series ends with a moving meeting with two fathers, Bassam, a Palestinian and Rami, an Israeli, who have both lost young daughters to the conflict.
Damon sums up his feelings: "I often feel great anger when discussing the conflict with haters of Israel. But here are two men with an absolute right to feel anger and hatred, yet have turned those feelings into positivity for peace."

FOOTAGE EMERGES OF CORBYN SAYING
BBC 'BIASED' TOWARD 'ISRAEL'S RIGHT TO EXIST',
In 2011 interview with Iran's Press TV, which surfaced Tuesday amid party's anti-Semitism row, Labour leader accuses Israeli government
of undue 'pressure' on broadcaster
Times of Israel, TOI STAFFm 8 August 2018

British Labour leader Jeremy Corbyn, accused by the Jewish community of tolerating anti-Semitism in his party's ranks, once told Iranian state media that the BBC "has a bias towards saying that… Israel has a right to exist."
In the 2011 interview with Iran's PressTV, posted on Twitter Tuesday by the British political blogger The Golem, Corbyn explains that "there's pressure on the BBC from, probably, [then-BBC director general] Mark Thompson, who seems to me to have an agenda in this respect. There seems to be a great deal of pressure on the BBC from the Israeli government, from the Israeli embassy, and they are very assertive towards all journalists and toward the BBC itself. They challenge every single thing on reporting the whole time."
That Israeli pressure and bias from the likes of Thompson, Corbyn goes on to say, mean the corporation leans in favor of Israel's existence.
"I think there is a bias towards saying that Israel is a democracy in the Middle East, Israel has a right to exist, Israel has its security concerns," he says in the 36-second clip.
The Golem notes in a follow-up tweet that Corbyn's statements may run afoul of Labour's own code of conduct on anti-Semitism, which the blogger quotes as saying, "The Party is clear that the Jewish people have the same right to self-determination as any other people. To deny that right is to treat the Jewish people unequally and is therefore a form of antisemitism."
The comments are only the latest round in a long-running crisis for the party, with a constant stream of members and prominent officials being forced out or chastised for making anti-Semitic and virulent anti-Israel comments, and Corbyn himself criticized for tolerating and/or being part of the problem. The fracas has seen excoriation from rabbis, including Britain's chief rabbi, as well as from some of Labour's own MPs charging that the party and its leader seemed unable or unwilling to decisively excise anti-Semitic members and sentiments from its ranks.
A response from a Labour Party spokesperson published by Jewish News, a partner site of The Times of Israel, seemed to double down on Corbyn's comments.
"Jeremy was arguing that despite the occupation of Palestinian territory and the lack of a Palestinian state, Israeli concerns and perspectives are more likely to appear prominently in news reporting than Palestinian ones," the spokesperson said. "Jeremy is committed to a comprehensive peace in the Middle East based on a two-state solution – a secure Israel alongside a secure and viable state of Palestine."
Members of the Jewish community hold a protest against Britain's opposition Labour party leader Jeremy Corbyn and anti-Semitism in the Labour Party, outside the British Houses of Parliament in central London, on March 26, 2018. (AFP Photo/Tolga Akmen)
At the same time, "the Israeli government is well known to run an effective and highly professional media operation," the spokesperson added.
Jewish leaders were quick to respond to the newly surfaced Corbyn comments.
Jennifer Gerber, head of Labour Friends of Israel, slammed the "deplorable remarks," saying, "not only does Jeremy Corbyn use another appearance on Iranian state TV to engage in further wild conspiracy theories about Israel, he also questions the Jewish state's right to exist. Is it any wonder he has resisted so hard adopting the full IHRA definition of antisemitism?"
After Labour's response, Gerber added on Twitter: "The Labour party is now defending Jeremy Corbyn peddling wild conspiracy theories and questioning Israel's right to exist on Iranian state TV. Let's be clear: for a party which aspires to be in government, this is not normal behavior."
Simon Johnson, head of the Jewish Leadership Council, tweeted, "Sorry Mr Corbyn. Do you therefore think that Israel is NOT a democracy, does NOT have a right to exist and does NOT have security concerns? And that an organisation is biased if it DOES believe these things? Wow. That seems to differ somewhat from the policy of the party you lead."
Members of the Board of Deputies of British Jews, with left to right, Gillian Merron, Jonathan Arkush, Jonathan Goldstein, and Simon Johnson speak to the media outside Britain's parliament following a meeting with Britain's opposition Labour Party leader Jeremy Corbyn Tuesday April 24, 2018. (Jonathan Brady/PA via AP)
Also Tuesday, a top Jewish Labour MP charged that party leaders were working to silence criticism within the party over its handling of anti-Semitism accusations.
Margaret Hodge, a former minister in Labour governments, recently underwent a party investigation herself after she called Corbyn "an anti-Semite and a racist" during a parliamentary debate. The probe ended on Monday.
Now she is defending fellow Labour MP Ian Austin, saying the party's investigation of an alleged confrontation between him and Corbyn-supporting lawmakers in Parliament in mid-July was part of a "new style of politics" consisting of "bullying and intolerance."
"I have absolutely no doubt that there are those in the [Labour] leadership who want to get rid, whether it is through deselection or disciplinary action, of any opposition. The new style of politics is bullying and intolerance, not gentle and inclusive," Hodge told The Guardian newspaper.
"Arguing passionately for what you believe in should be encouraged and celebrated, not punished. That's what Ian was quite properly doing, and trying to close down the issue by disciplining him is tantamount to bullying," Hodge said.
Austin's attorneys called the investigation "a farce and a disgrace. It has plainly been designed to silence our client for his legitimate, honestly held criticisms of Mr Corbyn's failure to address the scourge of antisemitism in the Labour party," they wrote.
MP Margaret Hodge. (YouTube screenshot)
At the heart of Labour's anti-Semitism crisis is the party's refusal to adopt in full the International Holocaust Remembrance Alliance's definition of anti-Semitism, instead leaving out four of the 11 examples included in the definition. All four relate to unfair singling out of Israel or questioning the loyalty of Jews who support Israel.
The party was called to task on the issue Tuesday by the British delegation to the IHRA, saying in a statement published by the Guardian that "any 'modified' version of the IHRA definition that does not include all of its 11 examples is no longer the IHRA definition. Adding or removing language undermines the months of international diplomacy and academic rigor that enabled this definition to exist. If one organization or institution can amend the wording to suit its own needs, then logically anyone else could do the same. We would once again revert to a world where antisemitism goes unaddressed simply because different entities cannot agree on what it is."
The left-leaning British daily also reported Tuesday on the challenges and foot-dragging underway in Labour's National Executive Council over expelling members who express or facilitate anti-Semitic sentiments in the party.
Of the 70 cases of anti-Semitic expressions by party members sent to the NEC by party officials for consideration, "only a minority were considered by the NEC because of time constraints," the Guardian says.
The complaints included Labour members who claimed that the Israel lobby had invented the anti-Semitism crisis, or that Hitler's policy on Zionism "might not be mutually exclusive with his later actions" (i.e., the extermination of Europe's Jews), among others.
One unnamed Labour source assured the paper that efforts to expel offending members would be sped up in the near future.
"The new code of conduct means we will not have to go to the full NEC disputes committee, but a smaller antisemitism subgroup. It will mean we have the potential to kick people out super fast, instead of waiting months for a full disputes meeting and just getting through 11 of 70."
ANTISEMITISM IN THE UK LABOUR PARTY
Wikipedia (go to site for full detail)

Allegations of antisemitism in the Labour Party of the United Kingdom (UK) have been made since Jeremy Corbyn was elected as leader of the party in September 2015. After comments by Naz Shah in 2014 and Ken Livingstone in 2016 resulted in their suspension from membership pending investigation, Corbyn established the Chakrabarti Inquiry, which concluded that the party was not "overrun by anti-Semitism or other forms of racism", although there was an "occasionally toxic atmosphere" and "clear evidence of ignorant attitudes". The Home Affairs Select Committee of Parliament held an inquiry into antisemitism in the UK in the same year and found "no reliable, empirical evidence to support the notion that there is a higher prevalence of antisemitic attitudes within the Labour Party than any other political party", though the leadership's lack of action "risks lending force to allegations that elements of the Labour movement are institutionally antisemitic".
In 2017, Labour Party rules were changed to make hate speech, including antisemitism, a disciplinary matter. In 2018, Corbyn was challenged for querying in 2012 the removal of Freedom for Humanity, an allegedly antisemitic mural, in response to a Facebook post from the artist, and for having been a member of Facebook groups, mainly pro-Palestinian, containing antisemitic posts. In July of that year, Labour's National Executive Committee (NEC) adopted a definition of antisemitism, for disciplinary purposes, that included the International Holocaust Remembrance Alliance (IHRA) Working Definition, with modified examples relating to how criticism of Israel could stray into antisemitism. In September of that year, the NEC added all 11 IHRA examples, unamended, to the definition of antisemitism, and included them in the Party's code of conduct.
In February and July 2019, Labour issued information on investigations into complaints of antisemitism against individuals, with around 350 members resigning, being expelled or receiving formal warnings, equating to around 0.08% of the membership. Also in February 2019, nine MPs resigned from the party, citing Labour's leftward political direction and its handling of allegations of antisemitism and of Brexit – most of them then formed The Independent Group. In May, the Equality and Human Rights Commission announced an inquiry into whether Labour had "unlawfully discriminated against, harassed or victimised people because they are Jewish". In July, the party published online educational material on combating antisemitism and promoted it to all members.
UK NOTABLES SAY THEY CAN'T VOTE LABOUR BECAUSE OF ANTI-SEMITISM
John le Carré, Jimmy Wales among signatories of open letter saying backing opposition party over Brexit sends signal that 'anti-Jewish prejudice is a price worth paying'
Times of Israel TOI Staff 15 November 2019
Over two dozen British public figures, including authors, historians and actors, issued an open letter Thursday, saying they could not vote for the Labour Party in upcoming elections due to the UK opposition party's anti-Semitism scandals.
The issue of anti-Semitism in Labour under far-left leader Jeremy Corbyn has featured prominently in the run-up to the December 12 elections, which are expected to be fought in large part on the issue of Brexit.
The letter, published in the Guardian, was signed by spy author John le Carré, Wikipedia founder Jimmy Wales, military historian Antony Beevor and actor Tom Holland, among others.
"We listen to our Jewish friends and see how their pain has been relegated as an issue, pushed aside by arguments about Britain's European future. For those who insist that Labour is the only alternative to Boris Johnson's hard Brexit, now, it seems, is not the time for Jewish anxiety," the signatories wrote.
British author John Le Carre at the UK film premiere of "Tinker Tailor Soldier Spy," in London, September 13, 2011. (AP Photo/Sang Tan, File)
The letter said the issue of anti-Semitism was "central to a wider debate about the kind of country we want to be" and that to ignore it because of Brexit would signal that tolerating "anti-Jewish prejudice is a price worth paying for a Labour government."
"Which other community's concerns are disposable in this way? Who would be next?" it said.
Fighting against racism cannot be accompanied by giving up on opposing anti-Semitism, wrote the letter's authors.
"Yet that is what it would mean to back Labour and endorse Mr. Corbyn for Downing Street," they said. "The path to a more tolerant society must encompass Britain's Jews with unwavering solidarity."
While declining to endorse a party, the signatories said they could not "in all conscience" call on others to back a party they would not. "We refuse to vote Labour on 12 December," they wrote, some of whom had been vocal against Corbyn before the letter.
It also noted the investigation by the UK's Equality and Human Rights Commission into Labour for allegations of anti-Semitism and said Corbyn "has a long record of embracing anti-Semites as comrades."
In response, Labour noted a number of the signatories have expressed support for the Liberal Democrat and Conservative parties.
"We take allegations of anti-Semitism extremely seriously, we are taking robust action and we are absolutely committed to rooting it out of our party and wider society," a party spokesperson said.
Illustrative: People hold up placards and Union flags as they gather for a demonstration organized by the Campaign Against Anti-Semitism outside the head office of the British opposition Labour Party in central London on April 8, 2018. (AFP/Tolga Akmen)
Labour is facing accusations of anti-Semitism involving Corbyn, who has come under scrutiny for his alleged failure to stop the hate speech and for past actions in which he appeared to ignore, condone, or encourage it.
Following Corbyn's takeover of the party in 2015, hate speech against Jews and Israel began proliferating in Labour's ranks. Thousands of incidents have been recorded both by internal Labour groups like Labour Against Antisemitism, and external ones, including the Campaign Against Antisemitism.
Some of the accusations stem from Corbyn's past support for pro-Palestinian causes and refusal to adopt a universally accepted definition of anti-Semitism — a position he has since partly revised.
CORBYN HAS NO REMORSE FOR ACTIONS
IN LABOUR ANTI-SEMITISM SCANDAL
As his party conference opens, UK opposition leader defends past conduct, says he's always fought against racism; Labour now 'safe and welcoming place for all communities'
Times of Israel, TOI STAFF, 23 September 2018
Jeremy Corbyn, the leader of Britain's Labour party, insisted to the BBC on Sunday that he was not an anti-Semite, but refused to apologize for a series of incidents involving him and other party members that have drawn accusations of rampant anti-Semitism and anti-Israel sentiment.
In an interview with BBC host Andrew Marr ahead of the party's annual conference in Liverpool, which opened Sunday, Corbyn defended his own conduct and his handling of some of the scandals that have rocked the opposition party in recent months.
When asked by Marr if he wanted to "express personal remorse" over the ongoing crisis, Corbyn responded: "I'll simply say this, I am an anti-racist and I'll die an anti-racist. Anti-Semitism is a scourge in any society. I have opposed it all my life and I will continue to oppose it all my life."
He said that under his leadership, Labour had "set up much better processes for dealing with incidents," and that the party was a "safe and welcoming place for all communities."
Corbyn insisted to Marr that he was "absolutely" not anti-Semitic, while defending his remark about British Zionists not understanding irony, his attendance at a memorial for Palestinian terrorists, and Labour's reluctance to fully adopt the International Holocaust Remembrance Alliance's (IHRA) definition of anti-Semitism — a move which, when finally adopted earlier this month, he unsuccessfully attempted to undermine by seeking a caveat asserting that branding Israel a racist endeavor is not anti-Semitic.
Corbyn defended his opposition to removing a mural in London several years ago that depicted anti-Semitic caricatures of Jewish bankers and businessmen counting their money, saying he was concerned over the wider issue of removing public art.
The Labour leader conceded that he had "perhaps been too hasty" in his judgment, and said the mural "should have never have been put up."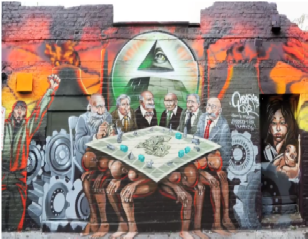 Kalen Ockerman's mural
'The Enemy of Humanity'
(photo credit: YouTube screen shot)
Corbyn defended his opposition to removing a mural in London several years ago that depicted anti-Semitic caricatures of Jewish bankers and businessmen counting their money, saying he was concerned over the wider issue of removing public art.
The Labour leader conceded that he had "perhaps been too hasty" in his judgment, and said the mural "should have never have been put up." (Editor's Note BBC You Tube video about the video)
When Marr asked him to to explain his comments from 2013, when he said that British "Zionists" were unable to understand British Irony, Corbyn said he was defending Palestinian Authority ambassador Manuel Hassassian from two people who had berated him during a meeting.
He said the hecklers "were both British-born people who'd clearly been here all their lives."
"I was upset on his behalf… about the way he had been treated. I felt I should say something in his support," Corbyn said.
The Labour leader said the remark "was not intended to be anti-Semitic in any way," underscoring that he opposed anti-Semitism in all forms "because I can see where it leads to now in Poland, Hungary and in central Europe, I can see where it led in the past."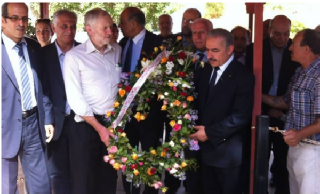 Jeremy Corbyn (second from left) holding a wreath during a visit to the Martyrs of Palestine, in Tunisia, in October 2014. (Facebook page of the Palestinian embassy in Tunisia)
He also stood by his decision to attend a 2014 memorial service in Tunisia, saying he was "not sure" if Palestinian terrorists linked to the Munich massacre were buried at the cemetery where it was held.
"I thought it was right to take part in what was a very solemn ceremony… I'm not even sure who was buried there at the time," he said. "I'm not a supporter of Black September, of course, but I always think we should commemorate those who have been killed in bombing raids. And that's what I was doing."
BRITISH POLITICS HAS WORST RECORD
FOR ANTISEMITISM IN EUROPE, POLL SAYS
Nearly a third of Jews in UK say they are thinking of emigrating
out of fears for their safety
The Guardian, Daniel Boffey in Brussels, Mon 10 Dec 2018.
Last modified on Sat 23 Feb 2019
Labour antisemitism protest, London, UK. Jews in Europe found almost a third avoid attending events or visiting Jewish sites because they do not feel safe.
An antisemitism protest in London, UK. Jews in Europe found almost a third avoid attending events or visiting Jewish sites because they do not feel safe. Photograph: Matthew Chattle/REX/Shutterstock
Four out of five Jews in the UK believe antisemitism is a major problem in British politics, the worst record within the EU, and nearly a third are considering leaving Britain out of fears for their safety, according to the world's largest survey of Jewish people.
The report from the EU's agency on fundamental rights has found antisemitic hatred and discrimination on the rise across Europe, with attitudes in France, Germany, Belgium and Poland said to be the most disturbing.
The survey of 16,300 Jewish people in Europe found that almost a third avoid attending events or visiting Jewish sites because they do not feel safe.
In France, 95% of Jews believe antisemitism is a very or fairly big problem, up from 85% when the poll was last run six years ago. Nine out of 10 Jews in France say they had faced expressions of hostility on the street.
The survey of communities in the 12 member states, accounting for 96% of the Jewish population in the EU, further found that on average 41% had considered emigrating to escape because they no longer feel safe.
The results for the UK were peculiar, however, in the high level of concern expressed about the political sphere.
The survey found that 75% of Jewish people in the UK perceived antisemitism to be generally a very big or fairly big problem, up from 48% in 2012, with 29% having considered emigrating.
The poll, though, reported that 84% of Jews surveyed found antisemitism specifically in political life to be a very or fairly big problem, compared with the 12-country average of 70%.
It also found that 89% of British Jews say antisemitism has increased in the six years since the last survey.
The European commissioner for justice, Věra Jourová, told the Guardian the results were a dismal setback for the EU that should be taken up as a challenge by the heads of states and government.
She urged Jeremy Corbyn, whose Labour party has battled accusations that it has allowed antisemitism to take hold within its ranks, to take heed of the results.
The Labour leader himself has come under repeated criticism over the issue, not least when a recording emerged this summer of Corbyn addressing an event in 2013, where he angrily accused a group of British Zionists of having no understanding of "English irony".
Corbyn later issued a clarification, saying he was using the term Zionist in "the accurate political sense and not as a euphemism for Jewish people".
Asked about Corbyn's track record, Jourová said: "I always use the phrase 'Let's not play with fire', let's be aware of what happened in the past. And let's not make the same mistake of tolerating it. It is not enough just to be silent …
"Every politician must realise that it is also our rhetoric that is influencing and pardoning the bad behaviour of the people who have these tendencies to attack others. We must be more and more careful not to give a blessing."
Jourová added of the Labour leader: "I read quite a lot of his quotes and a lot of articles and he is trying to get out of this label but, OK, I hope he will pay attention to this survey.
"This is a serious message we have received from the Jewish community," she said. "We must do everything to let the Jewish communities know that they are not alone in Europe."
Among the other results, the survey found that nearly half (44%) of Jews in Germany and France have considered emigrating because they do not feel safe.
Nine out of 10 Jews in Poland had been targeted with anti-semitism on the internet and 84% in Belgium reported having experienced antisemitism in their national media.
Across the 12 countries as a whole, 89% said antisemitism is at its worst and most problematic on the internet and social media platforms. Nearly three in four (73%) think hostile behaviour toward Jews in public is a big or very big problem, and 71% believe there is evidence of antisemitism in the media.
In Hungary, where the re-election campaign of the prime minister, Viktor Orbán, was heavily criticised for encouraging anti-semitism through the demonisation of the philanthropist George Soros, the proportion of Jews who felt that anti-semitic attitudes is a major problem has fallen from 89% in 2012 to 77%.
The European commission's vice president, Frans Timmermans, nevertheless warned Orbán about the dangers of his rhetoric which he claimed "has led to an anti semitic response in Hungarian society". Orbán has accused Soros of masterminding an international plot to open Europe's borders.
"Since prime minister Orbán is so vocal saying he wants to combat anti semitism", Timmermans said, "I would call upon him to avoid dog whistle words".
ANALYSIS: UK LABOUR PARTY
AND THE RESURGENCE OF EUROPEAN ANTI-SEMITISM
Jerusalem Online, Hope Not Hate -February 25, 2019
Over the last few years, the Labour party, and, since his election as leader, Jeremy Corbyn himself, have become embroiled in numerous allegations of antisemitism and failing to deal adequately with those members and supporters who are perpetuating it.
In 2012, while still a backbencher, Jeremy Corbyn offered his backing to an artist whose clearly antisemitic mural was to be removed. It depicted profiteers with exaggeratedly large noses gathered around a board game, held up by the subjugated masses. A video has recently surfaced, filmed not long after this, in which Corbyn responding to a question by saying that Zionists "clearly have two problems. One is that they don't want to study history, and secondly, having lived in this country for a very long time, probably all their lives, they don't understand English irony either", mobilising old antisemitic tropes of Jews as outsiders, lacking loyalty and not belonging in the UK.
This was just one of several instances involving Jeremy Corbyn. While Corbyn has now spoken out about antisemitism on the left, many people have questioned his understanding of contemporary antisemitism, and how seriously he takes the issue. The problem of antisemitism within the Labour party goes well beyond Corbyn however, and the lack of action by the party has caused great worry amongst large sections of the Jewish community.
In 2018 seven elected Labour representatives were suspended or resigned after making antisemitic comments. These suspensions we held up as a potential signal that finally, after an extremely slow start, concrete action against antisemitism is being taken. However, the quiet readmission of members formerly suspended for investigation, without full transparency on the disciplinary process they underwent has led to concerns that the Party approach has been to try to make the problem of antisemitism go away, rather than to tackle the root causes. So much more is required to root out antisemites and to create a zero-tolerance approach of deeds as well as words.
There are cases which have resulted in no tangible repercussions. MP Chris Williamson recently signed a petition in support of Gilad Atzmon, an individual who is infamous for having promoted Holocaust deniers and spread antisemitic conspiracy theories.
Williamson's belated but barely credible apology was taken at face value by the party and no action – not even an investigation – resulted.
Likewise, there was real reluctance from the party leadership to deal with Pete Willsman, a long-time colleague of Corbyn's, after he accused Jewish "Trump fanatics" of making up allegations of antisemitism in the party.
Although dropped by Momentum, he was nevertheless re-elected to the NEC in 2018 as an independent candidate.
Even pro-Corbyn Jewish leftwingers like Jon Lansman and Rhea Wolfson have been on the receiving end of antisemitic abuse.
Disgracefully, some of those who have faced the worst antisemitic abuse from within the Labour Party are Jewish Labour members of parliament.
In a House of Commons speech in April, MP for Stoke-on-Trent North (and former Deputy Director of HOPE not hate) Ruth Smeeth explained in no uncertain terms the deluge of antisemitism she had experienced from the left such as: "Hang yourself you vile treacherous Zionist Tory filth. You are a cancer of humanity". The chair of the Jewish Labour Movement's parliamentary group, Luciana Berger, has faced abhorrent abuse online simply for highlighting instances of antisemitism within the Labour movement.
Encouragingly, there have been signs from within the left, most notably from the Jeremy Corbyn supporting group Momentum, of an awareness that this is a serious problem requiring serious action. They have produced a series of videos opposing antisemitism, and have run social media campaigns to expose left-leaning antisemites, warning supporters to steer clear of groups masquerading as Corbyn supporters which also post racist content. But much more needs to be done to reassure people that the Labour party is taking the issue of antisemitism seriously.
Some have sought to play down the threat posed by antisemitism in the Labour party by pointing to antisemitism emanating from the far-right or Islamophobia in the Conservative Party. However, what worries so many within the Jewish community is the prospect of a mainstream political party, possibly a party of government, having a problem with antisemitism which is not only not taken seriously by its leadership but emanates from it.
Within this concern is a feeling that Jewish people are not considered 'victims' of racism and prejudice in the same way that other minority groups are, and that the Jewish community is powerful enough to look after itself, which of course is an age-old trope.
The family history of so many members of the British Jewish community includes first-hand experience of persecution. Many people in the Jewish community therefore identify with a sense of the precariousness of their safety, where material security and educational attainment are not seen as guarantors of security and safety. The inability of the Labour Party leadership to understand and acknowledge this experience is particularly chilling when the Labour Party and the left in general hold values of equality and antiracism as core to their identity.
Source: www.HopeNotHate.org
The Synagogue BBC
Synagogues Wikipedia
Anrisemitism in Britain antisemitism.org.uk
Corbyn has no remorse for actions in Labour anti-Semitism scandal Times of Israel 23 September 2018
Jewish Congregations in Greater London, Listed according to London Borough and Locality
JCR-uk
List of Jewish communities in the United Kingdom Wikipedia
Jewish organisations based in the United Kingdom Wikipedia
Jewish Communities and Congregations in England JCR-UK
Sotland Wales Ireland The Channel Islands The Isle of Man The Rock of Gibraltar
MEDIEVAL (PRE-1290) JEWISH COMMUNITIES IN ENGLAND AND WALES JCR UK