ANTISEMITISM PERVADES EUROPEAN LIFE,
SAYS EU REPORT
BBC NEWS, Paul Kirby, 10 December 2018

Antisemitism is getting worse and Jews are increasingly worried about the risk of harassment, according to a major survey of 12 EU countries.
Hundreds of Jews questioned by the EU's Fundamental Rights Agency said they had experienced a physical, anti-Semitic attack in the past year, while 28% said they had been harassed.
France is identified as having the biggest problem with Antisemitism.
Germany, the UK, Belgium, Sweden and the Netherlands also saw incidents.
On the day the report was released, the Italian police said they were investigating the theft of 20 memorial plaques commemorating the Holocaust.
The small brass plaques - dedicated to members of a Jewish family, De Consiglio - were dug out from Rome's pavements during the night.
WHAT ARE THE MAIN FINDINGS?
The Vienna-based FRA paints a picture of synagogues and Jewish schools requiring security protection; of "vicious commentary" on the internet, in media and in politics; and of discrimination at school and work.
The report comes weeks after a gunman murdered 11 people at a synagogue in the US city of Pittsburgh.
Six years after its initial report, the FRA has surveyed Jews in the 12 EU states where most Jews live.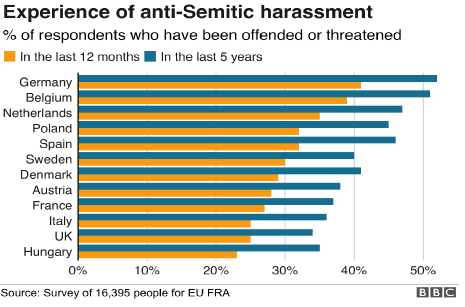 The report says anti-Semitic abuse has become so common that most victims do not bother reporting the incidents. Among the findings:
89% of the 16,395 Jews surveyed considered Antisemitism online a problem in their country
28% experienced some form of harassment for being Jewish in the past 12 months; 2% were physically attacked
47% worry about anti-Semitic verbal insult or harassment and 40% about physical attack in the next 12 months
34% have avoided Jewish events at least occasionally because of safety fears
38% have considered emigrating in the past five years over safety fears
WHERE IS ANTISEMITISM MOST SIGNIFICANT?
A startling 95% of French Jews see Antisemitism as either a fairly or very big problem.
France has been subject to a string of jihadist attacks, including the killing of hostages at a Jewish supermarket in Paris.
This year alone 85-year-old Mireille Knoll, who escaped the Holocaust, was murdered in her Paris flat and an eight-year-old boy wearing a kippah (skullcap) was attacked in the street by teenagers.
Prime Minister Edouard Philippe has spoken of a 69% increase in anti-Semitic incidents in the country, which has Europe's biggest Jewish population of around half a million.
He said a national network of investigators would be created to fight hate crime, and a school taskforce would be sent to help teachers tackle Antisemitism in the classroom.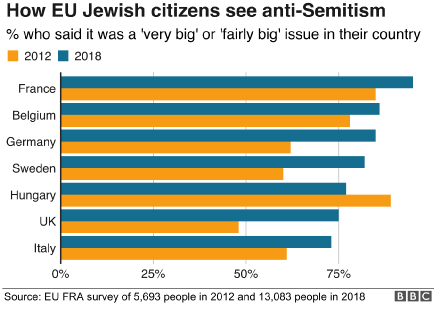 Over 80% of those surveyed saw Antisemitism as a serious problem in Germany, Belgium, Poland and Sweden.
Last month, Chancellor Angela Merkel said Germans had become almost accustomed to Jewish institutions requiring police guards or special protection.
Sweden, meanwhile, has seen one of the sharpest increases in perceptions of Antisemitism in the past six years, along with the UK and Germany.
Paris murder of Mireille Knoll treated as anti-Semitic
Berlin anti-Semitic attack caught on video
Germany to fight Antisemitism in schools
Why has Sweden seen such a steep rise?
"I think a lot of Jews in Sweden are scared," says Isak Reichel, secretary general of the Stockholm community.
Last year a neo-Nazi hate campaign forced a Jewish community association to close its doors in the northern town of Umea.
Then in December three men of Middle Eastern origin threw petrol bombs at a synagogue in Gothenburg while young people were holding a party. That attack took place after US President Donald Trump announced he was recognising Jerusalem as Israel's capital.
Sweden's Jewish population is only 20,000, and most are particularly careful not to stand out.
"Most Jews in Sweden don't show publicly they are Jews," says Mr Reichel. "They don't walk around with a kippah. If they have a Star of David around their neck, they hide it. Children in school don't say they are Jewish," he told the BBC.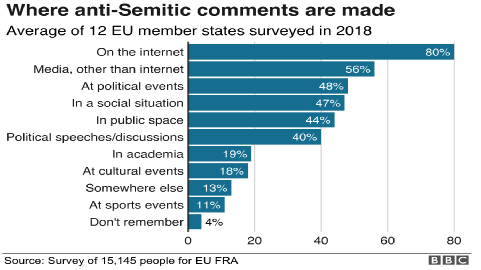 Threats force Sweden Jewish group to shut
WHAT'S HAPPENING IN THE UK?
Most anti-Semitic incidents in the UK involve abusive behaviour and the numbers last year hit a record, according to the Community Security Trust, a charity that works with the police to protect Jews.
For months in the summer Antisemitism was at the centre of political discourse, with allegations surrounding the opposition Labour Party and its leader, Jeremy Corbyn.
The party argued over the role of Israel in the definition of Antisemitism adopted by the International Holocaust Remembrance Alliance (IHRA). Labour finally agreed to it in September, but added a statement on protecting free speech.
Labour adopts Antisemitism definition
Weeks later Jewish Labour MP Luciana Berger needed police protection during the party's annual conference.
In March, protesters gathered outside Parliament calling for Labour to do more to fight Antisemitism
The Labour row has had repercussions for Jewish students too, says the head of the Union of Jewish students, Hannah Rose.
"There have been two main effects," she told the BBC. "One is normalisation of anti-Semitic rhetoric on the left - and it's become less challenged when it does occur; secondly, non-Jewish students believe they know Antisemitism more than Jews themselves.
"People don't want to seem to educate themselves on how you can criticise Israel without being anti-Semitic."
She left the Labour party in September.
ANTISEMITISM AND THE THREAT OF IDENTITY POLITICS
Today, hatred of Jews is mixed in with fights about Islam and Israel
Financial Times, Gideon Rachman, April 2 2018
For the past 50 years, I have had the pleasure of living in a period when Antisemitism was not a political issue in the west. But that appears to be changing.
Last week thousands of people marched in Paris to demonstrate against Antisemitism after the murder of Mireille Knoll, an 85-year-old Holocaust survivor who, according to President Emmanuel Macron, was "murdered because she was Jewish". That same week a smaller demonstration took place in London, to protest against Antisemitism in the Labour party. This Sunday is likely to see the re-election of Viktor Orban, the Hungarian prime minister, who uses barely coded anti-Semitic rhetoric. Even the US is not immune. Last August saw the far-right marching in Charlottesville, amid chants of "Jews will not replace us".
So are we reliving the 1930s? Not really. Contemporary Antisemitism contains some loud echoes of the past — for example, the resurgence of the idea of Jews as a shadowy international network. But the new element is the way that Antisemitism is now mixed in with bigger fights about Islam and Israel.
For the far-left, a key enemy is often Israel, which is seen as an embodiment of western racism. For the far-right, the main enemy is Islam, which it identifies with terrorism and mass immigration. Both far-left and far-right often claim to be immune from Antisemitism — either because they are anti-racists (the left) or because they are pro-Israel (the right).
These complexities are embodied by Mr Orban. At a recent rally, the Hungarian prime minister used language laden with anti-Semitic imagery: "We are fighting an enemy that is different from us. Not open, but hiding; not straightforward but crafty . . . not national, but international, [and who] does not believe in working but speculating with money."
he bogeyman of the Orban campaign is George Soros, a Hungarian-Jewish financier. But the main accusation hurled at Mr Soros by Mr Orban is that he is planning to flood Hungary with Muslim refugees. The Hungarian prime minister's decision to build a wall to block the flow of migrants has made him a hero of the far-right in the US and Europe.


HOW THE NAZIS "NORMALIZED" ANTI-SEMITISM
BY APPEALING TO CHILDREN
A new museum and exhibit
explore the depths of the hatred toward Europe's Jews
Smithsonian, Menachem Wecker, 2016
Menachem Wecker covers art, religion, and education for Washington Post, Houston Chronicle, Deseret News, National Catholic Reporter, Jewish Daily Forward, and others. A former education reporter at U.S. News & World Report, he is co-author of the recent book Consider No Evil: Two Faith Traditions and the Problem of Academic Freedom in Religious Higher Education. He holds a master's in art history
from George Washington University.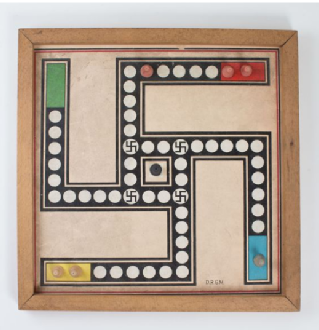 NAZI BOARD GAME
One of the board games in the collections of the Museum of World War II
(Whit Haynes)

One night, some 30 years ago, Kenneth Rendell followed the owner of a military shop outside London through a side door into the store. It was pitch black, and Rendell bumped into something. "I'm just standing there waiting for him to turn the lights on and the alarm off," he says. "When he turned the lights on, it scared the crap out of me."
Rendell was face-to-face with a mannequin wearing a black uniform of a Nazi SS officer stationed in Dachau. Where other military uniforms tend to be beige and loose-fitting, the Nazi uniform was designed to frighten people with its dark color, silver trim, red swastika armband and the skull that appears beneath the insignia on the cap. "I realized this is propaganda," he says of the uniform, about midway into a two-and-a-half hour tour of his museum, which sits some 30 minutes west of Boston. "Look at the skull's head. This is so frightening."
The uniform was the first German object purchased by Rendell, founder and director of the voluminous and meticulously-curated Museum of World War II in Natick, Massachusetts. His collection numbers 7,000 artifacts and more than 500,000 documents and photographs, and the museum is slated to expand later this year. When visitors round a corner from a section on occupied Europe, they suddenly find themselves opposite the uniform, much like Rendell was 30 years ago.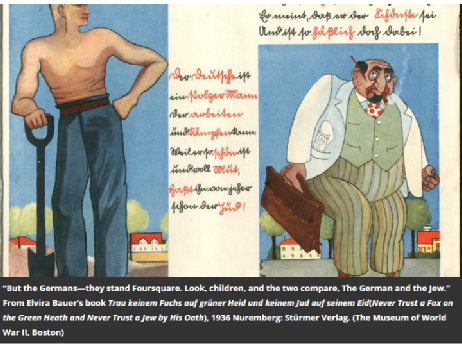 "I really wanted this to be shocking and in-your-face," he says. "People don't go through here quickly. People really slow down."
"But the Germans—they stand Foursquare. Look, children, and the two compare, The German and the Jew.
From Elvira Bauer's book
Trau keinem Fuchs auf grüner Heid und keinem Jud auf seinem Eid</em>(Never Trust a Fox on the Green Heath and Never Trust a Jew by His Oath), 1936 Nuremberg: Stürmer Verlag. (The Museum of World War II, Boston)
Rendell, who grew up in Boston, started collecting as a child. In 1959, he opened the dealership in autographs and historical documents, letters, and manuscripts that he continues to operate. His clients over the years, according to news reports, have included Bill Gates, Queen Elizabeth and the Kennedy family. "I have loved every day since then as the temporary possessor of the written record of mankind's greatest heroes and villains, as well as the countless individuals who wittingly or unwittingly became a part of the dramas of history," his website records.
Although Rendell has no family connection to World War II, he has amassed an enormous collection, and his museum, which is slated to begin construction on a new building next year, displays the sobering and terrifying items tastefully. Rather than coming off overly-curated or frivolous, the encounter with that Nazi uniform strikes just the right tone.
The exhibit, adds Louise Mirrer, the president and CEO of the New-York Historical Society, "is about the ease with which the rhetoric of hatred, directed against a particular group—in this case, of course, the Jews—can permeate a national discourse and become 'normal' for ordinary people."
The exhibit includes several items with Hitler's handwriting, including an outline from a 1939 speech, posters and newspaper clippings, an original Nuremberg Laws printing, and signs warning that park benches are off limits to Jews.
This "normalization," however, is perhaps most apparent in the hate-filled toys and books designed for children. The exhibit features a 1938 book, whose first page states: "Just as it is often hard to tell a toadstool [a poisonous mushroom] from an edible mushroom, so too is it often very hard to recognize the Jew as a swindler and criminal." The book, aptly titled The Poisonous Mushroom, adds, "The God of the Jews is money." The exhibited book opens to an illustration of a blond boy, with basket in hand, holding a mushroom as a woman, evoking Renaissance depictions of saints, points to the fungus.
"The strongest manifestation of anti-Semitism in the exhibition is in the children's books," says Mirrer. "Anti-Semitism really has to be introduced at the earliest possible moment in the education of German children."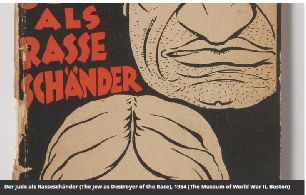 Der Jude als Rasseschänder (The Jew as Destroyer of the Race), 1934 (The Museum of World War II, Boston)
Whereas objects in the exhibit, like anti-Semitic faces depicted on ashtrays or walking sticks, where the handle is made of an elongated Jewish nose, reflect longstanding European stereotypical tropes, the children's books exemplify the culmination of the desensitization that took place leading up to and during World War II.
"You kind of lose the capacity to feel appalled. And then you just believe it," Mirrer says. "Being exposed to such appalling comparisons over an extended period of time desensitized even the most well-meaning of people, so that comparisons like the Jew and the poisonous mushroom eventually came to seem 'normal.'"
The children's books, she adds, proved an effective tool for convincing young Germans that Jews were poisonous to the country. "Children, as we know from research on learning, have to be taught prejudice," she says.
Rendell agrees. "Hitler Youth recruits were fanatical," he says. And those who were exposed to the books as children went on to military roles. Rendell's museum includes in its collections toy soldiers, dolls, and a board game where the pieces move along a swastika.
"Board games and toys for children served as another way to spread racial and political propaganda to German youth," notes a page on the U.S. Holocaust Memorial Museum's website. "Toys were also used as propaganda vehicles to indoctrinate children into militarism." The program, which "won over" millions of young Germans, expanded from 50,000 Hitler Youth in January 1933 to 5.4 million youth in 1936, when German authorities disbanded competing organizations for children, the website adds.
Rendell developed a unique collection by pursuing objects related to anti-Semitism at a time when few others sought those sorts of pieces, says Mirrer. "His collection speaks persuasively to our exhibition's point about how, unchecked, anti-Semitism can spread throughout an entire society," she says.
Rendell says his museum is the only one he is aware of with a worldwide perspective on World War II. Other countries have national collections and perspectives, because each thinks it won the war, he says. It takes starting with the Versailles treaty, which came down especially hard on Germany, to understand why there was a perceived need in Germany for a resurgence of nationalism.
"Everyone treats the rise of Nazism—that Adolf Hitler is in power," says Rendell. "But how did he get into power? He ran for office. Twice. They changed anti-Semitism to fit political campaigns."
Read more: https://www.smithsonianmag.com/history/how-nazi-normalized-anti-semitism-appealing-children-180959539/#AYXwwVkjZoRIulYE.99
ANTISEMITISM IN THE AGE OF DONALD TRUMP
The west's largest taboo is creeping back from the fringes,
most remarkably in the US and UK
Financial Times, Edward Luce, March 21 2018

Eighty-five years ago on Thursday, Heinrich Himmler opened the Nazi's first concentration camp at Dachau. History does not repeat itself. But it is laced with warnings.
Since the Holocaust, Antisemitism has been the west's largest taboo. Today it is creeping back from the fringes. Its return is most remarkable in the US and Britain. Everyone should take note. When the strongest taboo cracks, lesser ones may crumble.
In the 1930s, fascists railed against "rootless cosmopolitans". Today's version of the latter are "globalists". Antisemitism channels hatred of modernity. The biggest spur to this in the US is the Donald Trump effect. According to the Anti-Defamation League, anti-Semitic incidents in America rose by nearly 60 per cent in 2017 — by far the largest jump since it began monitoring. Whether Mr Trump stokes it unwittingly is an open question. That he has had a big impact is undeniable. How else to explain a near doubling of anti-Semitic incidents in US schools in his first year in office? Children mimic grown-ups. Society takes its cues from leaders.
Mr Trump leaves no taboo unturned. Whether you are a Muslim, Hispanic, African-American or a globalist, America's president has made it safe to disparage you. When it comes to Jews, however, Mr Trump deals in euphemisms. As I say, he may not be fully aware of it. But his alt-right fans see the green light. To take three examples. Mr Trump initially refused to disown David Duke, the pro-Nazi leader of the Ku Klux Klan. During the 2016 campaign, Trump ads demonised George Soros, a leading target of anti-Semitic campaigns from Viktor Orban's Hungary to America's alt-right. And he forgot to mention Jews on Holocaust remembrance day in his first week in office.
But the biggest Trump effect comes from his anti-globalist imagery. Like Jeremy Corbyn, leader of Britain's Labour party, the president has a taste for authoritarians, notably Vladimir Putin — the leading sponsor of online vitriol. Both disdain Nato, the EU and international bankers. But they differ on Israel. Mr Trump is a big fan. Mr Corbyn is one of Israel's biggest detractors.
Partly it is the company he keeps. Before Mr Corbyn became Labour leader he belonged to a secretive Facebook group some of whose members blamed Jews for many of the world's ills. People around Mr Corbyn detest Israel. A number of pro-Corbyn commentators have said that Israel, rather than Russia, may have carried out the nerve gas attack in Salisbury.
Mr Trump has been as reluctant as Mr Corbyn to hold Russia to account. Yet they part company on Israel. The most dramatic example of this was Mr Trump's decision to move the US embassy from Tel Aviv to Jerusalem. But that difference may be more apparent than real. Mr Trump's motive was to please his Christian evangelical voting base. More than eight in 10 evangelicals voted for Mr Trump, the highest share ever recorded. They did so for two reasons.
First, he would nominate judges who pledged to reverse abortion rights. Second he would recognise Jerusalem as Israel's eternal capital. Many evangelicals believe the Day of Judgement can only happen once the Jewish Temple has been rebuilt. That means backing Israel's hardliners to the hilt. Once that has happened, the Book of Revelations prophecy can be fulfilled. The righteous will be saved. The wicked, including the world's Jews, will face eternal hellfire.
I have no idea whether Mr Trump shares these beliefs. Probably not. But to a large chunk of his most loyal voting block, it is an article of faith. Evangelicals are politically philo-Semitic and theologically anti-Semitic. Mr Trump is their instrument. The lessons of history could not be further from their mind
AN OLD BEAST RE-AWOKEN,
ANTISEMITISM STALKS EUROPE, US ONCE MORE
PATTERNS OF THOUGHT Britain, France, the US, and Hungary have seen upticks in anti-Jewish invective and assaults in recent years. The resurgence of overt Antisemitism stems from both an awakening of repressed prejudice and a byproduct of anti-Zionism.
The Christian Science Monitor Harry Bruinius, Sara Miller Llana, April 11, 2018 New York; and Budapest, Hungary. • Staff writer Peter Ford contributed to this report from Paris.
There were many reasons the murder of Mireille Knoll in Paris last month reverberated so deeply throughout Europe.
As a little girl, Ms. Knoll barely escaped the ovens of Auschwitz, slipping through the notorious roundup of Paris Jews in 1942 with her mother. But last month, two men, one allegedly crying "Allahu Akbar," entered Ms. Knoll's apartment and stabbed her to death, and Paris authorities say it was because she was a Jew.
It was in many ways a complicated local crime. But the raw pathos of the story sent a jolt through many in France and other Western nations, touching as it did on the horrors of Europe's anti-Semitic past while laying bare one of its deepest current fears.
The story of this Holocaust survivor, however, murdered in her own home by her Muslim neighbor, authorities say, has also magnified an already unsettling rise in Antisemitism throughout Europe and the United States.
On the one hand, in countries like France and Germany, growing Muslim populations have indeed added new layers to Europe's long history of anti-Semitic violence, scholars say. Working class immigrants and refugees have brought their own animus toward Jewish people and the state of Israel, and in some communities radical young men have expressed this animus in violence.
Yet even more troubling, many scholars say, is the brazen reemergence of something more ancient, and long woven into the history of Christian Europe: the Jew as an icon of the dangerous "other," a stubborn, willful rebel in the midst of a sacred order.
'NO LONGER CLANDESTINE OR PRIVATE'
"Antisemitism has never vanished in Europe or the US," says Thomas Kühne, director of the Strassler Center for Holocaust and Genocide Studies at Clark University in Worcester, Mass. Indeed, before World War II, anti-Semitic sentiments were both genteel and respectable, even in places like Britain and the United States.
Only after the horrors of the Holocaust did this begin to change. And in many ways, many of the globe's post-war institutions, including the United Nations and its Universal Declaration of Human Rights, the Common Market and other trade agreements, and eventually even the European Union, were built to prevent events like World War II and the Holocaust from ever happening again. Having lost its credibility, Antisemitism was pushed to the margins.
"Maybe you would still be an anti-Semite, but you would never admit it in public," says Professor Kühne, noting that about 30 percent of most Western populations have maintained anti-Semitic views over the past 50 years. "The difference now is that not only has this share of the population been increasing, what I find even more important is that it is no longer clandestine or private," continues Kühne. "That is the huge difference."
Today, far-right political parties all over Europe have been finding success breaking post-war taboos, playing on anti-Jewish stereotypes, many borrowed from the Nazis. In the rough-and-ready labyrinths of social media, too, users clothed in anonymity have been reviving racist pseudoscience and conspiracy theories, without the fear of public censure or social ostracization.
And a significant cross-section of the population, especially in Eastern European countries like Hungary and Poland, have begun to reassert what they see as the fundamentally white and Christian character of their nations.
It is "an Antisemitism that remains, that transforms, that reappears, that mutates," observed Édouard Philippe, the French prime minister, as he and others grappled with the aftermath of Knoll's murder last month.
Yet here, too, the specter of Islam has played a key if more oblique role. Many right-wing parties in Eastern Europe have been buoyed by their opposition to Muslim immigration, and the early sparks of white nationalism were defined by an antipathy toward Islam, scholars say.
In Britain, where anti-Semitic hate crimes have hit record highs in each of the past two years, such mutations have begun to ensnare the political left, adding another controversial layer to this evolving landscape of Antisemitism.
With the confluence of so many different expressions of Antisemitism, French Jews and others are once again feeling an "existential threat" to their place in their countries, just as generations had in decades past, says Rabbi Abraham Cooper, director of the global social action agenda at the Simon Wiesenthal Center in Los Angeles.
"Until the 1990s, there were still survivors of the Holocaust, and France felt guilty about how it had treated Jews," says Veronique Bencimon, a Hebrew teacher at a Paris high school, as she marches with thousands of others during last month's Marche Blanche, or "silent march," in honor of Knoll. "But now people feel freer to say things, and Antisemitism has come to the surface again."
"We feel insecure as Jews," Ms. Bencimon says. "The state does not protect us enough."
NATIONALISM AND ANTISEMITISM IN EASTERN EUROPE
In the recent election in Hungary, neither a rival nor a policy platform was the focus of incumbent Prime Minister Viktor Orbán.
Instead, in the weeks leading up to his landslide victory on April 8, in which his far-right Fidesz party also appears to have won a two-thirds supermajority in the Hungarian Parliament, Mr. Orbán focused on specter of George Soros, the Hungarian-American billionaire known for his philanthropy for liberal causes.
Plastered along the highway from Budapest to the airport, a campaign billboard displayed a looming picture of Mr. Soros, who with his Jewish family survived the Nazi occupation of Hungary before emigrating to England in 1947.
The billboard warned voters that Soros money would help dismantle the border fence Hungary built in 2015, at the height of the migrant crisis. And in an earlier campaign, posters featured Soros smiling, with the emblazoned words, "Don't let George Soros have the last laugh."
For many observers, this image was a direct allusion to Nazi propaganda, posters that depicted "the laughing Jew," a trope cited often by Hitler. "The anti-Soros campaign is seen as anti-Jewish, even if not overtly," says Borbala Kriza, a documentary producer gathering testimony from the remaining witnesses of the Holocaust in Hungary and elsewhere in Europe. "Soros was born before the war. He was persecuted in this country, and now he is 87 years old, and he is being persecuted again."
Hungary currently ranks among the most anti-Semitic countries in Europe, according to the Anti-Defamation League's global index. But many observers say the country has also begun to reject the traditional liberal ideals of a pluralistic democracy.
"This terrible division that exists, where we don't accept the other as authentic, it worries me very much," says Ferenc Raj, founding rabbi of Bet Orim, a reform synagogue in Budapest and one of hundreds of faith communities that can no longer call themselves "churches" under a 2012 law, rendering their assets vulnerable to confiscation by authorities. Rabbi Raj sees the problem as political rather than religious, as much a breakdown in tolerance and equality than a rise in ancient Antisemitism.
And in both Hungary and Poland, right-wing lawmakers have worked to deemphasize or even erase their countries' roles in the Holocaust. Earlier this year, Poland's ruling Law and Justice party passed an "anti-defamation law," making it a crime for any person in any part of the world to accuse "the Polish Nation" of complicity in Nazi war crimes.
In Hungary, Orbán unveiled plans for a new monument to the victims of the Nazi occupation in 1944. Protesters said the monument whitewashed the role that Hungarians played in the deportation of of more than 430,000 Jews, the vast majority who perished at Auschwitz.
"The message of the monument is simple and significant," wrote Željka Oparnica, a scholar in Budapest criticizing the sculpture. "Hungarians could not resist Nazi Germany and, therefore, should be [absolved] of blame of the terrors of WWII."
Hungary still grapples with ambivalence surrounding the labels of "perpetrator" and "victim," says Gábor T. Szántó, a novelist and the editor-in-chief of the Jewish cultural and political magazine Szombat who deals with the theme in his narratives. "Our society's biggest problem, beyond poverty, is a lack of empathy."
MUTATED ANTI-ZIONISM IN BRITAIN
When Jeremy Corbyn, head of Britain's Labour Party, defended a politically-charged mural in East London six years ago, he probably had no idea his defense of a wall painting would ignite one of the most explosive scandals of his career.
He now says he was defending free speech when he endorsed the work, which depicted six stereotype-laden Jewish bankers playing Monopoly on the backs of the poor. But his party has since been hit with more scandals.
Some of his most fervent supporters have participated in Facebook groups in which members express violent and abusive anti-Semitic sentiments, praise Hitler, and threaten to kill Prime Minister Theresa May. Other Labour officials have shared posts denying the Holocaust, forcing some top leaders to resign.
At the end of March, nearly 1,500 protesters gathered outside Britain's Parliament to protest Mr. Corbyn's associations with people expressing anti-Semitic sentiments, and prominent Jewish donors to the party have stopped writing checks.
"In the United Kingdom, you already have a quiet exodus of younger Jews," says Rabbi Cooper at the Simon Wiesenthal Center. "The traditional home for Jews in this socio-political setting was always Labour. And right now, the bottom has fallen out."
As politics has become more polarized and vitriolic all around the Western world, the left's deep antipathy towards Israel and its occupation of the Palestinian territories has morphed at times into full-scale Antisemitism, critics say.
"Israel has become a pariah to the left," says Mehnaz Afridi, head of the Holocaust, Genocide, and Interfaith Education Center at Manhattan College, a Catholic institution in New York. "In most Muslim views, Israel is understood as a colonial power, and Zionism is seen in a purely political frame."


SOURCE: Anti-Defamation League; Executive Council of Australian Jews; Forum Against Antisemitism; Antisemitisme.be; Federation of the Jewish Communities in the Czech Republic; Mosaic Religious Community; French National Consultative Commission on Human Rights; Amadeu Antonio Foundation; Action and Protection Foundation; Observatory of Contemporary Anti-Jewish Prejudice; Information and Documentation Centre Israel; Community Security Trust | Jacob Turcotte and Rebecca Asoulin/Staff
AN ONLINE INCUBATOR
In the United States, hundreds of tiki torch-wielding men chanted "Jews will not replace us" and openly displayed Nazi symbols at a "Unite the Right" rally in Charlottesville, Va., last August – even as the number of anti-Semitic incidents in the United States surged nearly 60 percent in 2017.
That was the largest single-year increase on record, according to a February report by The Anti-Defamation League (ADL), which noted that all 50 states saw an increase in anti-Semitic incidents for the first time in at least a decade.
"Charlottesville was definitely a tipping point, and definitely a wake-up call," says Cooper.
But having launched a digital "report card" that surveys the amount of hate speech and terror-related content online more than two decades ago, Cooper continues to see the web as the most fertile space for spreading anti-Semitic ideas.
"The internet is a great incubator," he says. "You can keep 'The Protocols of Zion' on life support, and there are new strategies and new languages, new ways to formulate old hatreds. And for the person who once upon a time would never think of saying anything this like this, the internet gives them a chance to express those views without any accountability whatsoever."
"Remember the bad old days when you just spray painted a church or a synagogue or a mosque, and there was at least a chance that you'd get caught?" Cooper continues. "Today? Do whatever you want, and maybe, if places the Wiesenthal Center and others are doing their jobs, we can get a couple hundred thousand accounts suspended. Well, in a world in which Facebook has 1.5 billion, that's just a drop in the bucket."
'We share a common fate'
Still, over the past year, even in the midst of one of the most significant surges in both anti-Semitic and anti-Muslim violence in the United States, Dr. Afridi has marveled at the corresponding surges in her own work to counteract it.
As a Muslim, she notes her unusual position as head of the Holocaust, Genocide, and Interfaith Education Center at a Catholic college like Manhattan. And as a scholar who analyzes the tangled intersections of religion and personal identity, she's made it her ambitious goal to try "to eradicate Antisemitism in the Muslim community," she says.
In many ways, Afridi, author of "Shoah through Muslim Eyes," has focused so much of her life to a typically Jewish cause because of her commitment to one of the most difficult of civic virtues in a liberal democracy: the value of sharing a common life together as equals, even amid the unavoidable human tensions that arise from difference.
Yet despite the growing sense of alarm that has followed the increasing number of anti-Semitic incidents in the US and Europe, there has been a new sense of purpose around the globe, she says.
"I believe what's remarkable, as Jews are under attack, as Muslims are under attack, instead of segregating our two communities, it has galvanized us to recognize how we must be fighting for the other – and that is a very, very unique phenomenon," says Rabbi Marc Schneier, who launched the Foundation for Ethnic Understanding in 1989 to help foster better relations between Muslims and Jews around the globe.
"Because we are both under attack, particularly from right wing extremists, we recognize that not only do we share a common faith as sons of Abraham, but we share a common fate," says Rabbi Schneier. "Our single destiny must strengthen our bonds of concern, compassion, and caring for each other."
IT IS LIKE WE HAVE REGRESSED 100 YEARS':
REPORT WARNS OF RESURGENT GLOBAL ANTISEMITISM
The Washington Post, Rick Noack, April 11 Email the author
Rick Noack is a foreign affairs reporter based in Berlin. Previously, he worked for The Post from Washington as an Arthur F. Burns Fellow and from London. Follow @rick_n
BERLIN — Jewish life around the world is under attack once again by "classic traditional antisemitism," according to a report by an Israeli university released Wednesday.
While acts of violent Antisemitism dropped by 9 percent between 2016 and 2017, other incidents such as abuse and harassment are on the rise and have led to a "certain corrosion of Jewish life." The study blames the surge on "the constant rise of the extreme right, a heated anti- Zionist discourse in the left, accompanied by harsh antisemitic expressions, and radical Islamism."
In its latest annual, global assessment of anti-Semitic incidents, the Kantor Center for the Study of Contemporary European Jewry at Tel Aviv University concludes that "Europe's largest Jewish communities are experiencing a normalization and mainstreaming of antisemitism not seen since the Second World War."
"There has been an increase in open, unashamed and explicit hatred directed against Jews. The Jew as exploiter, the Jew as killer, the Jew as banker. It is like we have regressed 100 years," European Jewish Congress President Moshe Kantor was quoted as saying in a statement.
While improved security measures may explain the drop in anti-Semitic violence, the report argues that Jewish communities are in fact experiencing an unprecedented "feeling of distress." Stepped-up security may have stopped attacks, they write, but it has also highlighted the threats that have made those efforts necessary in the first place.
The report connects separate incidents, arguing that they are part of a broader trend that will likely continue in 2018. "The same pattern has continued this year," the authors write in their assessment.
In recent weeks, thousands marched in London against what they perceive to be blatant Antisemitism in Britain's mainstream Labour Party. In France, the Paris prosecutor's office is investigating whether Antisemitism was a motivation for the killing of an 85-year-old Holocaust survivor last week. There has also been a string of anti-Semitic incidents in German schools in recent weeks. And in Poland, a renowned anti-racism activist was recently branded a traitor after speaking out against the nation's controversial anti-defamation law concerning Holocaust complicity.
"The result is of a Jewish community in many places around the world living in fear," Kantor was quoted as saying in a statement. "Neither the public nor the private space are perceived as safe for Jews, as was seen by the recent horrific and brutal murder of Mireille Knoll, who survived the Holocaust to be stabbed and burnt in her home. The general feeling shared by Jews, as individuals and as a community, is that antisemitism has entered a new phase, and is widespread in most parts of the world," said Kantor, referring to the Paris murder.
Kantor and the authors of the report also voice harsh criticism of British Labour party leader Jeremy Corbyn, referring to the controversy surrounding him as a "normalization of antisemitic discourse in mainstream politics."
"His followers and supporters openly share on social media some of the most malevolent Holocaust denial and international Jewish banking conspiracies reminiscent of the Protocols of the Elders of Zion, some of this is sometimes even condoned by Corbyn himself," Kantor said.
Known as a fierce critic of Israel, Corbyn has recently faced numerous allegations of having supported anti-Semitic views. He later acknowledged that he used to be a member of a Facebook group where anti-Semitic content was shared, though the Labour Party leader claimed that he never came across those specific posts.
A number of Polish politicians also faced harsh criticism by the authors of the Wednesday report over "public statements containing antisemitic messages." The report only includes incidents from 2017 — prior to the passage of a law designed to make certain allegations of Polish complicity in the Holocaust illegal.
The center's index of anti-Semitic incidents is based on reports referred to the organization, mostly by local watchdogs.
While the scholars' methodology has been criticized for failing to take into account some incidents because it relies on external reports, the authors argue that their statistics offer a uniquely comparable analysis of Antisemitism events.
JEWS IN FRANCE PONDER WHETHER TO STAY OR TO LEAVE
Forbes, Andy J. Semotiuk , CONTRIBUTOR, Feb 12, 2018
Opinions expressed by Forbes Contributors are their own.

Not long ago an article appeared in the Washington Post asking the question what happens when there is no one left in Europe who really remembers the Holocaust? It continued, "In the twilight of their lives, some survivors are increasingly anxious about the world they will leave behind, even with memorials and museums around the globe commemorating the slaughter. Far-right movements, many say, are no longer merely relics, and Antisemitism has returned with a vigor few anticipated, especially in Europe." Consider the case of France in particular.
France recently commemorated the third anniversary of the Islamist attacks against Charlie Hebdo and the HyperCacher in Paris. Those attacks severely undermined confidence in the national security of France. However, for the Jewish community of France, the attacks were not the beginning of the problem, but merely a continuation.
The third largest Jewish community in the world has seen growing Antisemitism in France since the 2000s. Increasingly, the Jewish community in France no longer feels safe. The most salient events were the murder of Ilan Halimi in 2006, the attack on a Jewish school in Toulouse in 2012 and the attack on the Hypercasher in Paris in 2015. These three events alone accounted for the murder of nine Jews, including three children who were murdered at close range.
In 2014, there were 851 antisemitic acts of violence in France as recorded by the Protection Service of the Jewish Community. Indeed, some Jews in their private lives in France have given up wearing their kippa or the Star of David for fear of insults or aggression. This video from 2015 shows the kind of intimidation a Jew can face depending on what part of Paris they walk through.
THE ALIYAH IN ISRAEL
The growing antagonism towards them has led some French Jews to make the drastic decision to leave the country.
For several decades now, Jews in France have been leaving for Israel. The attacks of 2015 doubled the figure of departures, which is now about 6,000 to 7,000 per year. Following the 2015 attacks, Prime Minister Benyamin Netanyahu traveled to Paris, and while there did not miss the opportunity to mention that Israel was open to French Jews. The President of the Jewish Agency for Israel went further, stating that there was "no future for Jews in France."
It is no secret that the Israeli government is inviting as many Jews as possible to come to Israel. To promote Israel, programs like the Taglit - a "journey of identity" - are offered free of charge to Jews around the world who wish to visit the country. As for France, there are many initiatives to attract and facilitate the exodus of French Jews, such as ads on French public television about Israel, or agencies that offer to accompany French Jews who decide to leave. Those who leave for Israel see it as the promised land where they will finally feel safe. The Israeli authorities assist those people by offering them citizenship and by helping them with housing and studies.
ANTISEMITISM IN THE US
ADL 2018

The Anti-Defamation League is the premier organization monitoring, tracking and responding to Antisemitism in the United States. Through our network of 26 regional offices, we are able to act quickly when Antisemitism affects our cities, communities, and campuses.
ADL's Center on Extremism tracks anti-Semitic trends every day. Our staff of experts monitors anti-Semitic activity online and on the ground — regardless of where it originates on the ideological spectrum.
Our most recent report on anti-Semitic incidents in the United States showed a significant year-to-year increase: In 2017, anti-Semitic incidents surged nearly 60 percent, according to the 2017 ADL Audit of Anti-Semitic Incidents. This was the largest single-year increase on record and the second highest number reported since ADL started tracking such data in 1979. The sharp rise was due in part to a significant increase in incidents in schools and on college campuses, which nearly doubled for a second year in a row.
This spike controverts a much more positive trend: ADL has been taking the pulse of Antisemitism in America since 1964 and has tracked a marked decline in anti-Jewish attitudes during that time. Since our first benchmark survey, ADL has done periodic polling of American attitudes toward Jews. Our most recent surveys, commissioned in 2017, showed a slight increase in anti-Semitic attitudes from 2014. Still, the vast majority of Americans do not have negative opinions of their Jewish neighbors.
That same survey, however, revealed a first: a majority of Americans are concerned about violence directed against American Jews. And more than eight in 10 Americans believe it is important for the government to play a role in combating Antisemitism, up from 70 percent in 2014.
One of the most disturbing recent manifestations of Antisemitism in the U.S. was the alt right "Unite the Right" rally in Charlottesville, Virginia, in August 2017, where hundreds of marchers threw Nazi salutes, waved swastika flags and shouted "Sieg Heil." The chaotic event ended violently with the death of a counter-protestor. Since that rally, ADL has issued numerous reports on those involved in the demonstrations, including many of the major players in white supremacist movement. Center on Extremism researchers identified more than 200 of the estimated 500-600 individuals who showed up to support the anti-Semitic and racist rally.
If you witness an anti-Semitic incident or any act of bigotry, report it here.
SEE ALSO
2017 Audit of Anti-Semitic Incidents

White Supremacist Propaganda Surges on Campus
Data show incidents more than tripled in 2017
A Homegrown Threat: Islamist Extremist Plots in the United States
Daily Stormer Book Clubs (SBC)
National Socialist Movement/Nationalist Front

ANTISEMITISM IN U.S. SURGED IN 2017,
A NEW REPORT FINDS
Los Angeles Times Jaweed Kaleem, Feb 26, 2018
Jaweed Kalem is The Times' national race and justice correspondent.
In 2017, 200 gravestones were vandalized at a Jewish cemetery in University City, Mo., a suburb of St. Louis. (Robert Cohen / Associated Press)
Harassment, threats and vandalism cases targeting Jews in the United States surged to near-record levels in 2017, jumping 57% over the previous year, according to a new report by a prominent civil rights organization.
The Anti-Defamation League counted 1,986 anti-Semitic incidents — the second-highest number since the group began tracking them nearly four decades ago.
The figure represents the largest annual jump the organization has ever recorded. Physical attacks, which accounted for fewer than 1% of the incidents, was the only category that fell.
The overall count, based on data from law enforcement, victims and local Jewish organizations, includes an increase in bomb threats against Jewish centers, vandalism at synagogues and Jewish cemeteries and threats at schools.
"We've never had a moment like this," said Jonathan Greenblatt, chief executive of the New York-based group. "We've seen so much intolerance sneak into the public."
Greenblatt pointed to newly resurgent white supremacists, such as those who took part in a deadly Charlottesville, Va., rally last year, as a major factor in the rise. "Hate groups and white supremacists feel emboldened, and they are not just coming out online but are also getting involved in political campaigns," Greenblatt said.
He also cited "the divisive state of our national discourse" and a poor example set by President Trump, who at times has been slow to denounce anti-Semitic attacks and during his campaign retweeted white supremacists and used what Greenblatt described as anti-Semitic imagery in social media posts.
Trump has denied any ill feeling toward Jews, noting that he has Jewish grandchildren and calling himself the "least anti-Semitic person you've ever seen in your entire life."
The audit released Tuesday counted 1,015 incidents of harassment, a jump of 41% over 2016 . They include 163 bomb threats against Jewish centers. Law enforcement arrested two men — in Missouri and Israel — last year on separate charges of making the threats. The audit also tallied 952 instances of vandalism, an increase of 86%.
In a departure from those trends, the number of physical assaults fell from 36 to 19 — a decline of 47%.
"Antisemitism is the canary in the coal mine. It often augurs other forms of bias — xenophobia, misogyny, racism," Greenblatt said.
Other civil rights groups have raised concerns recently about rising intolerance. In the annual count of hate groups it released this month, the Southern Poverty Law Center found that the number of white supremacist and neo-Nazi groups had grown the most last year — from 99 to 121.
n Israeli teen, right, was arrested last year on charges of making dozens of hoax bomb threats against U.S. Jewish institutions.
An Israeli teen, right, was arrested last year on charges of making dozens of hoax bomb threats against U.S. Jewish institutions. (Jack Guez / AFP-Getty Images)
The FBI's latest data on hate crimes, released in November, showed 6,121 in 2016. That was a 4.6% increase compared with 2015. More than half were deemed to be racially motivated.
Growing reports of anti-Semitic incidents led the Anti-Defamation League last year to increase its data collection effort, and officials said the unprecedented numbers this year could in part be a result of more people reporting the crimes and threats.
Civil rights groups say that Trump has contributed to an atmosphere in which people feel freer to express hate. The president has pushed for travel, immigration and policing policies that civil rights groups say unfairly target Muslims, Latinos and blacks.
After the Charlottesville "Unite the Right" demonstration, which featured Nazi chants, Trump was criticized for refusing to budge on his view that the rally included "some very fine people."
Trump also drew criticism last year for deliberately leaving out the mention of Jews in a statement on Holocaust Remembrance Day; he mentioned them this year. In another instance, Greenblatt lashed out at the president for waiting six weeks before denouncing bomb threats against U.S. Jewish centers.
The growth in Antisemitism in the U.S. comes amid a decline worldwide. In April, a report from the Kantor Center for the Study of Contemporary European Jewry at Tel Aviv University found that Antisemitism incidents had dropped 12% globally. But the center, which surveyed 40 countries, said several English-speaking nations bucked the trend — including Britain, Australia and the U.S.
The report also predicted a "continuation of the widespread increase, sometimes dramatic, in verbal and visual Antisemitism on social media and during demonstrations … that cannot be quantified."
By the Anti-Defamation League's count, the worst year for Antisemitism in the U.S. was 1994, when the group recorded 2,066 incidents. That was a year of numerous deadly clashes between Israelis and Palestinians and the signing of a peace treaty between Israel and Jordan.
Geography of Antisemitism Wikipedia