ANTI-SEMITISM ON THE RISE
Anti-Semitic incidents increased 57% in the US in 2017
compared to the previous year, according to the Anti-Defamation League (ADL),
with cases reported in every single state for the first time since 2010.
With alarming frequency, swastikas and messages like
"Hitler was not wrong", "Kill all Jews" and "No Jews"
have appeared on synagogues, Jewish graves and homes and school campuses, terrorising their targets.
The messages left in Squirrel Hill had the name of the Creativity Alliance,
a white supremacist group, and were
one of the 1,986 anti-Semitic incidentsreported last year by the ADL.
A sign, they said, that their perpetrators felt emboldened enough
to break the law and carry out their acts.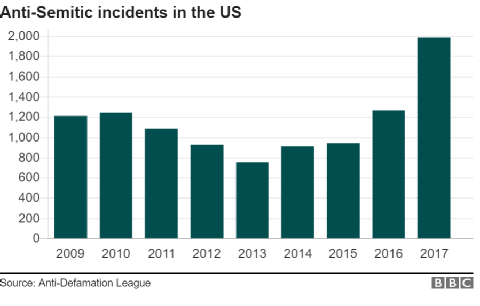 THE THREAT OF RISING
ANTI-SEMITISM
By Hugo Bachega
BBC NEWS, PITTSBURGH
2 NOVEMBER 1980
ADL
AUDIT OF
ANTI-SEMITIC INCIDENTS IN THE USA, 2017
CLICK LINK BELOW
FOR JUSTICE DEPARTMENT DETAILS Oct 31, 2018
PENNSYLVANIA MAN CHARGED WITH FEDERAL HATE CRIMES
FOR TREE OF LIFE SYNAGOGUE SHOOTING
ROBERT BOWERS INDICTED ON 44 COUNTS
INCLUDING HATE CRIMES RESULTING IN DEATHS
____________________________________________________________________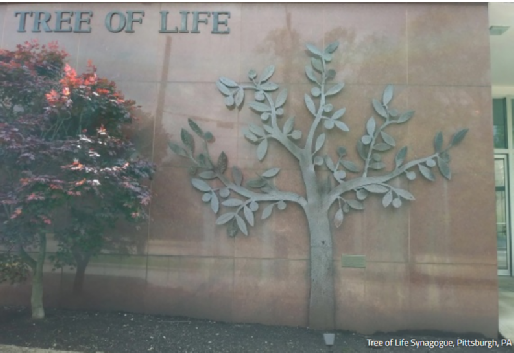 Tree of Life Synagogue, Pittsburgh
HOW THE PITTSBURGH SYNAGOGUE SHOOTING UNFOLDED — MINUTE-BY-MINUTE
From the moment Robert Bowers posted 'I'm going in,' until he crawled wounded toward police to surrender, telling them 'these Jews need to die'.
Times of Israel, Ben Sales, 30 October 2018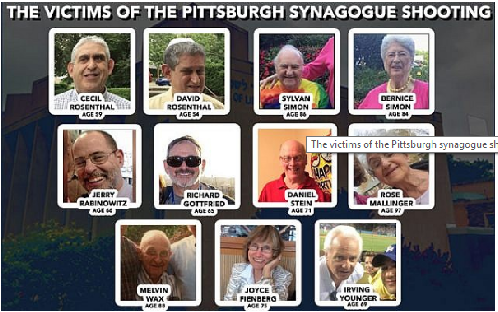 The victims of the Pittsburgh synagogue shooting, October 27, 2018 (Facebook/Google Maps
/JTA Collage)
JTA — On Saturday, a gunman entered the Tree of Life Congregation in Pittsburgh and killed 11 people, wounding six others. In total, he spent 78 minutes in the building. It was the worst recorded anti-Semitic act in American history.
Here's how the tragedy happened. (This account has been reconstructed from JTA's reporting, The Pittsburgh Post-Gazette, The New York Times and the "Today" show. Some of the times are approximate.)
BEFORE THE SHOOTING
Robert Bowers, the alleged gunman, is a truck driver from the Pittsburgh area who lives in a one-bedroom apartment about a half-hour's drive from Squirrel Hill, the diverse neighborhood that has long been the center of the city's Jewish community. Acquaintances described him to The Times as a loner, "pretty much a ghost" with few people close to him. His next-door neighbor would see him occasionally but had forgotten his name.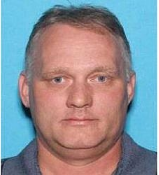 Driver's License photo of Pittsburgh synagogue massacre suspect Robert Bowers.
(Pennsylvania DOT)
But that quiet exterior obscured Bowers' hateful beliefs, which he expressed on Gab, a social media platform for the far right. Bowers would post bigoted and anti-Semitic comments. Shortly before the shooting he vilified HIAS, the Jewish refugee aid group, for its work resettling Middle Eastern refugees in the United States.
"HIAS likes to bring invaders in that kill our people," he wrote on his website. "I can't sit by and watch my people get slaughtered. Screw your optics, I'm going in."
Saturday, 9:45 a.m.
Services begin at Tree of Life Congregation, a synagogue in the Squirrel Hill neighborhood that houses three congregations: Tree of Life*Or L'Simcha, a merger of two Conservative synagogues; New Light, a small Conservative congregation that draws about 20 worshippers weekly; and Dor Hadash, a Reconstructionist congregation.
At the entrance, Cecil and David Rosenthal, brothers who are active members of Tree of Life, are handing out prayer books. There is a table with challah, wine and whiskey for a bris, or circumcision ceremony, being held that morning. In the kitchen, two other community members, Daniel Stein and Richard Gottfried, are preparing lox, cream cheese, bagels and eggs.
9:50
The gunman enters and begins shooting. His first victims, according to a Times account, are the Rosenthal brothers, ages 54 and 59. He then enters New Light, where Melvin Wax, 88, is leading services.
9:54
The first call is placed to 911, apparently by Rabbi Jeffrey Myers of Tree of Life. Barry Werber, of New Light, also calls 911 around this time.
Myers told "Today" that when he first heard the gunshots, he assumed it was an elderly person who had grabbed onto a coat rack for balance and knocked it over. Seconds afterward, after a second round of volleys, Myers realizes he's hearing gunfire.
Rabbi Jeffrey Myers, right, of Tree of Life/Or L'Simcha Congregation hugs Rabbi Cheryl Klein, left, of Dor Hadash Congregation and Rabbi Jonathan Perlman during a community gathering held in the aftermath of a deadly shooting at the Tree of Life Synagogue in Pittsburgh, Oct. 28, 2018. (AP Photo/Matt Rourke)
Myers takes the four congregants at the front of the sanctuary out of an entrance at the front of the room that leads to a labyrinth of hallways and an exit from the building. He holes up in a balcony from which he can hear the gunshots. He is unable to access the eight remaining congregants sitting in the back of the sanctuary.
9:55
After hearing the gunshots, several congregants of New Light — Werber, Wax, Rabbi Jonathan Pearlman and Carol Black — hide in a storage closet. They are unable to find the light switch, leaving the room pitch black.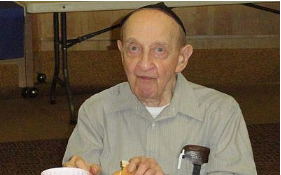 This undated photo provided by Barry Werber shows Melvin Wax who was killed when a gunman opened fire at a Pittsburgh synagogue on
Saturday, Oct. 27, 2018.
(Courtesy of Barry Werber via AP)
The shooting subsides, and Wax opens the door. He is shot and killed.
The gunman then enters the storage closet and begins to fumble around in the dark, with the three other congregants still inside. Unable to see them, he leaves.
9:57
The gunman goes upstairs to the Tree of Life congregation, where a number of congregants remain, and begins shooting. Seven are killed, one injured.
"I couldn't save those eight people," Myers told Today. "I went up into the choir loft and heard him execute my congregants."
Stein, 71, and Gottfried, 66, are among the murdered. The remaining victims are Sylvan Simon, 86, and Bernice Simon, 84, a husband and wife, along with Jerry Rabinowitz, 66; Joyce Fienberg, 75; Rose Mallinger, 97; and Irving Younger, 69.
Two others, including Daniel Leger, 70, are injured.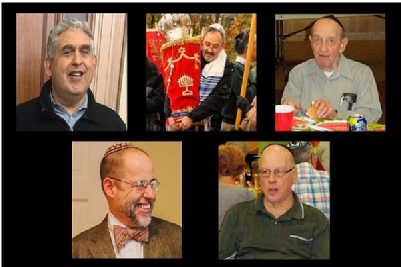 Some of the victims of the Pittsburgh synagogue massacre, October 27, 2018. Top row, from left to right: Cecil Rosenthal, Richard Gottfried, Melvin Wax. Bottom row: Dr. Jerry Rabinowitz, Danny Stein. (Courtesy of David DeFelice via AP, Barry Werber via AP, Avishai Ostrin)
10:00
The first police officers arrive on the scene and begin to engage the gunman. He returns fire from the front of the building.
"We're under fire, we're under fire," an officer reports. "He's got an automatic weapon, he's firing at us from the synagogue."
The shooter then retreats into the building and barricades himself on the third floor.
10:12
The SWAT team arrives. Police have set up a perimeter around the building.
10:29
SWAT officers begin to escort congregants out of the building. The SWAT team moves through the building.
10:47
The SWAT team encounters the gunman on the third floor and begins exchanging fire with him. One officer is critically wounded.
11:03
The gunman begins talking to the officers. He identifies himself as Robert Bowers, age 46, from Baldwin Borough.
11:08
Bowers, who is wounded, crawls toward the officers and surrenders. Five minutes later he is taken into custody. According to an officer, as Bowers crawls toward the officers, he is "talking about [how] all these Jews need to die."
THIS TWEET CAPTURES WHAT MANY AMERICAN JEWS ARE FEELING AFTER THE PITTSBURGH SYNAGOGUE SHOOTING
CNN, (go to link to see video) Gianluca Mezzofiore, October 29, 2018
Dismay, horror and disbelief were feelings shared by many in the aftermath of the mass shooting at a synagogue in Pittsburgh on Saturday that left 11 people dead and six wounded.
And to borrow the title of Sinclair Lewis' 1935 political novel, which seems eerily topical these days, "it can't happen here" was another common sentiment.
Yet it happened. And the American Jewish community is coping with the fact that something they feared for years -- an attack inside a synagogue -- is now a horrifying reality.
Amanda Golden, a producer for CNN and Jake Tapper's show, "The Lead," shared on Twitter the text messages that her mother, a first-generation American and the daughter of Holocaust survivors, sent to her in the wake of the tragedy when she attended an interfaith service at a reform synagogue in San Francisco.
My mother is a first-generation American, and the daughter of Holocaust survivors. She went to our synagogue today. With her permission I am sharing some of our conversation because I think it captures what many American Jews are feeling right now.
Golden believes the messages capture what many American Jews are feeling right now: a delicate balancing act between the urge to remember what happened in Europe in the 1940s, a somber look at the present situation in America and the need to go forward, despite the worsening outlook.
Going to the Congregation Emanu-El on Sunday, Golden's mother spotted massive security -- and extraordinary attendance.
Many there had parents who fled racial persecution in Europe and the Holocaust, and feel it's now their duty to be vigilant.
"We all felt the same thing: how glad we were that our parents weren't alive to see this happen in America; how we always felt safe as Jews living in the US and going to services, and how we must be the voices for our parents to make change and hold those who incite hatred accountable," Golden's mom wrote her.
The eleven lives lost have affected every single person in Squirrel Hill's tight-knit community.
The hard part, she adds, is knowing this can happen anywhere, anytime. A new vulnerability, she calls it.
"My mission as you know has always been to keep us all safe while still going forward. Harder to balance in a world that is not playing by the rules/laws we hold dear," she wrote.
Inspired by her own parents' strength, Golden's mother feels she can look forward.
"They looked forward. ... So if they could do that surely I can," she wrote.
"This is so personal. I think of how this happened in Europe in 1940s but never thought it could happen now. I think of all the older people killed who couldn't run or understand what was happening. Important not to be alone. That is why I go to temple. Not to feel alone with these feelings," she concluded.
Rabbi: I will not let hate close my building 02:24
Golden, who now works in Washington, says she grew up really involved in the Emanu-El temple community. "It was so important to my mom, and I didn't realize how important it was to me until I left home for school and ended up living across the country," she said.
After the attack, Golden sent a message through Facebook to her rabbi, who told her they were working on bolstering their security as well as participating in vigils for the Pittsburgh victims.
"We've had mags (metal detectors) and guards around during high holy day services for years, and lots of cement blockers to stop cars from breaching the courtyard or hitting any of the buildings. Hard to think about how they'll likely have to do even more than that now," Golden said.
Sunday's interfaith service at Emanu-El saw Jews, Muslims, Buddhists, Christians and nonbelievers gathering to offer comfort and unity after the shooting, according to the San Francisco Chronicle.
Many people responded to Golden's tweet, which went viral, by sharing similar thoughts of grief and resilience:
"I too have not stopped crying. My parents are gone, but I suspect if they were alive, they might die yet again," said Bob Gershberg.
Gustav Lamy wrote: "My husband ... son of Holocaust survivor, has secondary PTSD from father's trauma. We are so thankful Heinrich (father) mustn't face this."
Similarly, Jon B. Wolfsthal: "My father was a survivor. I have been wondering if what I feel is similar to others in my place and in these difficult times."
He added: "We are not alone. We are strong enough. We will never yield and we will lead this world to a better place."
SEE ALSO The Pittsburgh synagogue shooting is believed to be the deadliest attack on Jews in American history, the ADL says, CNN Jay Croft and Saeed Ahmed, October 28, 2018
STANDING TOGETHER TO SUPPORT THE COMMUNITY
Dear Friend,
A week ago, most of us had never heard of the Tree of Life synagogue in the Squirrel Hill section of Pittsburgh. Now we'll never forget it. And as Shabbat approaches, it's hard to know what to feel.
Shabbat always brings peace and comfort. But last week, when gunfire and violence tore apart one congregation's morning service, it shattered that comfort and peace for all of us. This week, can Shabbat bring us some consolation? Let's hope.
I just returned from Pittsburgh, where I traveled to show solidarity with the community and to pay tribute to those who lost their lives. I was joined by about a dozen ADL leaders and our regional director, Jeremy Pappas, who has been on the ground there, providing support to the community since we first learned of the tragedy last weekend.
We wanted to bear witness to this hateful act because it goes to the heart of our mission. It was a reminder, and a warning, of what can happen when anti-Semitism infects someone's entire belief system and where that hatred can inexorably lead.
The first thing you notice about Squirrel Hill is that it's small. Really small.
At one point during my visit to Pittsburgh, someone said to me that in the rest of the country, there are six degrees of separation between people. In Squirrel Hill, it's just one degree. Perhaps that's why the horror of this past weekend hit home so hard. It upset the laws of gravity, not just for Squirrel Hill and Pittsburgh, but for the American Jewish community.
As I stood outside Tree of Life with Police Chief Scott Schubert, he related to me the disbelief in the station when they received the first calls on Saturday morning about a shooting inside the synagogue. We talked about the amazing bravery of the officers who responded almost instantly to the calls and somehow managed to breach the synagogue even while taking fire at close range from the assailant. When we asked him what he saw when he entered the building after the suspect had been apprehended, Chief Schubert trembled. He looked at the ground, grimaced, and shook his head. He would not share details of the horror he saw.
From the instant we first learned of the horrific shooting in Pittsburgh, ADL sprung into action: providing critical information to law enforcement, briefing law enforcement on the extremist threat, researching the alleged perpetrator's social media profile and providing critical support to the Jewish community in Squirrel Hill. Each of us, in the midst of our own immeasurable sadness, channeled our grief into our work.
As we were providing support to Pittsburgh, we ourselves felt an outpouring of love and support from every corner — from the Muslim community to the Pittsburgh Steelers. The best of humanity from all walks of the civil rights space came to us to ask, how can we help? I hope that you've felt the same warm embrace and that it has helped you get through this very difficult week.
The people of Pittsburgh possess a remarkable degree of strength. In the face of such unspeakable, soul-crushing depravity, you could feel their resilience. I felt this in my bones when I sat with Mayor Peduto in his wood-paneled office under a portrait of William Pitt. He openly shared both his palpable grief, and his deep sense of communion with his Jewish constituents and his resolve to rebuild their sense of security. In doing so, the Mayor quietly conveyed enormous strength.
I could sense the possible. Even as we lamented the terrible losses, the stories of their lives were inspiring. I saw an imam embrace Jewish mourners in the synagogue after one of the services. I saw an African-American couple lay flowers at the Tree of Life memorial, people who may have been unfamiliar with Jewish ritual and yet clearly wanted to stand with their neighbors. I watched as one woman crossed her chest in her own personal gesture of religious respect for her fellow citizens of another faith. All in all, I got the sense that this community will endure and thrive, like roots shooting up from the ashes of this tragedy that will grow tall and strong.
And finally, I had a powerful sense of Jewish unity. Maybe it was the carful of Yeshiva University students at the shiva call who drove through the night from New York City to be present — and planned to turn right around and drive home. Maybe it was the rabbi and his wife who flew in from Boston to be there. Maybe it was the Federation executive from Washington, DC who came to town without any cameras, without any press, simply to mourn.
That's why, in the midst of profound sadness, I also feel hope. In the aftermath of Tree of Life, we will work with our allies in the Jewish community and our civil rights partners to drive change. We will use this moment to galvanize support.
Driving back to the Pittsburgh airport in the early morning darkness, I feel more energized than overwhelmed. I am reminded in my soul that we at ADL are united with the people of Pittsburgh. We will not give an inch in the struggle against anti-Semitism in all forms. We will fight to preserve and protect the freedoms that we enjoy. We will push back on those who advocate intolerance against our community or any other minority group. We will double down to combat those who seek to divide our people no matter where they come from or how they politically affiliate. We will stand together to ensure that we can create the conditions and fortify the foundations of our democracy so that we can prevent such a tragedy from happening again.
We often hear the phrase "never again." Well, never is now.
I hope Shabbat will bring us all a measure of comfort.
With gratitude and hope,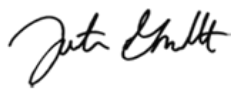 Jonathan Greenblatt
CEO and National Director
ADL
HOW TO DISCUSS ANTI-SEMITISM IN THE WAKE OF THE PITTSBURGH SYNAGOGUE SHOOTING
Directions: Read the summary with your students, watch the video (if helpful, follow along with the transcript) and then answer the discussion questions.
PBS Newshour News for Students and Teacher Resources 7–12 Grade Level

Teachers' note: PBS Learning Media's Colorin Colorado has compiled a list of resources from various organizations — Responding to Violence in a Pittsburgh Synagogue: Resources for Educators — in response to the mass shooting at the Tree of Life Synagogue in Pittsburgh, Penn. These resources also include lesson plans and classroom activities.
You may also want to read SAMHSA's "Tips for Talking With and Helping Children and Youth Cope After a Disaster or Traumatic Event: A guide for Parents, Caregivers, and Teachers." And think about inviting your principal or school counselor into your class during this lesson.
Summary: Saturday's mass murder of 11 people at the Tree of Life synagogue in Pittsburgh is the deadliest attack on the Jewish community in U.S. history. Suspect Robert Bowers, 46, allegedly made anti-Semitic statements as the police arrested him and is awaiting trial for dozens of charges that could lead to the death penalty. The victims included professors and accountants, dentists and doctors who served their local community. The oldest was 97 and the youngest was 54. They included a husband and wife and a pair of inseparable brothers who both had intellectual disabilities and would lovingly show people to their seats even on days when the synagogue had plenty of empty space, recalled one worshipper. "The loss is incalculable," said Stephen Cohen, co-president of New Light Congregation.
Incidents of anti-Semitism have been on the rise over the two years in the United States. "We had a political campaign that saw extremism move from the margins into the mainstream of the political conversation," Anti-Defamation League's (ADL) Jonathan Greenblatt told PBS last spring. "We saw images and ideas from white supremacists literally shared from political campaigns showing up in the Twitter feeds of major news organizations. We saw it in our political rallies as well," Greenblatt said. The ADL has been tracking anti-Semitic attitudes since the 1960s, and found anti-Semitic attitudes in 2016 were held by about 14 percent of all Americans. "That's more than 30 million Americans. So, it's not a small number," he said.
President Donald Trump condemned the attack over Twitter, stating, "This evil Anti-Semitic attack is an assault on humanity. It will take all of us working together to extract the poison of Anti-Semitism from our world. We must unite to conquer hate." However, a number of Pittsburgh Jewish leaders penned an open letter to Trump on Sunday saying the president was not welcome in Pittsburgh until he publicly condemns white nationalism. The letter said that Trump's words on the campaign trail and in rallies have emboldened a white nationalist movement.
Questions:
1. Essential question: Why did the U.S. government develop a separate "hate crime" category as part of the criminal justice system?
2. What do you know about anti-Semitism? Why is the shooting in Pittsburgh at the synagogue consider an act of anti-Semitism?
3. How should the government respond to a shooting at a house of worship? What about a school? The Kroger Supermarket in Kentucky?
4. How has the response to the synagogue shooting in Pittsburgh been the same as the other mass shootings? Do you hear any differences in the types of responses by members of the public? By political leaders?
5. Why have incidents of anti-Semitism been on the rise in the last couple of years? If you're not sure, how could you go about researching this issue?
6. What effect do you think people's violent actions against members of a specific religion could have on others?
7. It is difficult to know how to react to any act of gun violence, but particularly a mass shooting or a hate crime. What should you do if you feel uncomfortable or worried about the events over the last week, including the Pittsburgh Synagogue shooting, the shooting of two black people by a white male at a Kroger Supermarket in Kentucky and the 13 attempted mail bombings? Who could you talk with at your school? Why is it important to talk about your feelings in the aftermath of such events? Ask your teacher, if you are not sure.
8. Media literacy: Besides PBS NewsHour, take a few minutes to research how two more news outlets have covered the shooting in the Squirrel Hill neighborhood of Pittsburg. How was news coverage similar between the three organizations? How was it different?
Extension activities:
1. Read NewsHour Extra's Student Voices' blog How teens want to solve America's school shooting problem. Then share your class's own solutions @NewsHourExtra via Twitter using #StudentGunReformIdeas.
THE PITTSBURGH SYNAGOGUE, ANTI-SEMITISM AND TRUMP
The Dennis Prager Show Oct 30, 2018
This column was originally posted on Townhall.com.

All my life I have reminded fellow Jews in America that we are the luckiest Jews to have ever lived in a non-Jewish country. I know what I'm talking about. I wrote a book on anti-Semitism, taught Jewish history at Brooklyn College and fought anti-Semitism since I was 21, when Israel sent me into the Soviet Union to smuggle in Jewish religious items and smuggle out Jewish names.
Even after the massacre of 11 Jews in a Pittsburgh synagogue, this assessment remains true.
But the greatest massacre of Jews in American history is a unique American tragedy.
It is a tragedy in part because America has finally made the list of countries in which Jews were murdered for being Jews. While this was probably inevitable, given that 330 million people live in America, it is painful — equally for me as an American and as a Jew.
And second, while there is no difference between the murder of Christians at a church and the murder of Jews in a synagogue with regard to the loss of life and the suffering of loved ones, there is something unique about the murder of Jews for being Jews: Anti-Semitism is exterminationist. Anti-semites don't just want to persecute, enslave or expel Jews; they want to kill them all.
On Passover, Jews read the Haggadah, the ancient Jewish prayer book of the Passover Seder. In it are contained these words: "In every generation, they arise to annihilate us" — not "persecute" us; not "enslave" us; annihilate us.
So, when the murderer yelled, "All Jews must die," he encapsulated the uniqueness of anti-Semitism.
There is another unique aspect to anti-Semitism: It destroys every society in which it grows. The animating force within Adolf Hitler was Jew-hatred. More than anything else — desire for German "Lebensraum," hatred of Bolshevism, a view of Slavs as subhuman — it was anti-Semitism that invigorated him. Anti-Semitism was not a Nazi scapegoat; it was the Nazis' raison d'etre.
The results of German anti-Semitism for Germans alone: more than 5 million dead, including half a million German civilians; 130,000 more civilians murdered by the Nazi regime; 12 million Germans expelled from East Europe, 2 million of whom died; innumerable rapes of German women; Germany divided in two for half a century — and the loss of a sense of self and reputation.
I have no idea if, outside the universities and the Israel-hating left, there has been an increase in anti-Semitism in America. I wish I could trust the Anti-Defamation League, other Jewish organizations and Jewish community newspapers. Sadly, only Jews on the left do, because most of these organizations have a left-wing, anti-Trump agenda.
Here's a perfect example:
The mainstream left-wing media, along with left-wing Jewish organizations and media, told us every day for months after Trump's election that anti-Semitism had greatly increased. They cited the great number of Jewish Community Centers that received bomb threats. It turned out, however, that about 90 percent of those threats were called in by a mentally disturbed American Jewish teenager living in Israel, and the other 10 percent were made by a black radical seeking to frame his ex-girlfriend. So, the claim eventually vanished from the news — with not one Jewish or non-Jewish organization or media outlet apologizing for crying anti-Semitic "fire" in a crowded theater.
The dishonest now have the Pittsburgh massacre to blame on Trump. But that's as big a falsehood as blaming Trump for the bomb threats. In reality, the Pittsburgh murderer criticized Trump for his close connections to Jews and Israel.
For Jews to blame the most pro-Israel president since Harry Truman — the only president with a Jewish child and Jewish grandchildren, moreover — for increasing anti-Semitism is another example of a truism this Jew has known all his life: Unlike Jewish liberals, who get most of their values from Judaism, Jewish leftists are ethnically Jewish but get their values from leftism.
The biggest increase in anti-Semitism in the last 10 or so years has come from the left. Just ask young Jews who wear yarmulkes or are vocally pro-Israel on most American college campuses. And this generation's threat of Jewish annihilation comes from Israel's Iranian and Arab enemies.
As a Jew who attends synagogue every Shabbat, and as an advocate for the carrying of concealed weapons, I fervently pray we will not need armed guards at American synagogues. America's uniqueness has been exemplified by the fact that Jews do not need armed guards in their synagogues.
May it always be so.
Even if you don't love Jews — if you only love America — you need to fight anti-Semites. As the Jews go, so goes the fate of the nation in which they live.
The Muslim World's Reaction to Synagogue Massacre
Some Muslims are raising money to help the Pittsburgh shooting victims. Some Muslim governments are condemning the massacre. Others in the Muslim world are utilizing the massacre in order to promote an anti-Israel agenda.
THE MUSLIM WORLD'S REACTION
TO SYNAGOGUE MASSACRE
JerusalemOnline Rachel Avraham - October 31, 2018
Some Muslims are raising money to help the Pittsburgh shooting victims.
Some Muslim governments are condemning the massacre. Others in the Muslim world are utilizing the massacre in order to promote an anti-Israel agenda.
Last Shabbat, 11 Jewish worshipers were massacred in a Pittsburgh synagogue by Robert Bowens, an anti-Semitic fanatic who believed that all of the Jews in the Tree of Life Synagogue should die. The question remains, how has the Muslim world reacted to this great tragedy? Did they glorify it like Hamas usually does whenever Jews are attacked in Israel? Were they silent? Or did they speak up and condemn this despicable act of violence?
As world renowned anti-Semitism scholar Dr. Manfred Gerstenfeld proclaimed, "America has now entered the world of major attacks on Jews. The largest postwar attack on Jews was in Buenos Aires in 1994 on the AMIA building, killing 85. In Europe, the biggest attack was in 1982 on the Goldenberg restaurant in Paris with 6 killed. In Israel, there are the regular terror attacks."
However, Gerstenfeld noted that the Pittsburgh synagogue attack is unlike any of the other previous mass shootings of Jews in recent years: "The difference is that in Buenos Aires, Paris and Israel, the murderers came out of Muslim communities. In Pittsburgh, the killer is a right wing white extremist. A fact which is not liked by many is that there have always been people who were violent against others who did not belong and were different from their own community. We see this now also in France, Germany and Sweden. It is not an isolated issue. In the U.S, we all remember Charlottesville."
The fact that the perpetrator was a white non-Muslim male and that the terror attack did not take place in Israel has led to an increasing number of voices from the Muslim world speaking out against the Pittsburgh terror attack. In fact, according to a report in the Forward, there are even Muslims who are crowdfunding for the Jewish victims, raising thousands of dollars in the process.
Palestinian Media Watch reported that the Palestinian Authority's Ministry of Foreign Affairs, who in recent years has ideologically promoted the idea of waging an Islamist war in order to kill off the Jews when speaking in Arabic, issued a statement in English condemning the Pittsburgh terror attack, proclaiming: "The Palestinian ministry also condemned the harming of the houses of worship by the same terrorists with an inherent and decayed fascist ideology, which is based on the supremacy of the white race and its hegemony."
According to the Times of Israel, Hamas terrorist Basem Naim followed suite: "As Palestinians and victims of the terror of the Israeli occupation, we know the meaning of terror and its horrific outcomes. This heinous attack, especially in a place of worship, proves that terror has no religion or nationality." Interestingly, when a Palestinian terrorist attacked a Jerusalem synagogue, murdering 4 worshippers and one Druze police officer, Hamas glorified the act of terror. Hamas also cheered when a Palestinian terrorist murdered 2 in a Tel Aviv prayer space.
Similarly, Turkey, Saudi Arabia, Bahrain and Qatar all condemned the recent terror attack in a Pittsburgh Synagogue, the Jerusalem Post reported. One questions if they would have said anything had the terror attack occurred inside of Israel. However, there are independent voices within the Muslim world who also spoke out against the recent terror attack in Pittsburgh and likewise would have been equally critical had the terror attack occurred inside of Israel.
Saudi journalist Abdulateef Al-Mulhim declared, "I want to express my deepest sympathy and condolences not only to the Jewish communities but to all around the world. What happened in Pittsburgh is sad and a coward act of terrorism and beyond anything that I can imagine. Very, very sad to see innocent lives lost in a place of worship."
Dr. Widad Akreya, president and co-founder of Defend International, who is of Kurdish ancestry, proclaimed: "It is heartbreaking to hear about the horrific Pittsburgh synagogue shooting. My thoughts are with the victims, their families and their friends. I am grieving with you and hoping for a speedy recovery of the wounded. May our love surround and comfort all of you."


Bangladeshi human rights activist Shipan Kumer Basu, who heads the World Hindu Struggle Committee and is outspokenly pro-Israel, doing everything in his power to promote strong relations between Bangladesh and Israel, added: "I strongly condemn the terror attack in the Tree of Life Synagogue in Pittsburgh, PA and convey condolences to the family of the deceased. We demand strong punishment for the shooter."
However, even though it was more acceptable in Muslim circles to condemn a white supremacist for murdering Jews at prayer than it is to condemn a Palestinian for doing the same thing, not everyone in the Muslim world was sympathetic towards the Jewish victims in Pittsburgh. One Iranian twitter user named Lafsaneh Lomanzadeh, who identifies herself as an economist on the Tehran Stock Exchange, declared: "All good Muslims from Iran hate murder but love anti-Semitism when it flourishes to combat the vile lies of Zionists like Netanyahu. What crap: He condemns Pittsburgh synagogue shooting by Robert Bowers when he murders Gaza Arabs non-stop. Trump, dump the Jews."
IRANIAN REFUGEE RAISES OVER $700,000
FOR PITTSBURGH'S TREE OF LIFE SYNAGOGUE
Shay Khatiri says he decided to launch online fundraiser after seeing how shooting rampage affected a Jewish friend
Times of Israel, Josefin Dolsten, 30 October 2018

A Pittsburgh Police officer walks past the Tree of Life Synagogue and a memorial of flowers and stars in Pittsburgh on October 28, 2018. (AP/Gene J. Puskar)
JTA — A refugee from Iran has raised over $700,000 for the US synagogue in Pittsburgh where a gunman killed 11 people on Saturday.
The day after the anti-Semitic rampage, Shay Khatiri, 29, started an online fundraiser to collect donations for the Tree of Life Congregation. As of Monday evening he had raised over $700,000, far exceeding his expectations.
"I thought to myself, 'Worst comes to worst, it will raise like $500.' Which is better than nothing but it's a little above that now," he told the Washington TV station WJLA.
Khatiri is a political refugee from Iran and currently a graduate student at the Johns Hopkins School of Advanced International Studies in Baltimore, according to WJLA. He identifies as a Deist.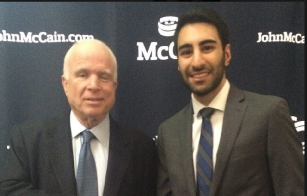 Shay Khatiri with John McCain
(via Facebook)
He was inspired to raise money when seeing a Jewish friend's reaction to the shooting.
"She told me what happened and she was just broken," he told CNN. "Seeing how upset she was, I wanted to donate to the congregation."
_______________________________________________________

Khatiri said that seeing the donations come in has inspired him.
Update 5
Posted by Shay Khatiri
22 hours ago
Thank you to you all for helping the synagogue! The goal of $1 million was reached. I increased the goal, because more people still want to help. Please share this with your friends and family. Social media shares go a long way.
Some people have donated a certain amount per family member. Remember that pets are also family!
Thanks to all of you!
_______________________________________________________
"Everyone talks about how divided we are," he told CNN. "But in such a tragic moment, Americans are always powerful and indivisible in trauma."
AFTER PITTSBURGH ATTACK, US JUSTICE DEPARTMENT LAUNCHES HATE CRIMES WEBSITE
Online platform to centralize information
for police, media, researchers, victims and others.
Times of Israel, AFP 30 October 2018,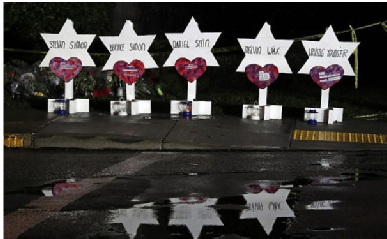 This photo shows Stars of David with names of those killed at the Tree of Life Synagogue in Pittsburgh in Saturday's shooting, at a memorial outside the synagogue,
Sunday, Oct. 28, 2018.
(AP Photo/Gene J. Puskar)
WASHINGTON, United States — The US Justice Department launched a new website to combat hate crimes Monday, two days after 11 worshipers were shot dead in a Pittsburgh synagogue.
The website centralizes resources about hate crimes for law enforcement, media, researchers, victims, advocacy groups and others.
It brings together training materials, technical assistance, videos, research reports, statistics and other information.
"Individuals should be able to live their lives free from the threat of violence and discrimination, no matter who they are, what they believe, or how they worship," Acting Assistant Attorney General John Gore said in a statement.
"We will continue to prioritize our work bringing perpetrators of hate crimes to justice throughout the country."
The Justice Department said it has charged more than 300 defendants with hate crimes offenses over the past 10 years.
Robert Bowers, the 46-year-old man who attacked the Tree of Life synagogue in Pittsburgh on Saturday, is charged with hate crimes among other offenses.
Deputy Attorney General Rod Rosenstein announced meanwhile an $840,000 grant from the National Institute of Justice for a new research study on hate crimes data collection.
The hate crimes website is available through
US JUSTICE DEPARTMENT HATE CRIMES WEBSITE
WHAT ARE HATE CRIMES?
The Department of Justice aggressively prosecutes hate crimes, which include acts of physical harm and specific criminal threats motivated by animus based on race, color, national origin, religion, gender, sexual orientation, gender identity, or disability.
Hate crimes have a devastating effect beyond the harm inflicted on any one victim. They reverberate through families, communities, and the entire nation, as others fear that they too could be threatened, attacked, or forced from their homes, because of what they look like, who they are, where they worship, whom they love, or whether they have a disability.

LINKS
Pittsburgh synagogue shooting: What makes a crime a hate crime? USA Today
The threat of rising anti-Semitism BBC
The Pittsburgh synagogue shooting comes amid a years-long rise in anti-Semitism VOX
My Jewish wedding was the day of the Pittsburgh shooting. Anti-Semites threatened it. VOX
The Tree of Life Shooting and the Return of Anti-Semitism to American Life New Yorker
Hate crime charges filed in Pittsburgh synagogue shooting that left 11 dead CNN
The Pittsburgh synagogue shooting is believed to be the deadliest attack on Jews in American history. ADL
'There Is Still So Much Evil': Growing Anti-Semitism Stuns American Jews New York tTmes