(EDITORS NOTE
The Trump Peace Deal, after a few years work, was released in two parts
June 2019 Part 1 -
Economic section to representatives from Arab countries
January 2020 Part 2 -
Political section at the White House.
President Trump (USA) and prime Minister Netanyahu (Israel) appeared on the platform

Palestinians, under President Abbas refused to discuss the creation or final draft of these proposals before their presentations.
They were turned down by the Palestinians without having been read or discussed with the USA.
This will create a Tipping Point for the relations of the Palestinians with others.
A major objective will be the abolition of UNWRA which will lead to
the definition of 'refugee being the same as that used for 'refugees' by all other countries. This means 'children' will no longer be classified as 'refugees' (see

UNWRA

)

The Palestinians, in other Arab countries, will no longer have a separate health and education system.

They will be entitled to become citizens of other Arab countries
GO TO 'TOGETHER' FOR MORE INFORMATION ABOUT THE FUTURE
TRUMP'S PLAN FOR MIDDLE EAST PEACE
HINGES ON SUPPORT FROM ARAB LEADERS.
THAT'S LOOKING UNLIKELY
Time, Joseph Hincks, January 29, 2020

It came as no surprise that the "peace plan" President Donald Trump presented at the White House on Tuesday was immediately rejected by the Palestinian leadership, whose top diplomats have long referred to it as "dead on arrival." But perhaps mindful of the need for multilateral legitimacy, White House aides had earlier this week scrambled to garner messages of approval, or at least neutrality, from allies across the region.
In a press call with reporters on Wednesday, U.S. Ambassador to Israel David Friedman described the response the blueprint Trump unveiled had generated in the region as "extraordinarily constructive."
To Arab leaders, that would seem to be a stretch. While some U.S. allies greeted the plan with carefully caveated approval, casting the blueprint as a "starting point" or complementing Trump's "endeavors," others were openly critical. After the plan's release, the Arab world's clearest expression of support came from Egypt, which characterized it as an effort to advance "the stability and security of the Middle East." Meanwhile, Turkey's foreign minister said Wednesday that the plan was "stillborn."
Trump Called His Middle East Peace Plan a 'Win Win.' Palestinians Disagree
The muted response was evident even before the plan was actually released. Across the Arab world, only Oman, the UAE, and Bahrain dispatched ambassadors to the White House on Tuesday as Trump laid out his vision for the Middle East. Notably absent were ambassadors from Saudi Arabia, and from Jordan and Egypt, the two Arab countries that have peace treaties with Israel.
Spearheaded by Trump's son-in-law and special adviser Jared Kushner, the White House proposal outlines a so-called "two-state" solution to the decades-long Israeli-Palestianian conflict, affording the Palestinians a capital in a portion of East Jerusalem. But the plan also greenlights Israel's annexation of all major West Bank settlements, upholds Israeli control over an "undivided Jerusalem," and requires the Palestinians to relinquish far more land than in previous administrations' mediation efforts. Democrats slammed it as "one-sided" and "delusional," and some analysts argued that the "state" it offered the Palestinians was actually no state at all.
Here's how leaders in the Middle East responded to the proposal.
EGYPT
Egypt is the only country besides Jordan to have a peace deal with Israel. For the last 12 years, Cairo has helped Israel maintain its blockade of the Gaza Strip, which is controlled by the militant group Hamas. While Egyptian-Israeli relations appeared shaky during the Muslim Brotherhood's short tenure, they solidified again when General Abdel Fattah al-Sisi took power after a 2013 coup in 2013. Trump has forged close ties with Egypt's authoritarian leader, reportedly describing him in 2019 as "my favorite dictator."
On Tuesday, Egypt's foreign ministry said in a statement that Egypt "recognizes the importance of considering the U.S. administration's initiative" with a view to restoring the "legitimate rights" of the Palestinian people through establishing an "independent and sovereign state on the Palestinian occupied territories in accordance with international legitimacy and resolutions."
Egypt "appreciates the continuous efforts exerted by the U.S. administration to achieve a comprehensive and just settlement of the Palestinian issue, thereby contributing to the stability and security of the Middle East, ending the Palestinian-Israeli conflict," the foreign ministry said.
JORDAN
Jordan and Israel fought two wars before the pair signed a landmark peace treaty 25 years ago. But relations between the two countries have now hit an "all time low", Jordan's King Abdullah II said last year. Jordan borders the West Bank, and already hosts some 2 million Palesinian refugees and their descendents, according to the U.N. After the Palestinians, Jordan stands to "suffer most" from annexation, Osama Al-Sharif, an Amman-based political commentator told TIME on Saturday.
On Tuesday, Jordan reaffirmed the longstanding Arab view of the necessity for Israel to withdraw from the territory it has occupied since the Six-Day War of 1967 and warned against the "annexation of Palestinian lands." In a statement, Jordan's Foreign Minister Ayman Safadi said his country would continue to work with the international community and other Arab states to achieve "a just and lasting peace that meets all the legitimate rights of the Palestinian people."
SAUDI ARABIA
Since Trump took office in 2017, he has made Saudi Arabia the cornerstone of his strategy in the Middle East. Trump's first overseas trip as president was to Riyadh, and in 2018 he declined to condemn Crown Prince Mohammed bin Salman over the murder of journalist Jamal Khashoggi, despite the CIA's conclusion that the Crown Prince had ordered the killing.
Still, Saudi Arabia's response to Trump's plan was equivocal, at best. On Wednesday, the Kingdom's state news agency reported that King Salman had called Palestinian Authority President Mahmoud Abbas to reassure him of Saudi Arabia's commitment to Palestinian rights. Meanwhile, an editorial in Saudi Arabia's government-controlled Al Arabiya paper urged the Palestinian leadership to enter direct negotiations with Israel without accepting the plan, according to Bruce Riedel, a Senior Fellow at the Center for Middle East Policy.
PRESIDENT TRUMP'S LONG-AWAITED MIDDLE EAST PEACE PLAN
CALLS FOR THE CREATION OF A STATE OF PALESTINE
WITH ITS CAPITAL IN PORTIONS OF EAST JERUSALEM
Time JOSEPH HINCKS JANUARY 28, 2020

It's been three years in the making. But on Tuesday, the Trump Administration's proposal to bring a solution to the decades-long Israeli-Palestinian conflict finally came to light.
The White House's 80-page plan calls for the creation of a Palestinian state with a capital in parts of East Jerusalem, ending speculation that the Trump Administration was preparing to depart from a "two state" resolution to the conflict that has long been the bedrock of U.S. policy.
But the blueprint would also permit Israel to extend sovereignty over all major settlements blocs in the West Bank, uphold Jerusalem as "Israel's undivided capital," and require the Palestinians to concede far more land to Israel than in past proposals.
Addressing reporters alongside Israeli Prime Minister Benjamin Netanyahu at the White House on Tuesday, President Donald Trump said that while past U.S. presidents had failed to forge peace between Israelis and Palestinians, he had not been elected to "shy away from big problems." Trump characterized his proposal as a "win-win" for both Israelis and Palestinians and a "bold step forward" for the region. But senior Democrats and Palestinians, who had rejected the plan before its publication, criticized the purported deal as one-sided.
On Monday, Netanyahu and his centrist rival, Blue and White party leader Benny Gantz, met President Donald Trump separately to hear details of the so-called peace plan spearheaded by Trump's son-in-law and senior adviser Jared Kushner.
"We have the support of the prime minister, we have the support of the other parties, and we think we will ultimately have the support of the Palestinians, but we're going to see," Trump told reporters that day.
Support from the Palestinians appears a remote prospect. The West Bank's Ramallah-based overnment, whose top diplomats have long described the Trump Administration's plans as "dead on arrival," had not been invited to the White House and insist the Trump Administration has forfeited America's role as an honest broker in the region. The Trump plan "will not pass," said Palestinian president Abbas, hours after its release.
Here's what to know about the deal Trump unveiled:
WHAT ARE THE DETAILS OF TRUMP'S PLAN?
Many of its components had been anticipated. Last week Israeli media reports characterized the White House plan as "the most generous proposal ever presented to Israel" and said it would pave the way for Israel to annex virtually all settlements in the West Bank, which Israel has controlled since the Six-Day War of 1967, give Israel full sovereignty over Jerusalem, and make no major provision for returning Palestinian refugees.
Although Trump had dismissed those reports as "speculation," they proved mostly correct. The White House plan would rubber stamp Israel extending sovereignty over all major settlement blocs in the West Bank. "No Palestinians or Israelis will be uprooted from their homes," Trump said Tuesday, in a firm indication the settlements would remain in place.
However, the blueprint also offers more concessions to the Palestinians than many experts had predicted. The White House plan puts forward a two state solution to the Israeli-Palestinian conflict, although the size of the Palestinian state is considerably smaller than that proposed in past U.S. mediation efforts. Trump said his plan would "more than double Palestinian territory." Under it, however, Palestinians could control some 70% of the West Bank, compared with 94-96% proposed by Bill Clinton in 2000.
WHITE HOUSE'S KUSHNER UNVEILS
ECONOMIC PORTION OF MIDDLE EAST PEACE PLAN
Reuters, Matt Spetalnick, Steve Holland, June 22 2019
WASHINGTON (Reuters) - The White House on Saturday outlined a $50 billion Middle East economic plan that would create a global investment fund to lift the Palestinian and neighbouring Arab state economies, and fund a $5 billion(3.92 billion pounds) transportation corridor to connect the West Bank and Gaza.
The "peace to prosperity" plan, set to be presented by White House senior adviser Jared Kushner at an international conference in Bahrain next week, includes 179 infrastructure and business projects, according to details of the plan and interviews with U.S. officials. The approach towards reviving the moribund Israeli-Palestinian peace process was criticised by the Palestinians on Saturday.
The ambitious economic revival plan, the product of two years of work by Kushner and other ides, would take place only if a political solution to the region's long-running problems is reached.
More than half of the $50 billion would be spent in the economically troubled Palestinian territories over 10 years while the rest would be split between Egypt, Lebanon and Jordan. Some of the projects would be in Egypt's Sinai peninsula, where investments could benefit Palestinians living in adjacent Gaza, a crowded and impoverished coastal enclave.
The plan also proposes nearly a billion dollars to build up the Palestinians' tourism sector, a seemingly impractical notion for now given the frequent flareups between Israeli forces and militants from Hamas-ruled Gaza, and the tenuous security in the occupied West Bank.
RELATED COVERAGE
Scars on Middle East landscape bear witness to past peace failures
The Trump administration hopes that wealthy Gulf states and nations in Europe and Asia, along with private investors, would foot much of the bill, Kushner told Reuters.
The whole notion here is that we want people to agree on the plan and then we'll have a discussion with people to see who is interested in potentially doing what," Kushner told Reuters Television.
The unveiling of the economic blueprint follows two years of deliberations and delays in rolling out a broader peace plan between Israelis and Palestinians. The Palestinians, who are boycotting the event, have refused to talk to the Trump administration since it recognised Jerusalem as the Israeli capital in late 2017.
Veteran Palestinian negotiator Hanan Ashrawi dismissed the proposals on Saturday, saying: "These are all intentions, these are all abstract promises" and said only a political solution would solve the conflict.
Kushner made clear in two interviews with Reuters that he sees his detailed formula as a game-changer, despite the view of many Middle East experts that he has little chance of success where decades of U.S.-backed peace efforts have failed.
"I laugh when they attack this as the 'Deal of the Century'," Kushner said of Palestinian leaders who have dismissed his plan as an attempt to buy off their aspirations for statehood. "This is going to be the 'Opportunity of the Century' if they have the courage to pursue it."
Kushner said some Palestinian business executives have confirmed their participation in the conference, but he declined to identify them. The overwhelming majority of the Palestinian business community will not attend, businessmen in the West Bank city of Ramallah told Reuters.
Several Gulf Arab states, including Saudi Arabia, will also participate in the June 25-26 U.S.-led gathering in Bahrain's capital, Manama, for Kushner's rollout of the first phase of the Trump peace plan. Their presence, some U.S. officials say privately, appears intended in part to curry favour with Trump as he takes a hard line against Iran, those countries' regional arch-foe.
The White House said it decided against inviting the Israeli government because the Palestinian Authority would not be there, making do instead with a small Israeli business delegation.
POLITICAL DISPUTES REMAIN
There are strong doubts whether potential donor governments would be willing to open their checkbooks anytime soon, as long as the thorny political disputes at the heart of the decades-old Palestinian conflict remain unresolved.
White House senior adviser Jared Kushner speaks during an interview with Reuters at the Eisenhower Executive Office Building in Washington, U.S., June 20, 2019. Picture taken June 20, 2019. REUTERS/Kevin Lamarque
The 38-year-old Kushner - who like his father-in-law came to government steeped in the world of New York real estate deal-making - seems to be treating peacemaking in some ways like a business transaction, analysts and former U.S. officials say.
Palestinian officials reject the overall U.S.-led peace effort as heavily tilted in favour of Israel and likely to deny them a fully sovereign state of their own.
Kushner's attempt to decide economic priorities first while initially sidestepping politics ignores the realities of the conflict, say many experts.
This is completely out of sequence because the Israeli-Palestinian issue is primarily driven by historical wounds and overlapping claims to land and sacred space," said Aaron David Miller, a former Middle East negotiator for Republican and Democratic administrations.
Kushner acknowledges that "you can't push the economic plan forward without resolving the political issues as well." The administration, he said, will "address that at a later time," referring to the second stage of the peace plan's rollout now expected no earlier than November.
Kushner says his approach is aimed at laying out economic incentives to show the Palestinians the potential for a prosperous future if they return to the table to negotiate a peace deal.
Kushner stressed that governments would not be expected to make financial pledges on the spot.
It is a small victory that they are all showing up to listen and partake. In the old days, the Palestinian leaders would have spoken and nobody would have disobeyed," he said.
TRAVEL CORRIDOR
Kushner's proposed new investment fund for the Palestinians and neighbouring states would be administered by a "multilateral development bank." Global financial lenders including the International Monetary Fund and World Bank plan to be present at the meeting.
The fund would include "accountability, transparency, anti-corruption, and conditionality safeguards" to protect investments.
A signature project would be to construct a travel corridor for Palestinian use that would cross Israel to link the West Bank and Gaza. It could include a highway and possibly a rail line. The narrowest distance between the territories, whose populations have long been divided by Israeli travel restrictions, is about 40 km (25 miles).
Kushner said that if executed the plan would create a million jobs in the West Bank and Gaza, reduce Palestinian poverty by half and double the Palestinians' GDP.
But most foreign investors will likely stay clear for the moment, not only because of security and corruption concerns but also because of the drag on the Palestinian economy from Israel's West Bank occupation that obstructs the flow of people, goods and services, experts say.
Kushner sees his economic approach as resembling the Marshall Plan, which Washington introduced in 1948 to rebuild Western Europe from the devastation of World War Two. Unlike the U.S.-funded Marshall Plan, however, the latest initiative would put much of the financial burden on other countries.
President Donald Trump would "consider making a big investment in it" if there is a good governance mechanism, Kushner said. But he was non-committal about how much the president, who has often proved himself averse to foreign aid, might contribute.
Economic programs have been tried before in the long line of U.S.-led peace efforts, only to fail for lack of political progress. Kushner's approach, however, may be the most detailed so far, presented in two pamphlets of 40 and 96 pages each that are filled with financial tables and economic projections.
In Manama, the yet-to-released political part of the plan will not be up for discussion, Kushner said.
The economic documents offer no development projects in predominantly Arab east Jerusalem, which Palestinians want as the capital of their future state.
What Kushner hopes, however, is that the Saudis and other Gulf delegates will like what they hear enough to urge Palestinian President Mahmoud Abbas to consider the plan.
The message Kushner wants them to take to Ramallah: "We'd like to see you go to the table and negotiate and try to make a deal to better the lives of the Palestinian people."
Reporting By Matt Spetalnick and Steve Holland; Additional reporting by Rami Ayyub in Ramallah; Editing by Ross Colvin and Chizu Nomiyama
______________________________________________________
THE "TRUMP DOCTRINE" FOR THE MIDDLE EAST
Gatestoneinstitute, Guy Millière, June 13, 2018
Dr. Guy Millière, professor at the University of Paris,
author of 27 books on France and Europe.
Trump has shown the strength of the United States and restored its credibility in a region where strength and force determine credibility.

Trump more broadly laid the foundation for a new alliance of the United States with the Sunni Arab world, but he put two conditions on it: a cessation of all Sunni Arab support for Islamic terrorism and an openness to the prospect of a regional peace that included Israel.

Secretary of State Pompeo spoke of the "Palestinians", not of the Palestinian Authority, as in Iran, possibly to emphasize the distinction between the people and their leadership, and that the leadership in both situations, may no longer be part of the solution. Hamas, for the US, is clearly not part of any solution.

Netanyahu rightly said that Palestinian leaders, whoever they may be, do not want peace with Israel, but "peace without Israel". What instead could take place would be peace without the Palestinian leaders. What could also take place would be peace without the Iranian mullahs.
After three successive American Presidents had used a six-month waiver to defer moving the US Embassy to Jerusalem for more than two decades, President Donald J. Trump decided not to wait any longer. On December 7, 2017, he declared that the United States recognizes Jerusalem as the capital of Israel; the official embassy transfer took place on May 14th, the day of Israel's 70th anniversary.
From the moment of Trump's declaration, leaders of the Muslim world expressed anger and announced major trouble. An Islamic summit conference was convened in Istanbul a week later, and ended with statements about a "crime against Palestine". Western European leaders followed suit. Germany's Chancellor Angela Merkel said that President Trump's decision was a "serious mistake" and could have huge "consequences". French President Emmanuel Macron, going further, declared that the decision could provoke a "war".
Despite these ominous predictions, trouble remained largely absent. The Istanbul statement remained a statement. The "war" anticipated by Macron did not break out.
The Islamic terrorist organization Hamas sent masses of rioters from Gaza to tear down Israel's border fence and cross over, to force Israeli soldiers to fire, thereby allowing Hamas to have bodies of "martyrs" to show to the cameras. So far, Hamas has sent 62 of its own people to their death. Fifty of them were, by Hamas's own admission, members of Hamas.
Palestinian terrorist groups fired rockets into southern Israel; Israeli jets retaliated with airstrikes. Hamas sent kites, attached to incendiary devices and explosives, over the border to Israel. So far, 200 of the fire-kites that Hamas sent have destroyed 6,200 acres of Israeli forests and farmland.
Pundits who predicted more violent reactions have been surprised by the relatively quiet reaction of the Palestinian and Muslim communities. The reason might be called the "Trump Doctrine for the Middle East".
One element of it consisted of crushing the Islamic State in Syria and Iraq. President Trump had promised quickly to clear the world of what had become a main backbone of Islamic terrorism. He kept his promise in less than a year, and without a massive deployment of American troops. Trump has shown the strength of the United States and restored its credibility in a region where strength and force determine credibility.
Another element of it was put in place during President Trump's trip to Saudi Arabia in May 2017. President Trump renewed ties which had seriously deteriorated during the previous 8 years. Trump more broadly laid the foundation for a new alliance of the United States with the Sunni Arab world, but he put two conditions on it: a cessation of all Sunni Arab support for Islamic terrorism and an openness to the prospect of a regional peace that included Israel.
Both conditions are being gradually fulfilled. In June 2017, Saudi Arabia's King Salman chose his son Mohammed bin Salman (MBS) as heir to the throne. MBS started an internal revolution to impose new directions on the kingdom. The Islamic Military Counter Terrorism Coalition, created on December 15, 2015, was endorsed by the United States; it held its inaugural meeting on November 26, 2017. In addition, links between Israeli and Saudi security services were strengthened and coordination between the Israeli and Egyptian militaries intensified.
An alliance between Israel and the main countries of the Sunni Arab world to contain Iran also slowly and unofficially began taking shape. MBS, calling called Hamas a terrorist organization, saying that it must "be destroyed". He told representatives of Jewish organizations in New York that Palestinian leaders need to "take the [American] proposals or shut up."
Palestinian Authority leader Mahmoud Abbas was summoned to Riyadh twice -- in November and December 2017; and it appears he was "asked" to keep quiet. Never has the distance between Palestinian organizations, and Saudi Arabia and the Sunni Arab world, seemed so far. The only Sunni Arab country to have maintained ties with Hamas is Qatar, but the current Emir of Qatar, Sheikh Tamim ben Hamad Al Thani, has been under pressure to change his stance.
Immediately after President Trump left Riyadh, a third element emerged. The US presidential plane went directly from Riyadh to Israel: for the first time, a direct flight between Saudi Arabia and Israel took place. President Trump went to Jerusalem, where he became the first sitting US President to visit the Western Wall, the only historical remains of a retaining wall from the ancient Temple of King Solomon. During his campaign, Trump had referred to Jerusalem as "the eternal capital of the Jewish people", implicitly acknowledging that the Jews have had their roots there for 3,000 years.
After his visit to the Wall, President Trump went to Bethlehem and told Mahmoud Abbas what no American President had ever said: that Abbas is a liar and that he is personally responsible for the incitement to violence and terror. In the days that followed, the US Congress demanded that the Palestinian Authority renounce incentivizing terrorism by paying cash to imprisoned Palestinian terrorists and families of terrorists killed while carrying out attacks. President Trump's Middle East negotiators, Jared Kushner and Jason Greenblatt made it clear to Palestinian leaders that US aid to the Palestinian Authority could end if the US demand was not met. Nikki Haley told the United Nations that the US could stop funding UNRWA if Palestinian leaders refused to negotiate and accept what the US is asking for. Since it was founded in 1994, the Palestinian Authority has never been subjected to such intense American pressure.
The fourth element was President Trump's decision to leave the Iran nuclear deal. President Trump immediately announced he would restore "the harshest, strongest, most stringent sanctions" to suffocate the mullahs' regime. Secretary of State Mike Pompeo has since presented to Iran a list of 12 "basic requirements" for a new agreement.
President Trump's decision came in a context where the Iran regime has just suffered a series of heavy blows: the Israeli Mossad's seizure in Tehran of highly confidential documents showing that Iran has not ceased to lie about its nuclear program; the revelation by Israeli Prime Minister Benjamin Netanyahu of the Mossad operation, and the Israeli army's decisive response to an Iranian rocket barrage launched from Syrian territory. By it, Israel showed its determination not to allow Russia to support Iran when Iran uses its bases to attack Israel.
Netanyahu was invited by Russian President Vladimir Putin to Moscow on May 9 to commemorate the Soviet victory over Germany in 1945; during that visit, Putin seems to have promised Netanyahu neutrality if Israel were attacked by Iranian forces in Syria. Putin, eager to preserve his Russian bases in Syria, clearly views Israel as a force for stability in the Middle East and Iran as a force for instability -- too big a risk for Russian support.
In recent months, the Iranian regime has become, along with Erdogan's Turkey, one of the main financial supporters of the "Palestinian cause" and Hamas's main backer. It seems that Iran asked Hamas to organize the marches and riots along the Gaza-Israel border. When the violence from Gaza became more intense, Hamas leader Ismail Haniyeh was summoned to Cairo by Egypt's intelligence chief, who told him that if violence does not stop, the Israel military would carry out drastic actions, and Egypt would be silent. It could become difficult for Iran to incite Palestinian organizations to widespread violence in the near future.
It could become extremely difficult for Iran to continue financially to support the "Palestinian cause" in the coming months. It could soon become financially unbearable for Iran to maintain its presence in Syria and provide sophisticated weapons to Hezbollah. Turkish President Erdogan speaks loudly, but he seems to know what lines not to cross.
Protests in Iran have become less intense since January, but the discontent and frustrations of the population persist and could get worse.
The Trump administration undoubtedly realizes that the Iranian regime will not accept the requirements presented by Secretary of State Mike Pompeo and that the harsh new sanctions might lead to new major uprisings in Iran, and the fall of the regime. Ambassador John Bolton, now National Security Advisor, mentioned in January that the "strategic interest of the United States" is to see the regime overthrown.
Referring recently to the situation in the Middle East and the need to achieve peace, Pompeo spoke of the "Palestinians", not of the Palestinian Authority, as in Iran, possibly to emphasize the distinction between the people and their leadership, and that the leadership in both situations, may no longer be part of the solution. Hamas, for the US, is clearly not part of any solution.
No one knows exactly what the peace plan to be presented by the Trump administration will contain, but it seems certain that it will not include the "right of return" of so-called "Palestinian refugees" and will not propose East Jerusalem as the "capital of a Palestinian state". The plan will no doubt be rejected by both the Palestinian Authority and Hamas; it already has been, sight unseen.
Netanyahu rightly said that Palestinian leaders, whoever they may be, do not want peace with Israel, but "peace without Israel". What instead could take place would be peace without the Palestinian leaders. What could also take place would be peace without the Iran's mullahs.
It should be noted that on December 7, 2017, when Donald Trump announced the transfer of the United States Embassy to Jerusalem, the leaders of the Muslim world who protested were mostly Turkey's Recep Tayyip Erdogan and Iran's Hassan Rouhani. Saudi Arabia, Egypt, Bahrain, the United Arab Emirates and Oman did not send representatives to the Islamic summit conference in Istanbul. When the US embassy in Jerusalem opened its doors on May 14, Saudi Arabia, Egypt and the Gulf emirates were quiet.
On that day, Angela Merkel and Emmanuel Macron repeated what they had said on December 7, 2017: that the embassies of Germany and France in Israel would remain in Tel Aviv. Macron condemned the "heinous acts" committed by the Israeli military on the Gaza border but not aggression of Hamas in urging its people, and even paying them, to storm Gaza's border with Israel.
If current trends continue, Macron and Merkel could be among the last supporters of the "Palestinian cause." They sound as if they will do just about anything to save the corrupt Palestinian Authority.
They are also doing everything to save the moribund Iran "nuclear deal," and are deferential to the mullahs' regime. During a European summit held in Sofia, Bulgaria, on May 16, the Trump administration was harshly criticized by the European heads of state who argued that Europe will "find a way around" US sanctions and "resist" President Trump. European companies are already leaving Iran in droves, evidently convinced that they will be better off cutting their losses and keeping good relations with the United States.
On June 3-5, Benjamin Netanyahu went to Europe to try to persuade Merkel, Macron and British Prime Minister Theresa May to give up backing the Iran nuclear deal. He failed, predictably, but at least had the opportunity to explain the Iranian danger to Europeans and the need to act.
As Iran's nuclear ties to North Korea have intensified in the last two years -- Iran seems to have relied on North Korea to advance its own nuclear projects -- the denuclearization of the Korean peninsula that might have begun with the Donald Trump-Kim Jong-Un meeting in Singapore on June 12, clearly will not strengthen the Iranian position.
European leaders seem not to want to see that a page is turning in the Middle East. They seem not to want to see that, regardless of their mercenary immorality, of their behavior staying on e page of yesterday, is only preventing them from understanding the future.
TRUMP SAYS HE WON'T GIVE AID TO PALESTINIANS
UNLESS THEY AGREE TO PEACE DEAL
CBS News Sara Cook September 7, 2018
In a Rosh Hashanah conference call with Jewish faith leaders and rabbis, President Trump said he would not give money to Palestinians until they agree to make a peace deal.
"I stopped massive amounts of money that we were paying to the Palestinians and the Palestinian leaders. We were -- the United States was paying them tremendous amounts of money," Mr. Trump said Thursday. "And I'd say, you'll get money, but we're not paying you until we make a deal. If we don't make a deal, we're not paying."
Last week, the Trump administration officially ended funding for a U.N. agency that helps the more than 5 million registered Palestinian refugees -- the State Department announced it would "no longer commit further funding to this irredeemably flawed operation."
The U.S. has provided nearly 30 percent of the total budget for the United Nations Relief and Works Agency (UNRWA), which provides health care, education and social services to Palestinians in the West Bank, Gaza Strip, Jordan, Syria and Lebanon. The Trump administration contributed $60 million in January, a massive reduction from the $364 million donated by the U.S. in 2017, and it withheld an additional $65 million in promised aid. "[T]he United States will not make additional contributions to UNRWA" the State Department said.
In his call with Jewish leaders, the president also reiterated an argument he has made for moving the United States Embassy from Tel Aviv to Jerusalem, recognizing it as the capital of Israel—that by removing the status of Jerusalem as a debatable issue, he has advanced the peace process.
"We took it off the table. And I think it's actually going to help a lot in making a deal, as we say, with the Palestinians."
But it was the announcement of the embassy's move that prompted the Palestinian Authority to cut off communication with President Trump's Middle East peace team, including the President's son-in-law Jared Kushner, Special Envoy Jason Greenblatt, and Ambassador to Israel David Friedman. On May 14, the day the new American Embassy in Jerusalem officially opened, Palestinian President Mahmoud Abbas recalled his ambassador to the U.S., Husam Zomlot, to Ramallah, where he has remained.
In an interview with CBS News, Zomlot disagreed with the president that the halted Palestinian aid could be used as leverage for a peace deal. "By weaponizing the U.S. humanitarian and financial aid to Palestine to bully Palestinians to the negotiating table, Trump has undermined U.S. leadership beyond repair…Trying to twist our arm vis-a-vis money is not only amoral, it doesn't work with us."
He also took issue with the president's remark that taking Jerusalem off the table benefits the peace process, retorting, "No one will sit with them if Jerusalem is not squarely on the table. No one." He added that "Trump thinks of Jerusalem as a real estate dealing…Jerusalem is not a real estate property. Jerusalem for us is a national hub and national identity."
There are reports that President Trump is planning to roll out his Middle East peace plan during the UN General Assembly (UNGA) in two weeks' time. But Ambassador Zomlot stresses that "President Trump and his team have lost our trust completely." He argues that the U.S. has "totally co-opted the current Israeli government point of view. Totally. Completely. So what peace plan is he talking about?" Zomlot confirmed that President Abbas will also be attending UNGA, where he will "make an appeal for peace" with the assistance of the international community.
Asked what steps the U.S. could take to convince Palestinians to re-engage in peace talks, Zomlot said, "We don't want steps forward. Whatever they announce now is going to receive a deaf ear given the level of the poison they have inserted in the body of the already dying peace process. The only thing they can do is step backwards, to revert and adopt the long-held historic U.S. position."
TRUMP PULLS THE RUG OUT FROM UNDER THE "PALESTINIAN" ARABS
BIsraelUnwired Avi Abelow -August 31, 2018

Reports that President Trump is planning on stopping US funding for UNRWA, as well as changing the number of refugees, pulls the rug out from the lies of the "palestinian" narrative. Dick Morris, political author, commentator and general political consultant, exposes the underlying significance of President Trump's intended steps regarding defunding UNRWA and refugees.
Big Anouncement
The Trump administration has decided to cancel all its funding to UNRWA, a unique agency which has been maintaining the refugee status of more than five million people who never left home, the Washington Post reported Thursday night.
The White House will make the announcement in a few weeks, according to the Post, eliminating for at least 90% of the people calling themselves "Palestinian refugees" their "right of return" to the homes their grandparents and great grandparents fled in 1948.
UNRWA
The decision to stop $300 million in funding in UNRWA, is a policy based on reality. The United Nations has a refugee organization that helps resettle refugees from all over the world, except the refugees from the Arab-Israeli war in 1948. They are the only refugee population in the world to have their own organization, which is proportionally bigger than the organization responsible for refugees from all over the world!
Fun fact: #UNHCR covers all refugees in the world EXCEPT Palestinians...and they have 1 staff for every 5982 refugees. #UNRWA, the agency exclusive to the Palestinians, has 1 staff for every 186 refugees. Does that sound proportional to you?
Aug 29, 2018

THE BIG LIE: REFUGEES
The whole "palestinian" war against Israel is to destroy Israel via what they call "the right of return". Why are the Arabs from the Arab-Israeli war the only population in the world to have a "right" to return to homes they lost in a war that they started! The world is filled with populations who lost their homes due to wars, yet the world only recognizes the "right" of the Arabs to return to Israel. They lost a war. They lost their homes. Yet they demand the world to return them to their lost homes. They keep their own people in horrible refugee camps for 70 years so they can have lots of great pr opportunities to make Israel look bad. But it is not Israel keeping them in refugee camps! The Palestinian Authority has had 25 years to build new housing for the Arabs still in refugee camps under their authority in Judea & Samaria, yet they have not. Hamas has not built housing for the Gazan Arabs in refugee camps. The world has given billions of dollars in aid, yet none of it was used to help build new housing for people who still call themselves "refugees".
The majority of the people are NOT refugees. And that is exactly the big lie that President Trump is killing from their narrative.
The best thing about President Trump is he is out to peel away the lies and manipulation, so that policies based on truth and justice can be enforced.
US ENDS ALL FUNDING TO UN AGENCY FOR PALESTINIAN REFUGEES
CNN, Clare Foran and Elise Labott, September 1, 2018
The United States is ending all funding to the United Nations agency tasked with supporting Palestinian refugees, the US State Department said Friday, describing the body as "irredeemably flawed."
The United States has long been the biggest single donor to the United Nations Relief and Works Agency for Palestine Refugees in the Near East, known as UNRWA, donating more than $350 million to the agency in 2017.
The agency offers educational, health and social services across the West Bank, Gaza, Jordan, Syria and Lebanon to more than 5 million registered Palestinian refugees. It educates about 500,000 children in nearly 700 schools and its doctors see more than 9 million patients in nearly 150 primary health clinics every year.
In January this year, the United States said it would withhold $65 million, from an initial installment of $125 million it was expected to hand over to UNRWA at the start of the year. The US said it wanted UNRWA to reform and believed other countries should increase the amounts they contributed to the agency.
"When we made a US contribution of $60 million in January, we made it clear that the United States was no longer willing to shoulder the very disproportionate share of the burden of UNRWA's costs that we had assumed for many years," State Department spokeswoman Heather Nauert said in a statement Friday.
"Several countries, including Jordan, Egypt, Sweden, Qatar, and the UAE have shown leadership in addressing this problem, but the overall international response has not been sufficient."
Nauert criticized the agency's business model and fiscal practices as "unsustainable" and having been in "crisis mode" for many years.
"The United States will no longer commit further funding to this irredeemably flawed operation," she said. "We are very mindful of and deeply concerned regarding the impact upon innocent Palestinians, especially school children, of the failure of UNRWA and key members of the regional and international donor community to reform and reset the UNRWA way of doing business."
Chris Gunness, spokesman for UNRWA, voiced "deep regret" over the US decision and pushed back against its criticism of UNRWA's work.
"We reject in the strongest possible terms the criticism that UNRWA's schools, health centers, and emergency assistance programs are 'irredeemably flawed,'" he said.
"These very programs have a proven track record in creating one of the most successful human development processes and results in the Middle East. The international state community, our donors and host countries have consistently praised UNRWA for its achievements and standards."
Foreign Policy first reported the Trump administration's decision to end funding for the UN agency, which was established by the UN General Assembly in 1949.
A senior administration official told CNN the decision was made at a meeting between Jared Kushner, US President Donald Trump's son-in-law and a White House senior adviser, and Secretary of State Mike Pompeo, but that US Ambassador to the UN Nikki Haley had also been pushing for the move.
The Trump administration will also call for a large reduction in the number of Palestinians considered to be refugees, the administration official and a regional diplomat briefed on the decision told CNN.
The White House did not immediately return a request for comment on the decision.
A senior administration official criticized the agency in a statement to CNN earlier this month, saying that it "has perpetuated and exacerbated the refugee crisis and must be changed so the Palestinian people can reach their full potential."
The statement followed a Foreign Policy report in early August that revealed leaked emails in which Kushner pressed fellow officials to engage in "an honest and sincere effort to disrupt UNRWA."
'RIGHT OF RETURN'
Removal of Palestinians' refugee status would effectively mean they would lose the "right of return" to homes that are now in Israel and reclaim lost property -- a move that would have enormous significance for the approximately 5.3 million Palestinian refugees registered with UNRWA.
During the Arab-Israeli War of 1948/49, which followed the establishment of the State of Israel, about 700,000 Palestinians were expelled from or fled their homes, a period the Palestinians call "Nakba," meaning catastrophe.
Most Palestinians consider the right of return to be an inalienable right of the Palestinian people. It has long been considered what is called a "final status" issue in peace talks, an acknowledgment that it is among the toughest areas for Israelis and Palestinians to reach agreement.
This would be the second final status issue that the US President has sought to take off the table, the first being Jerusalem.
For decades, US policy was to avoid declaring Jerusalem the capital of Israel in the absence of an Israeli-Palestinian peace deal, as the Palestinians also claim Jerusalem as their capital and its final status was supposed to be left to negotiations. But Trump upended that policy in December when he recognized Jerusalem as Israel's capital.
Anat Berko, an Israeli lawmaker with the governing Likud party, told CNN she supported the US move on UNRWA and said she hoped other countries would follow suit.
"An end to UNRWA will bring an end to the 'refugee forever' status. We cannot solve any conflict with this definition of refugees. Humanitarian aid -- yes. But UNRWA -- no," Berko said.
Al-Awda, a Florida-based NGO that advocates for the right of return, talks of the "fundamental, inalienable, historical, legal, individual and collective rights of all Palestinian refugees to return to their original towns, villages and lands anywhere in Palestine from which they were expelled."
Israeli media outlets have reported concerns in some quarters that serious cuts to UNRWA's budget could exacerbate tensions on the ground in the Palestinian territories and, by impacting the provision of basic public services, strengthen the hand of the Palestinian militant group Hamas in Gaza.
US ORDERS CUT IN WEST BANK, GAZA AID
News that the Trump administration will end all funding to UNRWA comes on the heels of Trump ordering the United States to cut $200 million in aid to Palestinians.
CNN reported last week that the President directed the State Department to withdraw $200 million in aid that was originally planned for programs in the West Bank and Gaza, according to a senior State Department official.
Trump orders US to strip $200 million in aid from Palestinians
Nauert told reporters Tuesday that a review ordered by Trump earlier this year of US assistance to the Palestinians had established that that money "is not in the best interests of the US national interest and also at this time does not provide value to the US taxpayer."
Ahmad Shami, a spokesman for Palestinian Authority Prime Minister Rami Hamdallah, accused the Trump administration in a statement earlier this week of seeking to strip millions of Palestinians of their refugee status on top of cutting aid funds.
"After using humanitarian aid to blackmail and pressure the Palestinian leadership to submit to the empty plan known as 'the deal of the century,' the Trump administration plans to commit an immoral scandal against Palestinian refugees by giving itself the right to abolish the historical rights of Palestinian refugees without any legitimacy," he said.
"This is a clear looting of our humanity leading to more chaos in the region."
Shami called on the international community to "stop the gambling schema of Trump and Netanyahu to endorse colonization, apartheid, and denial of Palestinian fundamental rights."
Israeli Prime Minister Benjamin Netanyahu has frequently said the work done by UNRWA should be picked up by the UN's main refugee agency, the UNHCR.
Netanyahu told foreign journalists in January: "The perpetuation of the dream of bringing the descendants of refugees back to Jaffa is what sustains this conflict. UNRWA is part of the problem, not part of the solution."
Jaffa was one of the largest Arab towns in British Mandate Palestine that would become part of Israel in 1948.
But Gunness told CNN that the UN agency fundamentally rejected Netanyahu's criticism.
"It is not UNRWA that perpetuates the conflict, it is the conflict that perpetuates UNRWA; it is the failure of the political parties through negotiations to produce an overall peace agreement and thereby resolve the refugee crisis," said Gunness. "That is what makes UNRWA's existence necessary."
UNRWA SCHOOLS OPEN
Pierre Krähenbühl, Commissioner-General of UNRWA, said this week that the agency's 711 schools in Syria, Jordan, Lebanon, Gaza and the West Bank, including East Jerusalem, were opening on time for their 526,000 students despite its current "unprecedented" $217 million deficit.
"For decades, donors have recognized that UNRWA is a force multiplier for stability in one of the most the volatile regions around the world," he wrote in an op-ed on the UNRWA website.
Krähenbühl noted the "regrettable" decision by the Trump administration early this year to cut its planned funding to UNRWA, but also paid tribute to the "strong solidarity" shown by the broader international community whose increased or new donations had gone some way to filling the gap.
The German government pledged Friday to increase significantly its funding to UNRWA, Reuters news agency reported, adding that German Foreign Minister Heiko Maas had made clear that other nations would also need to step in to meet the existing shortfall.
The United States in 2016 agreed to a new 10-year military aid package for Israel worth $38 billion over 10 years, according to congressional and administration sources. That was an increase on an approximately $30 billion decade-long deal that expires this year.
TRUMP ADMINISTRATION IMPLEMENTS MEF PLAN TO SIDELINE UNRWA
At the State Department's Request,
the Forum provided it with a detailed plan to sideline UNRWA
Middle East Forum August 31, 2018
PHILADELPHIA – August 31, 2018 – In announcing today an immediate end to all U.S. government funding to the United Nations Relief and Works Agency (UNRWA), the Trump administration has adopted one of the Middle East Forum's signature policy prescriptions.
The U.S. taxpayer contributed $364 million in 2017, about one-third of the total UNRWA budget, almost triple the European Union contribution and by far the most from any single UNRWA donor.
At the State Department's request, the Forum on Aug. 8 provided it with a detailed plan to dismantle UNRWA – a refugee agency that perversely sees its mandate as creating ever-more refugees. Today's announcement takes a first step toward that end.
The second step should be for the US government to divert funds to local partners on the ground via direct relationships with hospitals, clinics, schools, municipalities, micro-financing programs, vocational capacity building initiatives, infrastructure managers, social service providers, and others.
The third step will be to end U.S. recognition of the fake Palestine refugees. In 1950, UNRWA counted 625,000 Palestine refugees; today it counts 5.3 million of them. MEF estimates that actual Palestine refugees – those who fled in 1948-49, did not take on a nationality, and do not live in the West Bank or Gaza – number about 20,000. That means that over 99 percent of UNRWA-recognized Palestine refugees do not fit the definition of refugee according to the U.S. government. UNRWA's unique definition nourishes Palestinian irredentism and terrorism, renders diplomacy futile, and creates regional instability. MEF advises treating the 99 percent as needy people deserving of assistance, not as refugees.
Key advantages of this three-step plan include: ending the creation of new Palestine refugees, limiting UNRWA's anti-Israel propaganda, and encouraging the constructive development of a Palestinian polity, economy, culture, and society.
MEF efforts to change U.S. policy began in 2010, when it worked closely with then-Sen. Mark Kirk (Republican of Illinois) to require the State Department to issue a report detailing how many individuals currently considered Palestine refugees fit the U.S. government definition of a refugee, and how many are currently supported by U.S. aid. That led to passage of the "Kirk Amendment" in 2012.
MEF has also worked with Representatives Chris Stewart (Republican of Utah), Kay Granger (Republican of Texas), Chuck Fleishmann (Republican of Tennessee) and Ann Wagner (Republican of Missouri) toward ending Palestinian refugee proliferation; and is currently working with Congressman Doug Lamborn (Republican of Colorado) and Senator James Lankford (Republican of Oklahoma) on legislative initiatives addressing the topic in-depth.
The Middle East Forum promotes American interests and works to protect Western civilization from the threat of Islamism. For immediate release. For more information, contact:
Gregg Roman, Director, Roman@MEForum.org, +1-215-546-5406 ext. 104
KUSHNER SAID PUSHING TO CLOSE UNRWA,
END REFUGEE STATUS FOR PALESTINIAN MILLIONS
Report quotes Palestinian official saying US peace envoys asked Jordan to move toward halting UNRWA's operations there
as part of wider apparent efforts to shutter agency
Times of Israel, TOI Staff, The Associated Press contributed to this report. 4 August 2018
Jared Kushner, US President Donald Trump's senior adviser and son-in-law, has been pushing to remove the refugee status of millions of Palestinians as part of an apparent effort to shutter the United Nations agency for Palestinian refugees, a report on Friday said.
Under Trump, the US has frozen hundreds of millions of dollars in aid to the United Nations Relief and Works Agency, or UNRWA, with the US president linking the decision to the Palestinians' refusal to speak with his administration after he recognized Jerusalem as Israel's capital.
According to emails published Friday by Foreign Policy magazine, Kushner has been highly critical of UNRWA, with he and other White House officials weighing its closure as part of their peace efforts.
"It is important to have an honest and sincere effort to disrupt UNRWA," Kushner wrote in an email dated January 11, just days before the US froze $65 million in funding for UNRWA. "This [agency] perpetuates a status quo, is corrupt, inefficient and doesn't help peace."
"Our goal can't be to keep things stable and as they are… Sometimes you have to strategically risk breaking things in order to get there," he added in the email, according to Foreign Policy.
Uniquely, UNRWA grants refugee status to all descendants of Palestinians who left or fled Israel with the establishment of the state in 1948, swelling the number to an estimated five million at present, when the number of actual refugees from that conflict is estimated to be in the low tens of thousands. In peace talks, the Palestinian leadership has always demanded a "right of return" to Israel for these millions — an influx that, if accepted by Israel, would spell the end of the Israel as a majority Jewish state.
Israel argues that the Palestinian demand is an UNRWA-facilitated effort to destroy Israel by demographic means. The Palestinians also seek an independent state in the West Bank, Gaza Strip and East Jerusalem. Months of ongoing violent protests fueled by Hamas at the Gaza border with Israel were initiated under the banner of a "March of the Return," and encouraged by Hamas leaders with the declared ultimate goal of erasing the border and destroying Israel.
Israel argues that an independent Palestinian state, if agreed upon in negotiations, would absorb Palestinian refugees and their descendants, just as Israel absorbed Jewish refugees from Middle Eastern and north African countries over the decades.
Palestinians collect food aid at a United Nations food distribution center in Khan Yunis in the southern Gaza Strip on January 28, 2018. (Said Khatib/AFP)
In an email from later in January, an adviser to Jason Greenblatt — Trump's Middle East peace envoy — suggested UNRWA's closure as part of the US peace push.
"UNRWA should come up with a plan to unwind itself and become part of the UNHCR [UN High Commissioner for Refugees] by the time its charter comes up again in 2019," wrote Victoria Coates.
Coates described the proposition as one of the "spitball ideas that I've had that are also informed by some thoughts I've picked up from Jared, Jason and Nikki," referring to Haley, the US ambassador to the UN.
Other proposals raised were moving UNRWA to a monthly operating budget and coming up with "a plan to remove all anti-Semitism from educational materials."
The report also quoted Palestinian officials saying Kushner and Greenblatt in June asked Jordan to remove the refugee status of some 2 million Palestinians in order to end UNRWA's operations in the country.
"[Kushner said] the resettlement has to take place in the host countries and these governments can do the job that UNRWA was doing," said Palestinian Liberation Organization official Hanan Ashrawi, according to Foreign Policy.
"They want to take a really irresponsible, dangerous decision and the whole region will suffer," she added, claiming the White House wanted Gulf states to pick up the tab for whatever this would cost Jordan.
Saeb Erekat, speaks at the Haaretz and New Israel Fund conference at the Roosevelt Hotel in New York on December 13, 2015. (Amir Levy/Flash90)
Shortly after the reported request, top Palestinian peace negotiator Saeb Erekat accused Kushner and Greenblatt of seeking the "termination" of the UN's Palestinian refugee agency.
"They want to terminate the role of UNRWA by proposing direct aid to the countries hosting the Palestinian refugees and sideline the UN agency," Erekat said at the time. "On top of this, they are planning financial aid to the Gaza Strip worth one billion dollars for projects, also separate from UNRWA and under the title of solving a humanitarian crisis."
He added: "All this is actually aimed at liquidating the issue of the Palestinian refugees."
The White House would not directly comment on the Foreign Policy report, though an official told the magazine that the US position on UNRWA "has been under frequent evaluation and internal discussion. The administration will announce its policy in due course."
Israel, which has also sometimes accused UNRWA of employing Palestinians who support terrorism, says UNRWA's definition of Palestinian refugees helps to perpetuate the Palestinian narrative of Israeli illegitimacy. It notes that UNRWA's policy of granting refugee status to the descendants of Palestinian refugees, even when they are born in other countries and have citizenship there, does not apply to the refugees cared for by the UN's main refugee agency, UNHCR, which cares for all other refugees worldwide. The population of Palestinian refugees thus grows each year, even as other refugee populations in the world shrink with each passing generation.
A spokesman for the Israel Embassy in Washington, Elad Strohmayer, told Foreign Policy: "We believe that UNRWA needs to pass from the world as it is an organization that advocates politically against Israel and perpetuates the Palestinian refugee problem."
US President's peace process envoy Jason Greenblatt, left, meets with Palestinian Authority President Mahmoud Abbas at the President's office in the West Bank city of Ramallah, Tuesday, March 14, 2017. (AP Photo/Majdi Mohammed)
The Foreign Policy report came as US officials say the Trump administration is staffing up a Middle East policy team at the White House in anticipation of unveiling its long awaited but largely mysterious Israeli-Palestinian peace plan.
The National Security Council last week began approaching other agencies seeking volunteers to join the team, which will work for peace pointmen Kushner and Greenblatt, according to the officials.
The creation of a White House team is the first evidence in months that a plan is advancing. Although Trump officials have long promised the most comprehensive package ever put forward toward resolving the conflict, the emerging plan has not been described with even a small amount of detail by Kushner, Greenblatt or any other official.
JARED KUSHNER CRITICIZES ABBAS,
QUESTIONING HIS ABILITY TO MAKE PEACE
Mr. Kushner told a Palestinian newspaper that the United States was "almost done" preparing its peace plan.
New York Times, David M. Halbfinger, June 24, 2018
JERUSALEM — Jared Kushner, President Trump's son-in-law and top adviser on the Middle East, said the Palestinian Authority president, Mahmoud Abbas, was afraid to make peace with Israel, bore responsibility for the deteriorating situation in Gaza and was prioritizing his own political survival at the expense of his people's needs.
Mr. Kushner, who is on a multination trip to the Middle East, made his comments in an interview published early Sunday by the Palestinian newspaper Al-Quds. He said the Trump administration was "almost done" preparing its peace plan and would roll it out soon.
He appeared to be attempting to goad Mr. Abbas into talks the leader has vowed to boycott, while doing considerable pre-emptive damage control in the event that Mr. Abbas does not relent.
Read the White House's transcript of Jared Kushner's interview.
But Mr. Kushner offered little in the way of enticements to Mr. Abbas. Asked what the leaders of other Arab nations wanted to see in an Israel-Palestinian settlement, the White House aide mentioned nothing about a sovereign Palestinian state or of Palestinian refugees.
He also did not mention Israeli settlements on the West Bank or using the 1967 lines as a starting point to draw borders; and nothing about East Jerusalem serving as the Palestinian capital. He instead spoke of a potential Palestinian capital "in East Jerusalem."
Mr. Kushner alluded to Arab nations' desire that Al Aqsa Mosque "remain open to all Muslims who wish to worship" — but said nothing about its being in the custodianship of a Palestinian state, suggesting it could remain under Israeli control in the administration's plan.
Mr. Abbas, the president of the Palestinian Authority, had angrily rejected American-led negotiations after Mr. Trump reversed decades of United States policy in December by recognizing Jerusalem as Israel's capital. Since then, Mr. Trump has cut aid for Palestinian refugees and moved the United States Embassy to Jerusalem from Tel Aviv.
Mr. Kushner's interview, published on the website of Al Quds after Mr. Kushner met twice over two days in Jerusalem with Prime Minister Benjamin Netanyahu of Israel, was replete with criticism of Mr. Abbas, the aging, unhealthy and highly unpopular Palestinian leader. A translation of the interview was released by the White House.
Asked by the newspaper's editor, Walid Abu-Zalaf, about an Abbas spokesman's dismissal of Mr. Kushner's trip as a "waste of time" that was "bound to fail," Mr. Kushner said he believed Palestinian leaders were "saying those things because they are scared we will release our peace plan and the Palestinian people will actually like it."
Mr. Kushner questioned Mr. Abbas's flexibility and capacity to make peace, and said the "global community" was frustrated with Mr. Abbas. "He has his talking points, which have not changed in the last 25 years," Mr. Kushner said. He added: "To make a deal, both sides will have to take a leap and meet somewhere between their stated positions. I am not sure President Abbas has the ability to do that."
Mr. Abbas has raged at the Trump administration, Mr. Kushner observed, but he questioned whose interests that served.
"There are a lot of sharp statements and condemnations, but no ideas or efforts with prospects of success," Mr. Kushner said. "Those who are more skeptical say President Abbas is only focused on his political survival and cementing a legacy of not having compromised, than on bettering the lives of the Palestinian people."
Mr. Abbas was elected for the first and only time in 2005 to a four-year term, and recent polls show a majority of Palestinians believe he should resign. Mr. Kushner alluded to this unpopularity, saying: "I don't think the Palestinian people feel like their lives are getting better, and there is only so long you can blame that on everyone other than Palestinian leadership."
Mr. Kushner said the Trump administration was determined to find solutions to the "core issues" of the conflict — including Jerusalem, borders and refugees — "that both sides can live with." But he said that "without creating a pathway to better life," no solution would be durable.
To that end, he said his team had "spent our time focusing on the people and trying to determine what they actually want," which he said was "more and better-paying jobs and prospects for a better life."
He suggested that could involve "massive investments in modern infrastructure, job training and economic stimulus," could allow the "industrious, well-educated" Palestinian population to leapfrog to the forefront of the "technological industrial revolution" and said Palestinians would particularly benefit from integrating their economy with that of Israel, "the Silicon Valley of the Middle East."
"Israeli's prosperity would spill over very quickly to the Palestinians if there is peace," he said, and Egypt and Jordan would also see a windfall.
Dennis Ross, a veteran Middle East peace negotiator, said Mr. Kushner's conjuring of an economic leap forward for Palestinians could be "appealing," but he warned that leaders of neighboring Arab countries would require a political compromise between Israel and the Palestinians to be able to support an American-led deal.
"Arab leaders need to be able to justify their position by pointing to what the Palestinians would be getting and what is important to Arab audiences," he said. "That certainly suggests something credible from their standpoint on Jerusalem and a Palestinian state."
"There is a challenge to Abu Mazen here," Mr. Ross added, referring to Mr. Abbas and the overall tone of Mr. Kushner's remarks. "But the door is open to him, as well."
Notably, Mr. Kushner did not mention Mr. Abbas's counterpart, Mr. Netanyahu, or offer any criticism of the Israeli side. Mr. Abbas and his advisers have complained that the Trump administration has dispensed with any pretense that the United States can be a neutral mediator of the conflict and has essentially taken Israel's side.
Indeed, Saeb Erekat, the Palestinians' chief negotiator, said that Mr. Kushner's description of the American plan could have been drafted by the right-wing Israeli government. Mr. Erekat said in an interview, "That is verbatim what we heard from Netanyahu."
Mr. Erekat said that he had repeatedly asked Mr. Kushner to facilitate direct talks between the Palestinians and Israelis, but that Mr. Kushner had rebuffed him.
"They want to dictate a solution, not negotiate it," Mr. Erekat said. "He's trying to blame us, that's it — he's trying to show that the Palestinians want away from the table. They're preparing the ground for finger-pointing and assigning blame on us."
In the interview, Mr. Kushner laid considerable responsibility for the deterioration of the Gaza Strip, which is controlled by the militant Islamic group Hamas, at the feet of Mr. Abbas and the Palestinian Authority. Israel and Egypt have maintained a blockade of the coastal enclave for more than a decade, but Mr. Abbas imposed harshly punitive financial measures in the past year, including cutting the salaries of tens of thousands of civil servants in Gaza.
"The political dysfunction, greatly exacerbated by the P.A.'s salary cuts, has made Gaza ungovernable," Mr. Kushner said. "It's time for the Palestinian Authority and Hamas to stop using the people of Gaza as pawns."
Mr. Kushner welcomed the idea of a referendum on a peace plan as a way to bypass recalcitrant leaders in both the West Bank and Jerusalem. "That's something that the leadership of both sides should consider doing," he said.
Rhetorically, at least, he spent much of the interview appealing to ordinary Palestinians to give the Trump administration's proposal a fair hearing.
"Don't let your leadership reject a plan they haven't even seen," he said. "The world has moved forward while you have been left behind. Don't allow your grandfather's conflict to determine your children's future."
Follow David M. Halbfinger on Twitter: @halbfinger.
11 COUNTRIES SPEED UP FUNDING FOR PALESTINIANS AFTER US CUTS
UNRWA chief says Russia, Kuwait, and 9 European nations
are stepping up contributions
Times of Israel Agencies and TOI STAFF, 30 January 2018
The head of the UN agency for Palestinian refugees said Tuesday that Russia, Kuwait and nine European countries have agreed to speed up their contributions to help fill a shortfall left by the Trump administration's decision to reduce crucial US funding.
Commissioner General Pierre Krähenbühl of the UN Relief and Works Agency also said it has received no specifics about reforms sought by the United States, suggesting politics — notably surrounding the US decision to recognize Jerusalem as the Israeli capital — were at play.
UNRWA, which serves some 5 million Palestinian refugees and their descendants, had a budget of over $1 billion last year. This covered long-running programs, including education, as well as emergency funds for crises such as the war in Syria.
The US has been the largest donor, giving one-third of the total budget. The Trump administration withheld half of the first instalment of payments this year, demanding reforms as a condition for future aid.
The UN agency says the Trump administration has committed $60 million this year — far short of the $360 million that the US provided last year — and Krähenbühl said he has no sign that other US funding might be on the way.
The US has said it is withholding two payments to UNRWA totaling some $100 million.
But the administrator of the US Agency for International Development said Friday that the Trump administration had not yet made decisions regarding cuts in humanitarian aid to Palestinians.
"This process is ongoing, and no funding decisions have been made. As the President said, the United States expects the Palestinian leadership to work with us," USAID's Mark Green told The Times of Israel on the sidelines of the World Economic Forum in Davos, Switzerland.
The UNRWA head said the changes marked "a very severe and dramatic change in the parameters of funding from the United States," which he called a "stable, predictable and most-generous contributor to UNRWA over decades."
"It is clear that we have a very big task on our hand to fill that gap," Krähenbühl told reporters in Geneva.
UNRWA responded by calling on donors to speed up their funding, and Switzerland, Finland, Denmark, Sweden, Norway, Germany, Russia, Belgium, Kuwait, the Netherlands and Ireland have taken steps to do so, he said. Others were considering similar action.
"Advancing contributions is extremely important to help us address the first few months," he said. "Of course, a shortfall of $300 million can only be addressed with obtaining additional income from other sources over the year."
The comments Tuesday came as UNRWA said it is seeking $800 million for emergency operations in Syria, the West Bank and Gaza Strip this year. UNRWA sought $400 million each for Syria and the Palestinian territories. In an appeal last week, the agency sought an additional $500 million.
Illustrative: UN trucks carrying building materials for projects funded by UNRWA arrive in Rafah in the southern Gaza Strip after crossing the Israeli Kerem Shalom crossing on December 10, 2013. (Abed Rahim Khatib/ Flash90/ File)
"We signed our new framework agreement with the US in the beginning of December in which every aspect of our relationship from funding to reform discussions was covered and agreed," Krähenbühl told The Associated Press. "They did not explain the current decision by reform-related elements."
He said he believed the funding cut was linked to the Trump administration's decision to recognize Jerusalem as Israel's capital and a subsequent vote by the UN General Assembly to denounce the decision.
"It is very clear that the decision by the United States was not related to our performance," he said. "This has to be part of the debate that took place around Jerusalem."
Israel has often criticized UNRWA, accusing it of sheltering terrorists and allowing Palestinians to remain refugees even after settling in a new city or country for generations, thus complicating a possible resolution to the Israeli-Palestinian conflict.
KUSHNER TELLS DIPLOMATS HE BELIEVES IN PEACE PLAN,
DESPITE LONG ODDS — REPORT
Participant at Warsaw conference quotes Trump's son-in-law as saying that 'privately, people are much more flexible' than in public; proposal to be released after Israeli elections
The Times of Israel, Aron, Heller, 14 February 2019,
WARSAW, Poland (AP) — US President Donald Trump's senior Middle East adviser, son-in-law Jared Kushner, said Thursday that the Trump administration would unveil its much-awaited Middle East "Deal of the Century" after the Israeli elections on April 9.
Kushner briefed participants at a security conference in Poland about the plan but would not go into details for fear of it leaking, according to a diplomat who watched the presentation. But he did say the plan would be released sometime after Israel's upcoming election. The diplomat spoke on condition of anonymity according to protocol.
The diplomat quoted Kushner as saying that Trump had given him the Israeli-Palestinian "file" to give the long-elusive goal of a peace agreement "a shot." Despite the long odds, he said he believed "privately, people are much more flexible."
The Palestinians have pre-emptively rejected the plan, accusing the Trump White House of being unfairly biased toward Israel. They say that all signs indicate the plan will fall far short of their longstanding goal of establishing an independent Palestinian state in the Israeli-controlled West Bank, East Jerusalem and Gaza Strip.
"There will be no peace and stability in the Middle East without a peaceful solution that leads to a Palestinian state, with Jerusalem as a capital," said Nabil Abu Rudeineh, spokesman for Palestinian Authority President Mahmoud Abbas.
The Palestinians skipped Thursday's conference and also asked Arab countries to boycott or downgrade their representation. Some 60 countries are taking part in the gathering.
Kushner has been working on an Israeli-Palestinian peace plan for close to two years but has yet to release any details, and the release of his plan has been repeatedly delayed.
US officials had said Kushner would make some comments in Warsaw about the conflict. But Netanyahu said ahead of time he didn't expect any discussion of the peace plan, with the focus of the conference on participants' shared concern over Iran and its growing influence in the region.
The diplomat quoted Netanyahu joking at some point to Kushner that "having this file" is a "tough one."
"But, if you are crazy enough, and I think you might just be, you can come up with new ideas," he said.
Netanyahu also urged all interested parties, particularly the Palestinians, to wait for the plan to come out before reacting to it or rejecting it.
In later comments alongside Vice President Mike Pence, Netanyahu said he looked forward to "seeing the plan once it is presented."
US officials have signaled the plan will be heavily focused on Palestinian economic development. They also have refused to endorse the concept of a Palestinian state — a goal that has enjoyed wide international backing for the past two decades.
The US recognition of contested Jerusalem as Israel's capital, along with the cancellation of hundreds of millions of dollars in American aid to the Palestinians, have prompted the Palestinians to cut off ties with the White House and pre-emptively reject the peace plan.
Even if it falls short of Palestinian aspirations, the plan could also run into Israeli opposition. Netanyahu's governing coalition is comprised of religious and nationalist hardliners who oppose serious concessions to the Palestinians. With Netanyahu seeking re-election, and pledging to form a similar coalition if he wins, it is unlikely that he would make any concessions, particularly before the April 9 vote.
Kushner, according to the diplomat, said the history of the Middle East had shown that "pessimists" about Israeli-Palestinian peace were "usually right." But he stressed that "it's the optimists that bring the change."
With the Palestinians sidelined, Netanyahu has tried to use the Warsaw conference to get closer to other Arab nations aligned with it against Iran.
Netanyahu has long boasted of clandestinely developing good relations with several Arab states, despite a lack of official ties. Bringing such contacts out into the open would mark a major diplomatic coup and put a seal of approval on his goal of improving Israel's standing in the world, and particularly with Arabs.
On Wednesday, he met with Oman's foreign minister, Yusuf bin Alawi, and at Thursday's opening session he was seated next to the foreign minister of Yemen, as representatives of Kuwait, Qatar and others looked on.
TRUMPLOMACY ON GOLAN HEIGHTS: WHAT IT ALL MEANS,
BBC Barbara Plett Usher, state department correspondent,
22 March 2019

Secretary of State Mike Pompeo (R) became the first high-ranking US official to visit the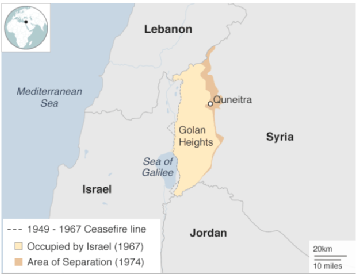 Western Wall alongside an Israeli prime minister (Benjamin Netanyahu, on the left)
I was sitting on the Israeli prime minister's terrace when President Trump's tweet dropped. A current of surprise and expectation sizzled through the state department press corps.
We had been following US Secretary of State Mike Pompeo around Jerusalem's holy sites and were waiting for a final word from him and Benjamin Netanyahu to wrap the day.
But they delayed their appearance long enough for us to wonder whether Mr Trump's Twitter announcement had also caught them off guard. If so, it was a welcome surprise for Mr Netanyahu: "I'm so excited," were his first words to us.
The surprise would have been in the timing, not the substance. The idea of the US recognising Israel's sovereignty over the occupied Golan Heights has been under active consideration in the Trump administration for some time, pushed with greater intensity by Israeli officials in recent months.
WHY ARE THE GOLAN HEIGHTS SO IMPORTANT?
It is a major shift. For decades the US and most of the world have rejected Israel's occupation of the Golan Heights, seized from Syria in the 1967 Arab-Israeli war. To paraphrase the principle enshrined in the UN charter: you can't keep land that you capture, you have to negotiate its fate. Mr Trump has overturned that.
WHAT QUESTIONS DOES THIS RAISE?
First and foremost is one of international law: in recognising Israeli sovereignty over the Golan, Mr Trump is in effect endorsing its seizure of the territory. By what moral authority then could he challenge others who do the same, such as Russia's annexation of Crimea?
Secondly, Mr Trump said he made the decision for strategic and security reasons, by which he means Iran.
His administration is convinced Iran is using Syria as a base to target Israel, and the Golan Heights are the front line.
That's a compelling argument for the White House and some members of Congress, and one aggressively pushed by the Israelis.
But formal recognition of Israel's sovereignty over the Golan doesn't change anything on the ground. It's already acting with full military authority there.
So it's widely believed by observers and commentators both here and in Washington that the president made the announcement now to give Mr Netanyahu a boost in hotly-contested elections.
Mr Trump has brushed aside such suggestions, but his plans to welcome the Israeli prime minister to the White House twice next week will only reinforce them.
HOW WILL THIS AFFECT THE CROSS-BORDER CONFLICT IN SYRIA?
Israel strikes regularly at Iranian targets in Syria, carefully negotiating the situation with Russia, which provides crucial military backing to the Syrian state.
It's a delicate balance and it's not clear how or whether the American move will upset it.
Tensions have flared in the Golan since the Syrian conflict began, with Israel concerned over Iran's growing military presence
On the one hand, Syria has been weakened by the civil war, and the Iranians have been weakened by US sanctions. That gives Israel an opportunity to exert its claims, with the help of its friend in the White House.
On the other hand, there was no open controversy about Israel's control of the Golan Heights. Pushing the issue above the radar might inflame the low-grade conflict with Iran and its Lebanese ally Hezbollah, stoking regional tensions. And Russia is unhappy, very unhappy.
HOW WILL THIS AFFECT THE WEST BANK?
The occupied West Bank is different from the Golan Heights. It was also captured by Israel in the 1967 war, from Jordan.
But it has a large Palestinian population seeking self-determination and promised statehood in more than 20 years of peace talks.
Supporters of this peace process are concerned that recognising Israeli sovereignty over the annexed Golan Heights will create momentum for annexation of the West Bank.
Palestinians say the US can no longer be a neutral mediator in peace talks after its controversial decision to recognise Jerusalem as Israel's capital
This fear is not without grounds. Members of the right wing coalition headed by Prime Minister Netanyahu have been pushing for annexation. In Mr Netanyahu's own Likud party, 28 out of the 29 lawmakers running for re-election are on record as supporting this approach.
He is the only exception and, beset by charges of corruption and stiff competition from the opposition, has demonstrated he'll go to great lengths to hang on to power.
How will this affect Trump's peace proposal?
The Golan move reinforces the impression that the Trump administration is redefining the parameters of US policy in a way that favours Israel: Mr Trump has already recognised the contested city of Jerusalem as Israel's capital and cut funding to the UN agency in charge of Palestinian refugees demanding a right of return to a homeland.
It has also stopped virtually all assistance to the Palestinian Authority, charging it with funding terrorists and rejecting the peace initiative. If the PA continues to reject what's on offer - when it is finally offered - it's likely that Israel's hand will be further strengthened to shape the outcome.
WHY TRUMP'S JERUSALEM EMBASSY MOVE WAS NOT ABOUT PEACE
WHAT MAKES JERUSALEM SO HOLY?
However, the plan will need a buy-in from Arab countries who've long pushed for the return of territory occupied by Israel.
Many are more preoccupied with a perceived threat from Iran than with the Palestinian cause, and have signalled a willingness to support the Trump peace initiative. But his Golan decision will complicate their ability to publicly do so.