WHAT IS THE BDS ?
Wiikipedia
The Boycott, Divestment and Sanctions Movement (also known as BDS and the BDS Movement) is a global campaign attempting to increase economic and political pressure on Israel to end what it describes as violations of international law. The BDS campaign calls for
"various forms of boycott against Israel until it meets its obligations under international law". The stated goals of BDS are:
the end of Israel's occupation and settler colonization of Palestinian land and the Golan Heights,

full equality for Arab-Palestinian citizens of Israel,

and acknowledgement of the right of return of Palestinian refugees.
The campaign, organised and coordinated by the Palestinian BDS National Committee, was started on 9 July 2005 by over 170 Palestinian non-governmental organizations in support of the Palestinian cause for boycott of Israel, disinvestment from Israel and international sanctions against Israel. Citing a body of UN resolutions and specifically echoing the anti-apartheid campaigns against white minority rule in apartheid era South Africa. Protests and conferences in support of the campaign have been held in a number of countries around the world.
There is considerable debate about the scope, efficacy, and morality of the BDS movement.
Supporters of BDS compare the movement with the 20th century anti-apartheid movement and view their actions similar to the boycotts of South Africa during its apartheid era, comparing the situation in Israel to apartheid. Critics of BDS vehemently repudiate the charge that Israel is an apartheid state, asserting, among other things, that in Israel (outside of the West Bank) "Jews and Arabs mix freely and increasingly live in the same neighborhoods...there is no imposed segregation" and that Arabs and Jews interact together in any mall, restaurant, or hospital in Israel.
Critics further argue that the BDS movement disincentivizes the Palestinian leadership from negotiating with Israel at present, and that it is antisemitic in the form its opposition to Zionism takes,in resembling historic boycotts such as the Nazi boycott of Jewish businesses and in promoting the delegitimization of Israel.
BACKGROUND
One of the objectives stated at the founding of the Arab League in 1945 was to "frustrate further Jewish development in Palestine by means of boycott against Zionist products". A central boycott office was established to coordinate this effort. After the establishment of Israel in 1948, the boycott of Jewish products from Palestine was transformed into the boycott of Israeli products and services. The boycott was conducted on a primary level (as a direct boycott of Israeli products), a secondary level (though direct pressure on states and institutions not to deal with Israel), and a tertiary level (to prevent companies from uninvolved third-party states from dealing with companies that had relationships with Israel).
Marc Greendorfer argues that the BDS movement originated in the Arab League's boycott of Israel in name, in function, in tasks, in methodology and in goals.
During the Second Intifada, Palestinians began developing international solidarity and support that could be used to apply pressure on Israel through non-violent means. In 2002, organizations in Europe, Australia, the United States, and the Palestinian territories called for a boycott of Israeli institutions, including a boycott of academic and cultural institutions. Palestinian academics and intellectuals also called for a boycott in October 2003.[23] In 2004, an attempt to coordinate the boycotts gained momentum following the start of the construction of the Israeli West Bank barrier. In April 2004, the Palestinian Campaign for the Academic and Cultural Boycott of Israel (PACBI) was founded.[24] One of the founders was Omar Barghouti.
On 9 July 2005, the first anniversary of the advisory opinion by the International Court of Justice in which the West Bank barrier was declared a violation of international law, a large number of organizations representing Palestinians in Israel, Palestine and abroad called upon the international community for boycotts, divestment and sanctions against Israel until it complies with International Law and Universal Principles of Human Rights. At the first Palestinian BDS Conference, held in Ramallah in November 2007, the "BDS National Committee" (BNC) was established as the Palestinian coordinating body for the BDS campaign worldwide. The movement's main example and source of inspiration is the 20th century boycott of South Africa by the Anti-Apartheid Movement.
GOALS OF THE CAMPAIGN
On 9 July 2005, a broad spectrum of over 170 Palestinian non-governmental organizations initiated a campaign for a boycott, divestment and international sanctions against Israel in support of the Palestinian cause. According to the call, the BDS campaign urges various forms of non-violent punitive measures against Israel until it complies with the precepts of international law. These measures should bring about:
Ending its occupation and colonization of all Arab lands and dismantling the Wall;

Recognizing the fundamental rights of the Arab-Palestinian citizens of Israel to full equality; and

Respecting, protecting and promoting the rights of Palestinian refugees to return to their homes and properties as stipulated in UN Resolution 194.
The BDS campaign is organised and coordinated by the Palestinian BDS National Committee. The committee cites a body of UN resolutions and specifically echoes the anti-apartheid campaigns against white minority rule in apartheid era South Africa; the BDS campaign called for "various forms of boycott against Israel until it meets its obligations under international law".
METHODS
BDS protest in Melbourne, Australia against Israel's Gaza Blockade and attack on humanitarian flotilla in 2010.
The BDS Movement uses the means of boycott, divestment and sanctions against Israel. The campaign has organised demonstrations and protests targeting companies that have contracts with the Israeli military or with companies in Israeli settlements. Actions may also target prominent individuals who openly support settlements businesses.
Social media platforms are used to draw attention to BDS activities. With public calls on social media, protests, petitions and articles, pressure is put on individuals to cancel their participation in events in Israel or in Israeli settlements, such as concerts or academic events. On the other hand, Israelis are pressured not to take part in activities outside Israel or the Occupied territories. Participants in events are sometimes demanded to declare solidarity with the Palestinian cause.
BDS also makes use of Israeli Apartheid Week, which is an annual series of university lectures and rallies against the Israeli occupation of the West Bank and Gaza. The series is normally held in February or March. According to the organization, "the aim of IAW is to educate people about the nature of Israel as an apartheid system and to build BDS campaigns as part of a growing global BDS movement." Since IAW began in Toronto in 2005, it has since spread to at least 55 cities around the world including locations in Canada, France, Germany, India, Italy, Austria, Jordan, Japan, Korea, Brazil, Botswana, Malaysia, the United Kingdom, the United States, South Africa, Mexico, Norway, Australia, and Palestine.
ALLEGATIONS OF ANTISEMITISM
See also: New antisemitism and 3D Test of Antisemitism
The Anti-Defamation League, the Simon Wiesenthal Center and Israeli officials categorize the BDS movement as antisemitic. Abraham Foxman penned an advertisement that ran in The New York Times that criticized Brooklyn College's political science department for sponsoring a conference promoting BDS. In the ad, Foxman referred to the BDS movement as antisemitic "at its very core".
Other arguments include:
The "double-standards" argument claims that the BDS campaign singles out Israel, or that it judges the state with standards different from those used to judge other political situations. For example, Charles Krauthammer writes: "Israel is the world's only Jewish state. To apply to the state of the Jews a double standard that you apply to none other, to judge one people in a way you judge no other, to single out that one people for condemnation and isolation – is to engage in a gross act of discrimination." Retired Harvard Law Professor Alan Dershowitz compares the way BDS proponents "single-out" Israel for its human rights violations with the way Harvard president A. Lawrence Lowell defended his decision to impose anti-Jewish quotas in the beginning of the twentieth century. When asked why there should be a quota on Jews, Lowell replied, "Jews cheat." When reminded that Christians cheat too, Lowell responded, "You're changing the subject. We are talking about Jews now."
The accusation that supporters of the campaign make antisemitic statements or engage in antisemitic activity. For example, some supporters compare Israel's contemporary treatment of Arabs to Nazi Germany's treatment of Jews during the Holocaust and deny Israel's right to self-determination. The Australian attributes BDS supporters with antisemitic activity including the publication of material on the Internet that denies the Holocaust and promotes attacks against "Jews and Jew lovers".
Seeing similarities, or exact identification, between BDS and historical acts of discrimination against Jewish minorities, such as historic antisemitic boycotts such as the Nazi boycott of Jewish businesses.
The argument that BDS is a significant step in the creeping normality of antisemitism.
In the case of academic boycotts, BDS targets Israelis who are often on record as opposing the continued Israeli presence in Palestinian territories and supporting Arab–Israeli peace initiatives.
According to Ira M. Sheskin of the University of Miami and Ethan Felson of the Jewish Council for Public Affairs, BDS efforts have, at times, targeted Jewish individuals who have little or nothing to do with the Arab–Israeli conflict.
Replies to allegations
Several replies have been made to the allegations presented above:
Jay Michaelson wrote an editorial in The Jewish Daily Forward critical of Foxman's position. His editorial mentioned that several leaders of the BDS movement are themselves Jewish and state that the ADL, "with every pro-censorship stance it takes [...] loses more and more credibility and cheapens the meaning of the term 'anti-Semitism' itself".
Judith Butler asserts that BDS' demands are fully compatible with, and derived from, international standards for human rights. From this Butler draws the conclusion that equating BDS with antisemitism amounts to the assertion that those standards are antisemitic.
The "double-standards" argument has seen several types of rejoinders.
Some argue that Israel is one of the most highly subsidized American allies and that thanks to their unique political and historical relationships with Israel, Americans have a special responsibility to the status of human rights in that country. Another reason for treating the Israeli case differently is that the call for boycott is the result of a unified effort by numerous civil societies whose members see themselves as the victims of Israeli human rights violations. An example for this latter effect can be found in the words of scientist Stephen Hawking, explaining that his decision to withdraw from Israel's Presidential Conference was motivated by calls from Palestinian academics, who were unanimous in their conviction that he "should respect the boycott".
Another rejoinder holds that eventually, all countries must be held accountable to human rights standards, but that there is no standard answer to the question of which should be held accountable first.
The ad hominem argument claims that personal attacks of BDS supporters are logically irrelevant, because they focus on individuals' character, acts, and/or motivation, rather than on the arguments for or against the BDS initiative in and of themselves.
Butler argues that the allegation of anti-Semitism springs necessarily from a false "generalizations about all Jews", presuming that "they all share the same political commitments" while ignoring a view prevalent among some Jews who were "exceedingly critical" of the state. A similar line of reasoning was developed by Omar Barghouti, who claims that those who criticize BDS as an attack on all the Jewish people are equating the latter with the state of Israel.
Suggested similarities between BDS and boycotts imposed on Jews by antisemitism[14][164] have been challenged by Daniel Blatman, Professor of Holocaust and Genocide Studies at the Hebrew University.[175] Blatman, a liberal Zionist and an opponent of BDS, argues that "the boycott imposed on Jews by antisemitism and the boycott of Israel today have nothing in common... The antisemitic boycott movement was directed against the authorities who had not acted against those who were not considered to belong to the nation, and even deemed the nation's enemy. The Israeli equivalent of the boycott movement can be found in right-wing circles, who have called for a boycott of Arab produce...."
ALLEGATIONS OF TIES TO HAMAS
According to Jonathan Schanzer, vice president of research at the Foundation for Defense of Democracies and a former terrorism finance analyst for the U.S. Treasury Department, there are links between American supporters of Hamas and the BDS campaign. In April 2016, Schanzer testified before the U.S. House Subcommittee on Terrorism, Nonproliferation, and Trade that "in the case of three organizations that were designated, shut down, or held civilly liable for providing material support to the terrorist organization Hamas, a significant contingent of their former leadership appears to have pivoted to leadership positions within the American BDS campaign."
WHO FUNDS THE BDS MOVEMENT AGAINST ISRAEL?
Jerusalem online
Many Palestinians have come to the realization that they can only destroy Israel via soft asymmetrical conflict rather than waging war or committing terrorist acts. Who is funding the BDS Movement that stands at the forefront of Palestinian soft asymmetrical conflict attempts?
Many Palestinians have come to the realization that waging wars and implementing terrorist attacks won't lead to the destruction of the State of Israel. Therefore, they have implemented a new method of warfare known as soft asymmetrical conflict.
According to Professor Ofira Seliktar, "It's an asymmetrical war of ideas which is used to delegitimize a target country and in this case, Israel. Since the Oslo peace process and the terror attacks that followed, they created a new type of war, which is fought in the academia and the media but especially in the academia."
Manfred Gerstenfeld, the former chair of the Steering Committee at the Jerusalem Center for Public Affairs, told JerusalemOnline: "The BDS Movement started really as a concept in 2001 in Durban, South Africa. There, the UN World Conference against Racism took place. At the same time also in Durban, a NGO forum was held. This conference, instead of promoting anti-racism, transformed into an anti-Israel hate movement. There, the idea of systematically promoting boycotting Israel was raised in many fields including the academic world, cult33ure, sports, politics, etc. These people understood that the real impact would not be on Israel on itself but is that it would draw attention. It was a public relations idea that would bring the Palestinian issue into the public domain People were shocked by the incredible hate that burst out from that conference. This was a major explosion of pro-hate activities against Israel."
Seliktar noted that the BDS Movement and other anti-Israel activities seek to paint Israel as an apartheid state or colonial construct that needs to be boycotted. Although they have not had much solid cases of success, the BDS Movement is more about creating public awareness than anything else and on this, they have been very successful: "Even if the initiatives do not pass, there is an opportunity for students and faculty to have a debate. During these debates, so-called evidence is produced stating that Israel is an apartheid state. Many don't know much about Israel. This is an educational opportunity to educate students and faculty about the occupation regime in the West Bank and other problems. That is the core of delegitimization, creating an image of Israel that is negative and thus needs to be boycotted. It is a long term process and we don't even know what the end will be as we have new generations of academics and students that are being taught and when they assume positions of influence, they may be influenced by that negative view."
This situation creates a very hostile environment for Jewish students on campus. Dana Barnett, the head of the Israel Academia Monitor organization, told JerusalemOnline: "It's not just the anti-Israel professors but definitely the Students for Justice in Palestine and all of the pro-Palestinian people. It's difficult for Jewish people because they are intimidating them. That's how it is in both America and Europe. Whenever you have the pro-Palestine groups, there is a lot of intimidation towards Jews and that is very unfortunate." However, Jews are not the only targets: "For example, last month, the British Colonel Richard Kemp went to Australia to speak about the Iraq war in a university. He was disturbed by pro-Palestinians with megaphones and could not deliver his talk. So, not only Jewish students are intimidated, but everyone who does not officially support the Palestinian goal."
Seliktar noted that the academic material that is used by the BDS Movement is being created in Islamic Studies and Middle Eastern Studies programs that are being funded by Arab states like Saudi Arabia via Aramco World and Iran via the Alevi Foundation: "This creates jobs for faculty, which don't view Israel in a positive light. Saudi Arabia creates think tanks and mega-research centers at respective universities including Ivy League schools. The money for endowed chairs comes from Saudi Arabia at Harvard." In regards to the anti-Israel activities of groups like the Students for Justice in Palestine and the Muslim Student Association, no one knows how they get their funding: "They do fund pro-boycott activities. MSA gets money from an umbrella group of 52 Muslim countries but also like Iran and Saudi Arabia, it is not the government but different groups."
Barnett concurred, stressing that she discovered that Saudi Arabia contributes money to the delegitimization of Israel via various foundations: "It's not direct funding from the government but semi-governmental foundation. Qatar has been a big player in the academia. They purchased the press that publishes Elsevier, a publication company that publishes Lancet. Lancet recently had very anti-Israel editorials and Qatar is behind it. The Alevi Foundation is an Iranian foundation. It's not directly governmental but semi, created by Ayatollah Khomeini. They are sponsoring various things. Don't forget that Iran has media outlets such as Press TV and they interview a lot of people, including some Israeli academics like Shlomo Sand who speaks for Press TV. I found that Neve Gordon thanked in the intro to his book a Saudi linked professor for providing him with resources. His book on the occupation was paid for by the Saudis."
The effect of these Islamic and Middle Eastern Studies centers funded by Iran, Qatar and Saudi Arabia can be felt across the globe. "Islamic Studies in Germany, for example, is a small field but it is very influential in terms of providing advice to NGOs, governmental sources and the public for they speak Arabic and pretend to be experts on the Arab and Muslim world," Dr. Clemens Heni of the Berlin International Center for the Study of Anti-semitism stated. "Therefore, I think it's rather disturbing that they promote Youssef Al Qaradawi, who is portrayed as a moderate because he is allowing females to commit suicide bombings against Jews without asking their husbands and fathers for permission. It's not moderate. It's another way of committing jihad."
Unfortunately, Heni noted that anti-Israel academic literature can be found not just in Islamic and Middle Eastern Studies centers but also in the field of Jewish Studies: "In a 50 years since the death of Martin Buber Conference, German scholar Christian Wiese spoke. A few years ago, he was endorsing a book by British anti-Israel scholar Jacqueline Rose. He quoted her Question of Zion, which includes a story claiming Hitler got inspired to write Mein Kampf during a concert that never existed. Publishing a book that claimed Hitler was in a concert with Herzl in May 1895 is a tool to say that Zionism is as evil as Nazism. She claims Zionism is as bad as Nazism and this is a lie. Hitler was 6-years-old at that time and not in France. It is troubling that a scholar is quoting and referring to books like this. This is the kind of delegitimization of Israel we are dealing with. People are referring to unscholarly books that have no basis in reality."
Israeli academics are also involved in the delegitimization of Israel. "It's not a very large group," Barnett stressed. "It's a minority that exists but they are still powerful. The people I am researching are five people. It's not only BDS. I look at how they get funding from foreign organizations. Since the boycott law has been passed by the Knesset, Israeli academics no longer actively call for BDS. They are however delegitimizing Israel and their work is being used by the BDS Movement. Before the boycott law, there were several that called for BDS, among them Kobi Snitz, Anat Matar, Rachel Giora, and Neve Gordon. In the last couple of years, they are no longer calling for it out loud, but I have seen petitions that delegitimize Israel. Oren Yiftachel is a good example. He does not call for a boycott, but his work is used immensely by the BDS Movement that seeks a connection between Israel and South African apartheid."
The influence that these Israeli scholars have had upon the BDS Movement can be felt across the globe. Nevertheless, Heni stressed that the situation in Germany is actually better than it is in a lot of countries when it comes to the academic BDS: "In Germany, the BDS Movement is a failure. They have almost no groups. You cannot publicly promote BDS in this political culture. Scholars don't publicly endorse the BDS Movement, even if they are anti-Israel for it is not ok in a German framework like it is in other countries. Independent small groups promote it and there were big conferences. There was a pro-Hamas conference in Berlin with 3,000 people that called for the right of return, but there were no scholars. It was an activist event. We have these kinds of events, but not from schools."
The situation in Canada is quite different from Germany. "In Ontario, the BDS Movement is very strong," Seliktar stressed. "Who funds them? You have different groups. We found out that there is a private group that is in Ontario that funds some of these activities and as a private group; they don't have to disclose their funding. At least NGOs have to provide an account. US law does not require foundations to disclose names of donors."
This reality creates issues for finding out everyone who is behind the delegitimization of Israel and Seliktar emphasized that only if the Israeli government decides to take action will it be possible to disclose everyone who stands behind the BDS Movement. Gerstenfeld concurred with Seliktar, noting that it is very difficult to fight against the BDS Movement and other Palestinian groups waging soft asymmetrical conflict without the Israeli government having a solid structure in place to deal with such groups: "If you don't have that structure, it is very difficult to fight it for our enemies are professors that have a free anti-semitic lunch. So we don't do anything. If they knew they could run into trouble, they will be more careful, but we have no structure to fight any propaganda in any significant way. It is a failure of the Israeli government that should have been dealt with 30 years ago at least. Look, if you are attacked by an army, you set up an army. If you are attacked by an intelligence service, you have counter-terrorism. We are attacked by propaganda for decades and the Israeli government does very little or nothing."
Barnett added that the Israeli government should definitely do something, stressing they are not doing enough: "I can see that the problem lies here. Israel cannot compete with the money from Saudi Arabia and Qatar. Still, the Israeli government should do the same by creating chairmanships for Israel Studies and Jewish studies in Ivy League universities. The boycott law should be implemented. I don't know of any case of anyone being sued for the delegitimization of Israel and BDS, but now they should look for cases and bring them to court. Recently, Anat Matar of Tel Aviv University was invited by Palestinian groups to defame Israel in Prague. Why should the Israeli taxpayers pay a salary to a woman who gives a hand to those wishing to destroy Israel? It doesn't make sense. If she wants to support the Palestinians, fine, let her be a Palestinian, leave Israel, go to live in Palestine, and teach philosophy in a Palestinian university. Stop being a hypocrite!"
The BDS movement advertise this as taking the following forms
RIGHT TO BOYCOTT
Having failed to stop the rise in worldwide support for the Boycott, Divestment and Sanctions (BDS) movement for Palestinian freedom, justice and equality, Israel is now launching a desperate and dangerous fight back.
Israel is persuading supportive governments in the US, UK, France and elsewhere to repress the BDS movement. Israel has implemented a travel ban on BDS movement co-founder Omar Barghouti and is using its security services to spy on BDS activists across the world.
ACADEMIC BOYCOTT
Israeli universities are major, willing and persistent accomplices in Israel's regime of occupation, settler-colonialism and apartheid.
They are involved in developing weapon systems and military doctrines deployed in Israel's recent war crimes in Lebanon and Gaza, justifying the ongoing colonization of Palestinian land, rationalizing gradual ethnic cleansing of indigenous Palestinians, providing moral justification for extra-judicial killings, systematically discriminating against "non-Jewish" students, and other implicit and explicit violations of human rights and international law.
CULTURAL BOYCOTT
Israel overtly uses culture as a form of propaganda to whitewash or justify its regime of occupation, settler-colonialism and apartheid over the Palestinian people. Just as South African anti-apartheid activists had called on international artists, writers and cultural institutions to culturally boycott South Africa, PACBI urges international cultural workers and cultural organizations, including unions and associations, to boycott and/or work towards the cancellation of events, activities, agreements, or projects involving Israel, its lobby groups or its cultural institutions. International venues and festivals are asked to reject funding and any form of sponsorship from the Israeli government. Thousands of artists across the world now refuse to perform in Israel, including a host of global superstars such as Roger Waters from Pink Floyd, Lauryn Hill and Chuck D.
ECONOMIC BOYCOTT
The BDS movement is building an economic boycott of Israel and developing effective campaigns against companies that participate in Israel's oppression of Palestinians.
International companies aid and abet Israel's violations of international law, including by operating in illegal Israeli settlements and acting as contractors for the Israeli military and government.
Examples of reactions to campaigns described above are
BERLIN MAYOR PLEDGES CRACKDOWN ON BDS
Berlin's mayor will block the use of city venues and funds by groups or event organizers that support the boycott movement against Israel.
JTA September 6, 2017
The move, announced Wednesday, followed pressure by the Los Angeles-based Simon Wiesenthal Center, which had threatened to put Berlin Mayor Michael Müller on its annual list of 10 worst anti-Semitic incidents for his alleged failure to strongly condemn BDS and other extreme anti-Zionist activities in the German capital.
Müller, in a statement co-released with the Central Council of Jews in Germany, asserted that his decision was not a change of heart on his part but rather an intensification of his already pro-Israel stance.
Jewish leaders, including Central Council head Josef Schuster, had rushed to defend the mayor as a staunch supporter of Israel following the Wiesenthal Center's accusations. But they did say they wished he would be tougher on virulent anti-Zionism, represented by the Boycott, Sanctions and Divestment movement against Israel.
Berlin is now the third German city, after Munich and Frankfurt, to declare plans to stymie such activities.
Müller, who has been supportive of Israel in the past, pledged Wednesday to "continue emphasizing my clear stance for Israel and against anti-Semitism and racism."
BDS tactics of "standing with anti-Semitic signs in front of Berlin shops" are tantamount to "the intolerable methods used in the Nazi era," he said. "We will do everything in our power to prevent the use of our venues and funds for BDS' anti-Israel incitements" and against the annual Al-Quds Day demonstration, an anti-Israel march initiated by Iran's Ayatollah Khomenei in 1979.
In a statement, the Wiesenthal Center applauded the mayor's pledge to halt municipal financial and logistical support for the BDS movement. In its annual anti-Semitism tally, the center often equates BDS activity with anti-Semitism.
"The mayor showed true leadership in denouncing BDS for what it is: an anti-Semitic, anti-peace campaign," said Rabbi Abraham Cooper, the Wiesenthal Center's associate dean and director of Global Social Action. "He has emphatically added his important voice to the global efforts to defeat extremists dedicated to the demise of the Jewish state."
Müller also pledged to continue the fight against anti-Semitism in Berlin schools.
The mayor added that he would use all legal methods at his disposal to achieve his goal, which would be "at best a ban" on such activities and "at the very least strict regulations and prosecution of all violations."
Schuster described the move as a "positive signal for the Jewish population and for society in general," and urged the mayor to follow through swiftly.
"All political parties must clearly decry anti-Semitism, whatever the origin," he said.
ISRAEL KNESSET (PARLIAMENT)
Knesset passes law that keeps anti-Israel activists out of country
WIN World Israel News Aryeh Savir, March 7, 2017
The Knesset approved a bill that bars entry into Israel of proponents of boycotts against the country, on Monday, with 46 voting in favor and 28 voting against.
Member of Knesset (MK) Roy Folkman, who introduced the legislation along with MK Bezalel Smotrich, said that criticism of Israel is acceptable, "but a boycott goes together with de-legitimization… This law is symbolic."
He stressed the proposed bill does not constitute a dramatic change in Israel's immigration policy.
The bill denies entry to individuals calling for a boycott of Israel or those who represent an NGO that does so, but allows the Interior Minister to make exceptions.
Under the current law, the Interior Minister already has the right to bar individuals from entering Israel. The bill entails creating a list of individuals and organizations deemed anti-Israel, and gives the minister the ability to offer exemptions to anyone on the list.
Knesset Interior Committee chairman MK David Amsalem said he viewed the new bill as an obvious step against anti-Israel elements. "Anyone who humiliates me, I do not let them into my home," he said. "We have respect. If anyone insults us, we respond; this law is elementary."
He added the bill does not counter legitimate criticism, and it pertains to situations in which red lines are crossed. "They are not talking about boycotting only the settlements [communities in Judea and Samaria]; they are talking about boycotting the state as a state, they are not making a distinction. We are talking about people I think are anti-Semites," he added.
After the bill passed, Smotrich said the law reflects the will of the state to fight its enemies.
"What does this law say, after all? A healthy person who loves those who love him and hates those who hate him doesn't turn the other cheek," he said.
Several MK's on the left decried the bill as an attempt to stifle legitimate criticism of Israel.
The BDS movement promotes financial, academic and cultural boycotts against Israel, ostensibly as a nonviolent struggle against the so-called "Israeli occupation." Critics say its activities are a modern form of anti-Semitism and that its true objective is to destroy the State of Israel.
DEPUTY (ISRAEL) FOREIGN MINISTER SETS OUT ON US CAMPUS TOUR TO COMBAT BDS
Deputy Foreign Minister Tzipi Hotovely is the first-ever senior Israeli politician to visit Ivy League colleges with the single purpose of helping the battle against BDS on campus.
Pro-Israel group wins legal victory against BDS at Canadian university

California university puts Students for Justice in Palestine on probation
Jerusalem Post Joy Bernard Tamara Zieve contributed to this report November 2, 2017
Israel's Deputy Foreign Minister Tzipi Hotovely (Likud) set out on a campus tour in the US Wednesday night in a first-ever visit of a senior Israeli politician to Ivy League university campuses in order to combat prevalent propaganda against the Jewish state and the mounting threat posed by the Boycott, Sanctions and Divestment movement (BDS) who are active in such academic institutions.
Ahead of her departure, Hotovely said that she intended to "talk to the younger generation in the US who [sic] grew up hearing lies about Israel. It is important for me to share with the common challenges that radial Islam poses to democratic countries and to tell them the success story of the State of Israel, which thrives in the face of all challenges."
Among the elite colleges the deputy foreign minister is slated to visit are New York University, Columbia University and Princeton University.
"The university campuses are one of the most difficult and important arenas, and I come as a representative of the government and a representative of the ruling party on a journey that will begin the hard work of changing the trend toward Israel on US campuses. Students who Identify with Israel will no longer be afraid to speak their minds," she said in a statement.
Hotovely also launched an initiative prior to her departure to help promote Israel advocacy abroad and to counter movements that are calling for a financial and social boycott of the Jewish state. At her behest, Jerusalem's Foreign Ministry released four booklets that it plans to make available for Israel advocates on campus. Every booklet, according to Hotovely's office, tackles a "core issue relating to the 100-year conflict with the Arabs."
The series is titled "Israel Basics" and each booklet comes in a different, basic color. A booklet about the Jewish settlements is named the Green Booklet, a booklet addressing the issue of terror that has plagued the country is named the Red Book, a third one relating to peace negotiations is named the Yellow Booklet and a fourth, titled The Miracle of Israel, is also dubbed the Blue Booklet.
Hotovely also intends to meet with pro-Israel activists to learn about the difficulties they face in presenting Israel's struggles on campus. "My goal is to hear from them and learn what we can do to help," she added.
The deputy foreign minister is also scheduled to meet with officials from the Jewish community in New York and participate in the IAC conference in Washington during her visit.
Just a week before Hotovely's visit a watchdog that seeks to investigate, document and combat antisemitism on university campuses in the US released an alarming report that pointed at a strong correlation between the prevalence of antisemitic and pro-BDS approaches on campuses and the occurrence of anti-Zionist expressions uttered at department-sponsored events.
The authors of the study conducted by Amcha Initiative explained that "This new research strongly suggests that at least some faculties who have signed petitions or statements in support of an academic boycott of Israel, bring their anti-Israel sentiments and support for BDS to campus through their department's sponsorship of pro-BDS events and those events increase the likelihood of resulting in anti-Jewish hostility on campus."
The study included research of 557 academic units affiliated with Ethnic, Gender and Middle East Studies at 100 schools. The schools were the same ones included in Amcha's 2015 and 2016 studies of antisemitism on US college campuses and universities with large Jewish undergraduate populations, identified by Jewish campus organization Hillel International.
HISTORY-MAKING WEBSITE AIMS TO BEAT BDS WITH FACTS
Called by creators the largest clearinghouse of its type, Israel and the Academy site offers info to combat anti-Israel campaigns on college campuses
The Times of Israel By Rebecca Shimoni Stol 14 October 2016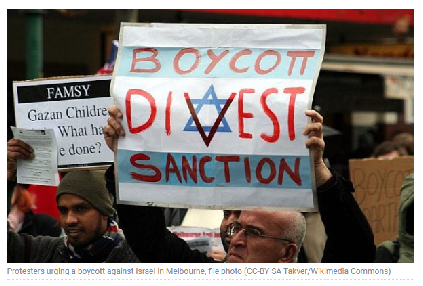 .
Protesters urging a boycott against Israel in Melbourne,
file photo (CC-BY SA Takver/Wikimedia Commons)
.
WASHINGTON — Founders of a new and exhaustive informational website hope that their project will provide a powerful tool to beat back the Boycott, Divestment and Sanctions movement's inroads on college campuses — and it may just break some records along the way.
Offering a deluge of information on Jewish identity, Israeli studies and –yes — the Israeli-Palestinian conflict, the professors behind the project hope that it will provide a key to stemming the tide of BDS arguments in higher education, and even help to forward their goal of a two-state solution.
The website, Israel and the Academy, debuted Thursday as the latest initiative by a group of senior American academics, mostly affiliated with the anti-boycott MLA Members for Scholars' Rights. The faculty members, many of whom have been on the front lines of the struggle against the academic boycott of Israel for the better part of a decade, envisioned a website that would provide all of the informational resources necessary to counterbalance — and at times challenge — BDS activity on campuses.
The idea of a clearinghouse website was first floated in May 2015, when a group of some 15 faculty members met to determine their next course of action.
"BDS over the past few years has ramped up its activities so much more aggressively, that many more associations — I think a dozen of them — have been involved in those debates. It kind of became clear that we should be talking to one another," explained Professor Cary Nelson, one of the leading voices against BDS in US academic circles.
"The group was unanimous in feeling that the thing we really most needed was a rich website that people from communities, universities, government offices and anywhere else could go to for a repository of information that they would need to engage in these struggles," he explained.
At the same time, Nelson said, the scholars also wanted "to do something significant around pedagogy over Jewish culture, history, Israeli culture and history, so it kind of dawned on us that the BDS stuff and the pedagogy stuff could be accomplished through the same website, so we could get two of our goals done that way."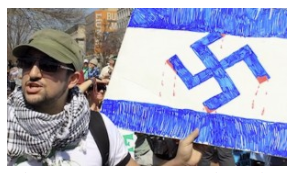 An image from the documentary '
Crossing the Line 2,'
which depicts rising anti-Semitic activity on
North American campuses. (Courtesy)
(see Video above)
The website's advisory board constitutes about two dozen academics, who reached out to friends and colleagues asking for essays and especially syllabi to be shared on the new platform.
Although the initial process was slow, the results were massive. The website now will include over 450 syllabi, making it the largest resource of its type — offering free-access syllabi — in the world, according to the founders.
"Other versions of syllabi banks are much smaller, and are also behind paywalls. You have to be a member of some association to see them," Nelson said. This resource will contain syllabi on topics ranging from the binding of Isaac as a foundational motif in Jewish thought, to synagogue architecture through the ages.
It is free and open to the public, which Nelson says "has a different impact because we're not limiting it to reaching people who want to join the Jewish studies association. We want people to be able to see this who don't know much about the field."
Scholars were also asked to self-select their best and most interesting publications and put them on the website as well.
In addition to countering anti-Semitism through expanding knowledge of Jewish and Israeli topics, the website seeks to provide valuable information for people combating BDS in their own institutions. The site has short-form fliers with quick-access information to be distributed during organizational or campus-wide debates, listing what Nelson describes as "very concise arguments about what the problems are with BDS."
The site's editors also selected 10 campuses — eight in the US, one in Canada and one in Germany — that have had BDS struggles in recent years and put up a dossier of documents from each campus debate
They have put up similar dossiers of documents from BDS debates held in academic professional organizations, such as Nelson's own Modern Language Association, which is expected to revisit its rejection of a BDS vote during its annual meeting this January.
But in true academic style, the short-form materials are backed up by much more in-depth resources, including a set of essays critiquing BDS and packets of essays and information for book-length studies on particular subjects including "pinkwashing," apartheid and the two-state solution.
The project, Nelson says, has an "intellectual commitment" to the two-state solution.
"You could spend at least two moths reading everything that is there about the two-state solution," Nelson detailed. "There are the equivalent of multiple books about the ideas around the two-state solution."
"The intellectual commitment of this project is that the only way that you can really preserve a Jewish state is with a Jewish majority, and to do that you've got to divest yourself of most of the West Bank and you need a two-state solution, and whether there really was a Palestinian people in 1948, there is one now. It's evolved, it's happened, you're stuck with it, and you don't want to have those people be second-class citizens so you've got to find a way to break this logjam about the two-state solution."
Nelson hopes that the website itself can act as a catalyst. "The information that is on this website can tell you how to do that, because Israelis and Palestinians have been working on it the last few years and they've made real progress," he suggested. "Its not people in government — its ex-commanders in the IDF, Palestinians who have been involved in many cases in their security services."
GUIDE AND RESOURCE BOOK FOR UNIVERSITY LEADERS
Academic Engagement Network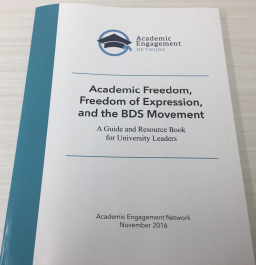 In November 2016, AEN published Academic Freedom, Freedom of Expression, and the BDS Movement: A Guide and Resource Book for University Leaders, directed at university leaders, namely presidents, chancellors, provosts, and deans.
The aim of this publication is to inform university leaders about the challenges that the Boycott, Divestment, and Sanctions (BDS) movement pose for universities and colleges and for academic values. The book offers constructive guidance and a range of suggestive examples about effective responses to such challenges when they appear.
The Guide is organized in two parts: the first part is titled "BDS, Academic Freedom, Free Speech, and the University," and includes sections on the rise of BDS, on BDS campaigns for boycott and divestment, and also on BDS-inspired efforts at the disruption of free expression by others on campus. While BDS speech is constitutionally protected speech, BDS goals and methods are sources of challenges to academic freedom and freedom of expression. A key feature of the guide is its emphasis on the importance of university and college leaders speaking out forcefully against the methods employed by BDS, especially where they impinge on academic freedom and freedom of expression. The second part is titled "Student Conduct Codes and Procedures," and explores the many ways in which well-constructed codes of conduct and thoughtful protocols for enforcing them at difficult moments can help universities and colleges protect freedom of expression.
The Guide contains several appendices: selected university leadership statements, recent initiatives, and examples of responsible student conduct codes and procedures. The Guide also includes some guide sheets and handouts developed by professional organizations with which the Academic Engagement Network works cooperatively. These include the Anti-Defamation League, the Louis D. Brandeis Center for Human Rights Under Law, and others.
To request a copy of this guide, please contact info@academicengagement.org.
TAMING THE WILD WEST OF THE WORLD WIDE WEB
In recent years, demonizing Israel online has increased thanks to the BDS movement. Here are the organizations working to combat that.
Pro-Israel students use Internet to fight BDS.

Settlers plan new website to combat BDS
Jerusalem Post, Noa Amouyal July 6, 2017
When it comes to spreading hate on the Internet the rules against such vitriol are few and far between. But dedicated, pro-Israel activists have decided to take matters in their own hands, defend Israel and hit Boycott, Divestment and Sanctions (BDS) operatives where it hurts the most: rendering them ineffective in the social media landscape. Below is a snapshot of conversations The Jerusalem Post had with organizations leading this fight online.
'The strategic messaging hub of the pro-Israel community' Lior Weintraub, The Israel Project VP & director of Israel office In Lior Weintraub's eyes, the Boycott, Divestment and Sanctions operatives are already losers.
"When people read about BDS in the media, they get the sense that the delegitimization campaign is winning. But it's not, it's losing in a big way," The Israel Project's vice president and director of its Israel office, argued.
"Our main message is twofold," he said. "First, that they aren't about peace, but about hate and bullying. Every time they reveal their true face, we make sure everyone knows about it. Second, that they fail much more often than they succeed. They are on the defensive. With the help of a very wide and large coalition of organizations in Israel and the United States, these BDS activists are finding it more difficult to operate."
To fight against the hate spewed by BDS, TIP uses a methodical, multi-pronged approach, using professional tools and working as a strategic hub for the whole pro-Israel community, sharing messages, research and expertise with a wide variety of organizations to make the entire community much more effective. From its Tower Magazine, to a vibrant social media presence (boasting two billion Facebook impressions in 2016) to its seasoned team of communications professionals, TIP prides itself on being advocates of Israel in a tactical and calculated way.
"We are the only ones applying the tools and methodology of a political campaign, such as polling, message testing and micro-targeting, when it comes to educating people about Israel," he said, adding that he has 20 years of communications experience under his belt including four as chief of staff and spokesman of the Israeli Embassy in Washington.
Their strategy is a two-pronged one: Highlight everything Israel should be proud of – achievements that boost the Jewish state's place in the world and reinvigorate Jewish pride – while exposing the true nature and failures of the BDS movement.
In other words, the idea is to draw attention to Israel as the home of innovation, culture and tikkun olam and expose the seedy underbelly of BDS.
"We highlight the fact that instigators and leaders of BDS expose their real face when they reject the legitimacy of Israel. This is not a peace-seeking movement. This is a movement that wants to wipe Israel off the map," he said.
The controversy surrounding singer Matisyahu's performance at a Spanish music festival two years ago is an example of TIP in action. The organization frequently posted in its social media platforms outrage that boycotters expelled the Jewish reggae musician from performing.
The backlash was so vociferous, that organizers invited the singer back to perform within a week.
That is not to say that pro-Israel groups are always on the ball when responding to such matters, especially when it comes to the country's image.
"An image problem is a strategic problem," he said. "An image problem is crippling to Israel's soft power, its ability to promote its interests in the international community, and also it has a direct influence on Israel's security when it comes to defending itself in a volatile and violent region.
In many places, we have lost our narrative," he lamented.
A game plan that understands that the pro-Israel community is a diverse one capable of emphasizing the variety of the good Israel does is crucial to formulating a powerful and positive narrative, he says.
"Being able to work together as a community in order to promote what we care about and the good things that we're doing is a strong message we should carry in the most forceful way, because it happens to be the truth," he added.
'Turning a boycott into a 'win' for Israel' Michael Dickson, executive director of StandWithUs-Israel, Some think that when faced with an inane or ludicrous accusation, it's best to not dignify it with a response. But ultimately, ignoring a bully rarely works, which is why StandWithUs believes BDS aggressors must be addressed head on.
"We believe it is important to counter the propaganda efforts of BDS so that their lies do not exist in a vacuum, unanswered," SWU executive director Michael Dickson said. "Unless it is totally minor and unnoticed, we counter boycott attempts with equal vigor."
Michael Dickson, executive director of StandWithUs-IsraelMichael Dickson, executive director of StandWithUs-Israel
The SWU philosophy to combating BDS is to beat them at their own game by turning a boycott into a "win."
For example, when BDS operatives propose a boycott of Israeli goods, SWU responds by entreating people to buy those goods in droves.
"We have done this to great success on many occasions, and the result is often that instead of boycotting, the product that BDS are campaigning against sells more than ever," Dickson boasted.
As for the campaign online, SWU was an early adopter of the social media landscape as a battle ground. With its ubiquitous presence on Facebook and Twitter operating in 18 languages, SWU is a big draw to the pro-Israel crowd – with 105 million visits to their Facebook page a week alone. And, indicating they are able to shake up the BDS establishment on its home turf, its Arabic social media account was dubbed the "most dangerous for Arab youth to view," Dickson said.
"Rather than allow social media to be a platform for BDS to amplify their lies, we utilize it to reach people around the world and to keep close tabs on their actions," he said.
That is to say, the fight is not easy one. "Israel finds itself under attack like no other country," Dickson lamented.
"There is a sustained, well-funded effort to defame the world's only Jewish state. For BDS, it is less about what Israel does and more about the fact that Israel is."
Founded by Roz and Jerry Rothstein and Esther Renzer 16 years ago, SWU is an independent organization with 18 offices worldwide and an Education Center that hosts tens of thousands of visitors who participate in their education programming. While SWU is a strictly independent organization that does not receive government funding, it does work closely with other organizations to spread its message. Specifically, the Jewish Agency – where it works with its Campus Fellows, a shlihim (emissaries) program – and a slew of Jewish youth organizations like Bnei Akiva and BBYO.
"These partnerships and synergies take place week in, week out with schools, shuls, Federations, non-Jewish groups and beyond," he said. "This is a fight we must fight together The media monitoring organization focusing on 'accuracy and truth' Aviva Slomich, international director of campus programs, CAMERA In many ways, CAMERA was prophetic in its mission to counter BDS in a widespread manner considering the media watchdog organization was founded in 1982, well before the BDS movement and social media even existed.
"Using social media to broadcast campaigns and messages can be very significant. We take it very seriously. We want to be proactive, not reactive," Aviva Slomich, international director of campus programs at CAMERA, said.
Specifically, nefarious campaigns calling for violence against Israelis or the delegitimization of Israel can be particularly harmful, especially when those messages are seen by impressionable students on college campuses.
CAMERA has been an active on campuses for over a decade, however, in 2011 it established its Emet for Israel program where where they "help students create independent Israel organizations on campus to help normalize Israel and proactively educate about Israel on campus," Slomich explained.
Currently operating on 70 campuses, the organization not only focuses its energy on universities where the messaging on Israel is problematic and negative, but also on universities where the talk about Israel is completely nonexistent.
The program arms students with the facts needed to defend Israel in public forums. The program's success hinges on students' articles in college newspapers that defend Israel and counter pro-BDS messages on campuses.
These articles are often picked up by major media outlets giving the original message exponential exposure.
"These articles live forever. You have no idea the reach you can get with one article," she marveled.
Ironically, in an environment that prides itself on "safe spaces," "Jewish students feel antagonized on [college campuses]. It happens all the time. Jews and Zionists feel targeted and excluded and on the outside," she said, specifically pointing out Linda Sarsour's visit to Dartmouth University in May. Sarsour has gained notoriety in the pro-Israel world for her anti-Israel statements and, at Dartmouth, a CAMERA student activist openly confronted her on her statement that feminists couldn't be Zionists.
"[Sarsour] attacked the student for being a white male.
We put the video online and it went viral. She had no response to [his] specific questions," she recalled.
That said, it's no easy feat to defend Israel on campus these days and CAMERA acknowledges that. As such, CAMERA teams up with many other pro-Israel organizations like IDC's ACT.IL program, SWU and the AEPi Jewish fraternity network on campus.
"[These students] are taking a huge responsibility to educate their peers and come up against their professors or other students. We want to be there as their support system," she said.
HOW TO FIGHT THE ANTI-ISRAEL BDS MOVEMENT
Los Angeles Times Jack Saltzberg, December 25 2016
By the end of 2016, the United Nations will have adopted 20 resolutions against the state of Israel and four resolutions against all other countries combined. Since 2012, university students in the United States have been almost as aggressive, introducing roughly 100 boycott, divestment and sanctions resolutions — also known as BDS — against Israel, and at best a handful of resolutions against all other nations combined.
Judging from this imbalance, it seems that U.S. students consider Israel the world's foremost human rights violator — worse than Syria, China, Russia, Egypt, Sri Lanka, Kenya, Sudan, Bangladesh, Libya, Yemen, Zimbabwe, Pakistan, South Korea, Brunei, Somalia and Saudi Arabia.
Of course that's ridiculous. Yet as a result of a sophisticated Palestinian nationalist campaign — plus a hefty dose of anti-Semitism — it's modish for students to reserve their most extreme outrage for the U.S.' chief ally in the Middle East. The pro-Israel side, meanwhile, has proved completely ineffective.
Maybe it's time for pro-Israel supporters to get some chutzpah.
We're losing in part because most pro-Israel organizations have a long history of supporting Israel, not fighting for Israel. They operate on the assumption that the best way to battle BDS is through education — a long-term solution that won't work in the campus battles so long as pro-Israel faculty and students remain in the minority.
While almost all BDS strategies are offensive (literally and figuratively), anti-BDS strategies are reactionary and defensive. When BDSers introduce anti-Israel resolutions, pro-Israel students protest them. When BDSers accuse Israel of apartheid, genocide, racism and colonialism, pro-Israel students (correctly) argue that none of these labels is accurate.
The BDS movement is dictating the narrative and always striking the first blow.
Even when we "defeat" BDS resolutions and pop the champagne to celebrate, the BDS movement is already plotting its next attack. BDS' only time frame is the destruction of Israel. For supporters, there are no defeats, just opportunities. When a BDS resolution fails, proponents will introduce another resolution within days, weeks or months, giving the movement more opportunity to spew propaganda against Israel and sway people to their cause.
It's time to try something different. Here is a simple solution that will help end BDS on university campuses: Turn BDS into a meaningless acronym.
Pro-Israel students should take the offensive by introducing multiple divestment resolutions against companies that do business in human-rights violating countries. Students should use the same BDS resolutions previously introduced against Israel and change the wording from Israel to [offending nation], then list the grievances: state executions of homosexuals; burying alive or throwing LGBT people from buildings; female genital mutilation; governmental gang rapes; mass child labor deaths; ethnic cleansing and hacking to death of children and pregnant women; political gulags for dissidents and journalists; public stonings of adulterers.
If a university's pension fund invests in McDonald's, target McDonald's for licensing restaurants in Saudi Arabia, where executions of homosexuals continue. If the fund prefers Starbucks stock, target Starbucks for operating coffee shops in Pakistan, or Brunei, or in China, which is occupying Tibet.
Pro-Israel students need to flood the educational landscape with the acronym BDS until every school in the nation has so many resolutions pending that campuses revolt. And they should look beyond their obvious allies. They should reach out specifically to anti-Israel BDSers who supposedly care about human rights. If those students refuse, publicize their hypocrisy.
Meanwhile, create Web platforms and social media campaigns in the dramatic and successful BDS style. Produce short films that highlight the offending countries' extensive and deplorable human rights violations.
The more BDS resolutions that are introduced, the sooner BDS will lose its meaning, power and relevancy, and the quicker the war against Israel will end on university campuses. Next, go after unions and professional associations, such as the American Studies Assn., which thought that Israel — among all nations — was the only country worth boycotting in its 52-year history.
Whenever I've shared my ideas with pro-Israel students, they've had similar reactions: "Two wrongs don't make a right" or "We should promote Israel rather than attack other companies and countries." The first response is inaccurate because the resolutions against Israel generally trade in falsehoods, while the new resolutions against other countries will be factual. As for the second response, maybe it's time for pro-Israel supporters to get some chutzpah.
University students have become pawns in a political and religious campaign against a democratic, fundamentally decent country. In the process, the BDS movement has shifted the spotlight away from unspeakable human rights violators and the intolerable suffering of their many victims. When we beat BDS at its own game, people who really need our help may well benefit the most.
Jack Saltzberg is the founder and executive director of The Israel Group, a nonprofit that protects Israel in the diaspora. He is working on a book about political warfare against Israel. Reach him at js@theisraelgroup.org.
PUBLIC INTEREST LAWSUIT REVEALS PLOT BY BDS ACTIVISTS TO TAKE OVER ACADEMIC ASSOCIATIONS Louis B Brandeis Center 2016
About Brandeis Legal JIGSAW Initiative Justice Initiative Guiding Student Activists Worldwide
Boycott, Divestment,and Sanctions (BDS) and Antisemitism
Pamphlet Series, David Hirsh, Goldsmiths, University of London, Academic Engagement Network, Pamphlet Series No. 1, December 2016
Conspiracy Pedagogy on Campus: BDS Advocacy and Academic Freedom
Cary Nelson, Jubilee Professor Emeritus of Liberal Arts and Sciences, University of Illinois at Urbana-Champaign, Academic Engagement Network, Pamphlet Series, No. 2, January 2017